With each wedding we feature to try and get a questionnaire from the couple to let us know about their wedding planning process but sometimes we aren't able to get it.  I am absolutely overjoyed that I was able to get this couple's questionnaire because this bride has so many value lessons that other curvy brides can learn from. I also am so  touched with the love that these two have for each other and it comes through so genuinely through the descriptions and words that she writes about her special day.  I can't wait to y'all to dive into this glorious love story!
Robynne & Damyen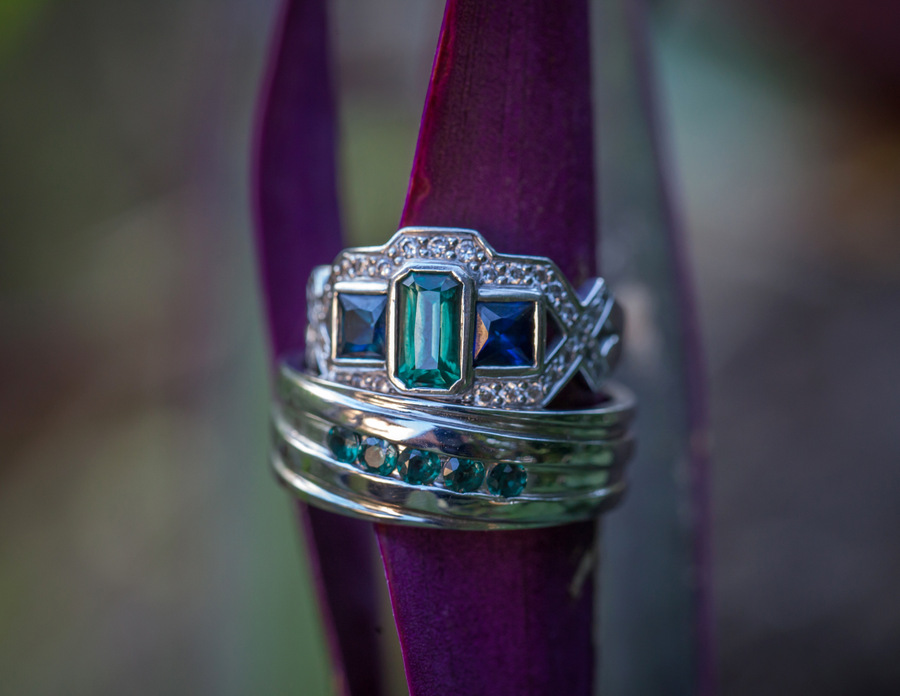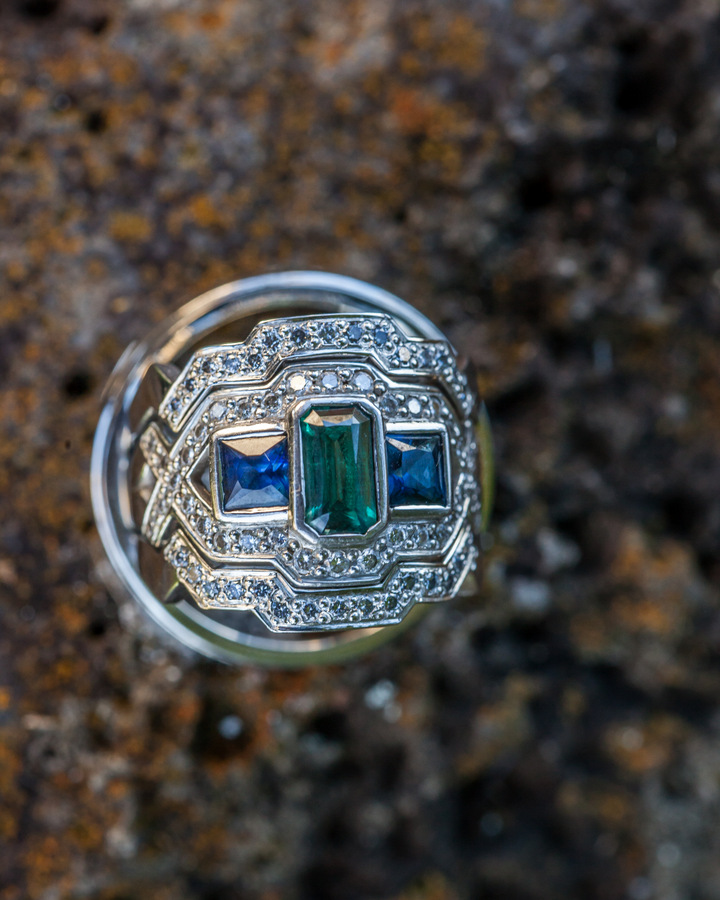 How did the two of you meet? We met online and that brief exchange led to phone cals and a first da::e about two weeks later where he prepared an exquisite home cooked meal for me.
Describe your engagement: During a meeting at the HuiNo'eau, he has a cell phone playing Ave Maria" playing on his phone as we walk out to my favorite giant monkeypod tree. Once under the tree, he dropped to one knee and the rest is history! What was extra special about it was that our wedding took place in the same place where he proposed. a little over one year later.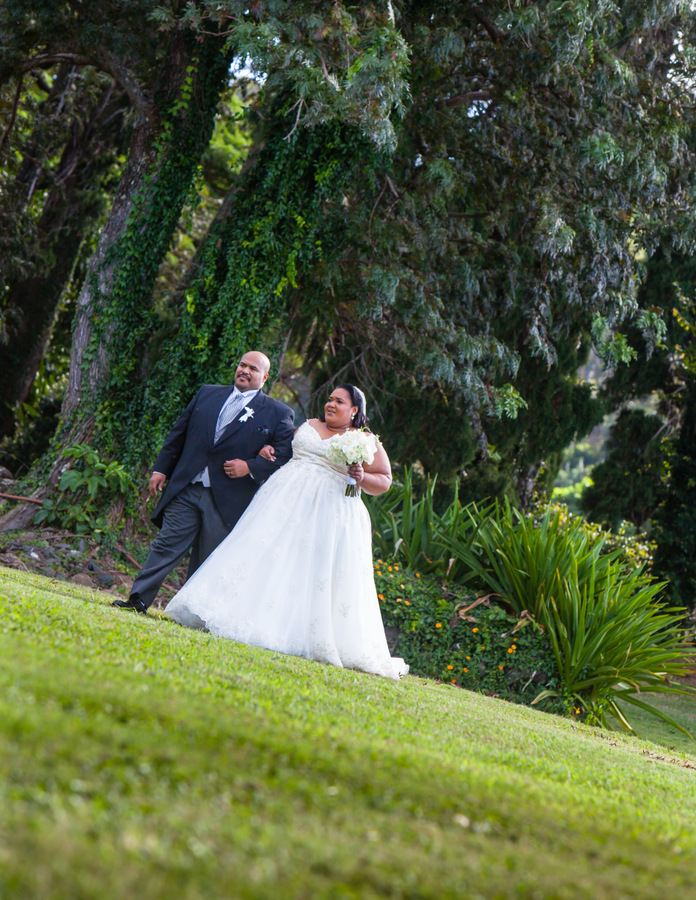 Describe your Flowers: White orchids everywhere! I wanted everything to be local and sustainable. These orchids were grown in Hawaii and their stems were twisted into elegant circles, or draped from clear glass vases with river rocks. We strung orchids from our tree to frame the ceremony, and I exchanged the traditional white bride ginger lei and groom maile.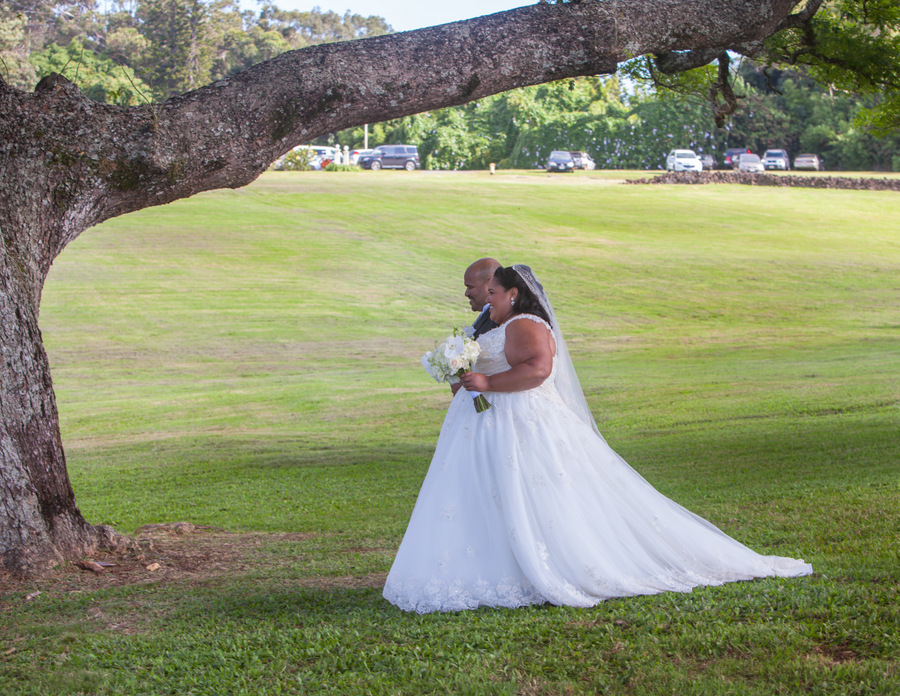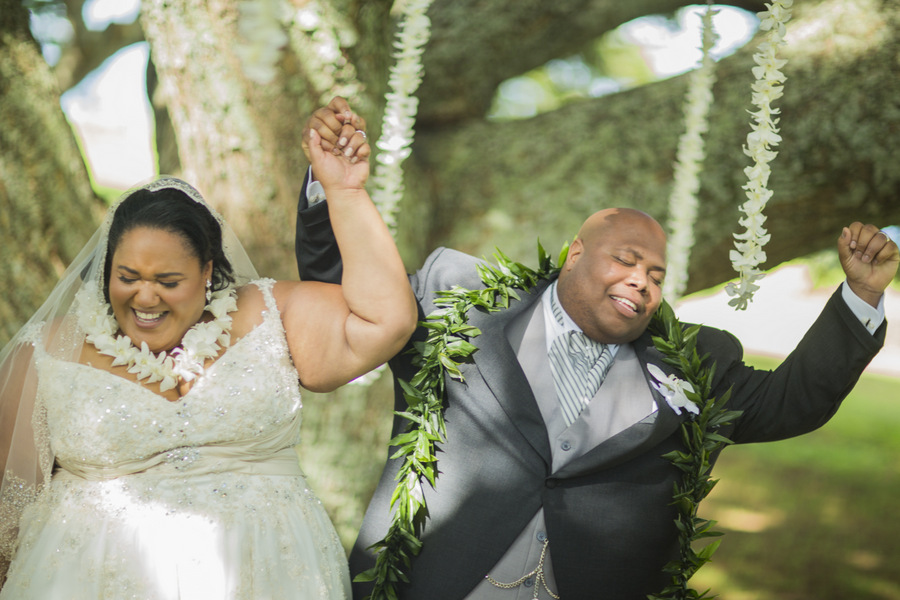 Memories and Stories about the Day: We laughed throughout the day. The ceremony was fun, personal and silly. We vowed to kill spiders for each other, to occasionally take one another's advice….constant and wonderful laughter. Laughter, tears, then more laughter. I've never had more fun at a wedding!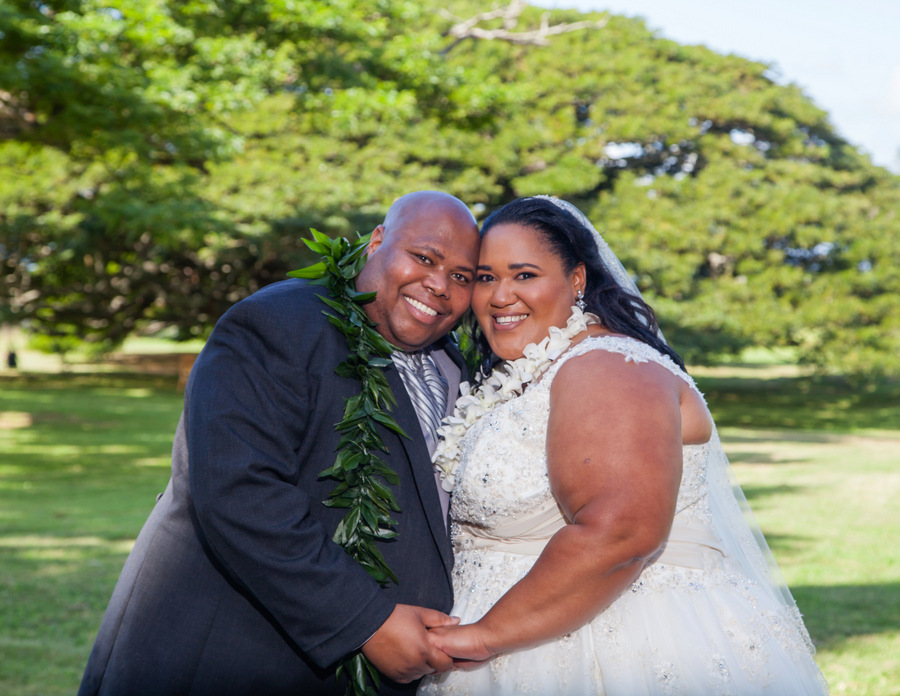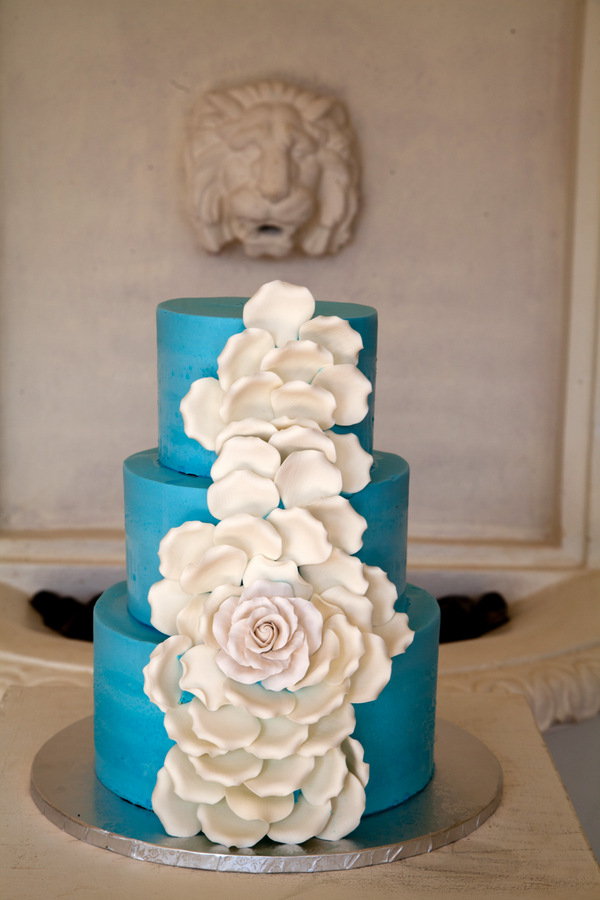 Your first dance song: "Someone to Lava" – Pixar short
If we could have spend our wedding dollars differently, we would have: Our flowers were gorgeous, but I think we could of easily doubled our flower budget to fill out the space just a little more. I had no idea how expensive flowers were, and surprisingly both my husband and I wanted even more flowers than we had.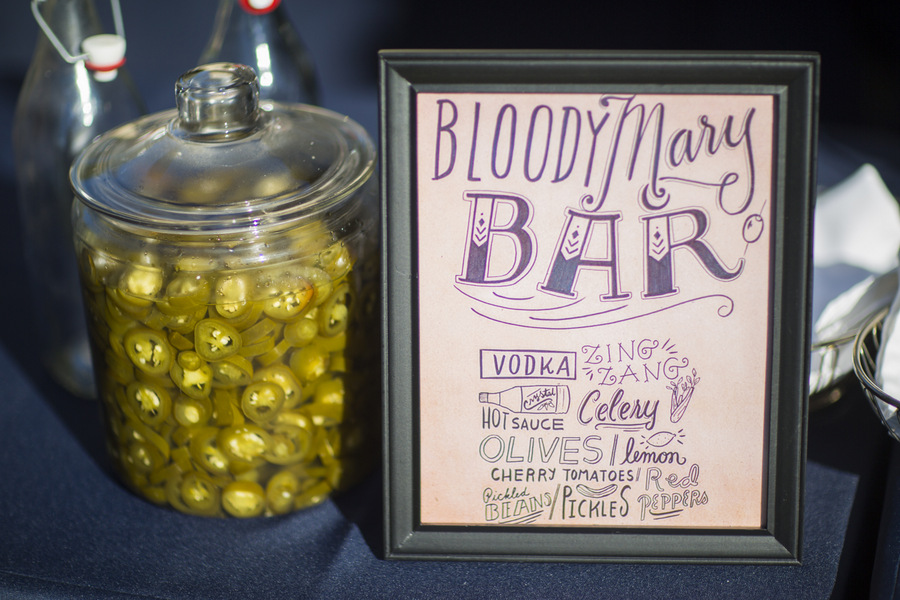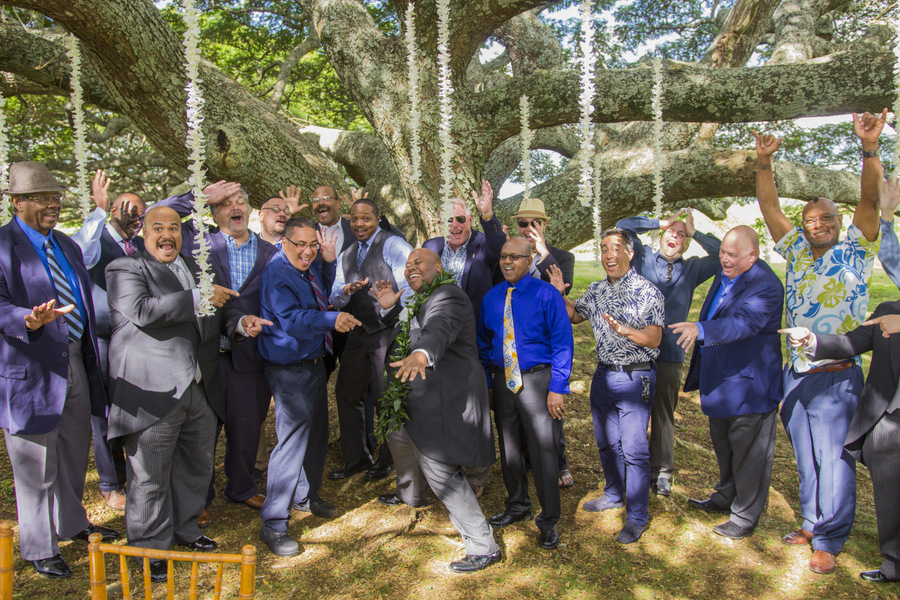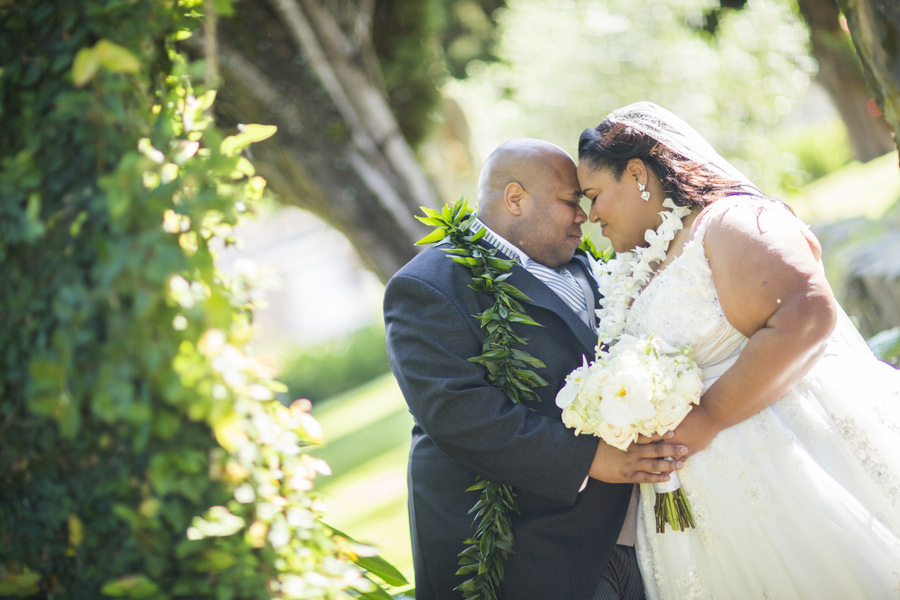 The thing that we would have done differently is? My wedding dress had a corseted bodice which required very specific ties, and needed to be quite tight to be appropriately modest. In retrospect, my maid of honor and I needed to get  together the night before for a "dressing" dress rehearsal. That would of calmed both of our nerves, definitely would have had me more confident in how my dress fit during the day and would of allowed us to troubleshoot any problems.
Your advice for other plus size brides: DO NOT, under any circumstances, allow anyone to make you feel anything other than fantastically phenomenally beautiful!! You are about to spend quite a bit of money on a dress and marry the most amazing person in your life. When you look in the mirror, undeniably you should KNOW how beautiful you are…chubby arms, extra curves and ALL!!
What has surprised you most during the first  few months of marriage? I am surprised that there were no great changes or transitions for us on the other side of the wedding. I married my best friend and the days leading up to the wedding matched all of the days following. We're just so excited to share this life by each other's side.
Vendor Love: Photography: Behind the Lens Maui  | Location: Makawao, Hawaii (Maui) – Hui No'eau Visual Art Center | Dress and Veil:  Moonlight Couture #H1251 from Della Curva | Flowers: Dellables Wedding Design and Florals  |  Catering/Wedding Planning/Rentals and Decor: Celebrations by Bev Gannon | Guestbook Alternative: PaperRamma |  Bridesmaid Attire: David's Bridal | Groom and Groomsmen Attire: Men's Warehouse | Invitation and Calligraphy: Wood Chick | Makeup: Maui Makeup Artistry