Today we are featuring such a gloriously elegant wedding. It's a mix of vintage with a touch of feminine and it's jaw dropping amazing! Megan Welker  was gracious enough to share these with us, and quite frankly we just can't get enough of Vanessa and Mark's wedding that was literally a surprise to everyone! No one knew about the wedding, their parents and bridal party didn't find out about it until the day of the event. And it was so crazy when the guests realized what was going on, it includes surprised screams and tons of hooting and hollering! I just can't stop looking at this amazing wedding, from the dangling roses to the beautiful details to Vanessa's two-piece skirt and top from BHLDN, everything about this wedding screams perfection. Scroll down to take it all in. Trust me, you won't be disappointed!

Vanessa & Mark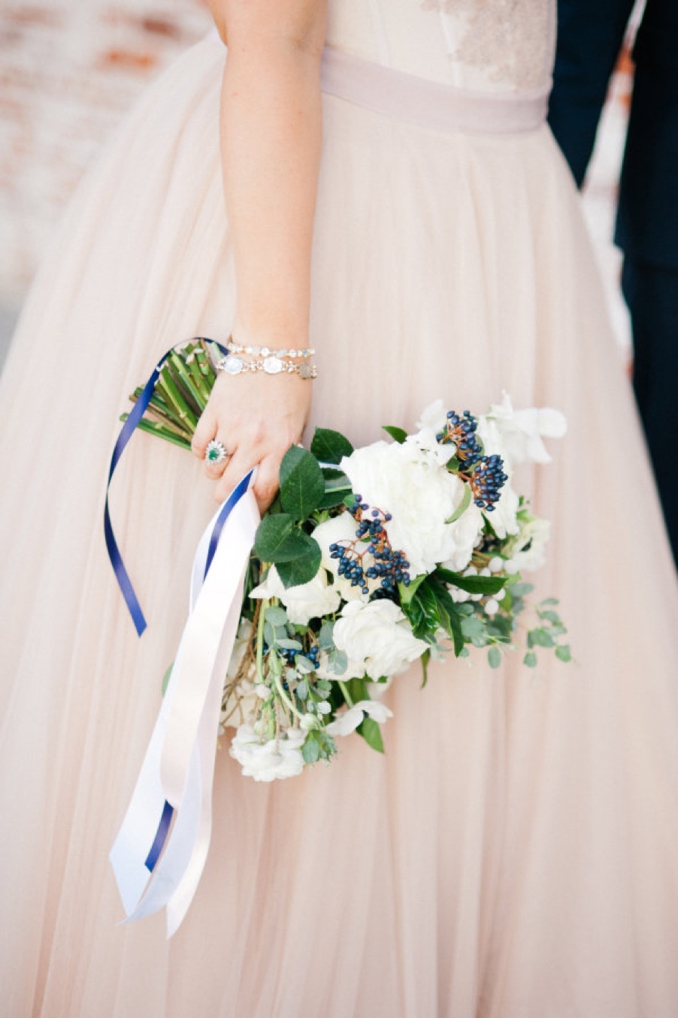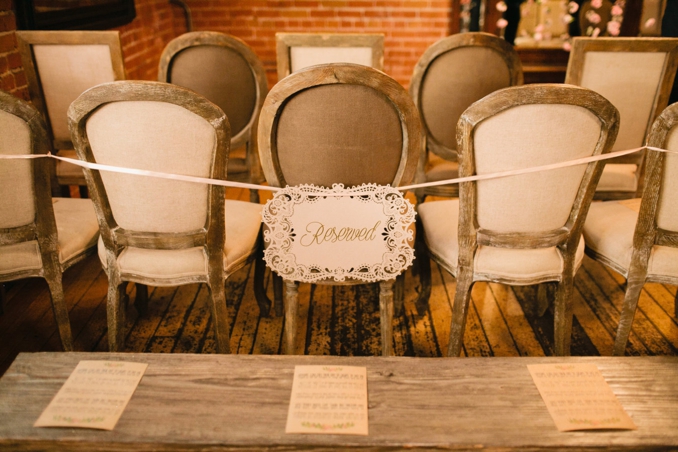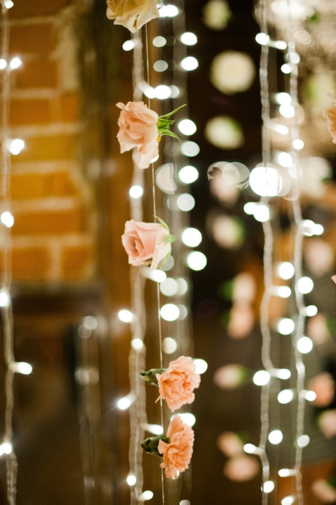 Shop the Post

How did the two of you meet? we were friends at work…but the groom made his first move at a friends wedding Describe your engagement: Mark is a master of surprises, so he proposed during the best easter egg hunt on easter 2014, complete with our family and a LOT of roses. Personal or handmade details: almost everything that could be made, was! Signs, all rentals and decor was done by us, personalized wood and string sign….when you go through the pictures I'm proud to say it was all us with the incredible help of Chloe & mint. Describe your Flowers: Our flowers were beautiful. They had a very organic feel with a sense of elegance and romance. Chloe & Mint did an amazing job putting it all together! Memories and Stories about the Day: It's hard to narrow it down, but since it was a surprise wedding everything related to the 'surprise' takes the cake! We surprised our parents that morning, and my mom was so surprised that she could not stop crying! So much so that she delayed the makeup artist. We surprised our bridal party as they arrived, and each surprise was amazing and will be treasured for the rest of our lives. BUT the best moment was walking into and out of the ceremony. As I (the bride) waited on the stairs behind our bridal party mark was the first to hit the aisle. When he took his first step it was undeniable, our friends and family went crazy, and I mean crazy. There was hootin' and hollerin' complete with 'i love you's' and 'fuck you's' all in the same breath. The love and support could be felt from a mile away and gave me chills from head to toe. I will never forget that moment! As each person went down the aisle our crowd did not let up (not that i would expect them too, i have a loud and amazing family). When i walked the aisle the yelling was so loud that I could not hear our trio of musicians that were playing. Best day, best feeling, best surprise ever! Your first dance song: to keep in theme for the day our first dance was a two part surprise. first dance/song was John mayer's version of XO & then we mixed it up and danced a little salsa to Marc Anthony's Vivir La Vida. The thing that we would have done differently is? I wouldn't have hired the trio because we couldn't hear them 🙂 I wouldn't do anything different, but my advice to all brides would be freak out as much as you want up until the day of the wedding. That morning wake up, relax and let go of all worries. Do not let anything bother you! What is done…is done! Whatever is not done…is not important! The day goes by in the blink of an eye, so consciously make an effort to take in and enjoy every moment! If we could have spend our wedding dollars differently, we would have: honestly changed nothing. The day was perfect for us! Although we wish we could have spent less ( as im sure every couple in LA would agree) but the way we allocated our budget was perfect! Your advice for other plus size brides: You know how to dress your body type best, so pick a dress that makes you feel beautiful! Don't worry about trends or what's in style…the best trend is you feeling gorgeous and flashing a genuine smile all day long! What has surprised you most during the first few months of marriage? Our pregnancy/son was the best and most amazing surprise we could have ever asked for.
Vendor Love – Photography: Megan Welker  | Videographer: Jordan Schulz | Floral Design and Wedding Planner: Chloe & Mint | Wedding Dress: Carina corsette & Ahsan skirt in Blush from Lili's Bridal | Jewelry: BHLDN | Invitations: Mashee Suites | Catering: Tres L.A. Catering | Hair and Makeup: Lauren | DJ: Prestige Event Pros | Wedding Venue: Carondelet House | Bridal Bouquet: Ellamah | Cake and Desserts: Semi Sweet Bakery | Furniture: Mint Vintage Rentals | Bridesmaids Attire: Their Closet 🙂 the bridal party didn't actually know it was a wedding and that they were in the bridal party until they arrived. | Officiate/ Minister: Cassandra Perez St. Antoine (cousin of the bride). Fun Fact: Mark went on to officiate her wedding to her bride Danielle in July 2015

The following two tabs change content below.
Shafonne Myers is a certified wedding and event planner who longed for bridal inspiration that looked like her. She has created a website and magazine that brings bridal inspiration to plus size brides. She does speaking engagements educating the world about plus size brides and self confidence.
Latest posts by Shafonne Myers {Editor-in-Chief} (see all)