This wedding has everything you could ask for. I am seriously swooning over its beauty! First of all, Jeff and Megan started dating at age 13 and knew they were made for each other from the start (how romantic is that?!). When they got engaged and began planning their wedding, they created a romantic, spring atmosphere with elements that were creative, personalized and just plain gorgeous. There were so many DIY details like Pokemon escort cards since Jeff is a huge fan, breakfast for dinner as it is the Megan and Jeff's favorite meal and Krispy Kremes for a midnight snack. Best of all, Lori Beth Denberg from Nickelodeon's "All That" served as officiant. How awesome!

Megan & Jeff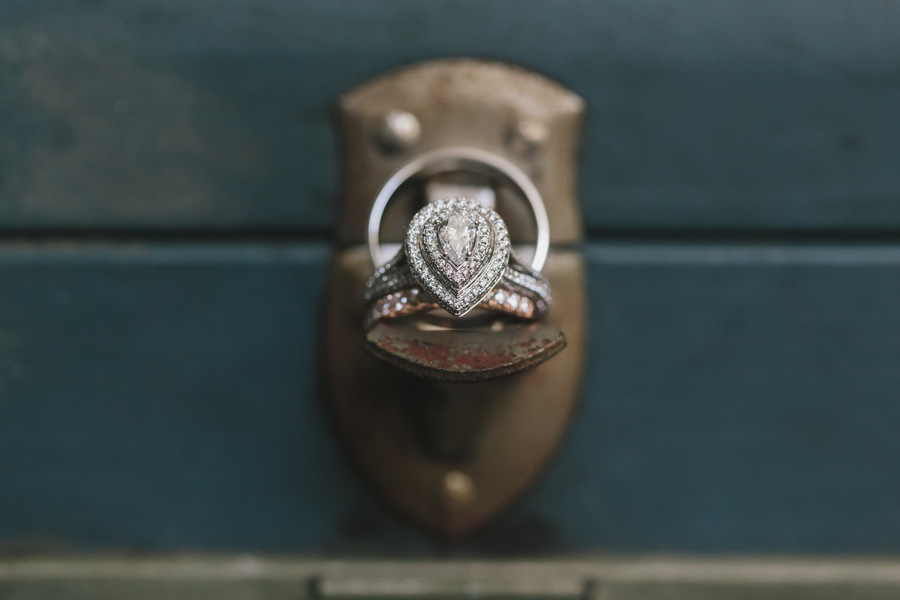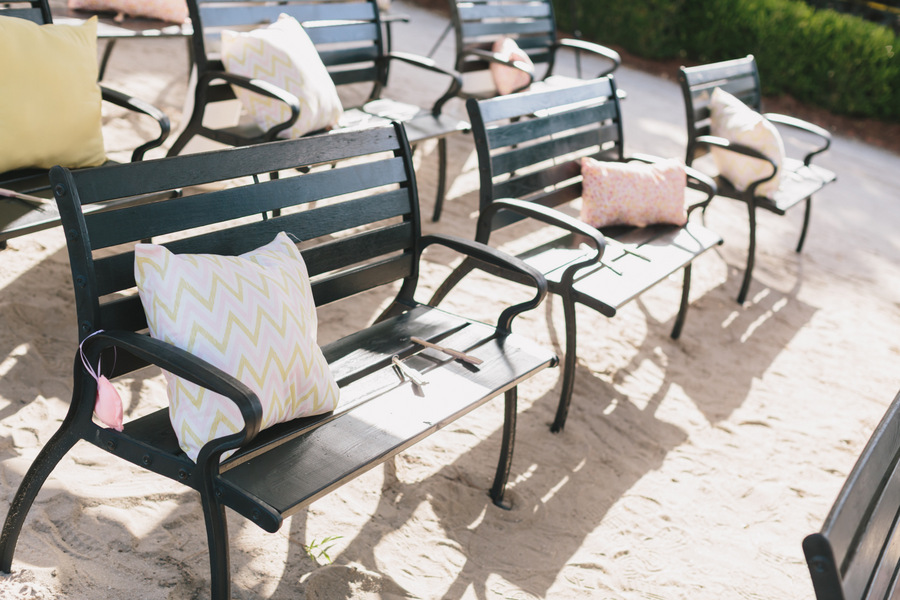 How did the two of you meet? Jeff and I dated in 7th grade!
Describe your engagement: Jeff recreated some of my favorite dates and at the end of the night he took me to our middle school. He proposed at the spot we had our first kiss in 7th grade!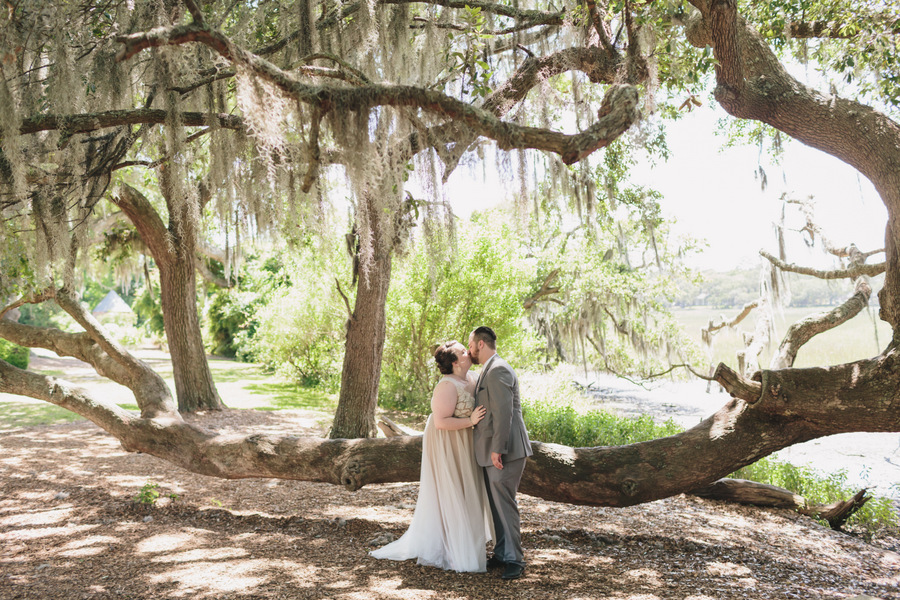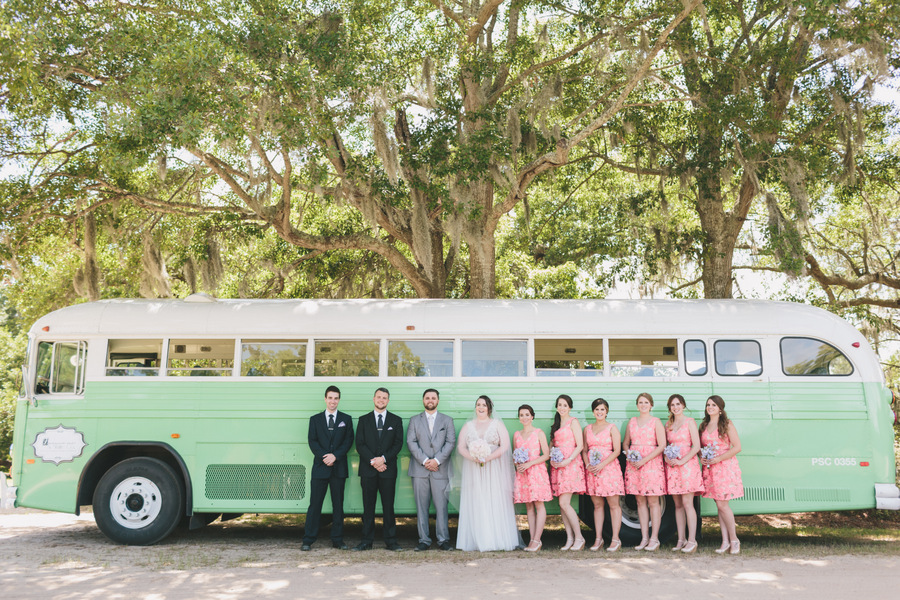 The thing that we would have done differently is?  I don't have something I'd do differently, just something I think is great advice. Think of what makes you unique as a couple and incorporate that into your wedding. There are SO many opportunities to do this so be creative and have fun with it! Also, yes hire a coordinator and a videographer!
If we could have spend our wedding dollars differently, we would have: In trying to be nice and appreciative I was too generous when it came to our bridal party. I don't regret this completely as I don't believe they should be overwhelmed with expenses, but I went overboard in paying for essentially everything.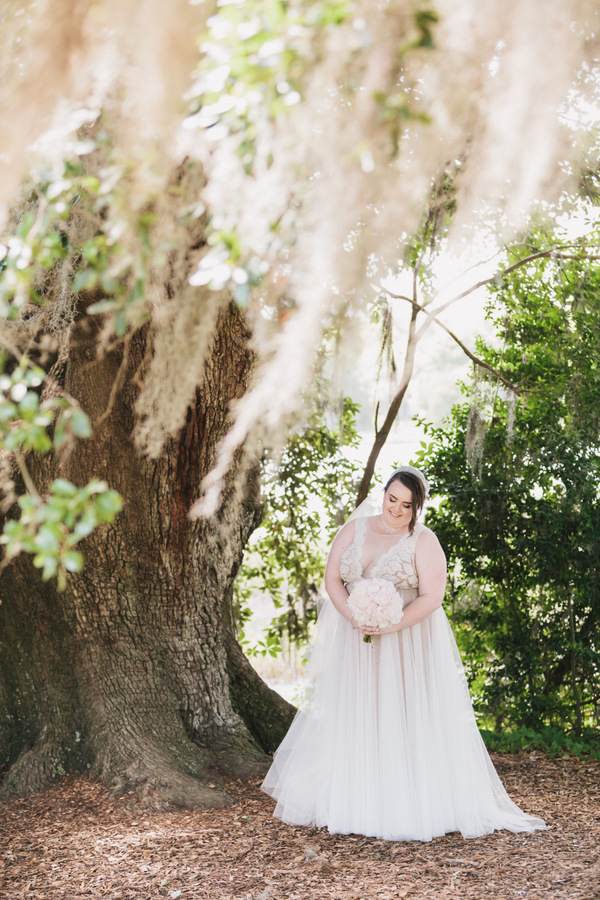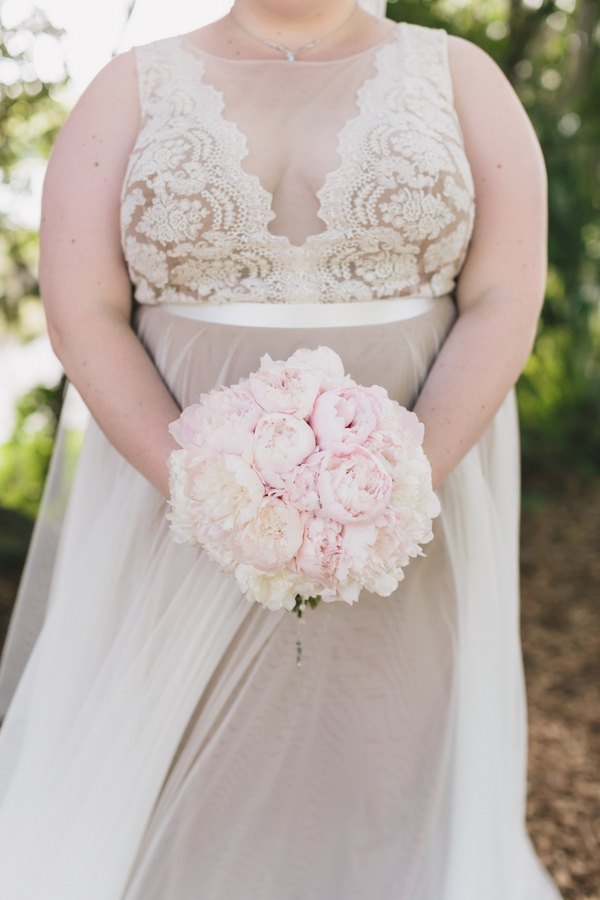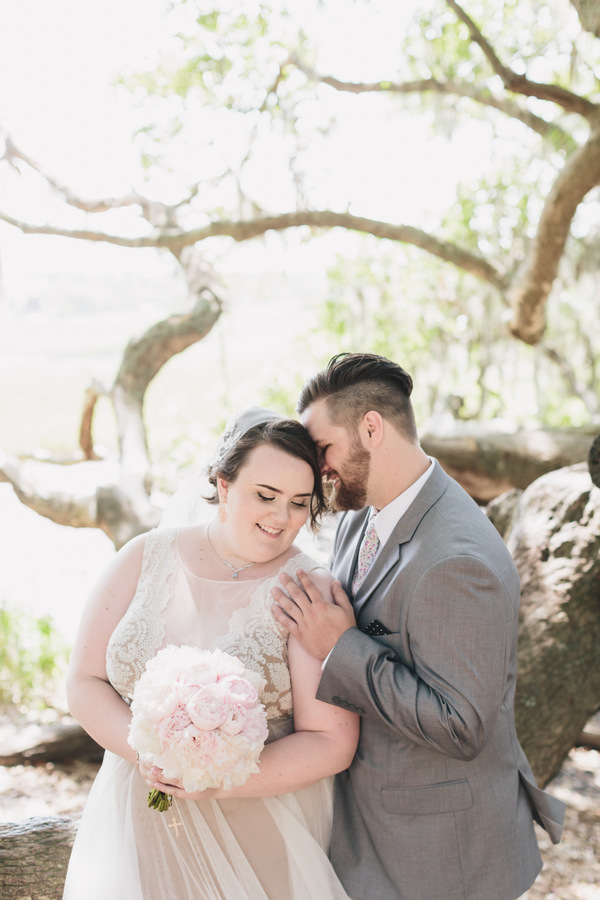 Your advice for other plus size brides: There are so many gown options out there, don't settle on something that doesn't make you feel stunning. I would have picked the same dress if I were plus-size or not. Go for the dream dress! Also, I think it was very helpful to do engagement pictures because I was able to see what poses and expressions I felt looked the best.
Personal or handmade details: All of the decor from the paper flowers to the glitter candlesticks, from the paper goods to the signage, the bridesmaid's jewelry, the hearts on the back of every chair, and everything in between was handmade by me. I even hand-stamped all our plates and silverware! We had Pokemon escort cards because Jeff loves Pokemon, Pink Lemonade because Jeff ordered it on our first date, Breakfast for Dinner because it's our favorite type of food, Krispy Kreme donuts as a midnight snack because it's Jeff's favorite, and more! This was truly OUR wedding – all the guests were treated to a day that genuinely represented us as a couple and our love story.
Describe your Flowers: Our planner, Kat from Dear Sweetheart Events, created romantic, spring floral arrangements that were a huge part of the day! I carried an all Peonies bouquet, while my bridesmaids had Sweet Pea bouquets. Our centerpieces included gold candelabras, gold mercury glass bowls, and an assortment of bud vases filled with peonies, hydrangeas, roses, ranunculus, astilbe, white stock, and more!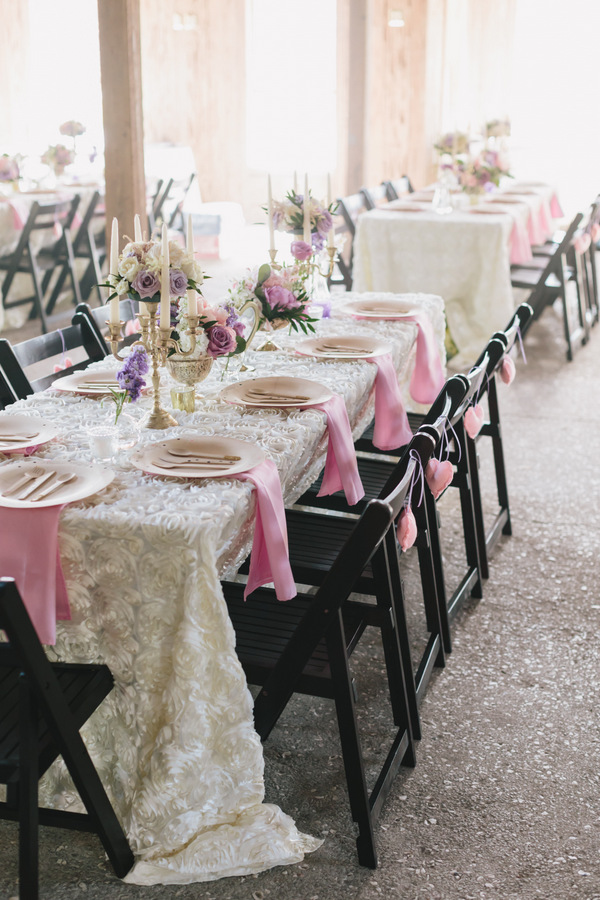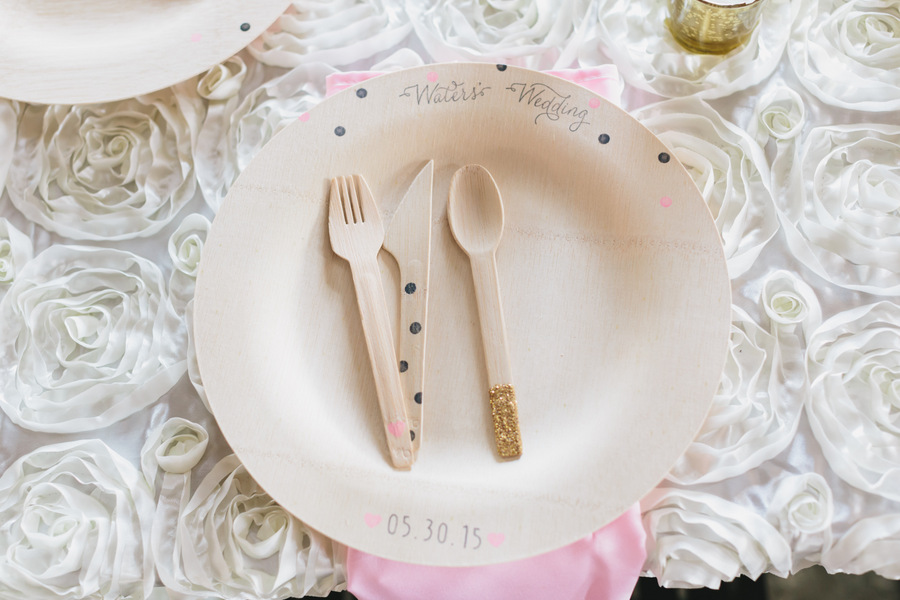 What has surprised you most during the first few months of marriage? How nice it feels to share a last name. We've been in love for half our lives plus we're business partners, but taking his last name made us feel like a family.
Memories and Stories about the Day you would like to share: The best part was finally becoming his wife. Of course, we also had the best wedding officiant of all time so that's pretty memorable :).
Your first dance song: "Don't Wanna Miss a Thing" by Aerosmith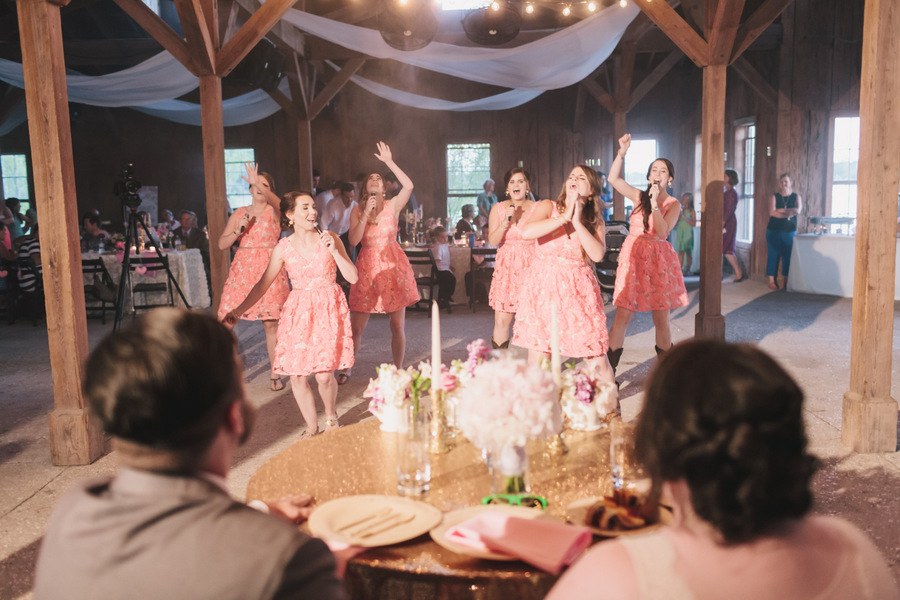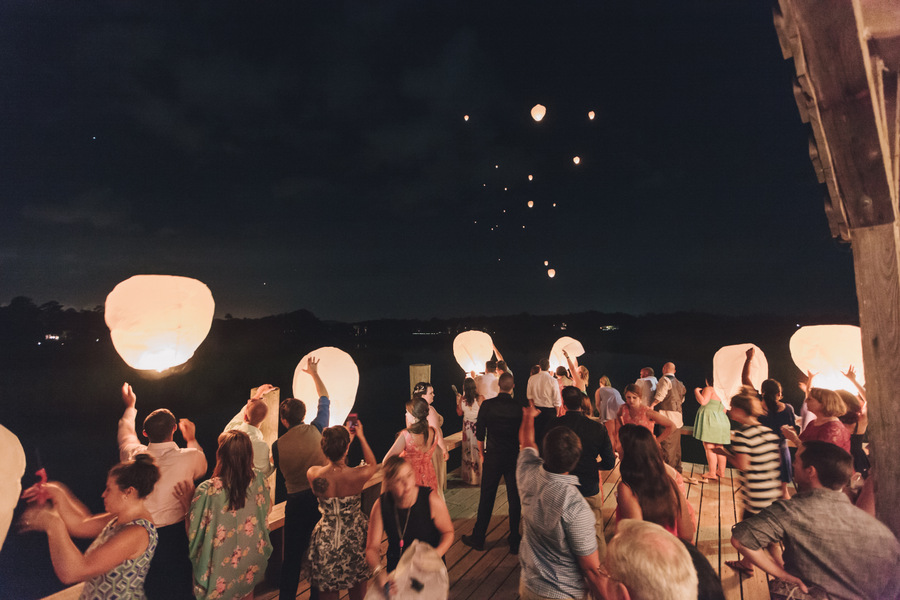 Shop the Post

Vendor Love: Photographer: Red Apple Tree Photography | Videographer: Artifice Films | Wedding Planner: Dear Sweetheart Events | Invitations & Calligraphy: The bride |  Jewelry: Bridesmaid's jewelry from BlueGreenAqua (boutique owned by the bride and groom), Bride's earrings from BHLDN | Bride's Attire: Watters Santina gown from Jingles Bridal Salon; Veil and headpiece from Veiled Beauty | Bridesmaids Attire: BlueGreenAqua | Groom's Attire: Suit by Combatant Gentleman, tie from Stag Handmade, pocket square from The Tie Bar | Groomsmen Attire: Suit by Combatant Gentleman, tie and pocket square from The Tie Bar | Ceremony Location: Boone Hall Plantation | Reception Location: Boone Hall Plantation – Cotton Dock | Transportation: Lowcountry Valet | Music/Entertainment: Darby Events | Rentals and Décor: Furniture rentals from Snyder Events, all the decor was created by the bride | Officiate/ Minister: Lori Beth Denberg (from Nickelodeon's "All That"!!)
The following two tabs change content below.
Shafonne Myers is a certified wedding and event planner who longed for bridal inspiration that looked like her. She has created a website and magazine that brings bridal inspiration to plus size brides. She does speaking engagements educating the world about plus size brides and self confidence.
Latest posts by Shafonne Myers {Editor-in-Chief} (see all)