Today's wedding is all about individuality. Armie and her new husband Rhey had a civil ceremony 10 years ago but coming from the Philippines, a predominantly Catholic country, they always felt the pressure to marry in the church. With most brides being smaller than Armie, inspiration for her church wedding was hard. She ended up finding us and lo and behold, the confidence she always had was able to shine through! From a custom-designed pink wedding gown to a gorgeous art deco style wedding cake, Armie and Rhey created a special day that was truly their own.
Dress: When we met, I told him I wanted something like what Oprah Winfrey wore at the 2015 Oscars. So he made a very lovely blush pink wedding gown for me and added all the intricate flower designs. Every time I went for a fitting, he just told me to not worry about the gown and that he would make it look fabulous! They all went out and bought their own individually. I had some plus size bridesmaids as well who were all too pleased to know that we wanted them to wear something long and black. I thought they all chose well and looked amazing.
Armie & Rhey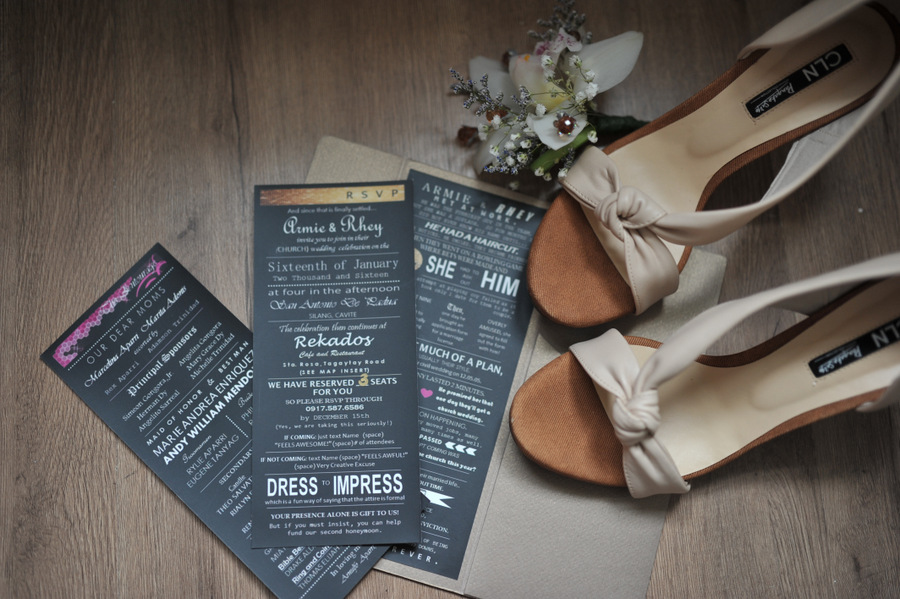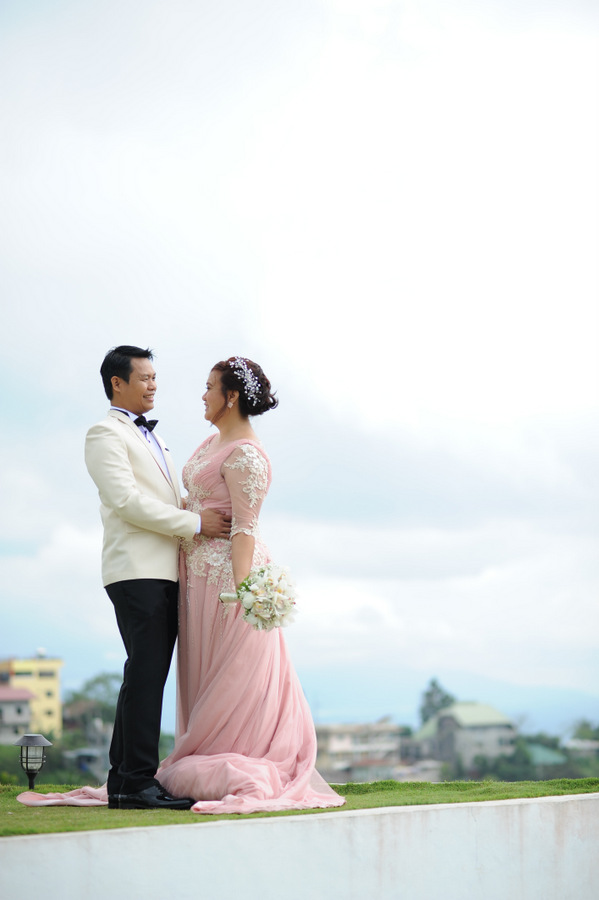 How did the two of you meet? We met at work. We have been teammates for months but I did not know his name. He was the funniest member of the team, while I was the shy/quiet type. On his birthday, he came to work with a new clean haircut (he had long, curly hair previously) and I noticed him for the first time. Our team supervisor would eventually be the host of our reception program.
Describe your engagement: I am not quick to warm up on people, but Rhey, he has been endearing from our day 1 together. He is a genuinely kind and happy person who just knows how to make me smile every single day.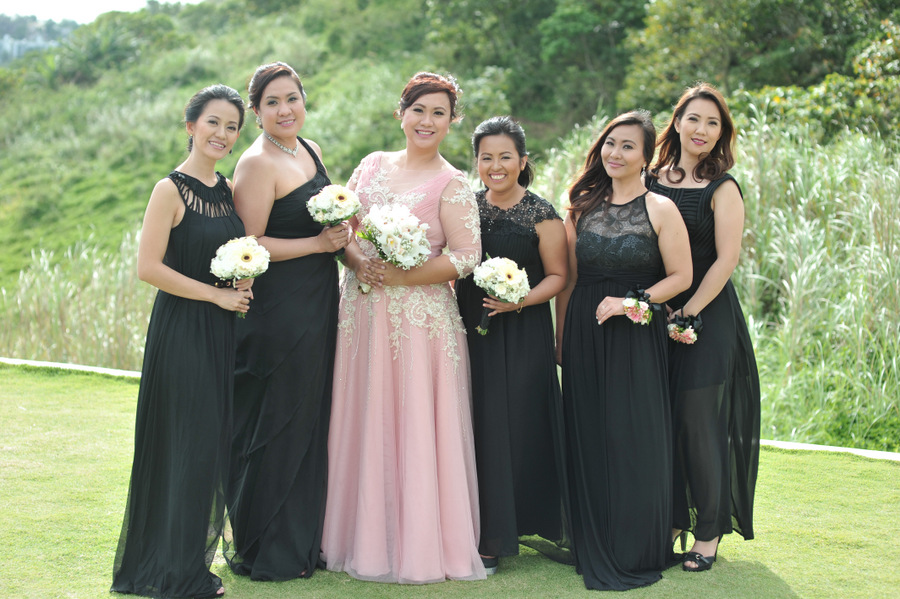 Describe your Flowers: I just asked for a bunch of white flowers. I wanted them to be "cascading" but there was a mix up with the supplier and I did not get what we agreed on.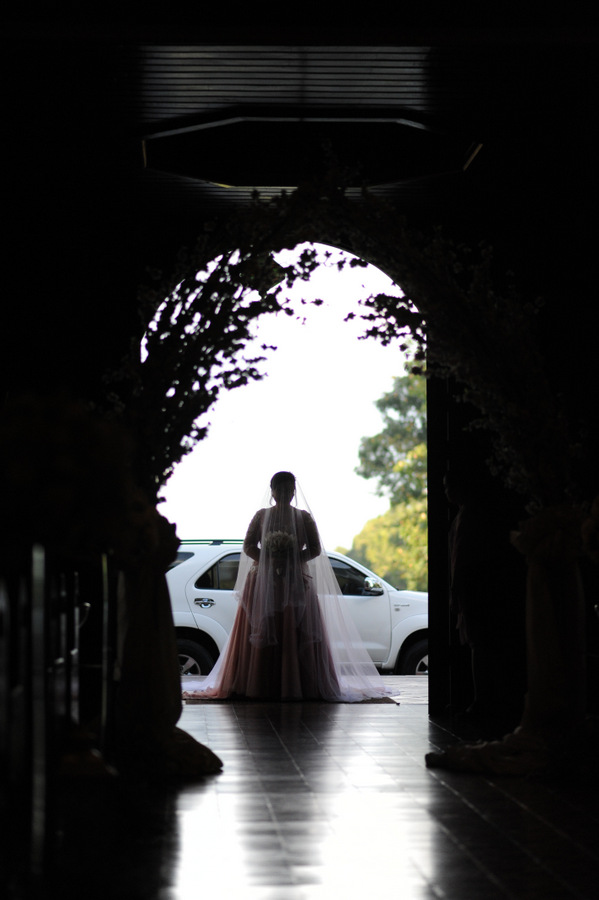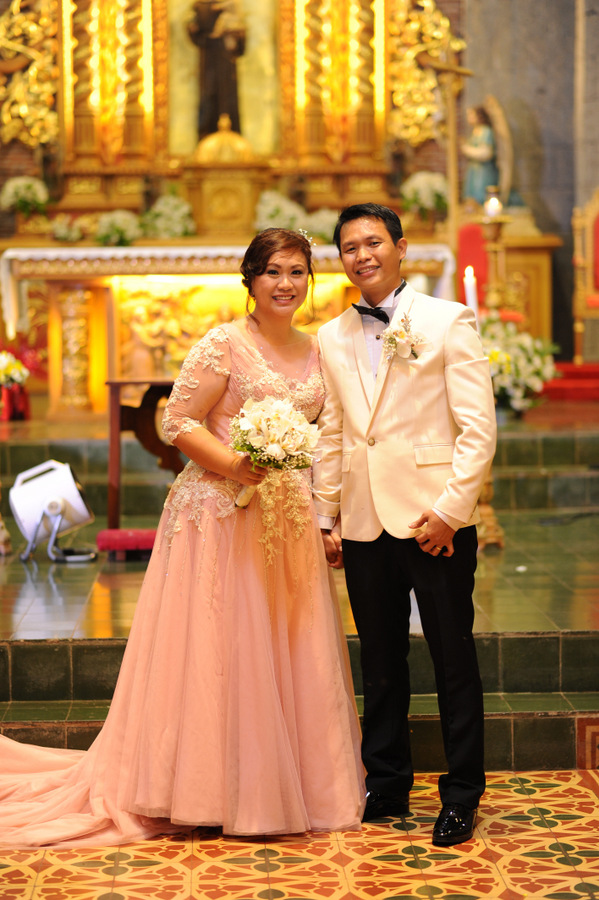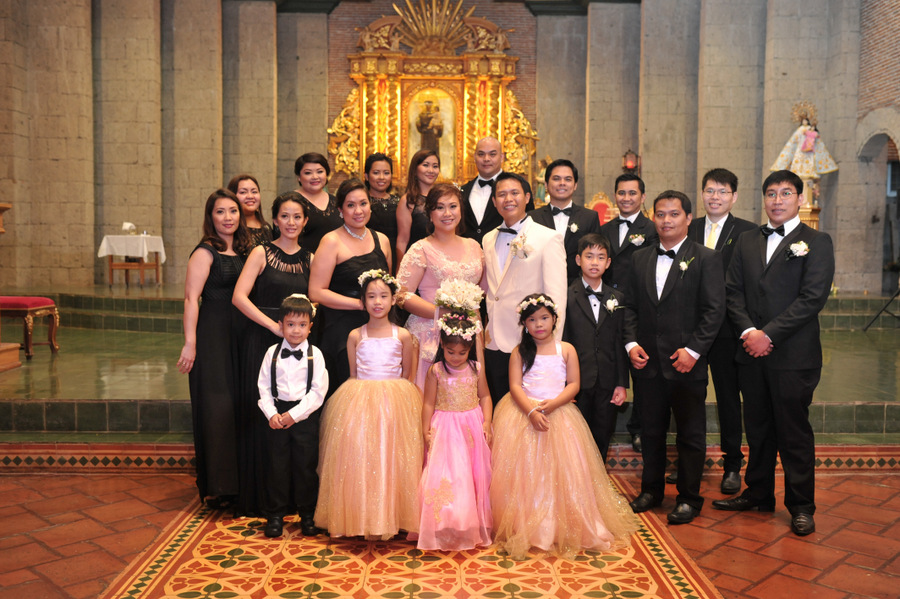 Memories and Stories about the Day you would like to share:
• Finally walking down that church aisle… I never in my mind thought it would happen one day. In the ten years we've been together, it was something just at the back of our minds being shoved away for some other things we thought were more important then. When I looked up to the altar and saw my husband there staring back at me and wiping tears from his eyes, I felt like crying myself. I tried to gaze away only to see a lot of people crying as well. It was a long journey, but we've made it!
• My husband and I felt so blessed to have all of our close friends in one place. My maid of honor flew in from USA, one bridesmaid from Canada and another from Singapore. Our flower girl, daughter of another close friend, came from Australia. My husband's best man came in from a far province as well. And many more. These were friends we actually felt like we would never see again because of the distance between us and how we were all busy with our own lives. But they all came! And for them to reserve one day for us just made our wedding day extra special.
• My husband loves to sing "love songs" and I was kidding him that if he felt like he must sing on our wedding day, then he should sing something different.. something out of his "music genre." Well, he did sing in our wedding day! He sang "Without You" by David Guetta/Usher.
• Our son was a groomsman and he also sang (must be in my husband's genes, as my sister-in-law also sang a song for us). For him, his fave part though was when we entered the reception venue and they had to throw flower petals at us. He just felt so much joy at that moment to see us finally married in the church.
Personal or handmade details: A lot. We love to DIY things.
• Invitations' design and wordings (our guests loved that they learned about our love story when they read the invitation)
• Photobooth backdrop and design on the print. Part of the print-out was to be cut-off so they can leave us a message on it. The other part was on a magnetic strip so they can stick it to their fridge maybe.
• Design of the couple's table – we bought lanterns that we spray painted with gold, printed out "Bride" and "Groom" then placed them in gold picture frames. We also bought the sequined cloth that we had to sew together as table cloth.
• Designs on the registration table – we had a chest brought and we made a bunch of flag letters spelling out "Honeymoon Fund". We also personalized the envelopes they were to use to put inside the chest.
• We had a set of 36 picture frames that we glued to a plywood in the shape of a heart (found the inspiration in Pinterest). In each frame was a black and white picture of us.
• We had a DIY-marquee that spelled "LOVE". The lights we used were just Christmas lights.
• Our giveaways were lotto tickets… We bought 150 lotto tickets, made a personalized card and envelope where we put the tickets in. We thought that we wanted them to feel as lucky as we were in love.
• For the couple's send off from the church, we DIY'd 150 LED balloons. This means we had LED lights and batteries put inside each of 150 balloons, blew each of them up, and put on a stick. Each guest had one to hold outside the church (almost got my nails ruined because we had to do this the day before the wedding to make sure the battery did not run out).
Your first dance song: Make You Feel My Love (Kris Allen version). We wanted a classic song that would not grow old… something that has been remade many times and hopefully for more in the future (so we could keep dancing to it).
Check out a video from the day!
Vendor Love: Photographer: Ricky + Jean Photography | Videographer: Team LightPipe. https://vimeo.com/152986078 | Invitations & Calligraphy: Printed Matter | Jewelry: Ocampo's Jewelery | Bride's Attire: Kastner Couture by Boy "Kastner" Santos. | Groom's Attire: Gardini Fashion Centre | Ceremony Location: San Antonio De Padua Church, Silang, Cavite, Philippines | Reception Location: Blue Moon Events | Music/Entertainment: Our friends Chino Wasan and Anna Lorraine Bogtae sang in our church wedding | Officiate/ Minister: Fr. Hazer Cango