We have such a lovely wedding on tap for you today! Julie and Logan married in September in Ohio to a crowd of 160. The two lovebirds had a navy and blush theme for a gorgeous, classic vibe. Julie found her breathtakingly beautiful dress at Belle Bridal Boutique, a plus-size only boutique in Cincinnati (which we love to hear!). Logan and Julie met through a mutual friend while at the University of Toledo and well, the rest is history!

Julie & Logan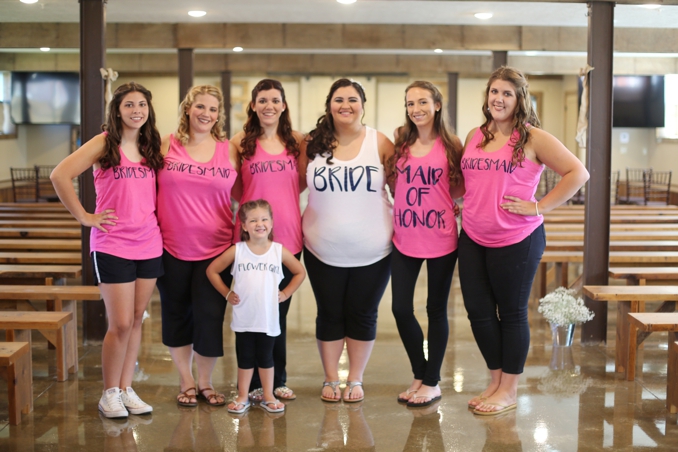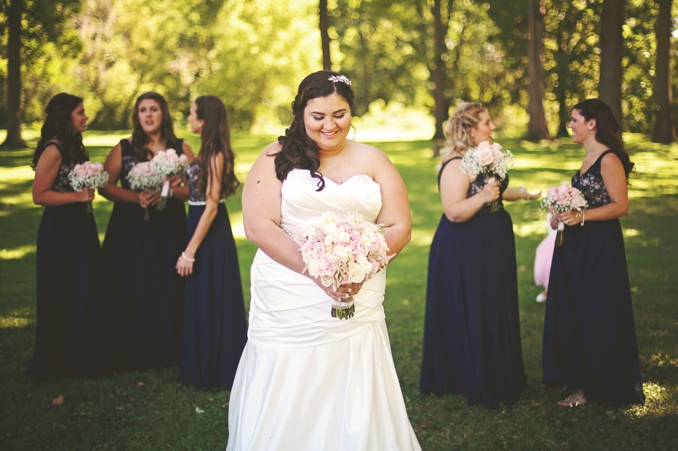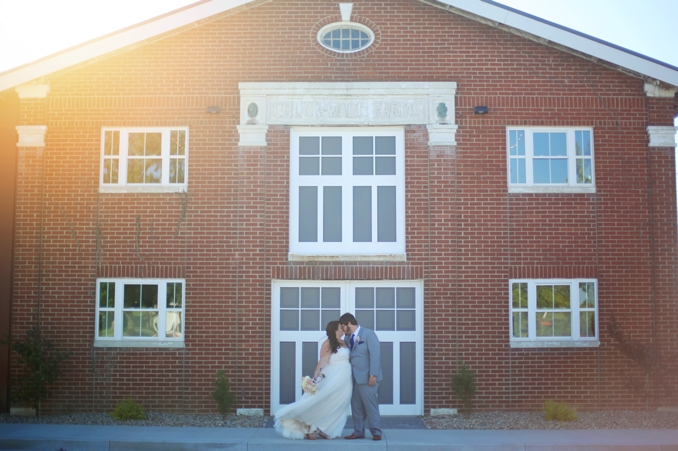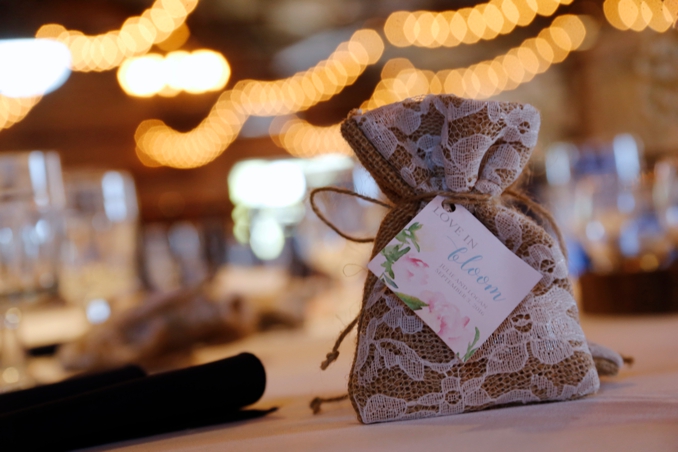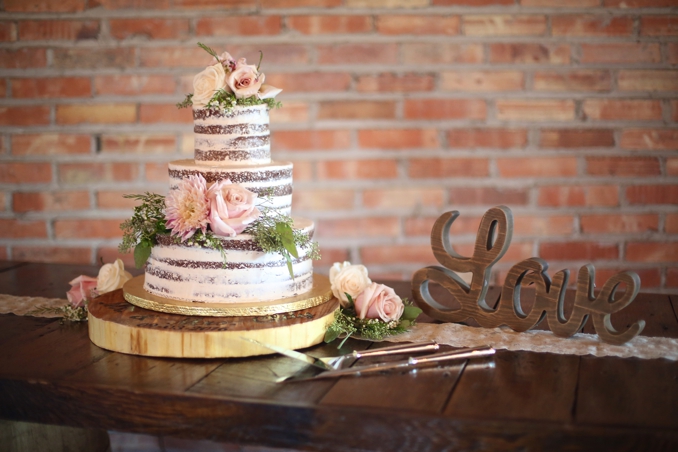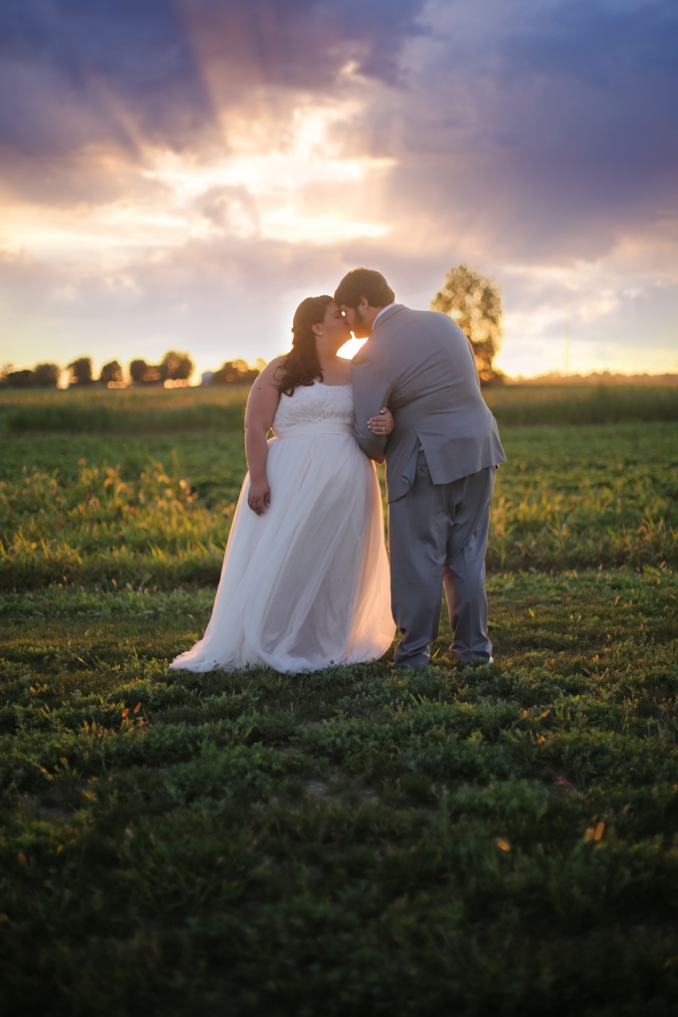 Shop the Post

How did the two of you meet? Logan and I met through a mutal friend while we were both attending The University of Toledo in 2009. I ran into her while she was hanging out with Logan and some of his friends and we were introduced. We were friends first, started dating about 2 months later. We had our daughter almost 3 years later in 2012 and got engaged in 2015! Then nearly 7 years after we met we got married in September. Describe your engagement: Logan and I planned a romantic getaway to the smokey mountains for summer of 2015. On the last night of our trip he took me out onto the deck of our mountain cabin and proposed at sunset. It was BEAUTIFUL. Personal or handmade details: To save money we did most of our flowers ourselves in the Flowerman DIY workshop. They did my bridal bouquet but my aunts and I did the rest. All of the centerpieces, the guys boutonnieres, and the bridesmaids bouquet were done by us the Thursday before the wedding. I also created a ripped fabric backdrop with the help of my mom and bridesmaids. Describe your Flowers: I love loved working with the Fowerman because they helped me really find my look for my wedding. We went with lots of big Dahlias, tons of white and pink roses, tons of babys breath and gerber daisies for the centerpieces. Main colors were white and pink/blush Memories and Stories about the Day: I had two dresses and I am SO SO glad I did it! And honestly they were both a huge hit and everyone loved them! I know its not for everyone, but it worked out so well for me and I was so comfortable throughout the night. I dropped his ring! Logans brother/best man gave me his ring and I dropped it as I was trying to nervously say my line.. Everyone loved it because it was very me… I am very klutzy and anxious person. Lol. Logan and I's daughter (Aubree) was the only child there, as we wanted an adult wedding (which included A LOT of booze), but that did not stop her from TEARING up the dance floor. She was loving every second of it and ended up staying WAY past her bed time. We forgot my veil! We did a first look shoot before the wedding because of the two dresses.. I wanted pictures in both dresses but didn't want my guests to have too wait through a way too long cocktail hour. It was pretty windy that day and we decided to leave the veil at Pickwick and put in on when we got back.. It never got put on! Right after the ceremony Logan and I walked into the bridal suite at Pickwick and I saw it hanging and realized we had forgotten. I didn't even worry about it honestly because the ceremony was over and it was no big deal. I was too excited that we had just gotten married to care that we forgot something small. Your first dance song: I Don't Mind – Defeater (He actually picked it! And I fell completely in love with it!) The thing that we would have done differently is? Invited more people! I didn't expect as many "nos" and no-shows as we had and I honestly left out some people I wish I would have invited due to space. I was worried that at 230 invited and max that could be seated in my layout was 180. I can think of at least 20 more people I would have invited. We ended up at only 160. I also would have gotten more planning done sooner. I was super early on a lot of things and then kind of put planning on pause…. When I got back to planning I feel like I didn't have enough time to really finish what I needed to. Plan details early! Also, go to plus friendly bridal shops. Even if you have to drive! I went to a few "normal" bridal salons in Columbus and I honestly was not treated as nicely as I was at the plus sized places. They don't know the plus body as well and really didn't know what would look good on me. If we could have spend our wedding dollars differently, we would have: Bought less alcohol, thought ahead for small details that we paid wayyy too much for because it was too close to make them. Small things that I could have made for cheaper had I planned ahead for them. Also, would have spent the extra for a videographer or preserving my bridal bouquet. Your advice for other plus size brides: Go for that dress that makes you feel sexy! ( I did, hence why I ended up with 2!) Go for everything you want in your wedding and don't second guess yourself. You will be a gorgeous bride no matter if you don't lose 1 single pound before the wedding. Don't let people pressure you into thinking you need to drop dress sizes just because you are getting married. Slow down and take in the day! It will go by WAY too fast. Also, one last tip… Once you have picked a certain item out ( Dress, Bridesmaids dresses, flowers, centerpieces Etc.. ) STOP LOOKING! Pinterest, Pretty Pear Bride and other wedding inspiration sites are a wonderful tool for ideas. But once you pick something out don't keep looking at them. You will drive yourself crazy at all the different ideas and dresses. What has surprised you most during the first few months of marriage? How easy the transition was for us to married life. Everyone says everything changes, but nothing for us has changed. We are still mom and dad, but now we are also husband and wife. Also how real post wedding blues can be. You spend so much time planning and obsessing and looking for different vendors
Vendor Love ~ Photographer: Photography By Laura B. | Wedding Planner: Fantastic Event Direction | Invitations & Calligraphy: Basic Invite | Hair and Makeup: Columbus Traveling | Bride's Attire: :Dress 1- Stella York Style Number 6145 from Belle Bridal Boutique | Dress 2- Casablanca Style Number 2205 from The Bridal Emporium | Bridesmaids Attire: MoriLee- Bridesmaids Style Number 714 from Henris Bridal | Groom's and Groomsmen Attire: Men's Warehouse | Ceremony and Reception Location: The Loft at Pickwick Place | wedding veil: bestweddingveil | Music/Entertainment: Josh Staley Productions | Officiate/ Minister: My uncle, John Kocher! He got ordained just for our wedding!| Cake: Bella Luna Cakes and Confections

The following two tabs change content below.
Shafonne Myers is a certified wedding and event planner who longed for bridal inspiration that looked like her. She has created a website and magazine that brings bridal inspiration to plus size brides. She does speaking engagements educating the world about plus size brides and self confidence.
Latest posts by Shafonne Myers {Editor-in-Chief} (see all)