A "nautical Kate Spade" inspired theme brought this October Brooklyn wedding together. Tania and Israel married at the Hudson River Golf Club while 80 guests looked on. It was a very intimate and special wedding. The two so deserved this happily ever after—they met at a young widow support group after both losing their significant others. Congratulations you two lovebirds and we wish you all the very best!

Tania & Israel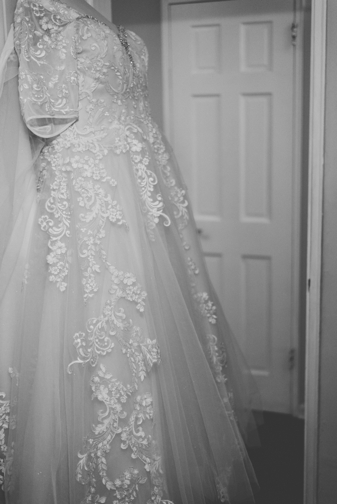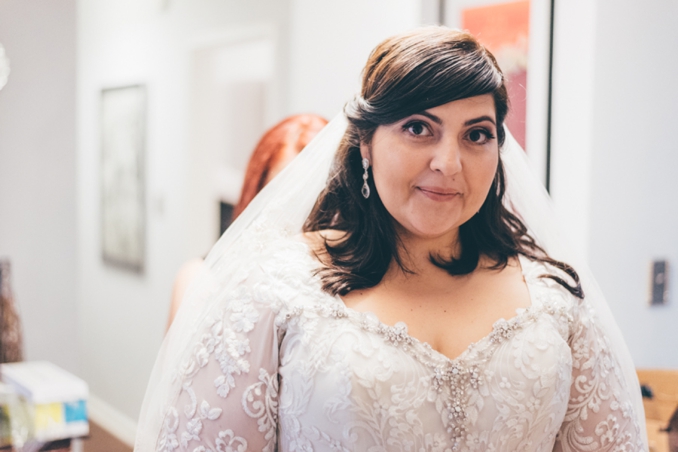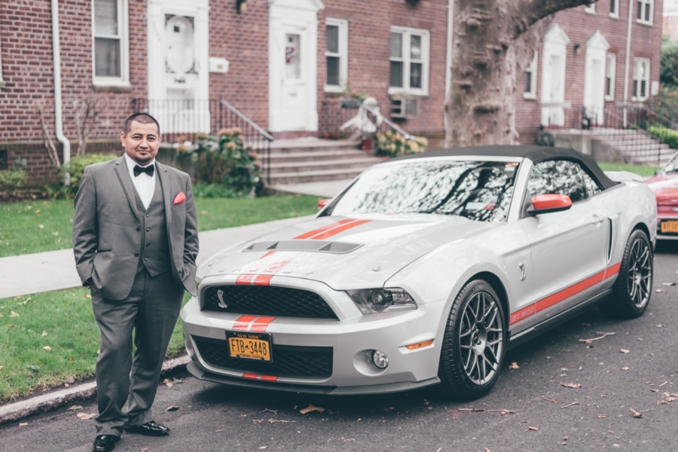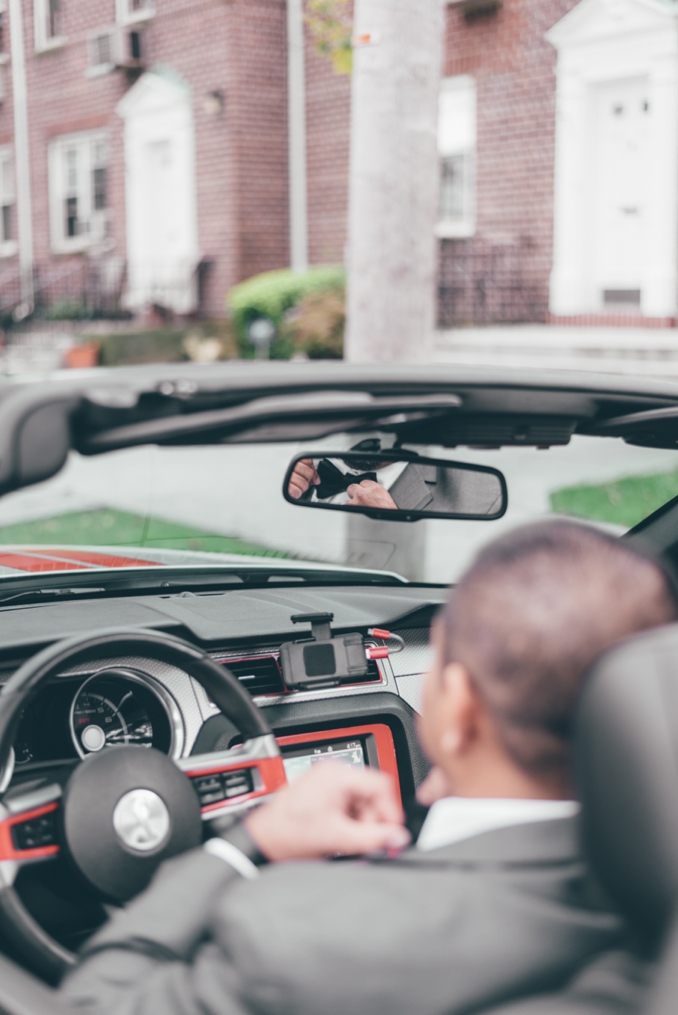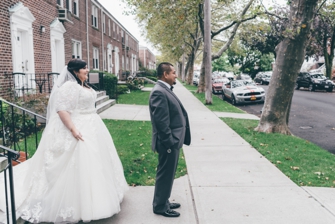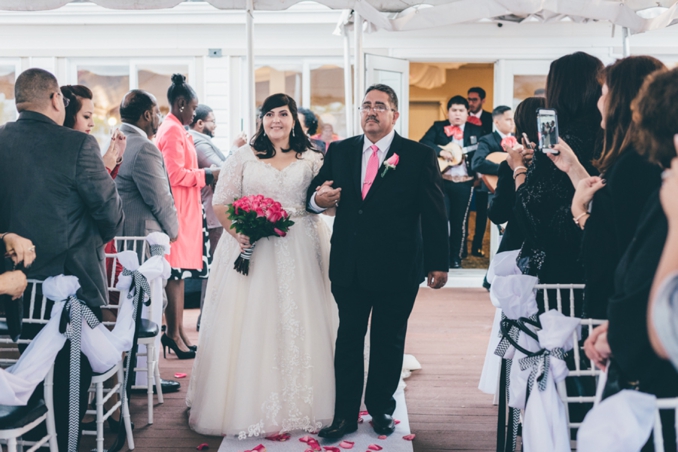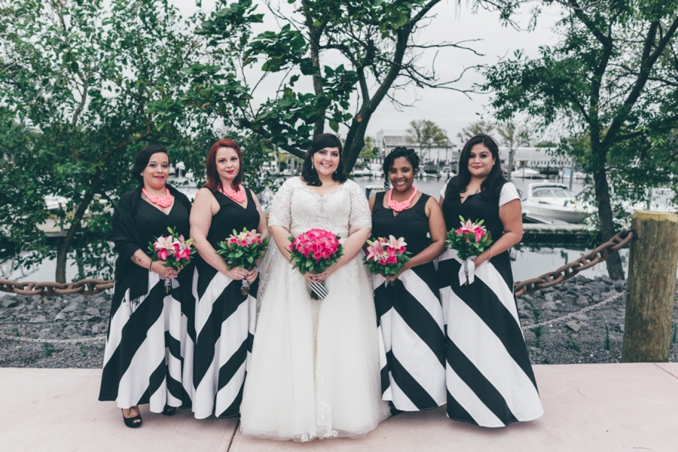 SHOP THE POST

How did the two of you meet? We both suffered the loss of our significant others, and met in a Young Widow support group. We became friends while supporting each other through a tremendously difficult time. Describe your engagement: After being together for over 4 years, one night out of no where in our special place he got down on one knee and popped the question. After 4 years, he figured I waited long enough, so he wanted to get married right away… So with only 3 months to plan…. We did it. Personal or handmade details: I'm a very DIY type of person, so there were handmade touches everywhere, we built 2 backdrops out of pvc pipes, one for photo booth wall, the other for the reception and sweetheart table. We made all the paper flowers on the photo booth wall, made the paper sails for the table numbers, bejeweled picture frames, glass bottles, signs. Designed the Cake, cake toper, guest book, and many more details Describe your Flowers: Found Anyuta's Flowers on The Knot, she was local, accommodating and great to work with, I wanted hot pink roses for my bouquet and a nautical black and white stripe ribbon… Just wanted a classic look for the wedding, for the tables I wanted the arrangements low and wide across the table. Inspiration for your Wedding Colors: Black, white, fuchsia, gold (I let the location be my 1st inspiration, Yacht Club on the water = Nautical theme, but I didn't want the typical blue and white, so I let Pinterest guide me next, and found a Kate Spade inspired pallet with these colors. Together my theme became 'Nautical Kate Spade' Memories and Stories about the Day: Everything went so fast, but I finally got to marry my best friend, and truly be united in the eyes, of the lord, friends, family and the law… We felt the love and support of everyone. Your first dance song: We couldn't nail down just one song that represented us so we had a Mash up of our favorites. Started with Thousand Years (Christina Perry), Thinking Out Loud (Ed Sheeran), Like I'm Gonna Lose You (Meghan Trainor & Jon Legend) The thing that we would have done differently is? Not focus on all the little details on day of, be more in the moment and enjoy all that is happening. If we could have spend our wedding dollars differently, we would have: I was pretty good with saving money (Total came in about $13k all in, by NYC standards very inexpensive) I bought most things online, thru AliExpress, Amazon, Ebay etc. Your advice for other plus size brides: I found a group on Facebook for plus size brides and found it very helpful having others going through the same challenges. Remember it's your day, you are beautiful inside and out, that's why your partner is marrying you, for who you are so embrace your curves and rock out… party like its 1999. What has surprised you most during the first few months of marriage? Everyone asks you "How's married life?" and I answer…. 'Exactly the same as it was before, we love each other and treat each day like its our last, we know better than most that life is fleeting, so we must cherish all the time we are given.' The only strange thing is using/hearing the terms "Husband/Wife"
Vendor Love: Photographer: Levana Melamed | Wedding Planner: TMT Event Designs, LLC | Invitations & Calligraphy: Vista Print | Jewelry: from Icing | Bride's Attire : Soterro & Midgley Olga Haute Couture Collection from Kleinfelds Bridal | Bridesmaids Attire: eShatki | Groom's Attire: Men's Warehouse – Calvin Klein | Groomsmen Attire: Men's Warehouse – Tux Rentals | Flowers: Anyuta's Flowers | Cake: 3 Charms Pastries | Ceremony / Reception Location: Hudson River Yacht Club, Brooklyn NY | Music/Entertainment: DJ IKONIK ONE, and Brooklyn Mariachi Band | Rentals and Décor: Bon Soir Caterers | Officiate/ Minister: Juan Castillo, pastor of El Camino Church, Brooklyn NY

Looking for similar plus size wedding gowns? Check here.
The following two tabs change content below.
Shafonne Myers is a certified wedding and event planner who longed for bridal inspiration that looked like her. She has created a website and magazine that brings bridal inspiration to plus size brides. She does speaking engagements educating the world about plus size brides and self confidence.
Latest posts by Shafonne Myers {Editor-in-Chief} (see all)