Allie & Bradley
Allie & Bradley were suppose to elope in Wyoming on their wedding day. They had everything in place for a small ceremony in the mountains but Covid-19 changed their plans. After a couple days of sadness, Allie and her mom jumped into planning a intimate ceremony on her grandmother's front lawn.
How did you meet? Bradley and I went to high school together, but it wasn't until he was in college in another city that he caught my eye at a friend's bonfire. (Talk about small town) We were introduced and the rest just fell into place. Funny thing is, our families have known each other for a long time which made it even more surprising that I hadn't really talked to him beforehand!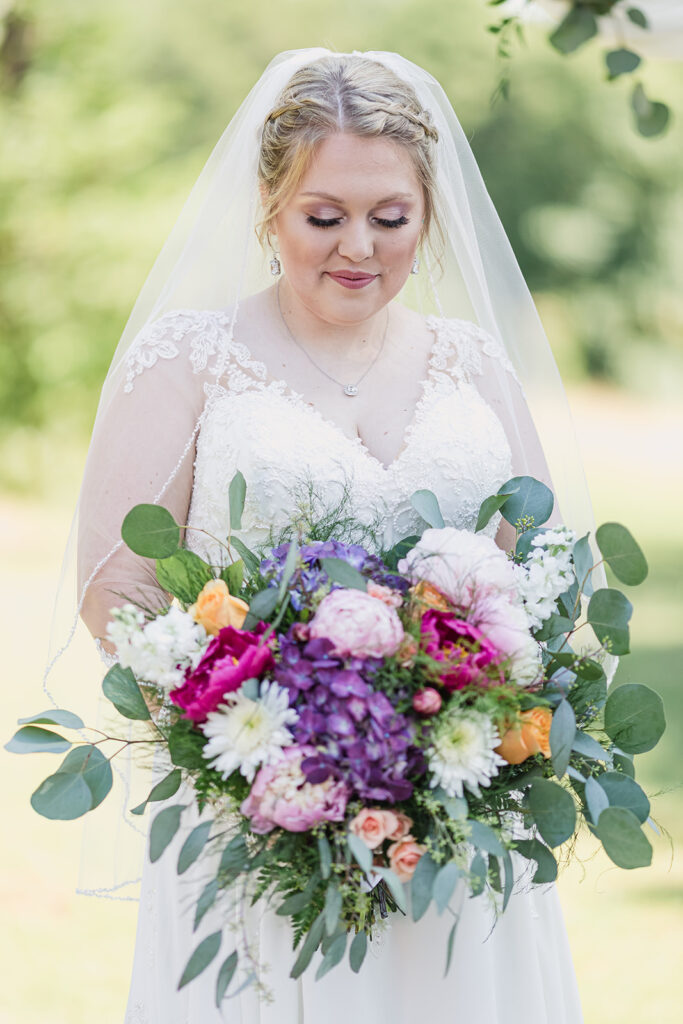 What is your proposal story? We actually went out to eat with one of my dearest friends and came back to my tiny apartment in Collierville, where we spent most of our time together. He never acted nervous or out of place, and I was hoping we could watch a movie together. I actually went to take my dogs out and when I came back, Bradley handed me a scrapbook. In the scrapbook were pictures of us and our dogs, essentially telling our story along the way with cute notes by each picture. He even rhymed a little and by the time I got to the end, I realized he asked me to spend forever with him. I turned around to find him down on one knee with our two dogs. Of course, I cried but I eventually said yes!!!!
Tell us a little a bit about your wedding: I had originally planned an elopement, but due to Covid-19 I had a month to change my ENTIRE wedding. Stressful to say the least, but I knew I wanted an outside wedding with an arbor for sure. I then just kind of went from there and ended up getting married in my Nana's front yard, which is also where I grew up and the land has been in our family for generations which made it even more special to Bradley and I.
I tried to keep my colors pastel because I thought that's what I wanted, but after all was said and done I decided to go with pops of orange, blue, pink, purple, and green. Of course, it is summer time and the flowers by Blossoms were to die for. My swag for my arbor was beyond perfect and I felt like my flowers matched my personality!
As for my style, I am not really sure. I think it was a big mixture by the day off because we were rushing around to find the things I wanted and some things just weren't meant to be, but I'd like to say I stuck with the more classical side!
Tell us about your attire choices. As for my wedding party, some of them weren't able to attend and then others still attended. However, I didn't actually have them stand with me at the alter due to the late minute planning and not being able to find someone for alterations. Which is COMPLETELY FINE!!! I feel like brides are expected to have a traditional wedding, but this is not the case!! Anyway, we did purchase the dresses through David's Bridal and they were/are so helpful!
As for the groom, we chose to go to Dillard's because we like their service and they also do in-house alterations. We chose a light blue Hart Schaffner Marx suit and it ended up being just what we wanted! We had already purchased his shoes from Cole Haan and I would definitely recommend checking them out for matching shoes and belts!
As for me, I had heard multiple stories about Low's Bridal and just had to go check it out! At the time, I was wanting a sleeved dress due to the fact I was planning an elopement in Wyoming and their weather is much different than Arkansas! I'm pretty sure that it was the second or third dress that I tried on. When you put on "the dress", you know it the second you see yourself in it. Of course, I tried on SO many more because I wanted to make sure but I put it back on with a veil and started crying because it was everything I had imagined myself in and more!!
What was the most important to the two of you while planning? Was there anything that you chose to splurge on or skip? My two biggest things about my wedding day was documentation! Not only did I want the best photographer, I also wanted a videographer. Both were a deal breaker for me and luckily, even with rescheduling my entire wedding, I ended up with the best! McDuff photography was there for me EVERY step of the way. Through all of the stress of replanning and helping me figure out what pictures I wanted/learning about my family before the wedding. I could not have asked for a better team to catch my most treasured memories and make sure that I had everything I wanted! (They even let me snag a picture with my two hyper Australian shepherds!!)
I also had Lucas Moe, who is the owner of Antler Media, as my videographer. Again, I could never have asked for a more understanding and kind person to be there on my wedding day! I would recommend him to anyone! He was originally going with me to Wyoming, so even if you're traveling and want a videographer I would give him a call!
They all worked perfectly in sync and I never had one doubt in my mind the entire day!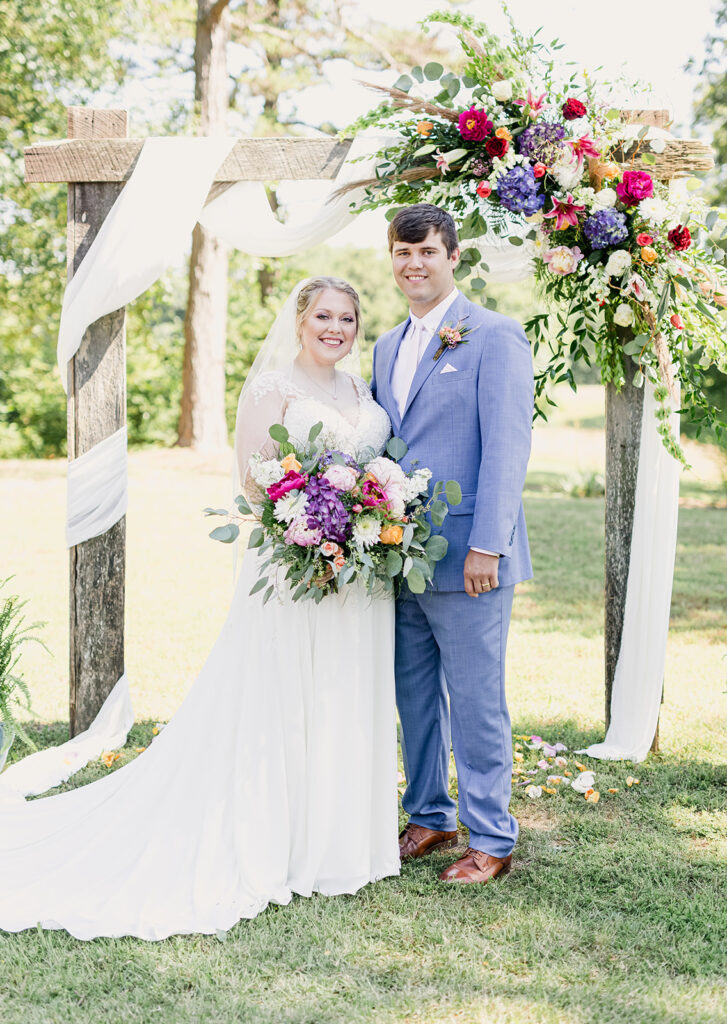 The only thing I can think of that was skipped entirely would be first dances. I thought really long about it, but we are trying to plan a larger reception with more than just family later on in the year due to Covid-19 and I plan on doing it then!
What were your favorite parts of the day? My first looks with my dad and step-dad were very important to me, having our families there in an intimate ceremony, and just being blessed with the perfect weather come to mind!
To look back and know that we have such a HUGE support system that turned my worst nightmare into the best day of my life. It just leaves me speechless.
However, the funniest thing that happened was in front of God and my family.. I grabbed Bradley's left hand and tried to put his ring on it for like a good 30 seconds before realizing I was wrong! Talk about a total blonde moment, but I got the whole crowd laughing and I love that it was such a "me" moment!
Tell us about your wedding flowers. I wanted to keep it simple and Blossoms brought my dreams to life!!! I had the most gorgeous bouquet and they really took my color scheme and ran with it! I cannot thank them enough and I am so grateful to know them. They are amazing and they even helped with setting up everything before! I recommend them to anyone in need of some flowers, whether it be wedding or any other occasion!
Tell us about your wedding cake. My wedding cake was everything I hoped it would be. If you know me, you'd know I love fresh fruit and chocolate!! I chose a naked almond flavor cake with chocolate drizzle and fresh fruit piled on top! Twisted Heifer Creations never seizes to amaze me and I would recommend them to anyone in the NEA!
Please describe any DIY, handmade, or personal details. One of the biggest things I wanted in my wedding was an arbor and fortunately I had an army behind me to help. My Uncle Justin, who was also my officiant, is about the handiest guy I know and made all of my dreams come true by building the arbor of my dreams!!!
Did you include any family heirlooms or special traditions? I don't know if you'd call it a special tradition or not, but a really big part of me is my family and sadly both of my grandpas passed away. So, as a tribute we saved a seat by my Grandma and Nana with their shirt and a picture of us together when I was younger. It was almost like they were there watching the whole thing and to see the looks on my Grandma and Nana's face made it even more special to me!
Do you have any advice for couples planning their weddings now?
Just be patient and open minded. It's been a really difficult time dealing with this pandemic, but it will work itself out. If you ever feel worry, just know that God's got this. You will get married and it will be so magical. Keep your head up.
Any advice for your fellow plus size brides?
When it comes to dresses, try on everything! Even if it's not your "style". I feel like being open minded is so important when picking out your dress and don't worry if you don't find "the one" at the first place you try on! Also, the final decision is yours. Don't let anybody else's opinion push you away because I promise when you put on your dream dress, you will know. It's instant gratification and it's such an amazing feeling. I cannot wait for you to have this experience!!
Also, during your wedding day make sure and snack. The overwhelming feeling of butterflies in my gut kind of made me forget to eat, but anything to will be better than nothing!
The only thing left is to have fun and be yourself. It's YOUR day to celebrate with your husband! Eek!!! I promise you that everything else will work out!!
Photography:
McDuff Photography
| Floral:
Blossom Events & Florist
| Videography:
Antler Media
| Wedding Cake: Twisted Heifer Creations | Hair: Maddi Mross | Makeup: Maddi Mross | Wedding Dress:
Lows Bridal and Formal
| Groom's Attire: Dillard's | Bride's Shoes:
Betsey Johnson
| Veil:
Lows Bridal and Formal
| Submitted via:
Matchology