We spend so much time planning and getting things together for our weddings when sometimes you lose sight of what the true meaning of a wedding really is and the necessity of just saying "I Do" I absolutely love this couple's story.  It starts out the same as most, got engaged start planning, which included the typical 100+ guest list.  But little do they know that their lives would dictate a completely different scenario and Rocker In Love captured it all.
Christina & William
December 18th
 Anna Maria Island, Florida
Wedding Colors: Navy blue, yellow, grey, white
Describe your wedding flowers: White Asiatic lilies, yellow roses, blue and white hydrangeas
The weather on your wedding was: Breezy, temperate, and sunny, perfect winter beach weather.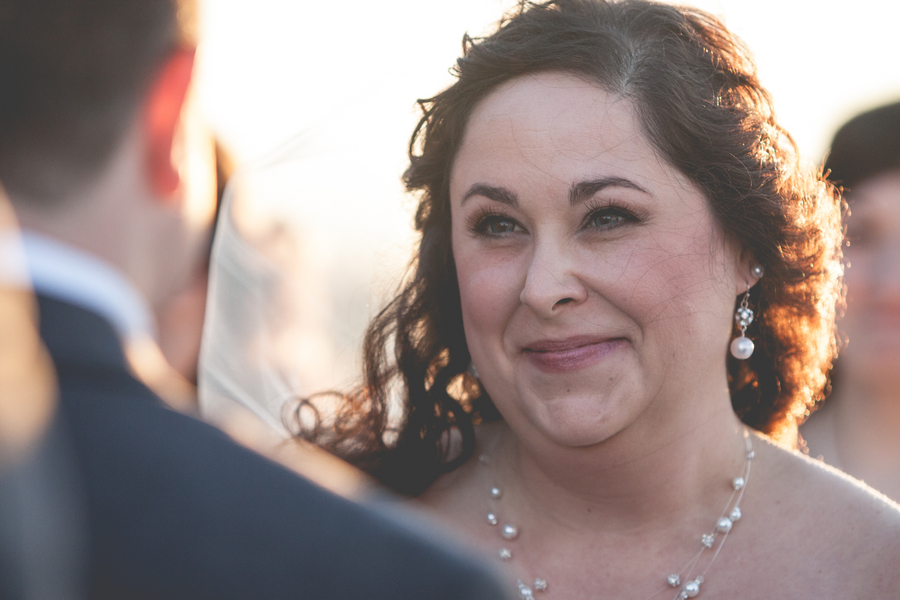 How did the two of you meet? We were introduced by a mutual friend in 2006.
Describe your engagement: We had quite a lengthy engagement and were constantly postponing our date due to costs and a busy schedule. We then had a change of heart after some life-altering things happened to us and we decided not to wait any longer. We considered eloping…but felt sad at the idea of not having our immediate families there so…we went from 2 years planning a 150-guest wedding to 5 months planning a 25-guest destination wedding and it was the best choice we could have made.
If we could have spend our wedding dollars differently, we would have: Absolutely hired a wedding planner. We really struggled with planning a Florida wedding from Atlanta in only 5 months, especially because we opted not to have a "bridal party" and wound up doing a lot of organization ourselves. However…the staff of Sunrise Garden Resort (which was our home-base for the wedding week) were instrumental in helping us find everything from vendors to airport transfers and I can't say enough about how helpful they were!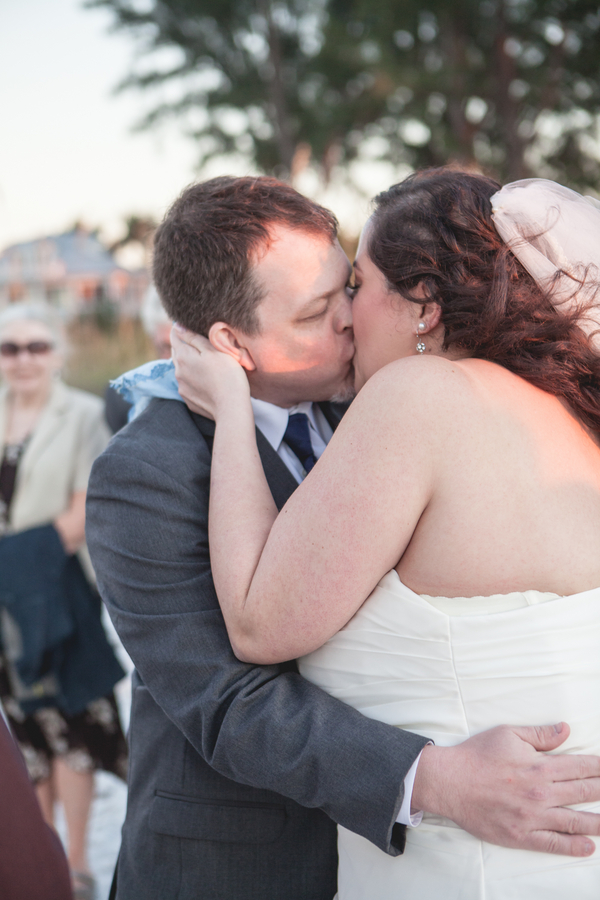 Our favorite detail of the wedding was: It's so hard to pick just one thing. For one, we were so happy with the intimacy and privacy of having a small wedding with just family and close friends. Choosing Anna Maria Island (one of our favorite vacation spots) allowed us to have a very spiritual and organic event with perfect weather and atmosphere…we got to really commune with nature, we dined and danced under the stars and moon, and we avoided a lot of stress and hassle by picking very secluded locations for everything. Everyone couldn't stop mentioning how romantic and enjoyable the night was!
Your advice for other plus size brides: The most important thing your guests and husband will notice about your appearance (and what you yourself will later note in your photos) is how happy you looked. Happiness makes every bride gorgeous no matter what your size.
Three adjectives that describe the day: Intimate, calm, sensual
What has surprised you most during the first few months of marriage? The renewal of romance and falling in love all over again after our wedding.
Describe your DIY décor, if any: We wanted to have a very minimalist "nautical" theme and our décor was a blend of "heirloom" items (such as an old wooden sailboat model and antique glass plates provided by the MOG), home-made stationary (by the Groom), and "found" items from the beach such as driftwood, nets, and shells. It had a very organic but elegant feel when it all came together. The staff of the Waterfront and our families were wonderful in helping us decorate our site and making the theme come together without looking cluttered.
Describe any unique aspects of the beverages you served: We opted to have a semi-dry wedding, but we did serve the Bride & MOB's favorite Riesling, which was a very sentimental touch.
The most unique element of the day: My husband had always promised me that he would hand-make the very first piece of furniture to go in our new home when we got married someday. At our reception, he surprised me with a wooden table he had constructed himself with a shadowbox insert that was filled with sand and shells from the beach we held our ceremony on. The restaurant staff had incorporated it into the décor for our reception and it was probably one of the most magical surprises I've ever received.
Your first dance song: "Into The Mystic", Van Morrison
The thing that we would have done differently is? We would not have planned the wedding to be so close to a major holiday in hindsight and would have given ourselves a little bigger planning timetable, perhaps waiting until spring. Unfortunately, we were working around my graduate school schedule and had no other date options!
Vendor Love ~  Photographer: Rocker In Love  // Caterer: The Waterfront  //  Florist: Miss Scarlett's Flowers  // Cake: Publix  //  Invitations & Calligraphy: done by Groom  //  Jewelry: Charming Charlie's  //   Bride's Attire {Designer, Style Name or Number}: "Willow" by Anya Bridal from Anya Bridal, veil handmade by Bride  //  Hair and Makeup:  KyleLynn Weddings  //  Bridesmaids Attire: Lane Bryant  //  Groom's and Groomsmen Attire: Ralph Lauren  //  Ceremony Location: Bean Point, Anna Maria Island  // Reception Location: The Waterfront  //  Transportation: AMI Taxi  //  Music/Entertainment: D-I-Y "favorite songs" playlist on bride's smartphone  //  Officiate/Minister: Reverend Charles Shook