I am so not a rustic outdoorsy type of girl but this wedding right here has so changed my mind. I am over the moon excited to share this fabulous wedding. It has the rustic chic elements down pat!! Kelsey, the bride, did such a phenomenal job DIYing all the key elements of her wedding and she did them so well that you honestly wouldn't even believe that she actually did DIY them.  This is honestly how it should look when you DIY your wedding.  AMAZING!!  Her and her husband did a kickass job with this wedding and of course we have to pay homage to the amazing photographers, Saint Clair Studio, who captured it all.
Kelsey and Adrian
August 30th 2014
Issaquah, WA
Number of guests: 140
Wedding Colors: Navy, Chartreuse Green, White & Silver
How did the two of you meet? We met through mutual friends, we became friends, didn't speak for a while, reconnected and then fell madly in love!
Describe your engagement: He asked me to dance, we sang our song ("All of Me" by John Legend) and then asked me to marry him in the sweetest words ever that I cannot even remember because I was freaking out so much!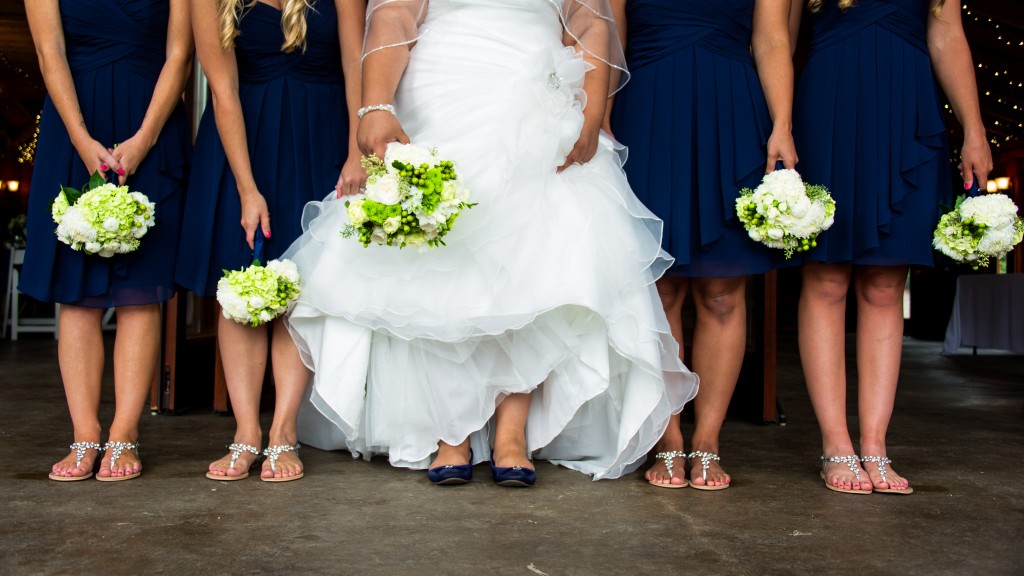 The weather on your wedding was: Well 10 days before the wedding it showed 0% chance of rain and then a couple days before it changed to 90% chance of rain…L It ended up being off and on raining all day and we thought we would have an opportunity to still do an outdoor ceremony, unfortunately 10 min before the ceremony it started DOWNPOURING!
Describe your wedding flowers: Our flowers were green and white with mixes of hydrangeas, roses, spray roses, hypericum berries, button mums, etc. I absolutely loved them and wish they would have lasted forever!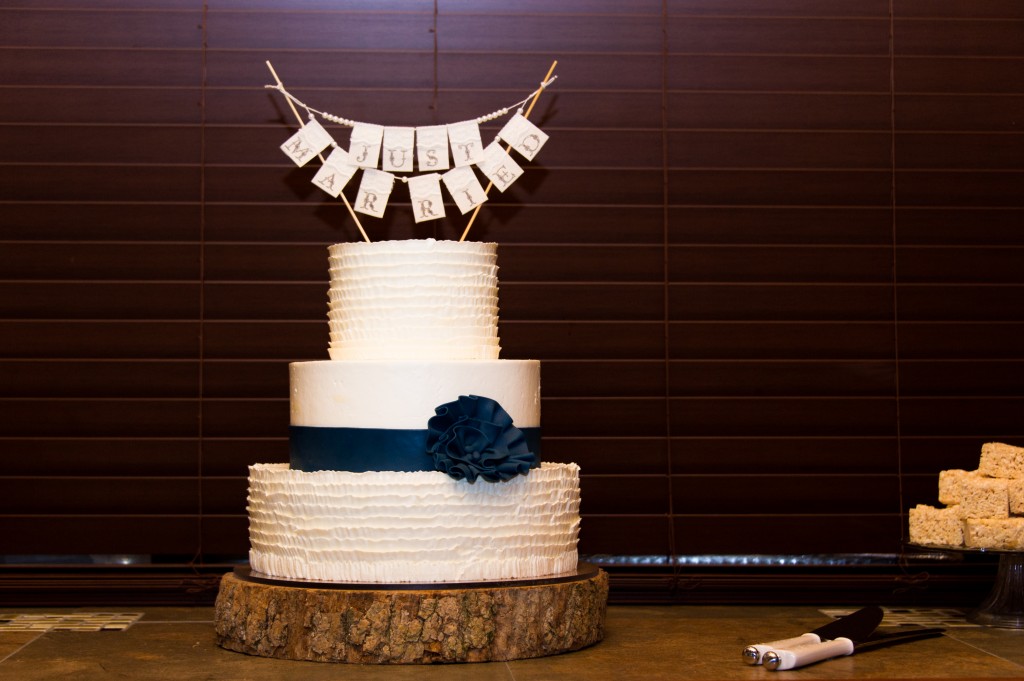 Describe your wedding cake and any other desserts: We had a GORGEOUS 3 layer cake that was ½ strawberry shortcake and ½ chocolate salted caramel toffee! Yum! We also had blueberry, pistachio and Nutella French macarons and the most amazing Brown Butter Salted Rice Crispy treats! In additional to all of this we also had peach cobbler and tipsy bread pudding with whiskey sauce! We obviously LOVE our desserts!
Our favorite detail of the wedding was: Saying our promises to each other, the caricaturist drawing guests and our best man rapping his speech! AMAZING!!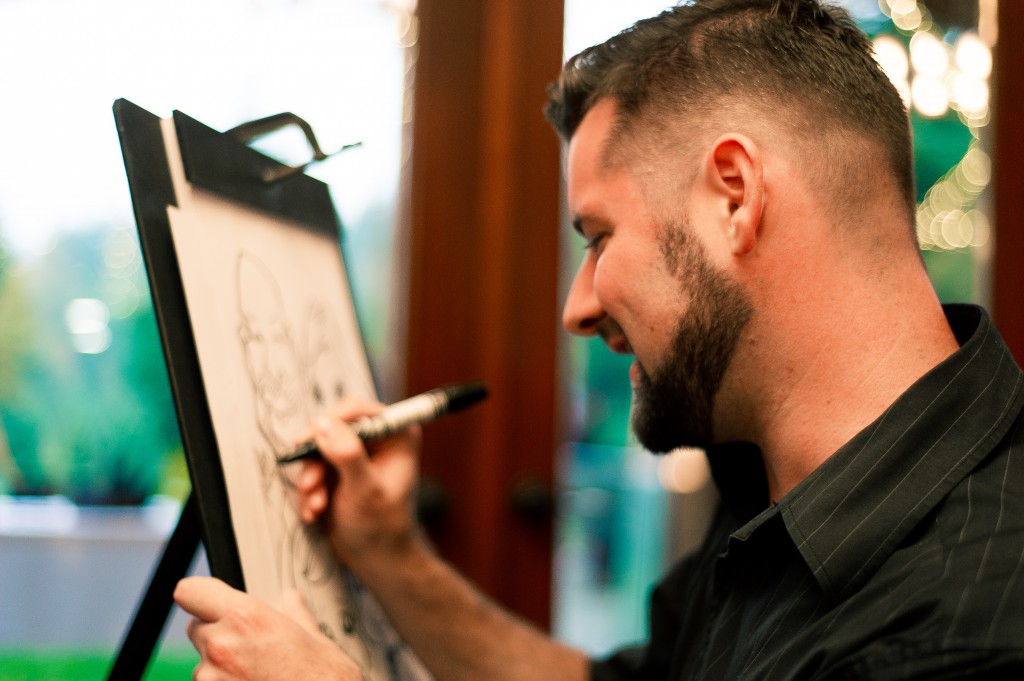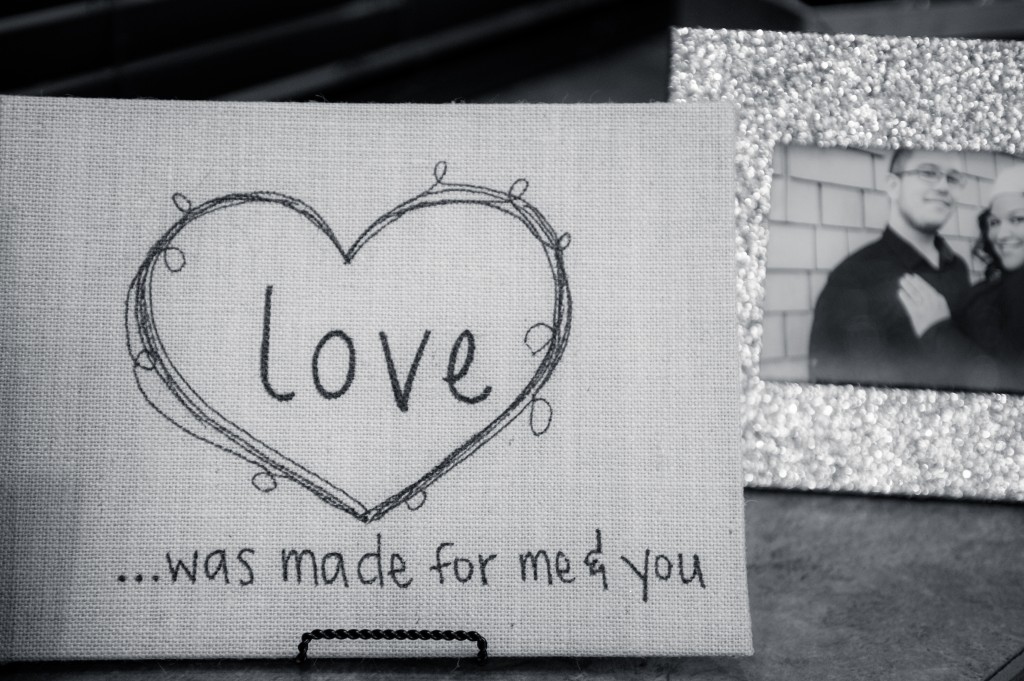 Describe your DIY décor, if any: I did a lot of DIY décor…A LOT! I started doing a lot of hand lettering for the all of the signs, a lot of spray painting was involved (frames, letters, table numbers). I absolutely love how all the details turned out and it feels weird not having any more wedding related crafts to work on!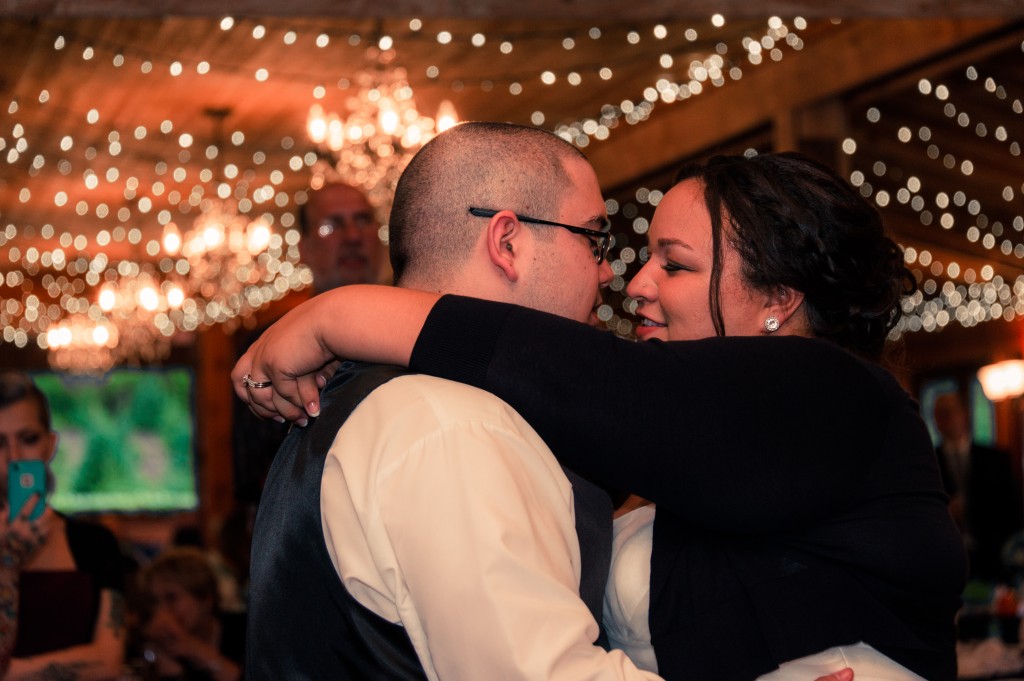 The most unique element of the day: Because of the absolute downpour of rain we had to adjust our outdoor ceremony. We ended up getting married on a balcony overlooking all of our guests (who were undercover and dry) with our parents up in the loft with us and my father officiating the ceremony. It ended up being the most perfect, intense, emotional ceremony I could have imagined and wouldn't have changed it for anything!
The thing that we would have done differently is? I don't think I would have done anything differently – even with the rain and adjustments to my dream outdoor ceremony, it exceeded both of our expectations and was the best day of our lives.
If we could have spend our wedding dollars differently, we would have: Eloped!!!!!!!!!!!!!!!!!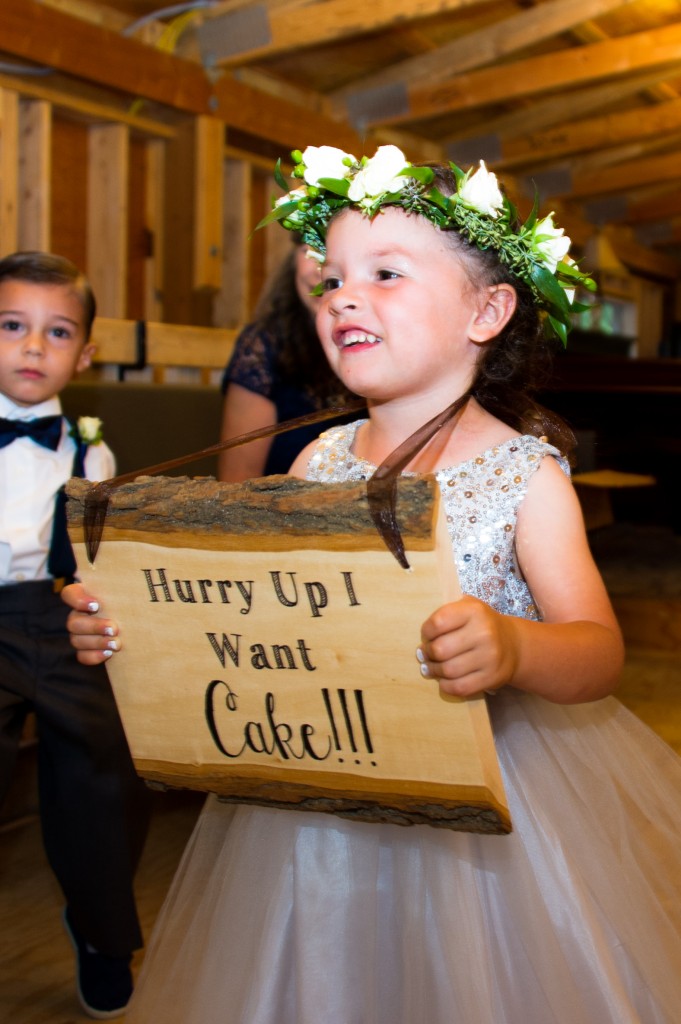 Your advice for other plus size brides: Do what you need to do to make sure you are comfortable and feel beautiful! I am very self-conscious of my arms and because of that I added a sweater for the reception. It is what made me feel confident and comfortable and that's all that matters! The day is about you and your soon to be husband and he loves you no matter what so just do what makes you happy!!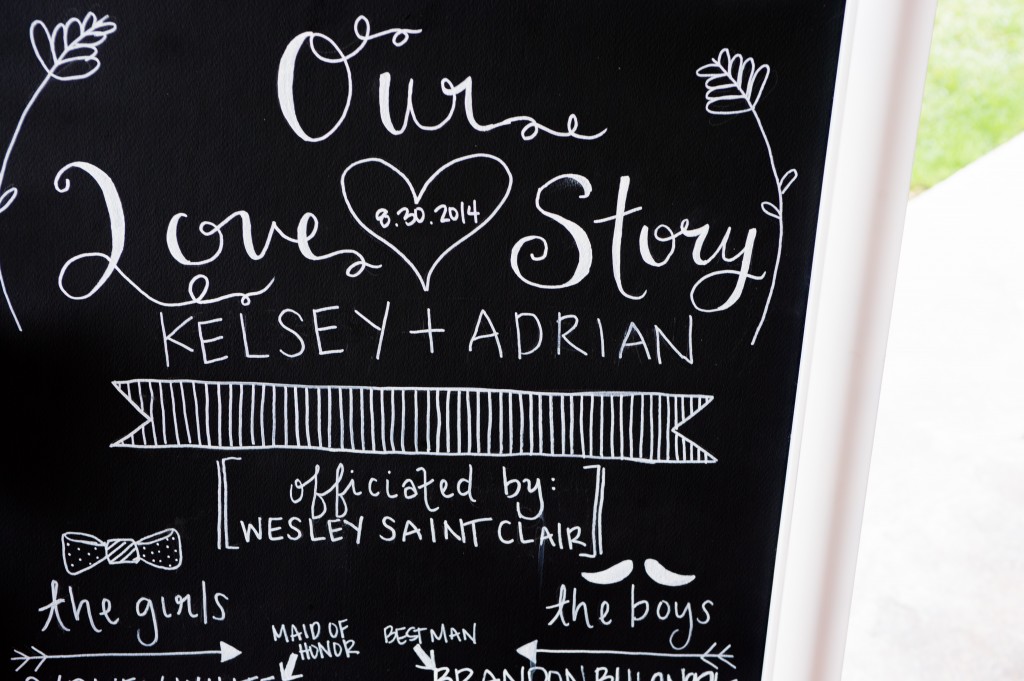 Three adjectives that describe the day: Amazing, Fun, Wet
Describe your menu and your favorite part: Our menu was the most delicious Cajun food from a local food truck and the food absolutely blew everyone away! My favorite was the Cajun mac & cheese, oh my heavens it is DELICIOUS!
Describe any unique aspects of the beverages you served: We served our favorite beers and wines!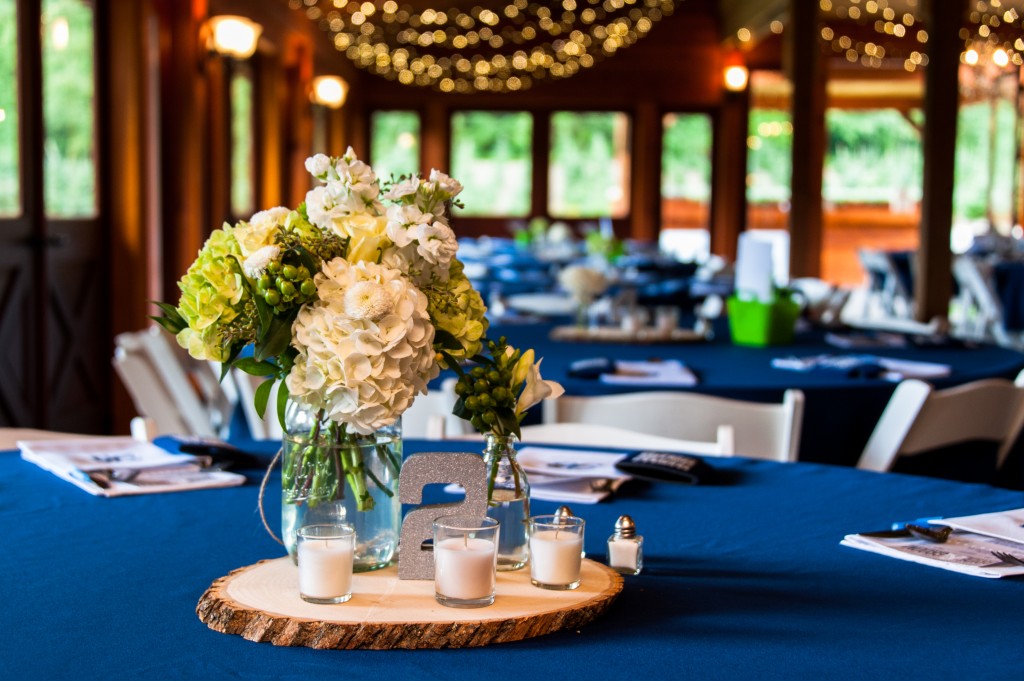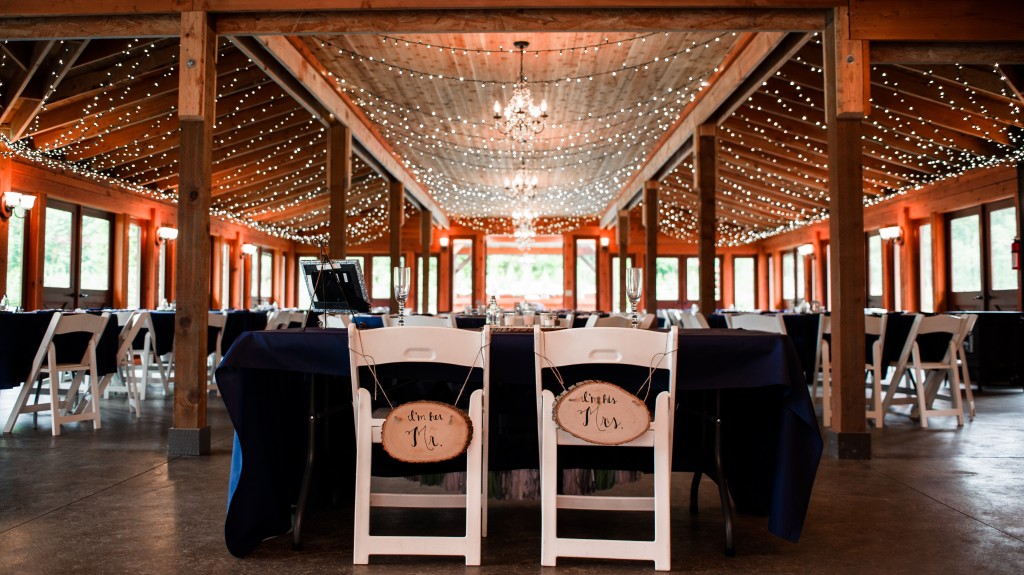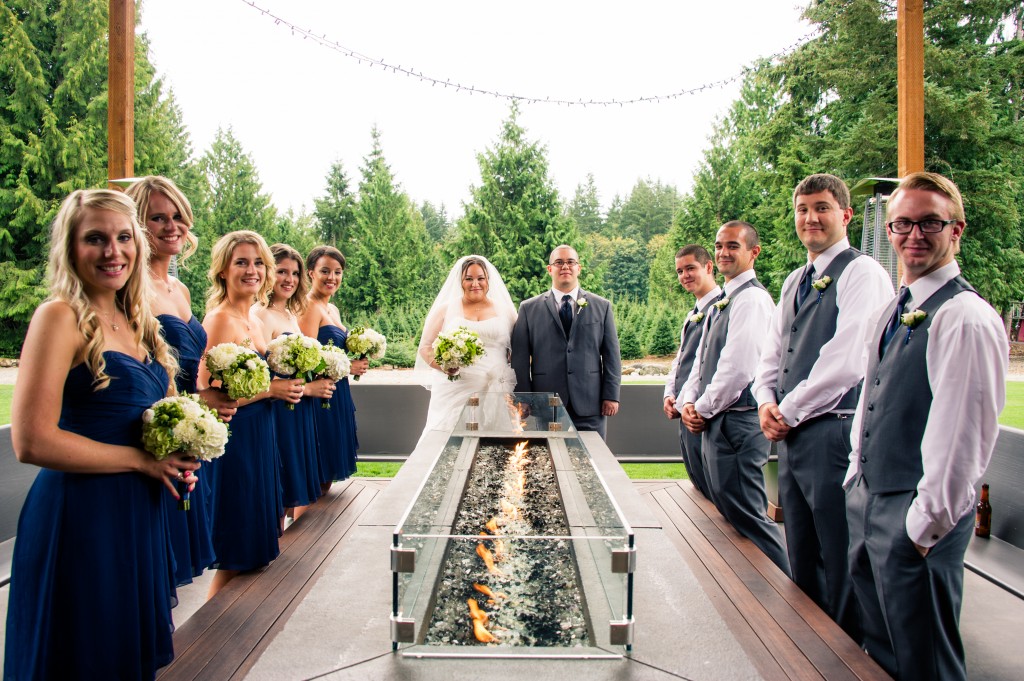 What has surprised you most during the first few months of marriage? How much I absolutely love calling him my HUSBAND and hearing him call me his WIFE! I love it! J
Vendor Love:  Photographer: Saint Clair Studio  //  Wedding Venue/Coordinator: Trinity Tree Farm, Brittny Jarman  // Florist: Flowers by Tiffany  // Cake: Honey Crumb Cake Studio  // Invitations & Calligraphy: Mixbook   //  Jewelry: Shane Company  //   Bride's Attire: Alfred Angelo  //  Bridesmaids Attire: Davids Bridal   //  Groom and Groomsmen's Attire: Mens Warehouse   //  Music/Entertainment: DJ Topspin  //  Caricaturist: Dex Rothchild  //   Officiate: Father of the Bride
Submit Yours Here