We're taking Pretty Pear Bride across the border today with Shayna and JP's wedding at the Bellamere Winery in Ontario, Canada. Their intimate Friday wedding was romantic (their first look caused some tears!) and fun (Shayna's dad rocked out to David Bowie's "Kooks"). Overall, it looked like a spectacular time!
Shayna & JP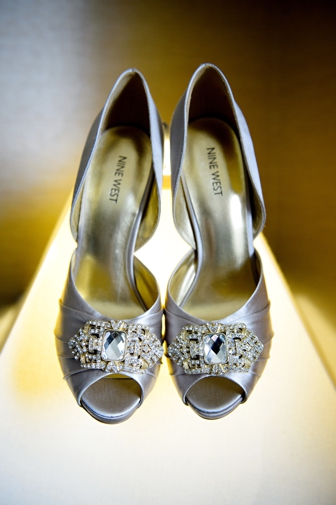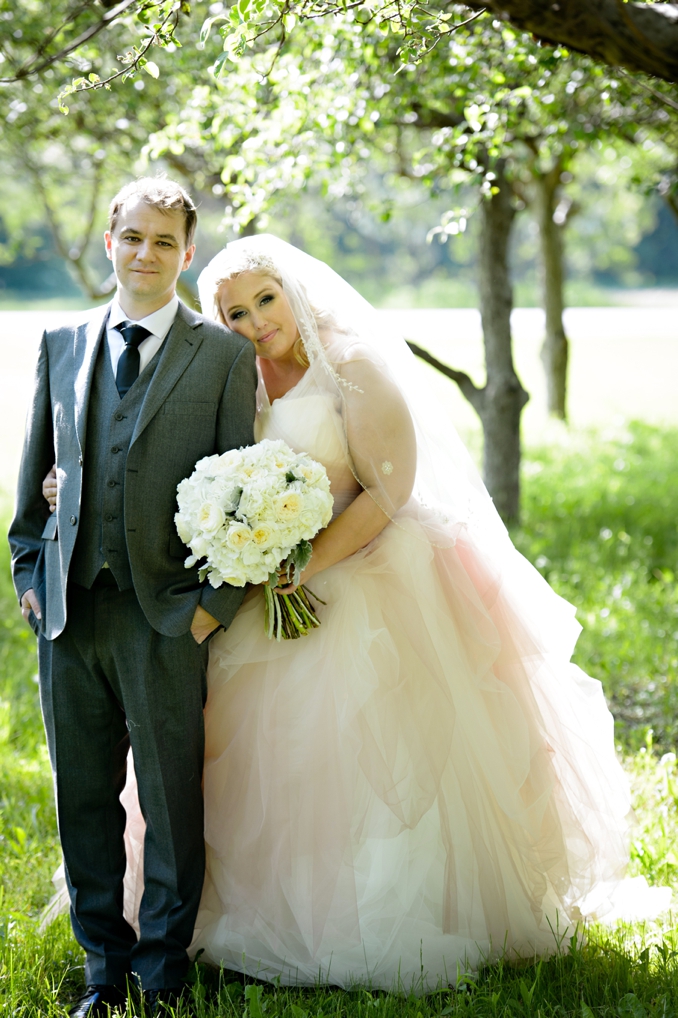 Love Story
How did the two of you meet? JP and I met through some of my friends.  He happened to be the brother of my girlfriend's husband.  He had just moved back to Canada after spending the past 9 years in England.  We were celebrating my friend's birthday during the May 24th long weekend.  When we engaged in conversation, it lasted until the sun came up on the next morning as we sat on the porch getting to know one another.  I was in the midst of going through a medical rollercoaster, and was really at my worst when we met, but to this day, JP always tells me I never looked as beautiful as I did the day we met.  That was one of the moments I instantly knew he might just be the one. Describe your engagement: I had a feeling that JP was going to pop the question since I mistakenly saw a large amount of money leave our account.  He knew I was on to him, so instead of taking me somewhere and trying to surprise me, he just walked into our living room and got down on one knee.  It was more of a surprise to me, because we were just having a regular day at home and I did not see it coming. Personal or handmade details: We had created a signing tree in lieu of a guest book.  We had an artist draw a tree on canvas for our guests to sign with a thumb print.  We later had this framed and it now hangs on our wall.  I also made matchstick mints for our guests, as well, my mom made Star Trek inspired cupcakes for JP.  Describe your Flowers: For our wedding we had beautiful designer edition Ivory Garden Roses, White Hydrangeas and Dusty Miller as an accent done by Forest of Flowers. Memories and Stories about the Day:  A great moment was when I stepped outside the hotel room on my way to the ceremony, and my Papa came around the corner – this completely shocked me as no one had seen me in my wedding attire.  I burst into tears which was captured by HRM Photography, and this moment actually helped me get through the rest of the day tears free – since I knew JP would be the emotional one.  Another great moment, and one we both can agree on is when my dad sang Kooks by David Bowie at our reception.  This was one of our favourite moments from the day.  Last but not least, one of the best moments on our wedding day was when we left for sunset photos and our song came on inside the reception hall.  We didn`t want to miss it so our photographers just let us dance in the parking lot as we had a moment like no one was watching. Your first dance song: Kiss Me – Ed Sheeran We actually later saw him play live on our 1 year anniversary in London ON.  We were front row, and I tweeted him incessantly for months leading up to the concert, begging him to perform this song live for us.  He did – completely amazing! The thing that we would have done differently is? The biggest thing we would do differently is to have done more research on vendors, and read more reviews.  Our vendor had beautiful landscape for pictures, and the look was what we wanted but we didn`t see everything we envisioned come to life as planned on the day of our wedding.  As a newly engaged couple there is so much excitement that sometimes the excitement can get in the way of planning smart.  Weddings are not cheap, even if you have a cocktail style evening wedding as we did.  My advice is to make sure you are going to get your money`s worth.  Make sure you have a really good working relationship with your coordinators and event planners.  If you can afford a wedding coordinator, get one!  They are the communication lifeline between your wedding vision and the vendors bringing it to life flawlessly. If we could have spent our wedding dollars differently, we would have: The best decisions we made was on our photographer and officiant.  Looking back, we both would have rather just gone to the court house and eloped, later having a party with family and friends on our family`s private property.  This would have saved us a lot of money and probably would have turned out the way we envisioned it.  Your advice for other plus size brides: When walking down the aisle, just look at your spouse to be and no one else – this helps with nerves and emotions.  Take time for one another throughout your wedding to enjoy the work you put into it.  If something goes wrong, and it will, don`t let it ruin your day.  At the end of it all, whether the music is incorrect, or food is not what you envisioned – you will still be marrying your best friend.  That is all that truly matters. What has surprised you most during the first few months of marriage? The biggest surprise to me was how you actually have a grieving period months after your wedding.  You spend so much time and effort living and breathing the planning that when it's all over you start to realize how much you miss it. Don't worry though, in a few more weeks your photographer will send you your pictures to relive the most amazing day of your lives!  Take that downtime to go on date nights and relive each other's moments from the day!

The following two tabs change content below.
Shafonne Myers is a certified wedding and event planner who longed for bridal inspiration that looked like her. She has created a website and magazine that brings bridal inspiration to plus size brides. She does speaking engagements educating the world about plus size brides and self confidence.
Latest posts by Shafonne Myers {Editor-in-Chief} (see all)