I literally grew up around yard sales and flea markets from my mother to my grandparents, it was just what we did.  So naturally as I've grown up my kids are experiencing the same thing so when I saw this fabulous wedding I knew I had to have because the bride looks AMAZING! Then I found out that she is a craft queen then I knew it was meant to be.  You will be so surprised at all the crafty things that she included in her wedding.  FABULOUSNESS to the max!
Allison & Trebian
June 7th, 2014
Minneapolis, Minnesota
250 Guests
Light pink, Charcoal gray, and Cream/Ivory
Our favorite detail of the wedding was:  I don't think I could ever pick just one. I put so much thought into every detail. If I had to pick my favorite detail it would be kissing my husband for the very first time. I also loved my shoes!! I ordered them from Design Your Pedestal off Etsy. I was able to design every detail of my shoes and they came out better than I could have imagined!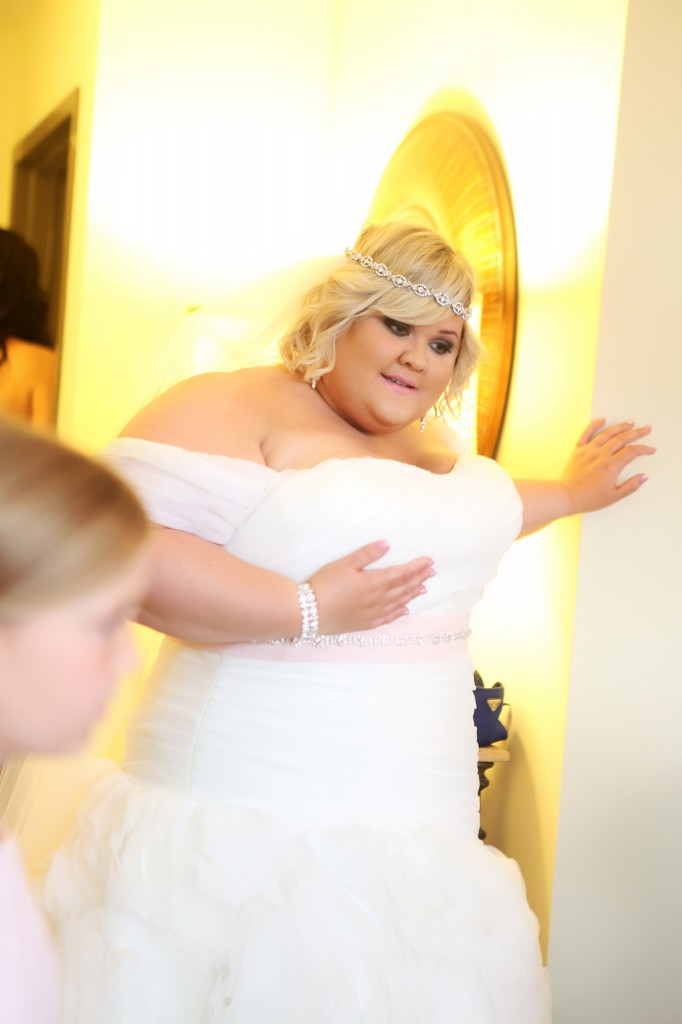 How did the two of you meet? Tre and I met through a mutual friend. I always thought Tre was cute and had a little crush on him. We knew of each other for a year or two but never actually had a conversation. One night our paths crossed and about 2 weeks later he was my boyfriend. We fell in love very quickly!!
Describe your engagement: Tre and I got engaged Thanksgiving morning 2012. He woke me up that morning with breakfast and coffee. The coffee cup was upside down on the plate. I went to turn it over and the ring box was sitting under it. I looked up at him with pure shock!! Tre was down on one knee and asked me to marry him.
The weather on your wedding was: mid 60s which is very cool for a June day in Minnesota and cloudy. I loved it!!
Describe your wedding flowers: All of my flowers were supposed to be roses. However, we had an issue with my flowers on our wedding day. All the bridesmaids' bouquets were supposed to be light pink roses but when the flowers arrived, they were a hot pink color. My bouquet was perfect, along with the corsages and boutonnieres. I had to call my florist in a panic. They ended up remaking 10 bouquets for my bridesmaids in 3 hours but unable to use roses. It was actually a big fiasco and super stressful to deal with. The flowers the girls carried were light pink and ivory hydrangeas and peonies.  In the end, everything came together very nicely but was not what I had envisioned at all!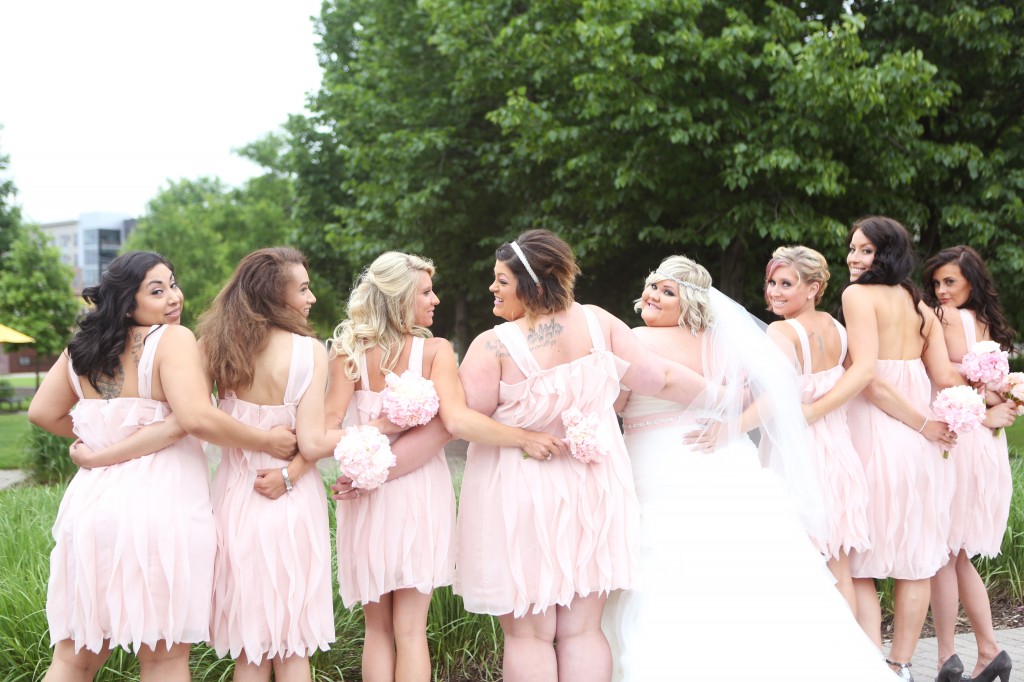 Describe your DIY décor, if any: We had a lot of DIY decorations at our wedding. I made paper flower balls to hang from the chairs which lined the aisle. I also found old marquee letters of our initials that I painted in our wedding colors and then added tealites inside. There were little DIY details that went into our décor!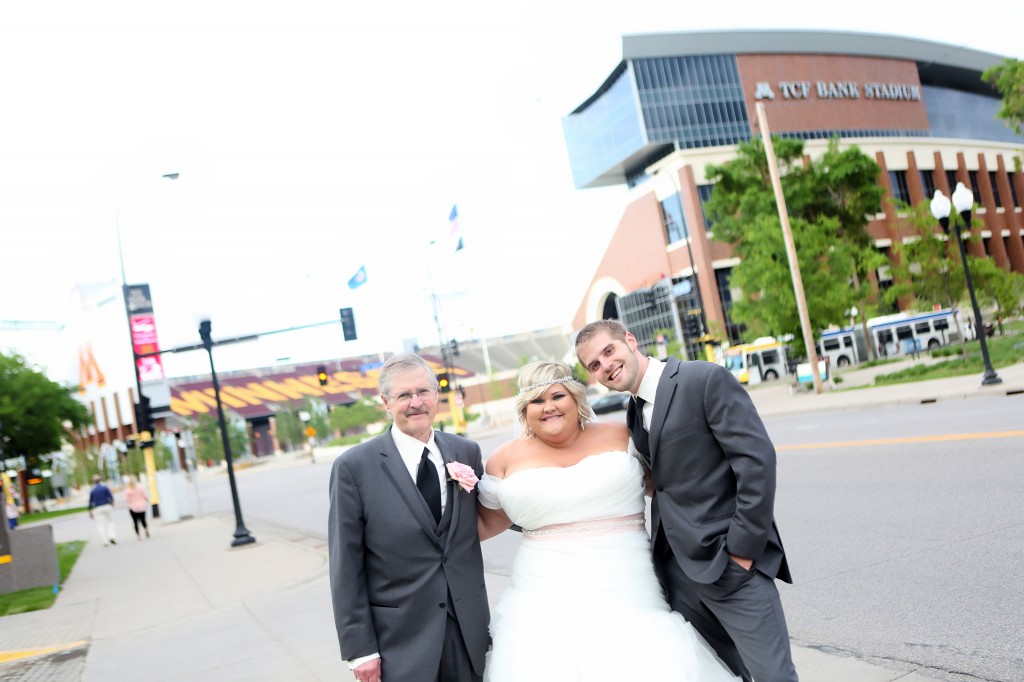 The most unique element of the day: One reason we chose the McNamara Alumni Center is because it is located on the University of Minnesota Campus right across the street from the TCF Bank Football Stadium. My dad has had Minnesota Gopher Football season tickets for as long as I can remember. I have been going to games since I was in elementary school. One unique element that meant a lot to me was taking a picture in front of the stadium in my wedding dress with my dad and brother. It was a special moment for the three of us that we will have forever.
Your advice for other plus size brides: I would say to find a bridal salon specifically for plus size brides. Finding a dress was the biggest anxiety and worry for me because I was afraid I wouldn't be able to find a dress that I loved. And if I did find a dress that I loved, I wouldn't be able to actually try it on. I am so grateful and lucky that there are a few plus size bridal salons around Minneapolis. I went to Luxe Bridal and had the absolute most amazing experience. I was so terrified, nervous, anxious, excited, every emotion you can imagine before my appointment. They were amazing every step of the way.   So my advice would be to find a bridal salon specifically for plus size women. If you don't have one in your area then find the closest one and take a girls trip!! It will be well worth it!!
Three adjectives that describe the day: Our wedding day was a sentimental, charming, picturesque day!!!
What has surprised you most during the first few months of marriage?  Tre and I were together over 3 and half years before we got married. We also lived together for pretty much that entire time too. We didn't have any secrets to learn about one another. I would say the feeling of being his wife is the proudest feeling I could ever feel. Sometimes I can't believe I got to marry him. That God choose him for me. The feeling of overwhelming proudness and pure happiness to be his wife has surprised me the most. I have never been so content and happy.
Describe your wedding cake:  Our wedding cake was very simple. My husband doesn't like sweets so our cake wasn't a huge priority for us. I choose carrot cake and ordered lovebird cake toppers from Etsy made to sit on top.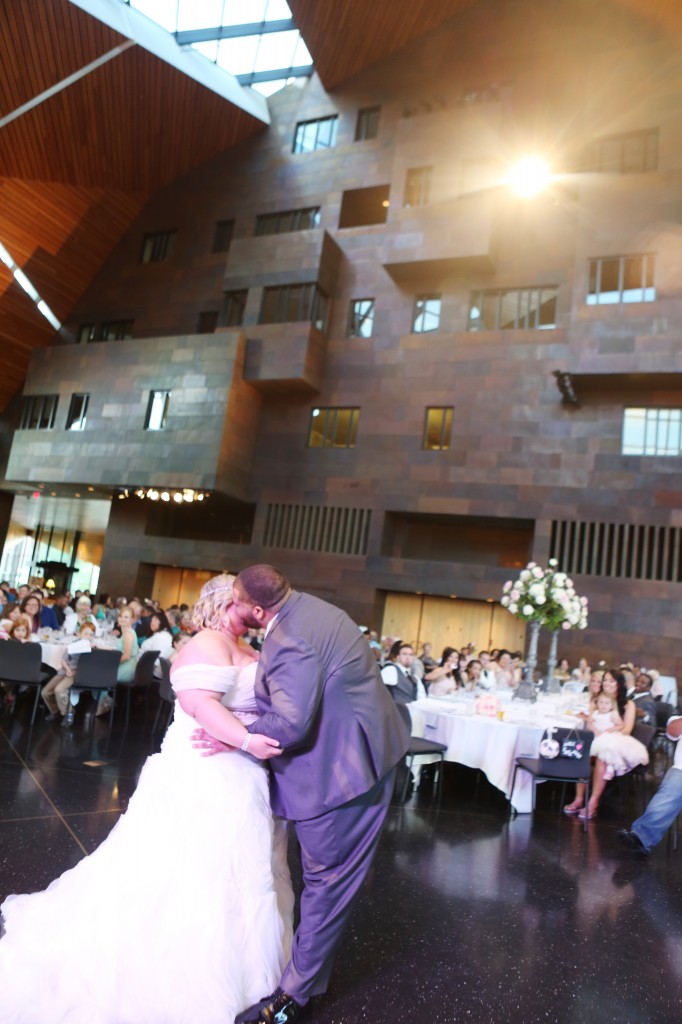 Your first dance song: All of Me by John Legend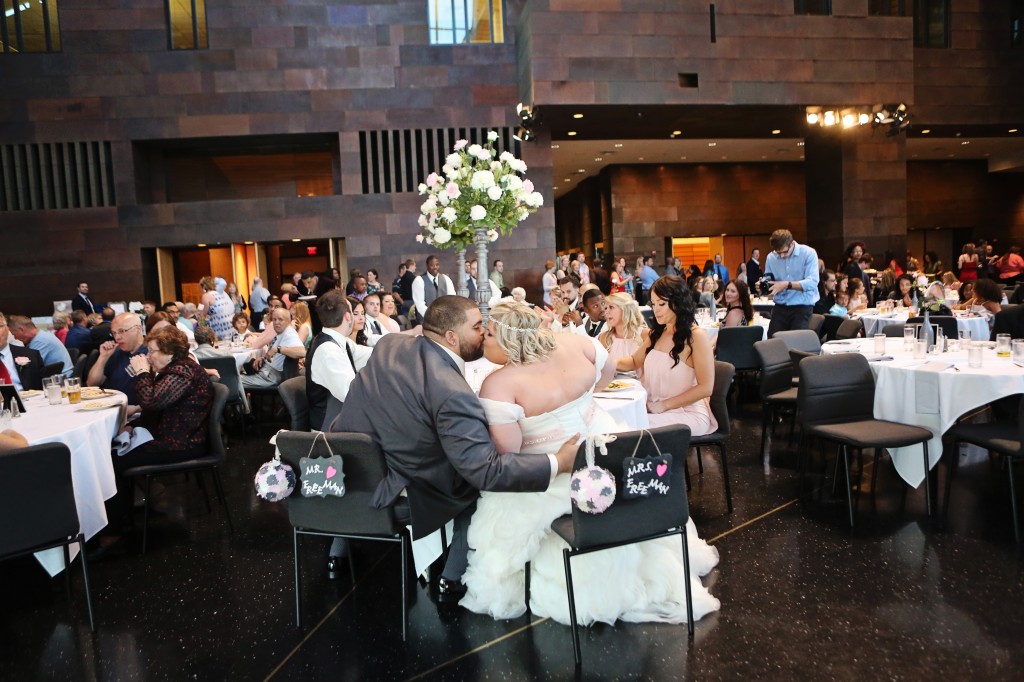 The thing that we would have done differently is?  I would tell brides to make sure you are absolutely 100% on the same page as your vendors. And that you both understand exactly what you want. I thought I was on the same page with my florist but looking back I obviously needed to be way more specific with that I was thinking and wanted. Be annoying and ask all the questions you want. Do whatever you need to make sure your ideas and visions are being understood!!
Vendor Love:  Photographer: Agape Moments  //  Videographer: Matthew Rankin with Momentous Films  // Wedding Planner: My mom and I planned everything with the help from my husband and mother-in-law  // Caterer and Cake: D'Amico Catering  //  Florist: Richfield Florals  //  Invitations & Calligraphy: Ordered from the American Wedding  //  Bride's Attire: Allure Romantic textured skirt in organza Style 2560 {discontinued} from Luxe Bridal   //  Bridesmaids Attire:  lilybridal//  Groom and Groomsmen's Attire: Black by Vera Wang from Men's Warehouse  //  Ceremony and Receptiong Location: McNamara Alumni Center  // Hair system au: hairbro//  Rentals and Décor: All décor was brought in by me. I found a lot of my décor at flea market type shops or ordered different items from Etsy. I also made different decorations. My cousins also threw me my bridal shower and made cute items for me that I used on my wedding day.  //  Officiate/ Minister: Reverend Brian Herron