Yes, fall is here but I just can't get enough of this gorgeous color combination; mint, blush, silver and gold. It just looks so amazing! Today's wedding by Kevin Gilgan Photography makes me realize that colder weather is on it's way but this stunning plus size bride looks so fabulous I don't care.
Giselle  & Nicholas
 June 13th, 2015
Independence, Oregon
160 guests 
 Mint, Blush, Silver, Gold, and Ivory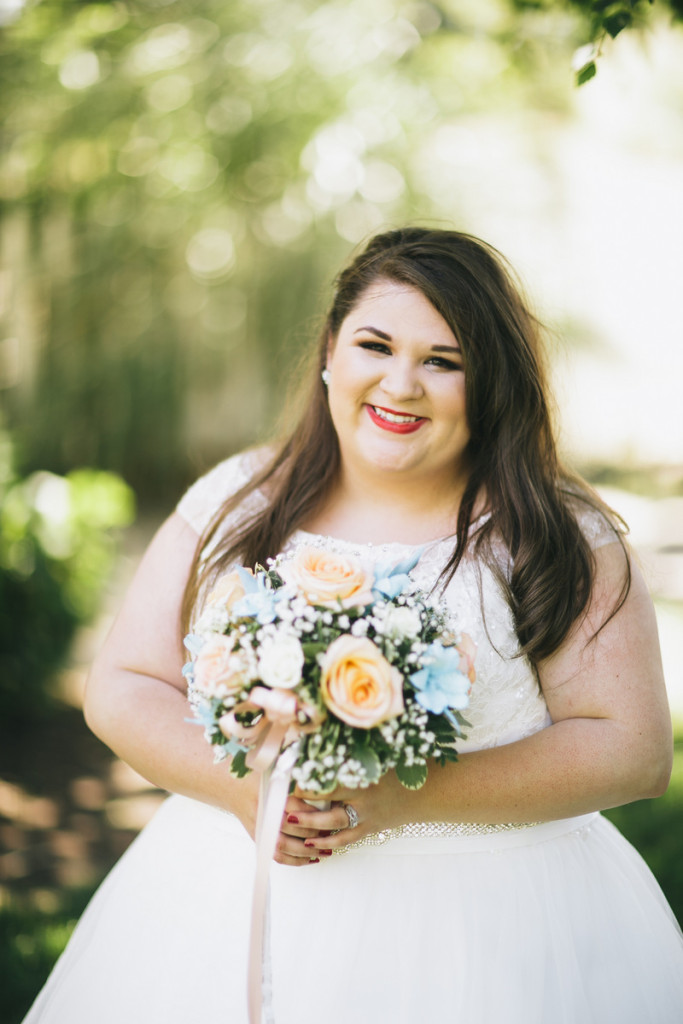 Your advice for other plus size brides: Please do not be scared to try on wedding gowns. I was absolutely dreading finding a wedding gown. I assumed that there would not be a sample size that would fit or I would end up settling on a gown I hated. All fears should have been tossed aside because I felt beautiful. I had only gone to one place before finding my dress and had over 15 dresses in my size and budget to try on. I ended up loving the first one. Also do not stress about losing weight to fit into a certain gown. I baffled the seamstress on many occasions because she kept asking me if I was planning on losing weight if she should make my dress smaller. I assured her I loved the way I was and was not planning on losing weight. In fact I gained weight and went up a dress size due to stress eating. Things happen in life and try not to micro manage yourself and body. Enjoy the wedding experience because you only get to once.
Personal or handmade details:  On my flowers I had a lucky horseshoe pin my dad used to wear. He had passed away this December and having a piece of him with me as I walked down the aisle was very important. My brother who walked me down also had a pin my dad used to wear.
Describe your Flowers:  We live in the Willamette Valley where you can grow just about anything. With that in mind we really wanted to use local flowers. So we talked with our florist from Hearthbeat Florist and she worked to get us local flowers that were dainty.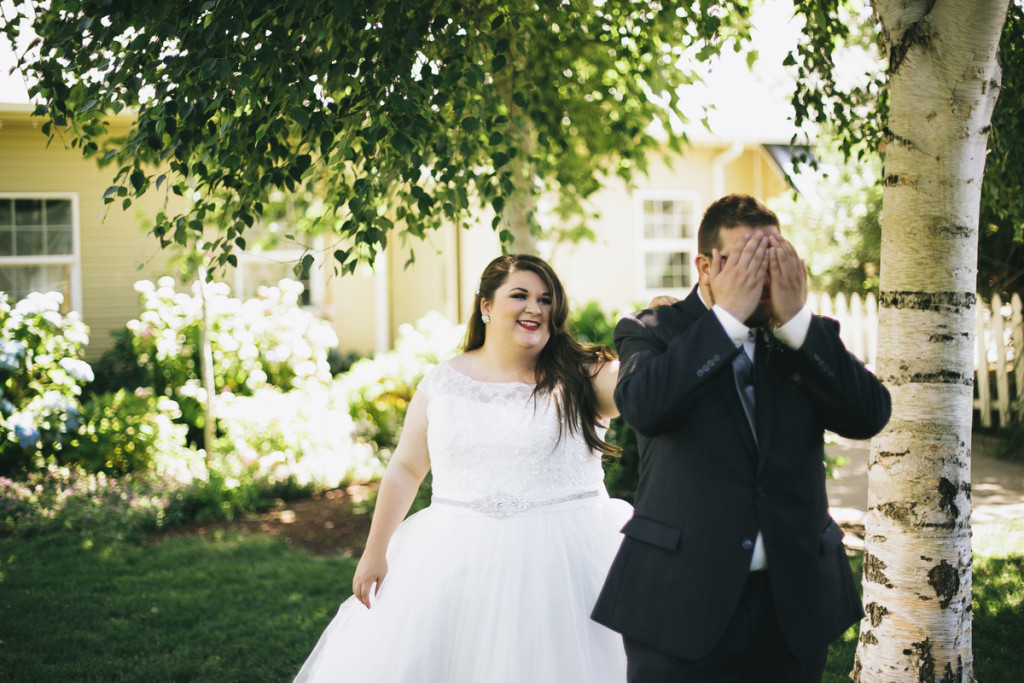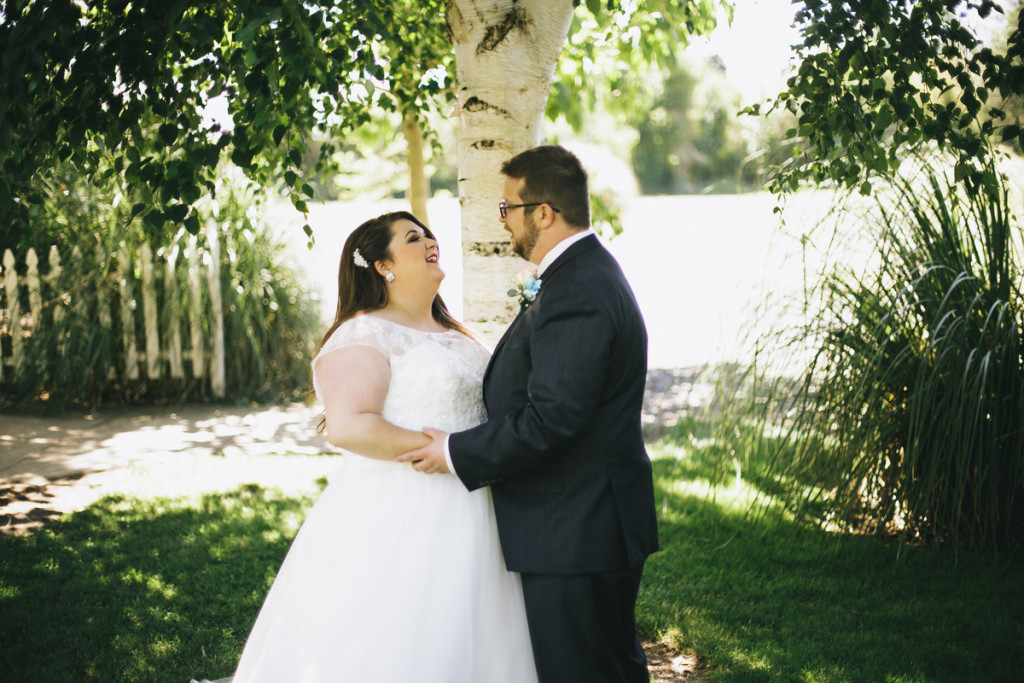 How did the two of you meet?  We actually met through Christian Mingle of all places. He first lived in Salem and I in Eugene. An hour apart he ended up getting a job in Eugene and we hit it off from there and have been together for over four years.
Describe your engagement:  We are both very into fiances, he is a licensed Financial Advisor and I am finishing up my school to be a CPA. With that in mind our engagement was long to save up for it. It was also filled with a lot of heavy life experiences owning a home, loss of a parent, and new school. All things bringing us closer together.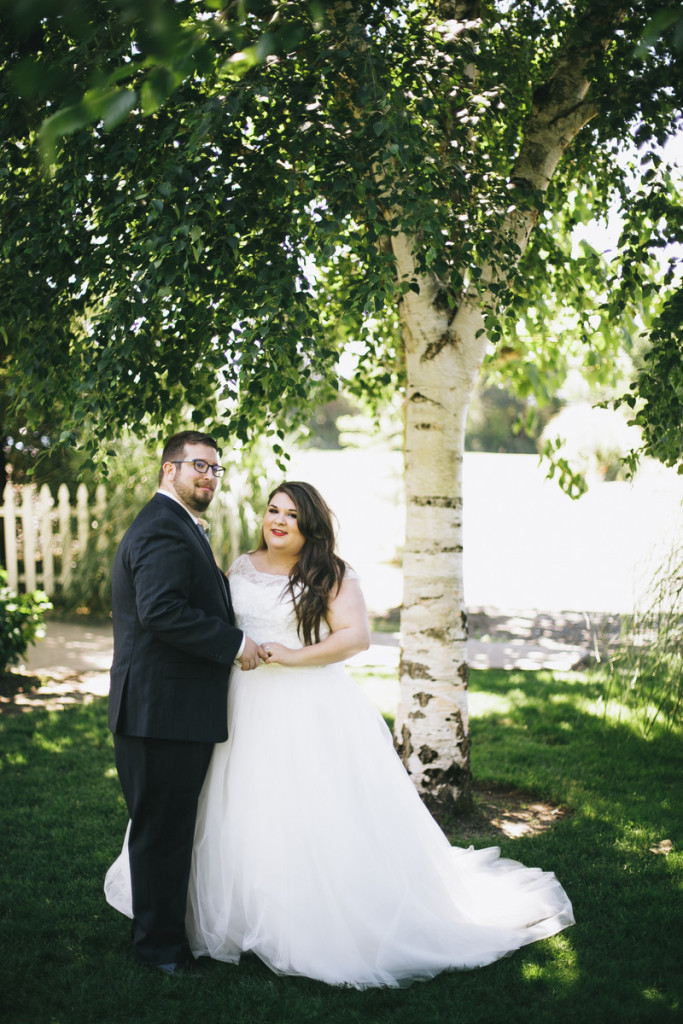 What has surprised you most during the first few months of marriage?  I thought I couldn't love my husband anymore. Well that was a lie because each day that we are building our life together and planning for the future make me love him even more. I expected marriage to be a lot of work, but it has been more of an exciting journey. Knowing I get to spend the rest of my life with someone I love so dearly fills me with butterflies. I am just so excited for the new adventures ahead of him and I.
Memories and Stories about the Day you would like to share:  My brother and I decided to do a dance to mariachi song in memory of my dad. Well we were both prepared for a slower song and had not practiced since he lives in Texas and had only flown in the day before. I did not pick the song I put all my faith in my DJ to pick it. Well the slow song we had in mind ended up being so fast paced and I forgot to bustle my dress. With those two factors I about biffed it in front of our guests. Luckily my brother is light on his toes and made my fall look like a dip. The guests had no idea we hadn't hear or practiced the song.
Your first dance song: Can't Take My Eyes Off Of You by Frankie Valli and The 4 Seasons
The thing that we would have done differently is? I would have had a planner if I could do things differently. For a logical and organized bride I thought I could handle absolutely everything on my own and honestly on the day of the wedding I was really wishing I would have had a coordinator to answer the 500 questions that people were asking. Having a day of coordinator would have alleviated an enormous amount of stress.  
If we could have spent our wedding dollars differently, we would have: Downsized our wedding and taken a honeymoon of a lifetime.
Vendor Information ~ Photographer: Kevin Gilgan Photography | Make-Up and Hair: Elvi Sutton of Face Body Beauty | Invitations & Calligraphy: Vistaprint |  Jewelry: Earrings(great grandma) Hairpiece(Etsy) Rings (Kay Jewelers) | Bride's Attire: David's Bridal 9WG3672 | Bridesmaids Attire: F15703 David's Bridal | Groom's Attire: Calvin Klein Suit, Cole Haan Shoes, Shirt/ Tie Men's Wearhouse | Groomsmen Attire: Men's Wearhouse | Ceremony Location: Green Villa Barn & Garden | Reception Location: Green Villa Barn & Garden | Music/Entertainment: Carrie Pickett Djing Service | Rentals and Décor: For the Love of Pete | Officiate/ Minister: Michael Perry (brother in law)