I love going to the movies so when I saw this wedding I just knew that it would give some great inspiration to our readers. It's nothing like having your wedding be a direct extension of your and your fiance's personality. Stephanie Beach Photography did a great job catching it all!
How They Met
Nat + Sean first met on an online dating site, Plenty of Fish. One day in early December 2008 Nat was browsing around and saw a picture of a guy dressed in a costume of a character I liked when I was younger. I didn't think anything of it and moved on, to my surprise a day later he sent me a message wanting to chat. They chatted for weeks online, by text and on the phone, until one day Sean asked me to go on a date. It was a very simple date, they went to chapters, walked around, and after a couple of hours, I gave him a kiss on the cheek and left.
They started seeing each other more and more, they had lots in common, talking about anything and everything. Five years later and they were still going strong!
The Proposal
In the Late Spring of 2012, Nat + Sean had been making plans to spend 2 weeks in Orlando, FL, going to Universal and Disney World during their birthdays (the couple share the same birthday week). Things were going as planned, making sure everything would be taken care of while they were away. A couple of weeks before the trip, Nat invited my parents for supper and while she was sitting outside with her mom Nat told her, "You know I have this weird feeling that Sean may propose to me during our trip", which her mom replied "Really? What makes your think that?". Nat had these thoughts partially because the couple had gone to Disney in 2010, which was their first big trip as a couple and thought Sean would propose during our second trip.
On August 25, the weekend before our vacation, Sean had somehow planned a small surprise birthday party for Nat because he knew my family wouldn't be able to celebrate on my real birthday due to their trip. It was very sweet of him, he invited his family, and my family, we had a great supper, had lots of fun and chatted away. When it was time to open gifts, Sean was very eager for me to open his gifts first. The first gift was a cute house of Gryffindor Banner, and a movie. He then handed Nat a box, when she unwrapped it, at first it was just a box with a digital camera and he told her to open it, as she did so he went down on one knee, in front of our entire family, and asked her to marry him. She was in complete shock, he caught her off guard! A few second passed which left like minutes and then Nat heard her sister clear her throat to remind her that she still hadn't answered!! "Oops!, Yes of course I will" were her exact words. The ring was so beautiful and she was so happy!! To this day, Nat still can't believe to this day she made him wait, poor guy.
The Wedding
Nat + Sean planned a truly unique wedding using a movie theme as their premise. They had great centerpieces highlighting some of their favorite movies, clapperboard frames and theatre style candy favors for each of their guests. They had an absolutely amazing wedding cake and cupcakes made by the fantastic Sugar and Spice that fit the theme and had decorated the hall of Falcon Ridge using movie posters as a seating chart and by turning their engagement photos into personalized movie posters. If you like what they've done here, you may want to take a look into framed movie posters australia to get your personalized poster! But I think the thing that really tied in their theme was their ceremony venue, which was, of course, a movie theatre!! Rainbow Theatres never looked so good as it did with a Bride and Groom walking around in all their gorgeousness!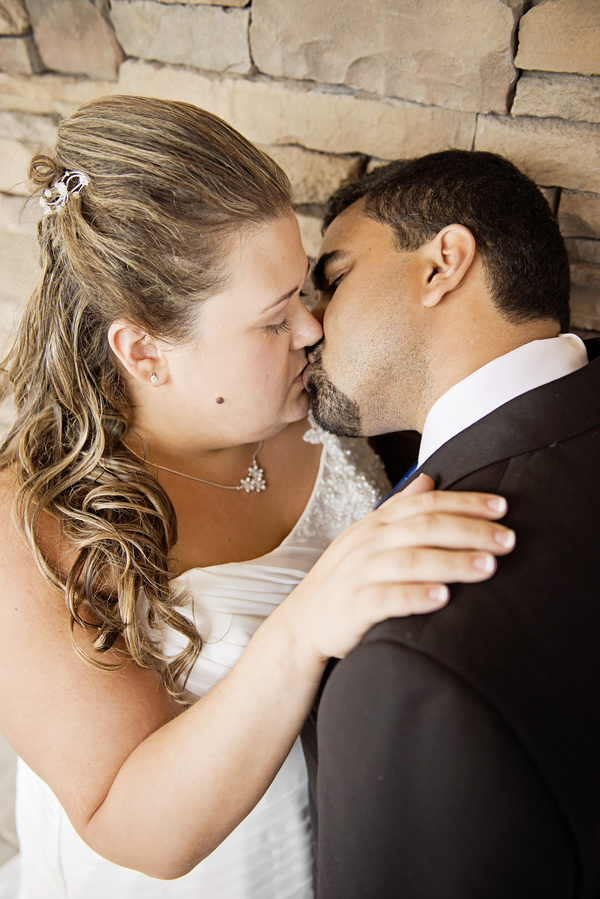 Vendors ~ Photography: Stephanie Beach Photography | Ceremony Venue: Rainbow Theatres, St. Laurent Shopping Centre | Reception Venue: Falcon Ridge Golf Course | Cake: Sugar and Spice Custom Cakes | Wedding Dress: David's Bridal | Flowers: Isa's Flowers | Hair & Make-up: Caro's Hair style