I love Virginia, my home state. Everything about it brings happy and serene memories to me.  My husband and I grew up there, that's where we go married, had our kids and all our family still lives there.  So of course when I get weddings from there they all have a special place in my heart and especially when I get weddings that involve some of my old wedding planning colleagues! And its always nice seeing weddings from them.  Yep, I got my start in wedding planning. And another interesting thing about this wedding is that it was planned in 61 days.  Amazing right!  So check out how a wedding with a small budget, gorgeous plus size bride and short planning time frame can turn out fabulously.

Rachel & Kip
How did the two of you meet? Mutual friends told me about "this guy, Kip, with gorgeous blue eyes" and insisted that we meet.
Describe your engagement: LONG. Inseparable since 3/25/05. Surprised with ring on 12/11/2010, the planning didn't start then. After 10 years and 2 kids, on 1/18/2015 Kip said pick a date, and I did!

The weather on your wedding was: beautiful ­ sunny and 63
Our favorite detail of the wedding was: the whole wedding ­ from the decor to the music embodied "US". We are still hearing about how beautiful everything turned out and how special the day was.
The most unique element of the day: how warm and inviting the whole day felt (to everyone)
Your first dance song: Thinking Out Loud by Ed Sheeran
The thing that we would have done differently is?  I really don't have anything but since I have to pick something I would say, hire a caterer/bartender. What we did worked so well for us though it is hard to even say that.
If we could have spend our wedding dollars differently, we would have: Nothing ­ We were given a little money from my mom and step­dad and my dad and step­mom to use on whatever we needed/wanted, but we did everything else…we wanted to! We were able to plan our special day in 61 days without skipping any detail!
Your advice for other plus size brides: ENJOY every second of your special day, even if it is not what you had planned!! It will be over before you know it and you will be left with memories and photographs ­ take time to take it all in. You will be the only person that notices if something is not exactly right, but who cares…life is not perfect, but that is what makes it so fun.
Describe your wedding flowers: green button mums, lavender daises, dark and light blue delphinium
Side note: Our sweetheart table collapsed in the middle of dinner ­ food and drinks went everywhere (thankfully, not on my dress) but it was ok. Everyone got a good laugh and it makes for a funny story.
Describe your DIY décor: guest book was a 16×20 pic we made with 2 peacock feathers, our names and date that was signed by our guests. centerpieces were hand cute cedar medallions with vases filled with colored water (made with Cool Aid) flowers and peacock feathers
Describe any unique aspects of the beverages you served: nothing unique, just soda, beer and wine. We did tell our guests to feel free to BYOB if there was anything special they wanted and they LOVED that!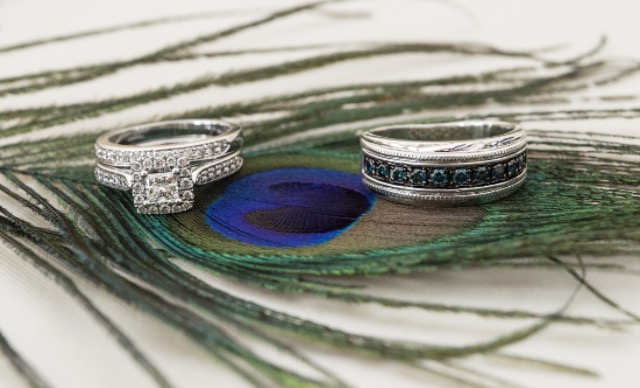 Three adjectives that describe the day: AMAZING, relaxed, BEST DAY EVER (besides the birth of our 2 kids)
What has surprised you most during the first few months of marriage? Kip and I have been together for so long, nothing really surprises us anymore, but for me, the most surprising thing is how much closer we are as a family. We were a family of 4 before getting married but now it feels more real. I love sharing the same name as my husband and children!
Shop the Post