Man, I love me a good destination wedding.  It's the point that you can do things at a destination wedding that you can't do with a more traditional state side wedding.  I love the feel of going to a whole new state or even country and having a blast with your closest friends and family.  It's amazing and then to throw a wedding in the mix…..fabulous! Today's real plus size wedding is from Tiffany Maxfield Photography and it's a stunning destination wedding that took place in the gorgeous Virgin Island.
From the Photographer:  I have a great destination wedding with a plus size bride that you may enjoy! =) The bride and groom took 20 of their closest family and friends on a week long Caribbean cruise. We stopped in the beautiful Virgin Islands in St Thomas for their intimate ceremony overlooking the gorgeous ocean. The ceremony was short and sweet! We headed back to the ship for a small reception with some light food and cocktails. They shared their first dance as husband and wife in a small club with their family close by. Christina was an amazing DIY bride! Her and her bridesmaids hand made the sashes, and wreaths (which the bridesmaids carried). She also made custom tumblers for all the guys and girls, and customized robes and tank tops for her girls to wear. All of the details fit the tropical location perfectly. Here's some of the other vendors that helped create her perfect wedding day =)
Christina and Brian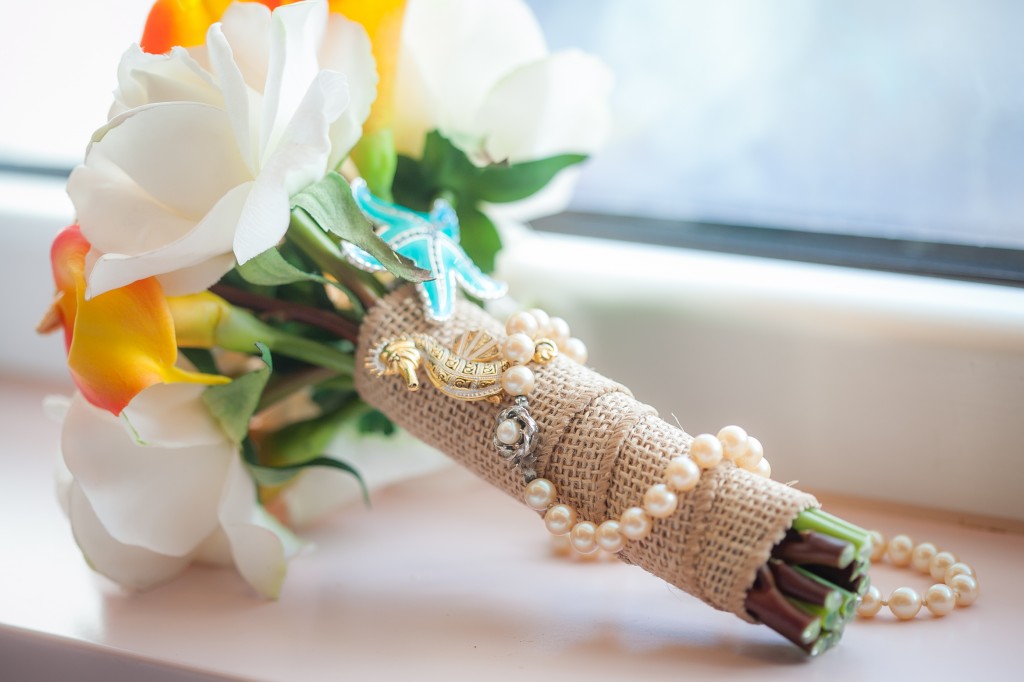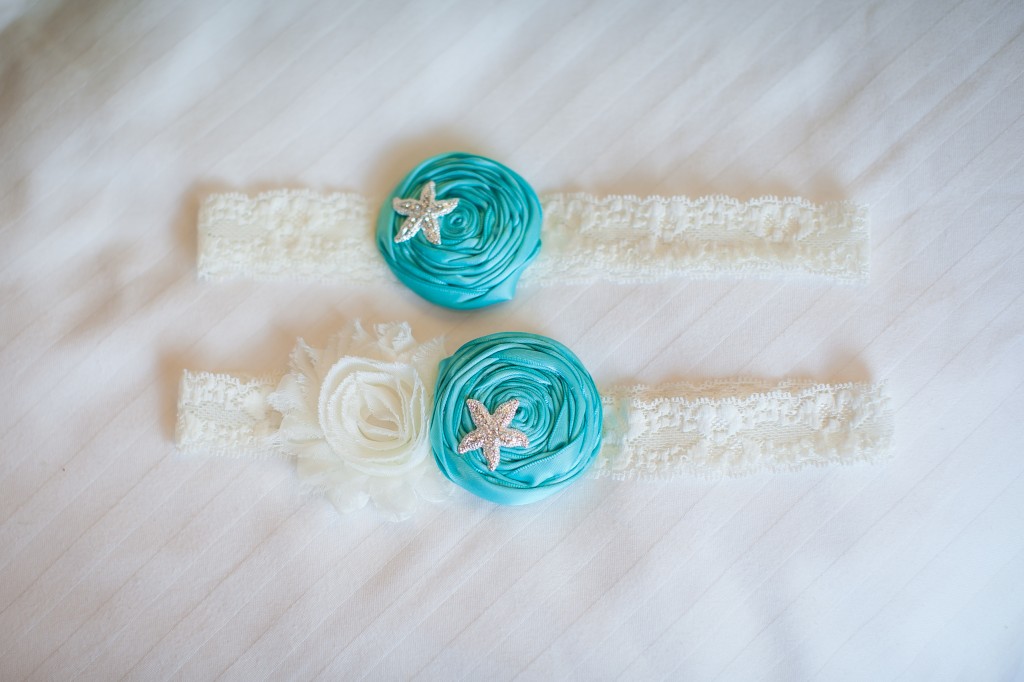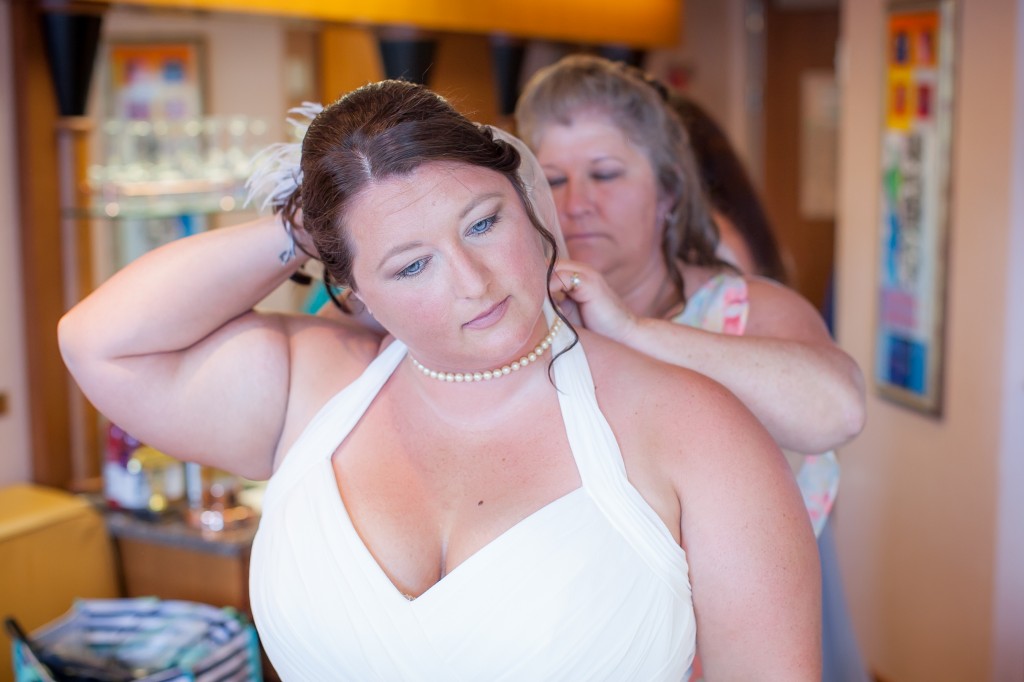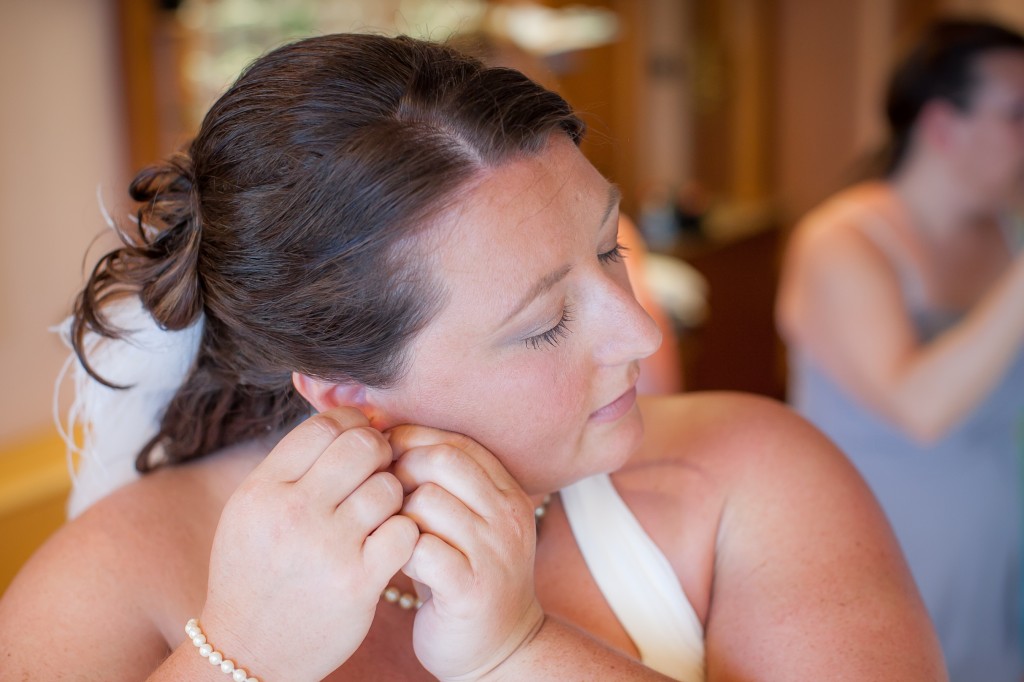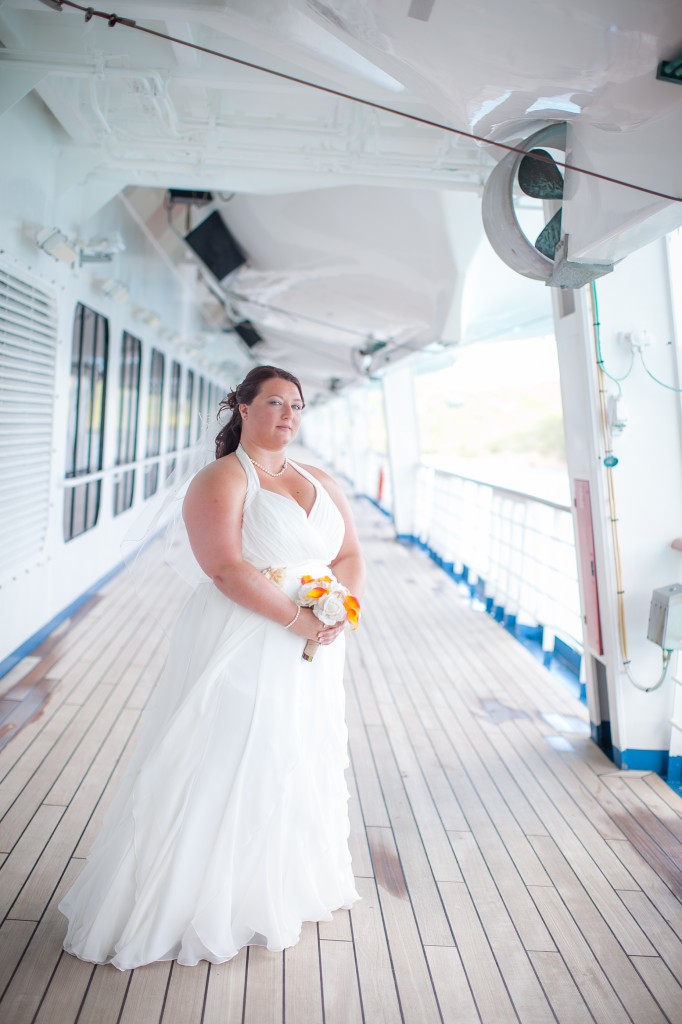 Tell us about your first meeting.. Groom: Our first meeting was when two friends of ours wanted to get lost in DC one night, we just went along for the ride.  Bride: A mutual friend showed up while I was waiting for the season premiere of The Real World (reality tv junkie, here!) and convinced me and a friend, Jen, to  take a ride around DC. My own reality that night was much better than any entertainment 7 strangers picked to live together for a tv series could have been!
Tell us about your First Date… Groom: Guess our first real date would have been a concert to see BB King.  Bride: We technically started dating Valentine's day/Presidents day weekend when we went with my friend Chris and her husband Craig (one of my MOH's and Best Man) to their Bethany Beach house for the long weekend to get away. We returned as a couple and planned to see BB King the following weekend, so that was really our first real night out as a couple.
Tell us about your First Kiss… Groom: I have to say that would have been in high school  Bride: Hmmm… high school definitely, although it's all a blur now so I don't
remember exactly when or where.
Tell us about the proposal… Groom: I walked her down the beach in Half Moon Cay to a spot where we would be alone. I bent down to pretend to do something and when she was not looking I pulled the ring out.  Bride: We were on a cruise for Brian's birthday. It was the day before his birthday when we docked in Half Moon Cay, Carnival's private island in the Bahamas. After enjoying the beautiful turquoise Caribbean waters for a bit, we took a walk down the beach to a more secluded area. I was taking pictures of a choral that had washed ashore while Brian was kneeling in the sand, digging around in our beach bag. He grabbed my hand to have me turn around sat up on one knee and simply said "will you?" with ring in hand. It was a complete surprise. Seeing as how we'd JUST bought a house 2 months prior, I was NOT expecting a ring so soon. He purchased the ring the day before in Grand Turk and picked out the center stone himself. I love that he chose the ring! It makes it mean so much more!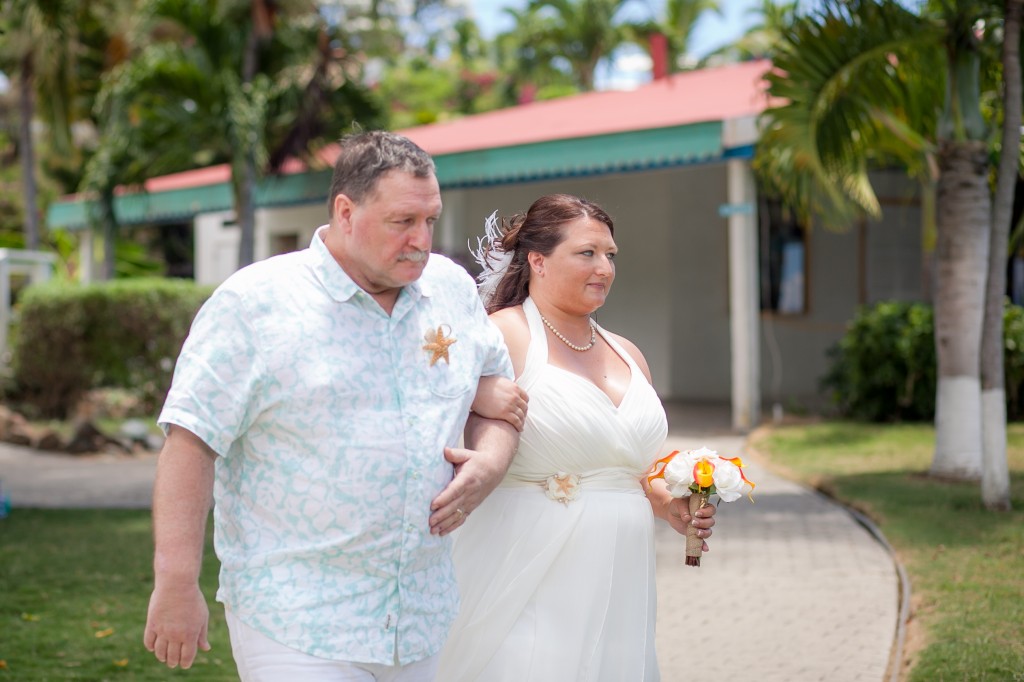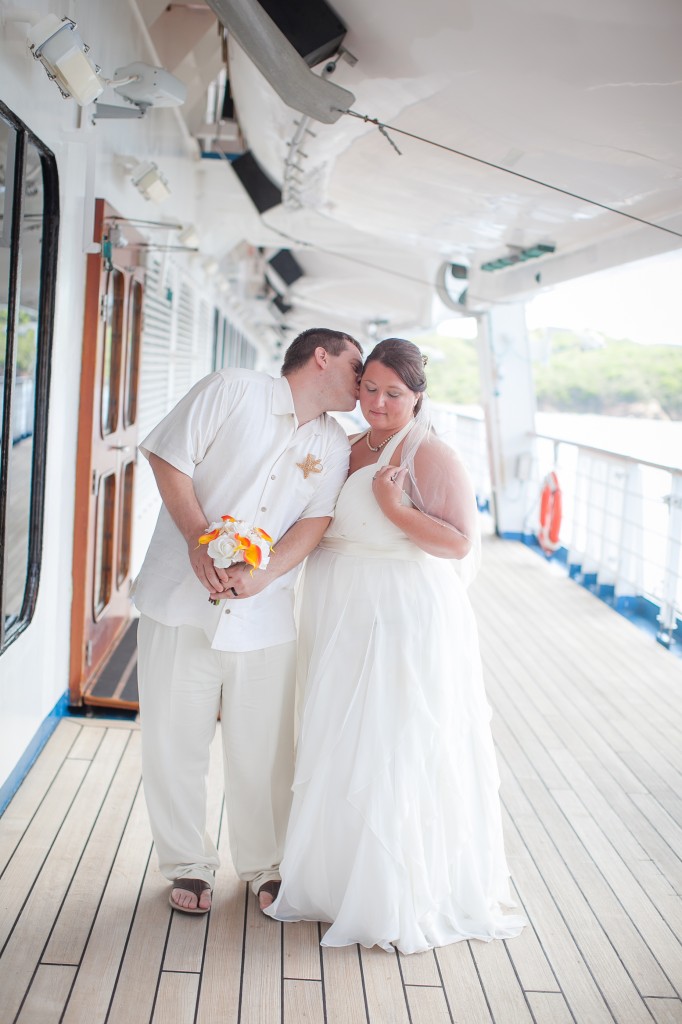 My Dear Christina,
I Love you, I can't want to start our family together. You will always be the most important person in my life.
My Dear Brian,
I prayed 16 years ago that this would happen for us. Although we didn't actually date until 10 years after high school, I still consider you my high school sweetheart and love everything about our life together. I love you forever.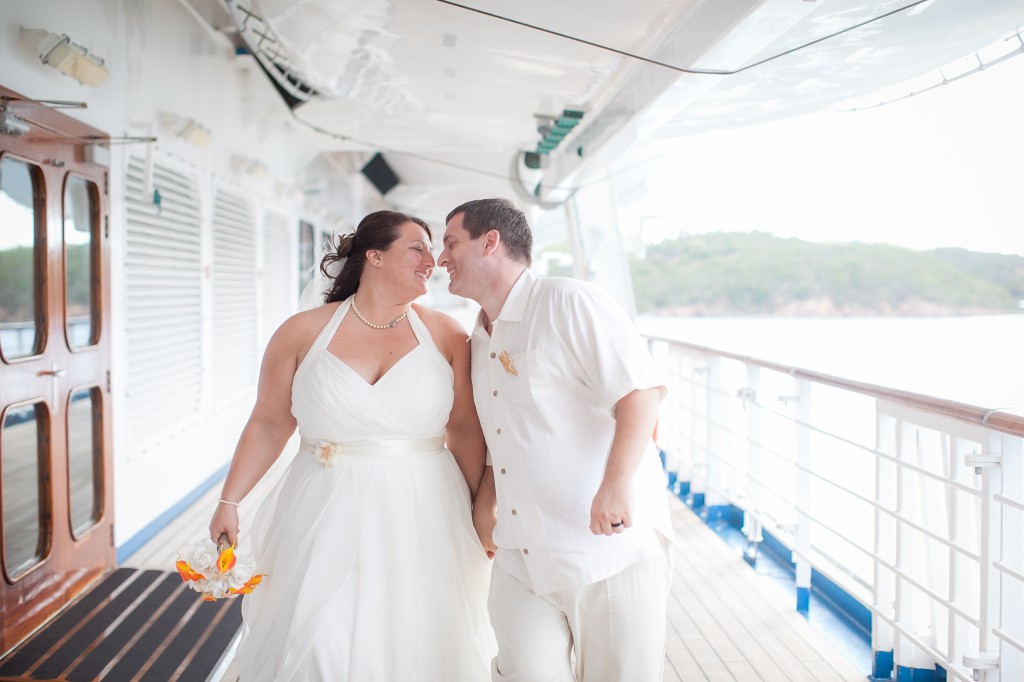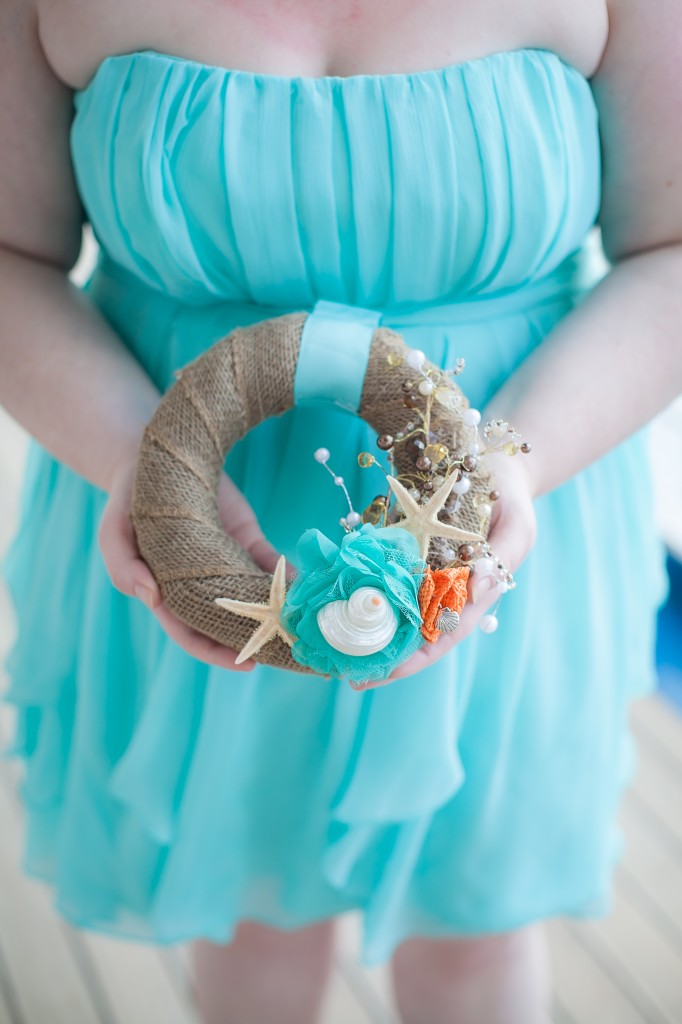 Vendor Love: Photographer – Tiffany Maxfield Photography //  Groom's outfit – Tommy Bahama  //  Bride's & Bridesmaids dresses – David's Bridal  //   Bride's bouquet and sash, corsages, boutonnières – Wedideas on Etsy   //  Bride's shoe clips and garters – KennasKlippiesBows on Etsy  // Bridal party, MOB, MOG and FOB tumblers – Jumping June on Etsy
Check out our other Real Wedding Features
Submit Yours HERE