Hopefully the snow is going for most of us but we couldn't resist sharing this gorgeous winter real wedding feature a stunning plus size bride and her dapper groom.  We just love the shots in the snow!  Check out all the fun below.
Hayley and Kyle Mueller
 January 4, 2014
Saint Paul, Minnesota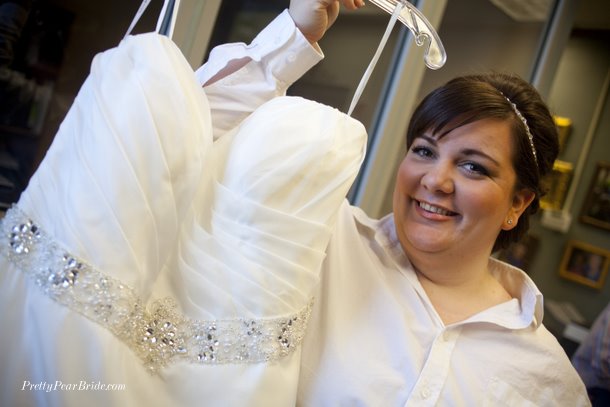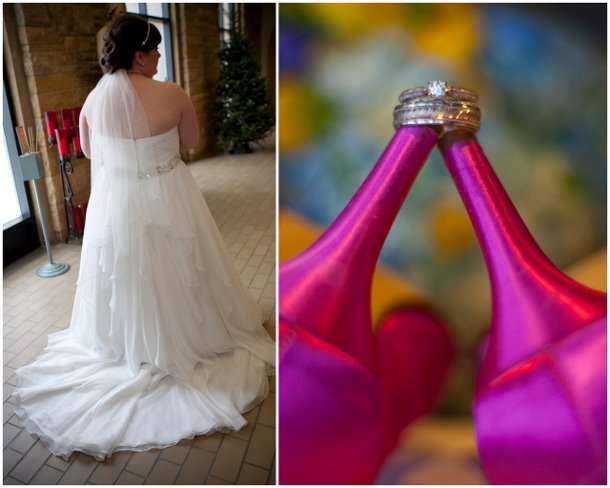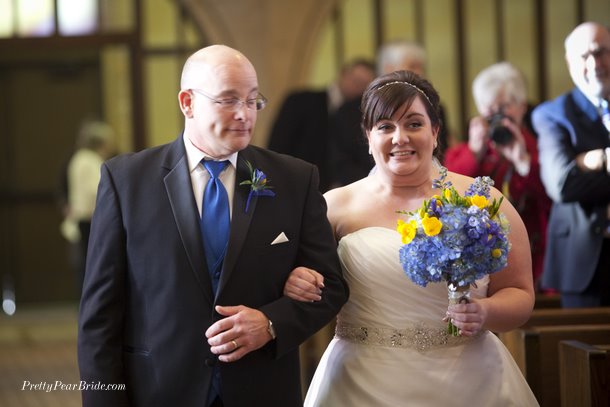 How did the two of you meet?   Our grandmothers have been very close friends for over 40 years and thought we would be a good match.  They gave Kyle my phone number, he called, and the rest is history.  We met in 2012, were engaged in 2013 and married in 2014.
Describe your engagement:  Kyle cooked me a beautiful lunch and  when I came home from work, he had the meal laid out on the table was down on one knee playing the Bruno Mars song "I Think I Want to Marry You."
The weather on your wedding was: Freezing cold, but it had snowed the night before so it was beautifully white.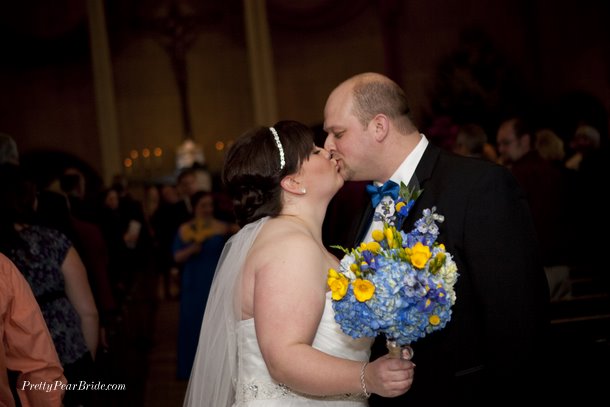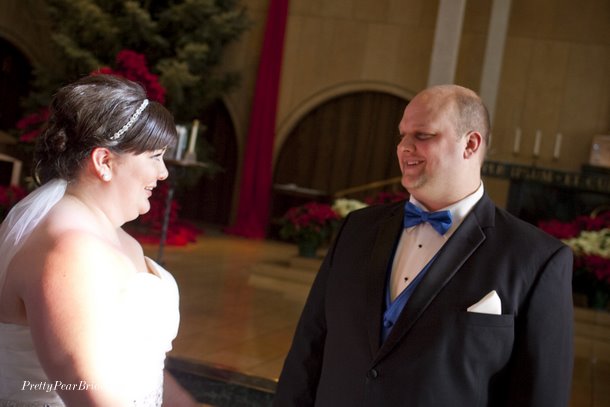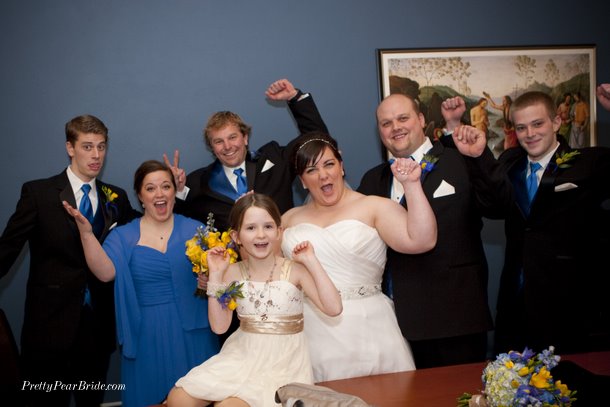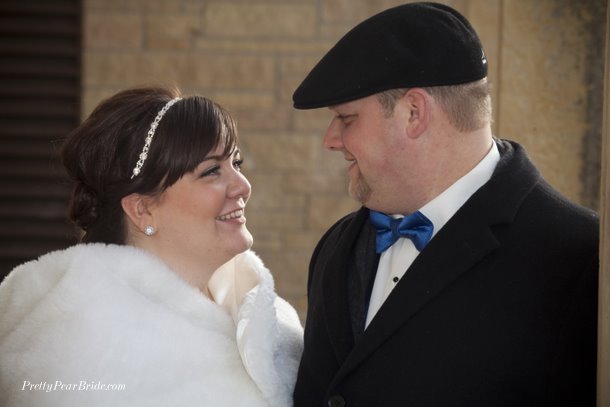 Describe your wedding flowers:  My wedding bouquet had blue hydrangeas, yellow billy balls, Freesia, Statice, and Iris.  It was a very round bouquet.  Our theme was north woods/lake so our centerpieces were carved birch logs.
Your first dance song:  "Cowboys and Angels" by Dustin Lynch
The thing that we would have done differently is? I would have tried to worry less about everything.  The whole day was great and I wish I had let the little things go while planning so I could have enjoyed the process more.  At the end of the day, the details don't matter as much as you think they will
If we could have spent our wedding dollars differently, we would have:  I would have gone with a less expensive florist.  She did gorgeous work, but I realized that the flowers were not important to me like the invites, the décor, etc… I would have figured out a way to do that with less money.
Our favorite detail of the wedding was: The way our theme was woven through the whole day.  We kept with the birch theme and it was a great way to tie everything together.  It made the day seem more cohesive and personal.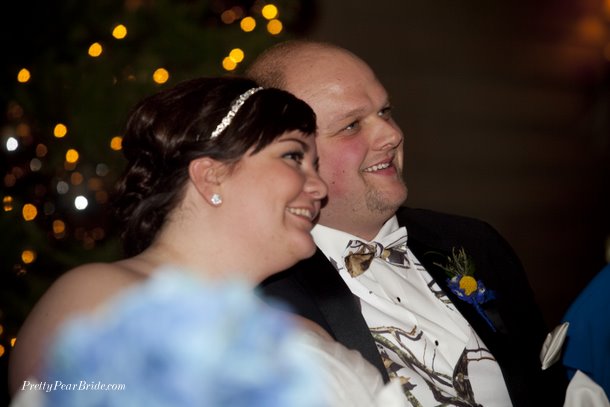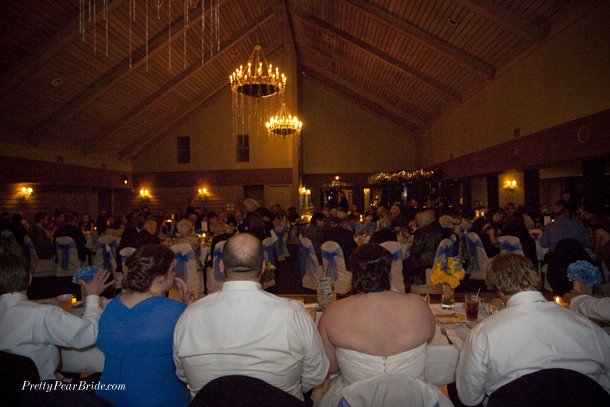 Describe your DIY décor, if any:  We made all of our décor.  We had homemade birch tree table runners, homemade birch centerpieces that we carved our initials into.  We made a large "M" monogram, which stood on the fireplace mantel.  We also made our place cards, which were little boxes, shaped like canoes with homemade caramels in them as a favor.
Describe your menu and your favorite part:  We had heavy appetizers during the social hour, which included grilled veggies and artichoke dip.  We also had hot cider and cocoa for our guests.  Our meal included a champagne chicken option and a roasted beef tenderloin option.  Both were served with green beans and mashed potatoes.  My favorite part of the meal was the hot cocoa because it added a nice homey feel to our event and was nice to have on such a cold day.
 Describe any unique aspects of the beverages you served:  We had the hot cocoa and cider witch was unique.  Otherwise we hosted beer and pop all night.
The most unique element of the day:  The father-daughter dance.  My dad and I had a choreographer put together a dance for us to music from my childhood.  The mix included started with "I loved her first" to trick everyone into thinking this was an ordinary dance, then it went into the "Full House Theme Song," "Brown Eyed Girl," "She Loves Me," "Wannabe," Bye, Bye, Bye" and then back to  "I Loved her First."   Everyone was shocked and it was so much fun.
Three adjectives that describe the day: Magical, Whirlwind, Perfect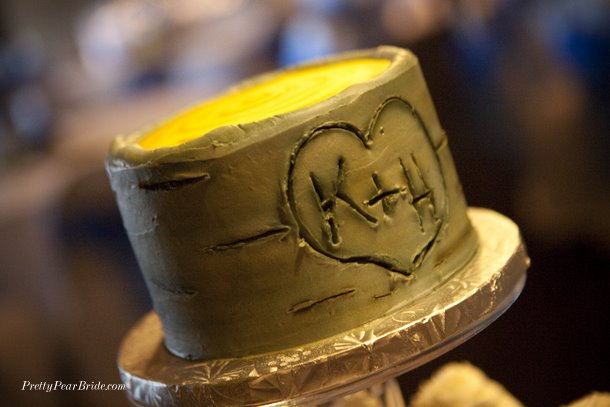 Describe your wedding cake:  I had a small 8" round that looked like a tree stump with our initials carved into it.  Then I had three types of cupcakes, red velvet with chocolate filling, white with raspberry filling, and marble with custard filling.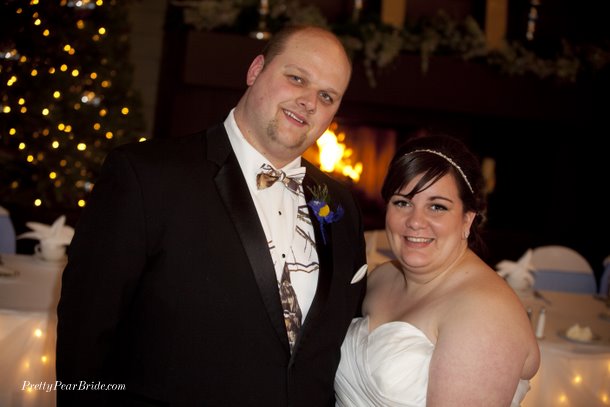 Your advice for other plus size brides: Embrace your curves and know that on your wedding day you will be gorgeous.  I was so worried that I would hate myself in photos and that I would look huge compared to everyone else, but I felt beautiful that day and that confidence shows in the pictures.
What has surprised you most during the first few months of marriage?  I have been surprised by how close we have become in these first few months.  We are already making big life changes (buying a new house, etc..) and it is so great to have partner to do that with.  I love Kyle more and more each day and I am looking forward to the many years ahead.
Vendor Love: Photographer: Michael Murray Photography |  Caterer and Reception Location:  Dellwood Golf Club |  Florist: Serendipity Flowers | Cake: Grandma's Bakery  | Invitations & Calligraphy: Dolan Printing | Bride's Attire {Designer, Style Name or Number}: Stella York, Style #5711 from Luxe Bridal Couture  | Bridesmaids, Groomsmen and Groom's Attire: The Wedding Shoppe  |  Ceremony Location: Maternity of Mary Catholic Church  |  Music/Entertainment: Party Music – Eden Prairie, MN | Rentals and Décor: Creative License | Officiate/ Minister: Fr. Peter Williams
CHECK OUT SOME OF OUR OTHER Real Weddings 
We've love to share your wedding, SUBMIT HERE