Not many weddings stop me in my tracks and take my breath away but this wedding with a stunning plus size bride, right here, did just that.  Rebekah Wright Photography did a fabulous job capturing all the details and amazement of this wedding.  This is literally exactly how a farm vintage chic wedding should look, it truly is amazing!!

Kelli Jo & Kyle
 August 9, 2014
Fulton, Missouri
300 guests
Wedding Colors: Rose, Celadon, Gold, and Ivory
How did the two of you meet? We initially met online (OkCupid) but didn't fall in love with one another until we met in person over a hockey game at Hard Times Café in Fairfax, VA.
Describe your engagement: Kyle surprised me! I thought we were interviewing for a foster puppy, but instead, we were being filmed for participation in Northern Virginia Magazine's Dream Wedding Giveaway! Watch the video here!

The weather on your wedding was: Overcast. It drizzled light rain until 8:30 AM (two hours before the wedding), which made everyone nervous, but then it stopped! The sun came out, and it was a beautiful day! Praise the Lord!
 Describe your wedding flowers: I LOVE FLOWERS! We had Pink Roses, Peach Cabbage Roses, White Spray Roses, Peach Dahlias, White Cala Lilies, Peach Snapdragons, White Astilbe, Green Hypernicum Berries, White Hydrangeas, Bells of Ireland, Dusty Miller, Succulents, White Daisies, and Baby's Breath.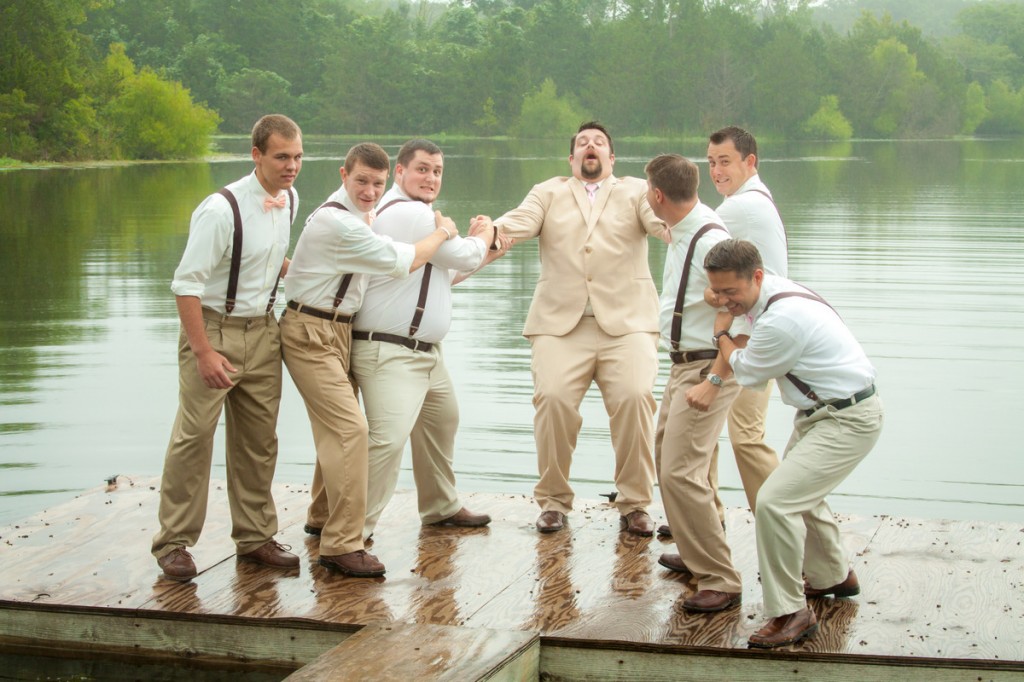 Your advice for other plus size brides: Do NOT worry about your batwings (arm flab). We all have it, even the skinny girls…and on that day, everyone will be focused on your beautiful smile, your gorgeous dress, and your new marriage. Your happiness will make you the most stunning bride!
Our favorite detail of the wedding was: Our grandmothers were our flower girls! Since all four of our grandmothers are still living, it was important they play a big role in our day, as they play a huge role in our lives! We were so blessed they accepted, and they did a great job—they stole the show! J
The most unique element of the day: That's a three way tie—either the "tying the knot" ceremony, our first shot together (in lieu of a first look), or the wedding dunk tank (instead of a dollar dance, guests contributed dollars toward the person they most wanted to see in the dunk tank).
Your first dance song: "When You Got a Good Thing" by Lady Antebellum
Describe your DIY décor, if any: My family worked tirelessly to make over 300 yards of bunting (including floral material, burlap, and lettered sections), more than 20 signs, the wedding altar (two doors and an antique chandelier), the cake backdrop (three doors and a floral wreath), and a custom cross.
The thing that we would have done differently is?  Looking back, I wish I had made copies of all the documents we sent to our vendors ahead of time (e.g. specific photos we wanted, specific songs we chose) so that when they forgot their lists, I didn't have to try to remember things that day. I also wish I had remembered to put the labels on our personalized decks of cards we passed out!
If we could have spend our wedding dollars differently, we would have: CHANGED NOTHING. We spent on our money on what was most important to us—our food, our flowers and décor, and our favors. We wanted our guests to enjoy themselves.
Describe your wedding cake: We had a traditional (but rustic) 3-tier almond cake with buttercream icing adorned with fresh flowers in addition to almond sugar cookies, macaroons, red velvet cupcakes, mint brownies, and mini key lime pies.
Describe your menu and your favorite part: We offered custom brunch, including made-to-order omelettes, pancakes and waffles with assorted toppings, and prime rib.
 Describe any unique aspects of the beverages you served: We served mimosas, sangria, tea, and lemonade in mason jars! We also offered bottled beer and canned soda.
Three adjectives that describe the day: Unique, God-centered, Fun
What has surprised you most during the first few months of marriage? We have been surprised how easy it's been. I guess we cheated by living together before we married, but the changes—the transition to "us" thinking—hasn't been too big a challenge. We start and end each day together, and we never go to bed angry!
From the Bride: 
Our wedding was held on Cedar Brook Farms, our fifth generation family farm in Fulton, Missouri. We got married at

10:30 AM

the morning of August 9, 2014 in the Lone Oak Chapel, a well manicured pasture surrounded by cedar trees and flanked by one double-trunked oak tree in the center. Our ceremony was unique and ours–we had all FOUR of our grandmothers as flower girls, and our nephews paraded down the aisle with signs, our dog, and an antique wagon. In lieu of the tradtional unity candle, we actually "tied the knot" using jute rope. Our musicians were all close friends who played poular music on their instruments (bassoon, cello, guitar, violin, and keyboard). Notably, I walked down the aisle to Bruno Mars' "The Way You Are" as arranged by my best friend Taylor Smith. Our favors were snack bag programs filled with some of our favorite treats.
Following the ceremony, our 300 guests rode horse drawn wagons across the pasture to the recently restored Old Farmhouse, where my great grandmother lived for many years. Guests enjoyed passed hors devours and a brunch buffet, including made-to-order omelettes, pancakes/waffles, prime rib, and bottomless mimosas and sangria (out of mason jars, of course). Instead of the dollar dance, guests contributed to our honeymoon fund by putting dollars in the cigar box of the person (bride or groom) they most wanted to see in a dunk tank. Near the end of the reception, we counted the dollars, and I got to dunk my husband. Guests lined up to take their turns as well. We ended the day with Kenny Chesney's "It's That Kind of Day" and exited into the farmhouse.
Our wedding was farm vintage chic. Our centerpieces and decorations were entirely comprised of antiques collected by close family and friends and fresh flowers grown and arranged by the local florist, a family friend, and my mom. My family did all the preparations–making and painting rustic signs, making hundreds of yards of bunting, and building the ceremony altar, the cross, and the cake backdrop. The dainty details among our palette of dusty rose, celadon green, ivory, and gold made our wedding beautiful and personal.
If you choose to publish our wedding, I'd be happy to provide more details as you wish. Thank you!
Vendor Love: Photography:
Rebekah Wright Photography

 // 
Pastor: Steve Dull, friend of the bride and pastor at
Harmonie Church
  // Programs:
Joel Loera
 // Music (Ceremony): Paige Roesner, Karen Haden, Jan Asbury, Kelly Gross, David Railton, Marlene Railton, and Taylor Smith, friends of the bride  // Food & Drinks:
Bleu

 // 
Cake/Desserts:
Sweet Satisfaction
  //  Music (Reception):
Waters Sound & Light
  //  Tent, Table, & Chair Rentals (including dunk tank):
A-1 Rentals
  //  Hair & Make-up:
Hot Iron Salon
   //  Dress:
Mori Lee Julietta Style 3137
at
Dala's Bridal
   //  Suits: Jim's Formal Wear at
Unique Designs
   //  Transportation:
J & R Carriage Services
   //  Flowers and Decor:
Unique Designs
 ; Katie Hayes, friend of the bride; and Cathy Woodson, mother of the bride  //  Antiques: Kevin and Jayne Wills, friends of the bride  //  Wedding Coordinator: Tabitha Casey, friend of the bride  //  Venue: Cedar Brook Farms, the bride's family farm  //  Invitations:
Elli
The following two tabs change content below.
Shafonne Myers is a certified wedding and event planner who longed for bridal inspiration that looked like her. She has created a website and magazine that brings bridal inspiration to plus size brides. She does speaking engagements educating the world about plus size brides and self confidence.
Latest posts by Shafonne Myers {Editor-in-Chief} (see all)