Not often do I get weddings from my home state.  We are transplants to Indiana and weddings like these make me love being a resident of Indiana.  And yes our winters are hard but they produce some of the best weddings as you can see from these wonderful pictures from Tabi Marie Photography.
Lindsay & Ethan
 Fort Wayne, Indiana
150 guests
Wedding Colors: navy, emerald, and gold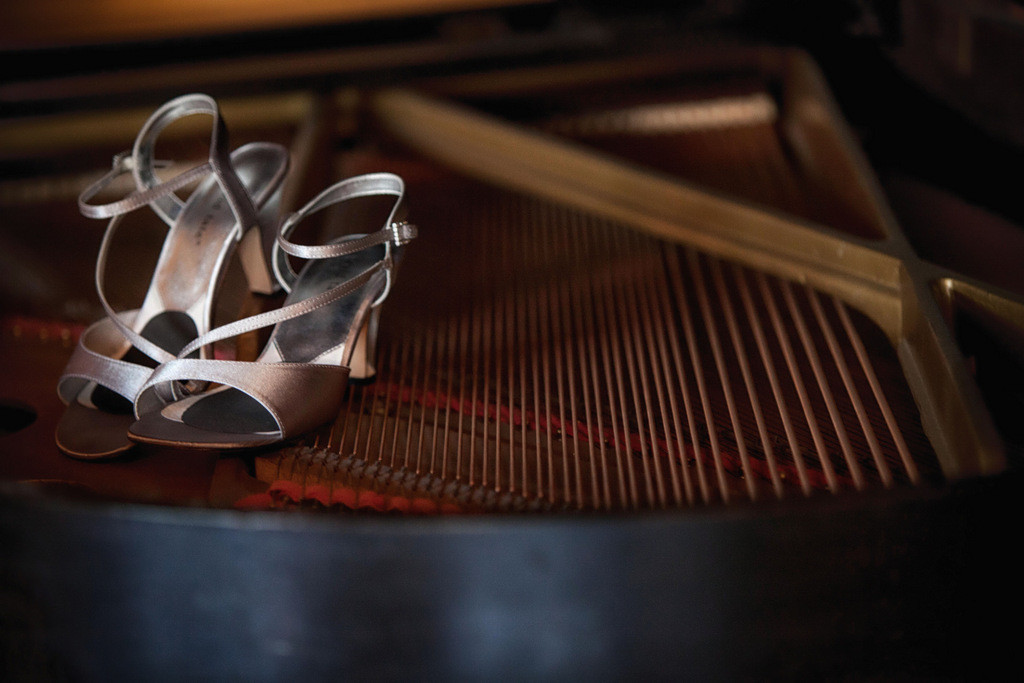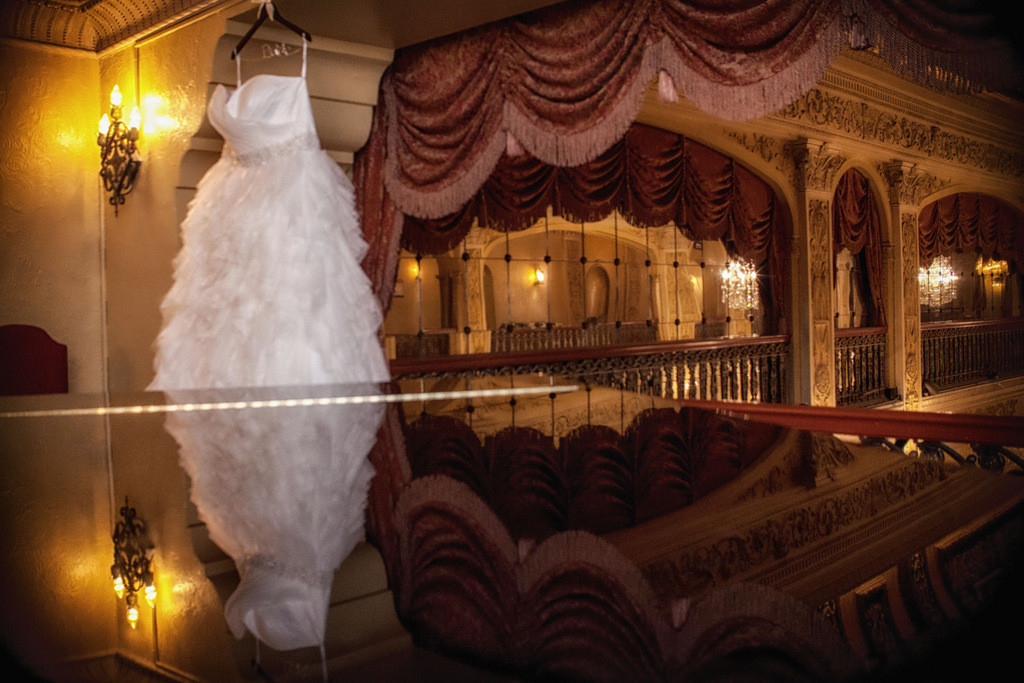 Your advice for other plus size brides: Don't be confined to only plus size styles or stores, almost all dresses can be ordered in so many sizes these days, so get inspired and get what you want! And don't rush through the tailoring process-it can make or break a dress.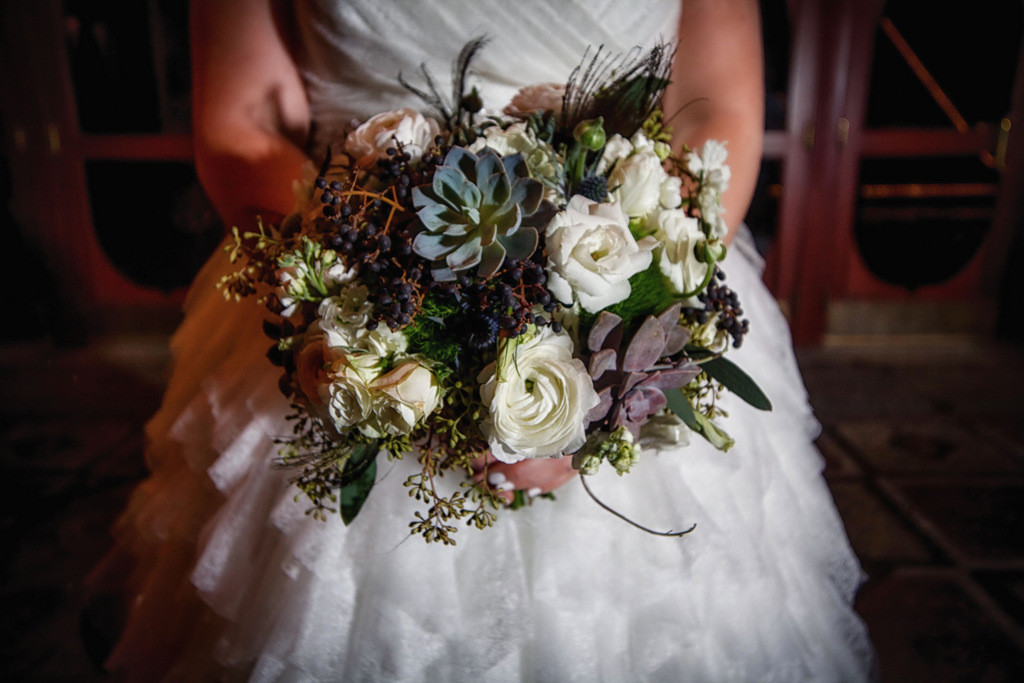 Describe your Flowers: Our theater location already had so many vivid, bold colors, so I did not want to compete by adding crazy flowers. I wanted elegant white flowers and greenery, but in all different shades and textures. And many succulents! I love succulents!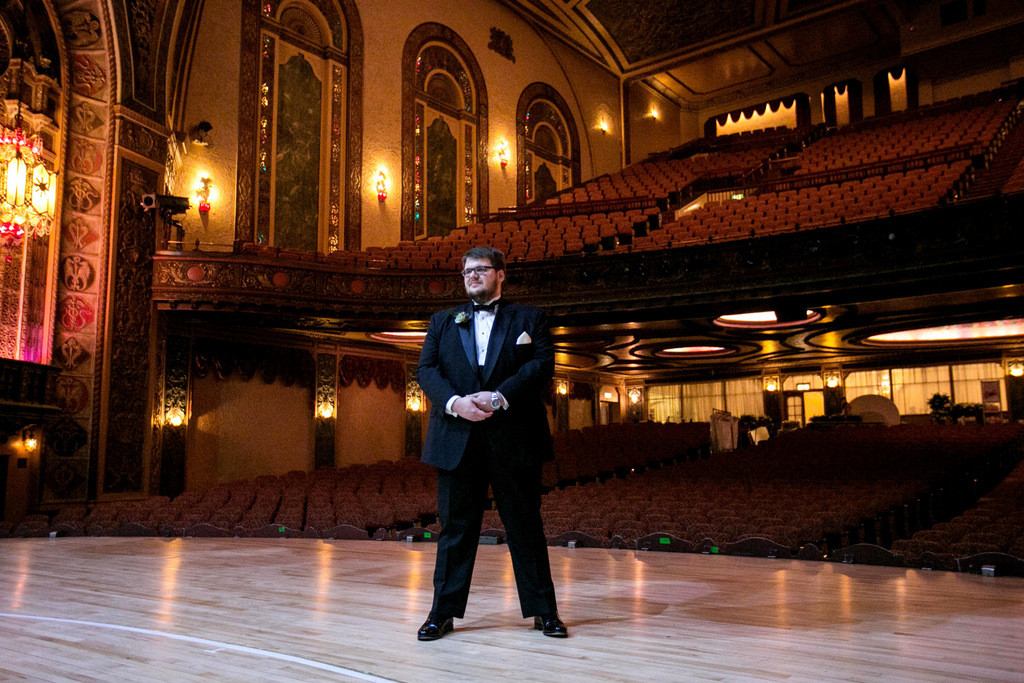 How did the two of you meet? Ethan and I met in a speech and debate class in high school, but did not become friends until a mutual friend brought us together for senior prom. We became very good friends and maintained our friendship while going to different colleges and eventually our friendship turned to dating. And then we just kept dating all through college and graduate school!
Describe your engagement: I had always envisioned a hot air balloon engagement, so Ethan was wonderful to arrange all the details, including leaving at 4am so we could be in the air to catch the sunrise. We soaked in the beautiful scenery and ended our trip with an even more beautiful proposal.
Memories and Stories about the Day you would like to share: Having a first look with my dad before I did one with Ethan was really special. Both first looks helped spread out the day and allowed plenty of time for all my emotions. Our unity candlesticks broke during set-up, but no one wanted me to worry by telling me, and they made a makeshift one. I was so confused why the candles were leaning so much and laughed so hard when I found out later. We had a snowstorm on our wedding night, even after checking the forecast daily for months, so I definitely understand hesitation about winter weddings!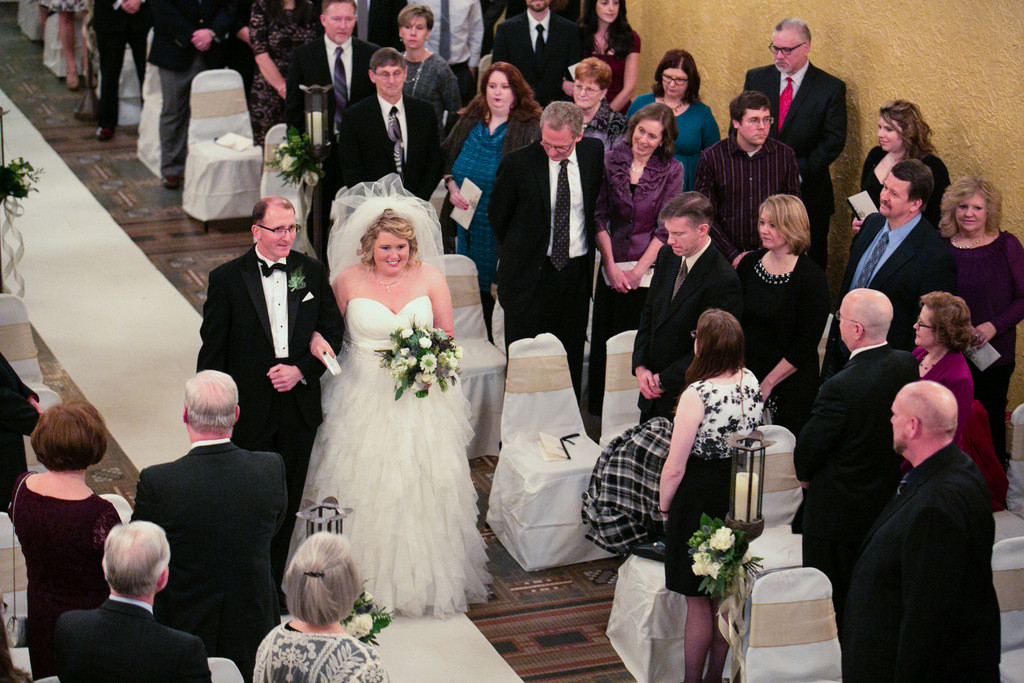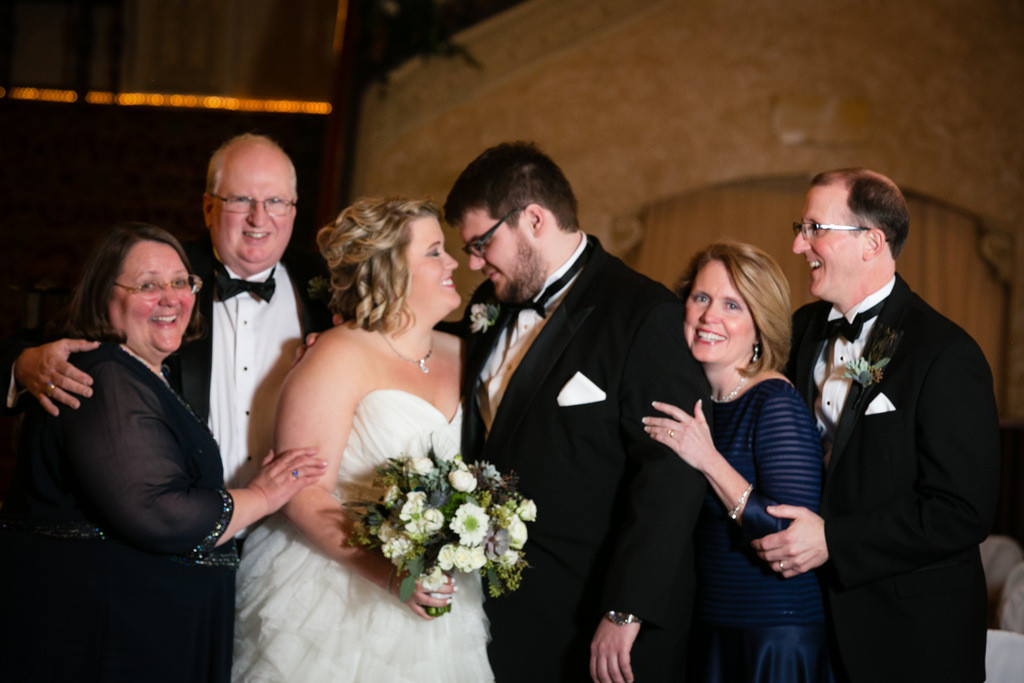 Your first dance song: Can't Help Falling in Love with You (such a classic)
The thing that we would have done differently is? Probably just reviewed every detail with every person, a dozen more times. Weddings have hundreds of little details that can easily be lost on the big day without notes, reminders, and charts. You can never be too prepared
If we could have spend our wedding dollars differently, we would have: Done it all the same.
Personal or handmade details: I wanted to celebrate the marriages of both sets of our parents and four sets of our grandparents who all had wonderful lives together, so I displayed framed wedding photos from all of them on our welcome table. Since we were getting married in an old theater, I wanted to incorporate some other vintage elements, as well, so guests signed vintage postcards in an antique scrapbook instead of a traditional guestbook. My grandpa had recently passed, but gave me a birthstone bracelet before he died.  I wore it as my "something blue". Ethan's mom made handkerchiefs with my wedding date, as well as the wedding dates of ourcombined other generations.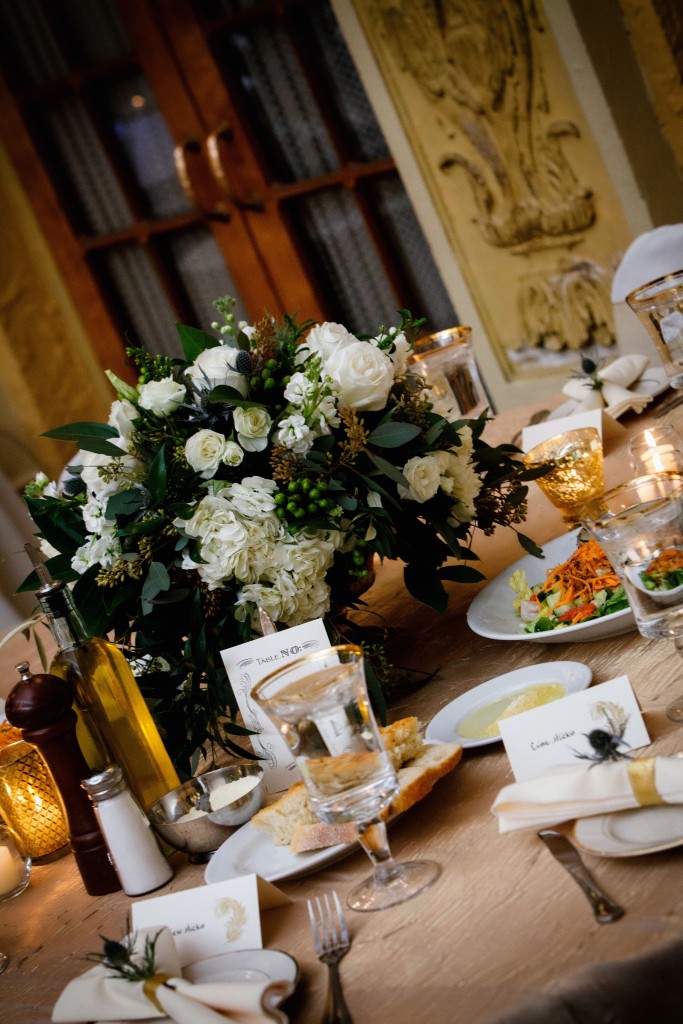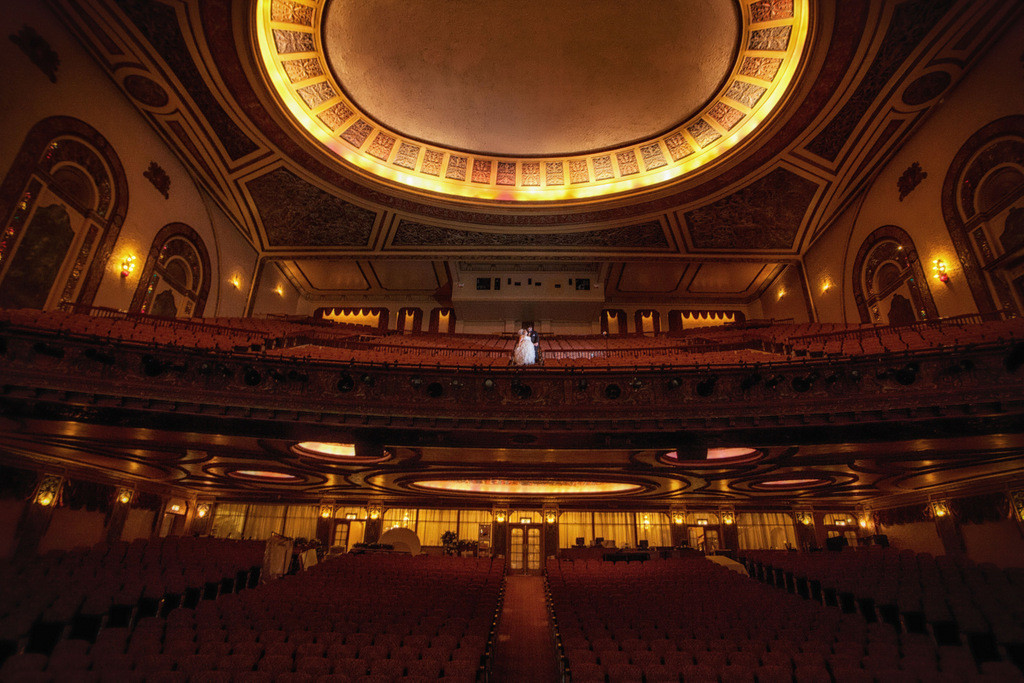 What has surprised you most during the first few months of marriage? I've been surprised on how attached I feel since making those vows-I know it sounds silly, but our life together seems so more settled and secure since our wedding day.
Vendor Love:  Photographer: Tabi Marie Photography | Videographer: Day Job Films | Wedding Planner: Mom and Pinterest | Invitations & Calligraphy: The Monogram Shoppe | Jewelry:  Von Maur | Bride's Attire: Private Label by G, Kenneth Winston, Ella Rosa, BE195 from Blue House Bridal | Bridesmaids Attire: Touma's Bridal | Groom and Groomsmen's Attire: Christopher James Menswear| Ceremony Location: Embassy Theatre | Reception Location: Indiana Hotel Lobby and Embassy Theatre | Transportation: Club Car Limo & Trolley | Music/Entertainment: West Central Quartet| Rentals and Décor: A Party Apart | Officiate/ Minister: Dr. Mark Soto (my college theology professor) and Rev. Ron Hawkins (Ethan's family pastor)