I absolutely love a true love story and this is a true testament to that.  This couple dated for 8 years and along the way had a beautiful daughter and when they decided to get married it was a MUST to include their daughter.  She did a fabulous job being a flower girl.  Anjolie worked really hard to look her best for her big day and I love all the little tricks she incorporated to look amazing in her wedding gown and her photographer, Ell Photography did an amazing job capturing it all.
They also had a huge influence from Pinterest, which is the best thing ever! There are so many great wedding ideas, check out our pinterest page for great wedding ideas that are perfect for the curvy bride.
Anjolie and Forrest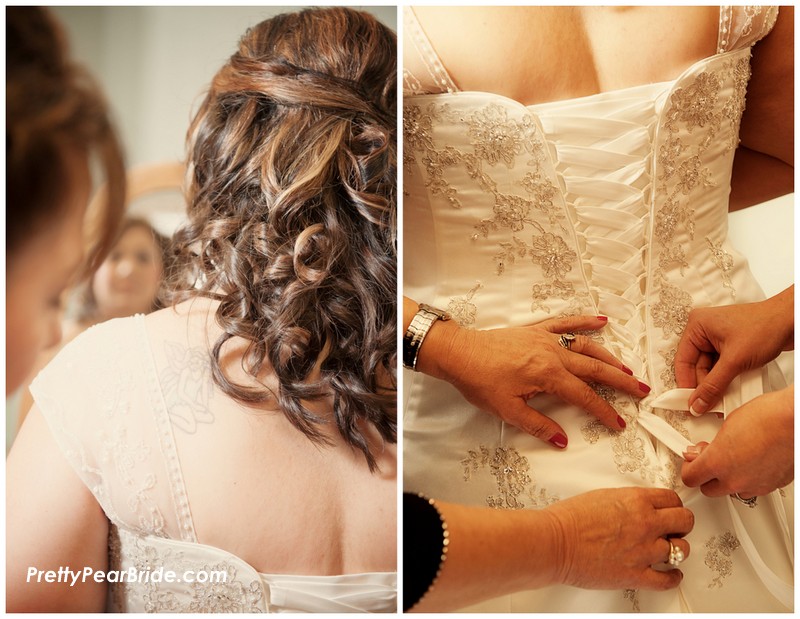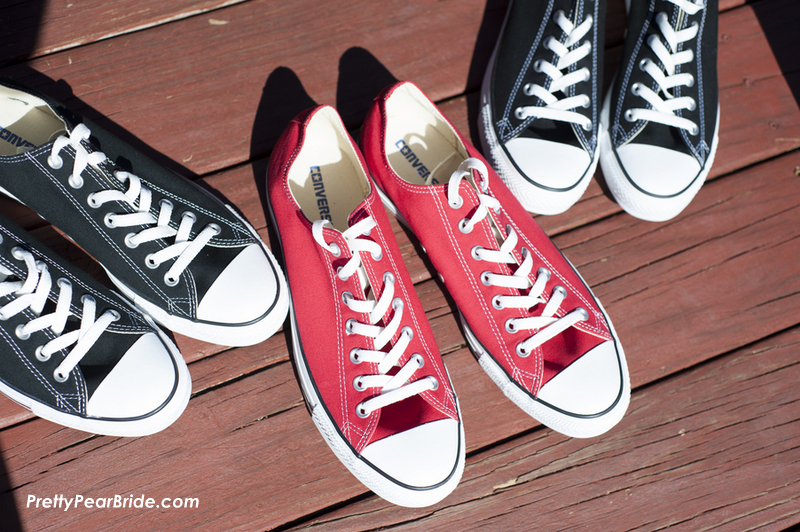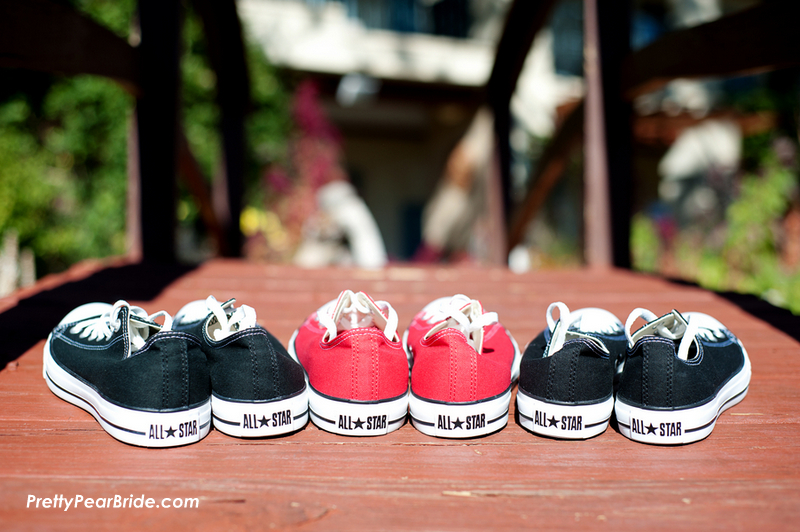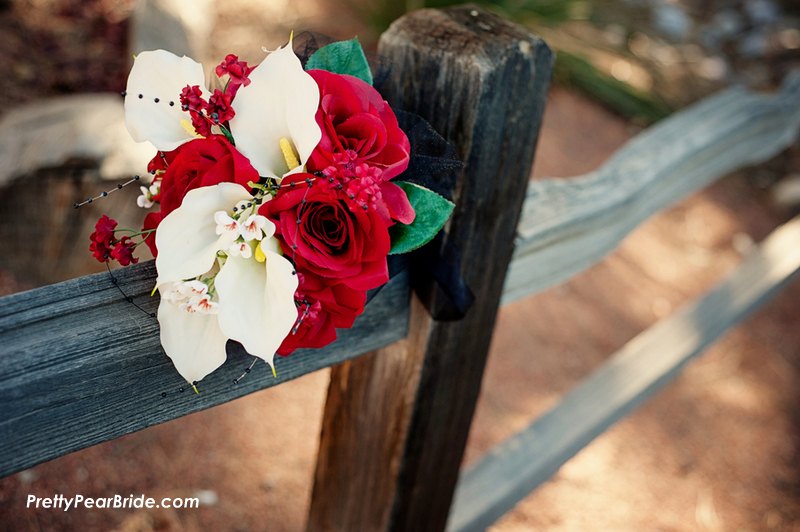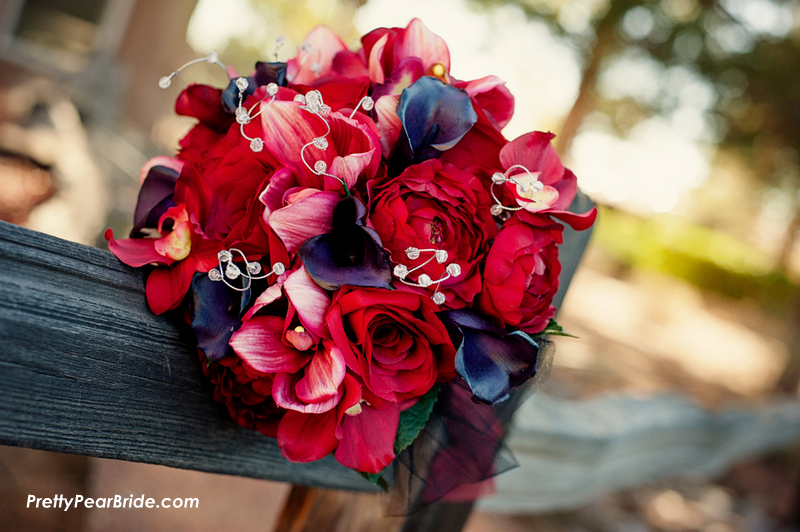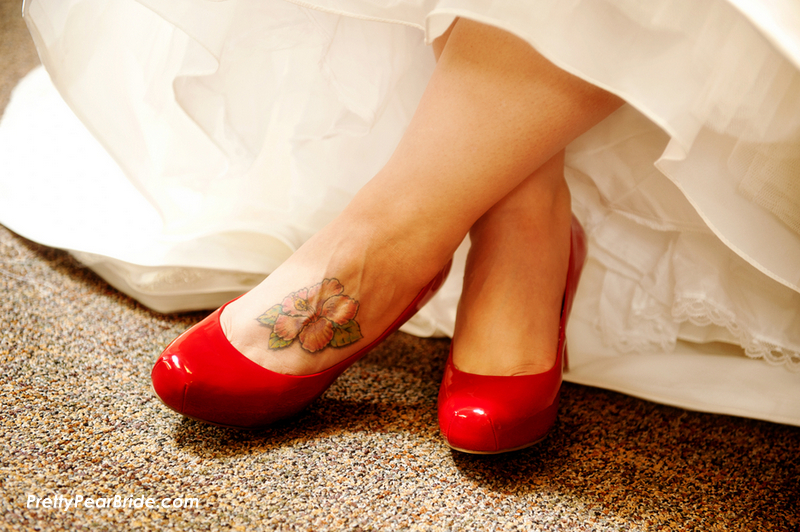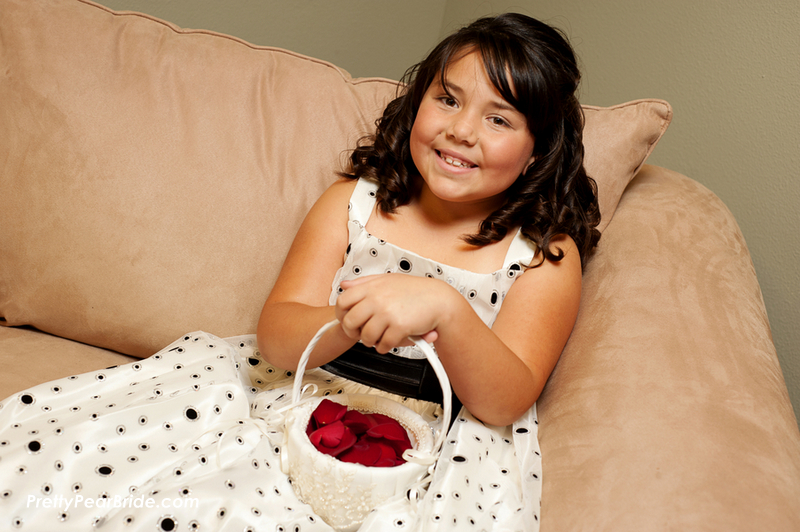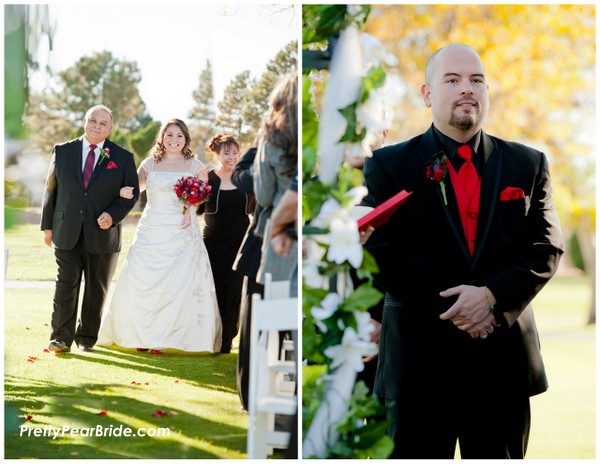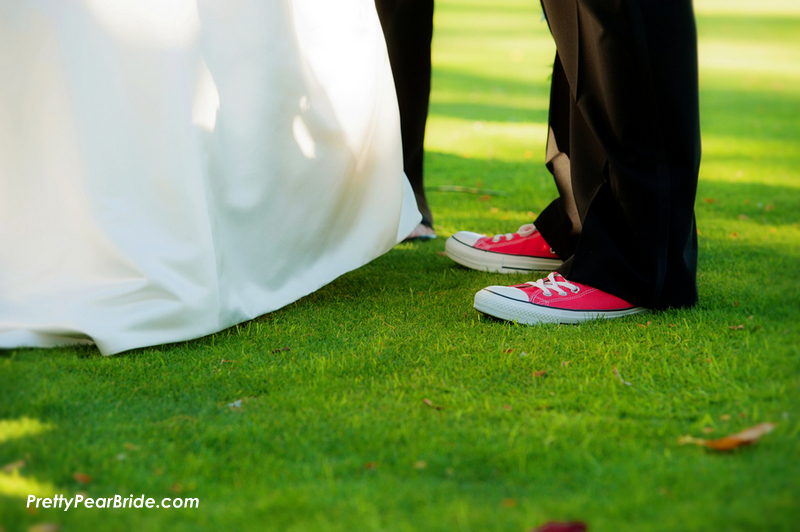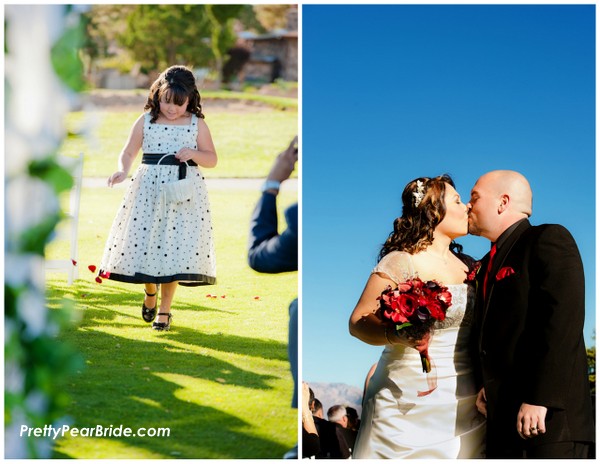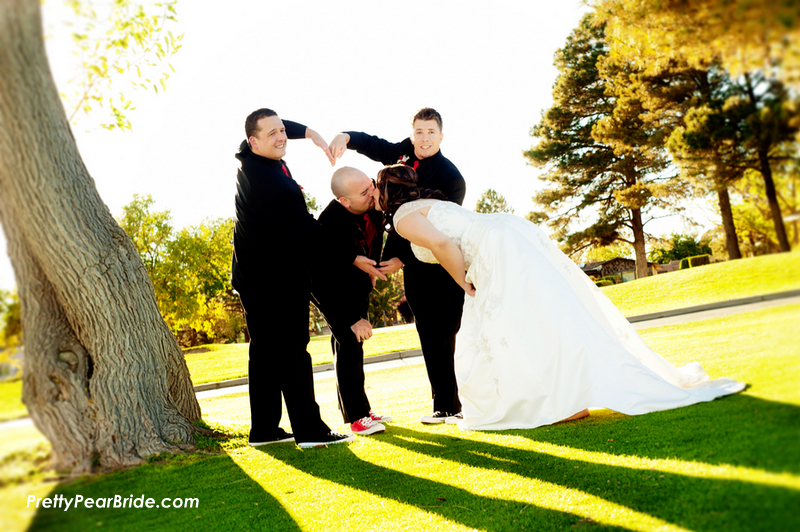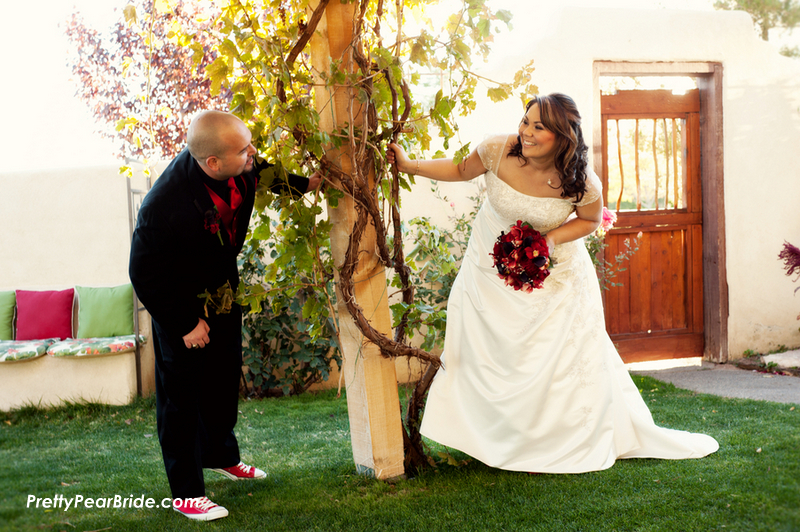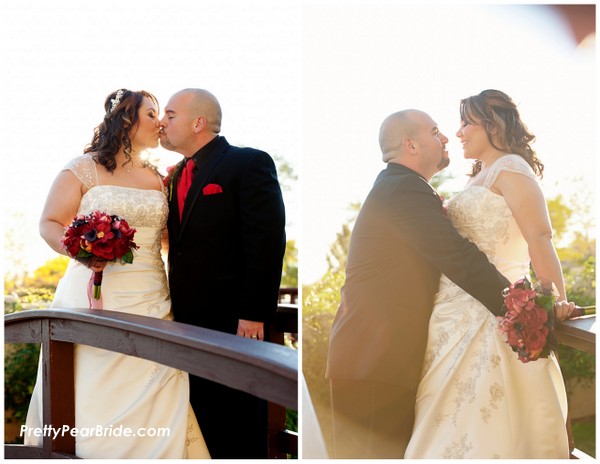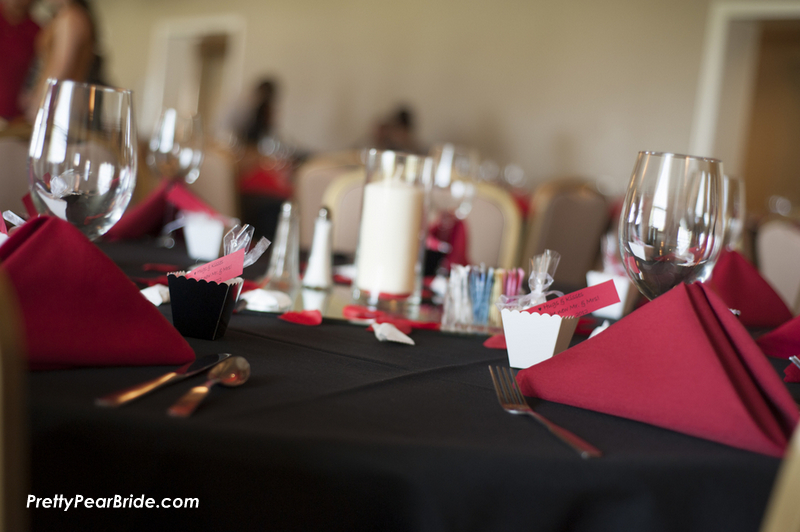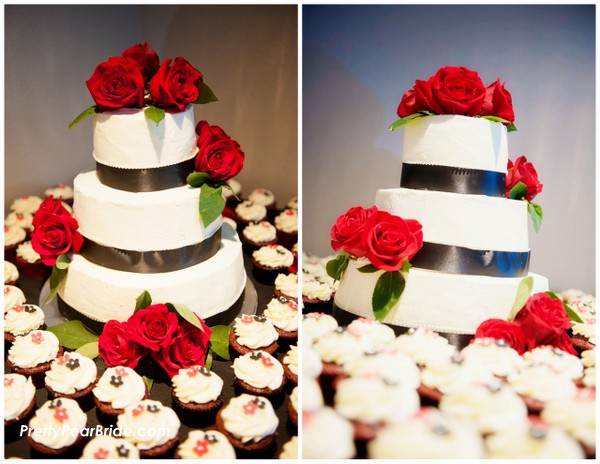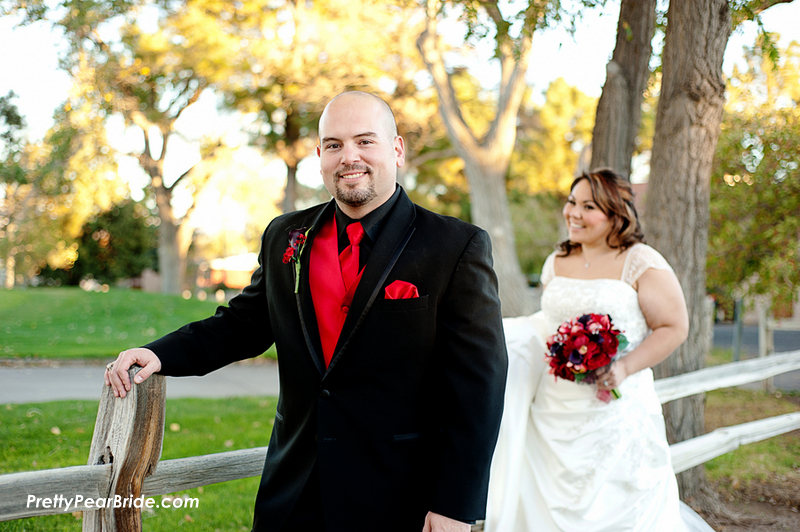 From the Photographer: Anjolie and Forrest got hitched at the Desert Greens Golf Course in Albuquerque, NM. It was a beautiful day with beautiful, soft, autumn light. Family from all over flew in to attend. Her very elderly grandfather was also able to make it. He has since passed and so it is such a beautiful memory to have photos of him at her wedding. After the father daughter dance, she took her grandfather for a spin out on the dance floor in his wheelchair for a special song just for him.
Anjolie and Forrest have a daughter together and have been a family for almost 8 years. This wedding was even more special as Ryleigh was their flower girl. Their colors were red and black and white. Alena from desert Greens had the entrie reception hall draped with satin and lights. Anjolie's family helped assemble all the party favors.
All-Stars for the groom and groomsmen seems to be a huge trend here in New Mexico this year. About half of the weddings I've done, the groom and groomsmen have wedding colored Converse shoes. And the bride's are all wearing colored heels as well. When I was writing up all the vendors I realized that I wore the same brand of red shoes (Madden girl) for my wedding 2 years ago – although the style was different. Colored bridal shoes (especially red) are very popular).
Instead of having something borrowed and something blue, the groom wore something hand-made and something green from his daughter. She made him a green friendship bracelet that he wore until it wore through. It even showed up in the wedding photos as a special memory.
Anjolie chose to wear a lace-up wedding dress, which ended up being a great idea! She had to have the dress taken in once already because she lost weight before the wedding, but the laces allowed it to fit her well on her wedding day and not have to stress about gaining or losing 5-10 pounds because it would be taken up in the laces for a worry-free perfect fit!
Since New Mexico can get so hot and dry, Anjolie actually chose to have silk flower bouquets made. They looked and photographed great and didn't wilt, turn brown, or dent. No matter how you set it down, it still looked great after picking it back up.
Pinterest was a huge inspiration to them for the types of "fun" photos that they wanted. They originally wanted to have the bridal party hold up a frame, but after they forgot to bring the prop, we improvised and made the bride and groom kissing as the "frame" to show the bridal party behind them with the Maid of honor covering their daughter's eyes. I thought it turned out much better than the original idea. The groom also wanted some silly Groomsmen shots, such as the groomsmen pretending they were women seeing the bling ring for the first time, and also the Groom pretending to run away with the groomsmen pulling him back to the ceremony.
Vendor Love: Photographer:  Ell Photography // Makeup Artist:Cheryl Romero // Floral Designer: Charlotte's Flowers // Event Venue:Desert Greens Golf Course // Shoes:Madden Girl