As a plus size bride myself I created Pretty Pear Bride as a way for plus size brides to see themselves in the bridal industry.  And let me tell it has not been easy.  So when I see other companies taking the same initiative to make it a better place for plus size brides, you know I have to talk about it.  So I am beyond excited to share a fabulous new bridal store just for my curvy brides because Curvy Unicorn Bridal was born from the same principle as PPB, creating something allowing plus size brides to see themselves in the bridal industry.
Curvy Unicorn Bridal is setting out to solve an age-old problem. Plus size wedding dress shopping! Through an online e-commerce experience curvy brides are paired with their unicorn dress, designed to match their style and their body shape. Wedding dresses are custom made from their specific measurements and presented to them steamed and in an archival box.
Let's be honest, it's about time! With 67% of women worldwide identifying as plus size, an increase in online shopping, and a new conversation about body positivity, Curvy Bridal just makes sense! Curvy Unicorn Bridal is the result of two curvy wedding professionals who understand the struggle of the plus size bride. Kellie Daab and Keneshia Raymond, curvy co-founders, are ready to redefine what it means to be a modern plus size bride.
"We want brides to see themselves in our images and brand. We're featuring brides of all sizes, shapes, and diversities." says Daab. Dresses will be available from size 14 through 32. They were designed by plus size people for plus size people! "Our dresses have the sex appeal every bride wants, while providing additional support and coverage in the places curvy girls need it most." says Raymond.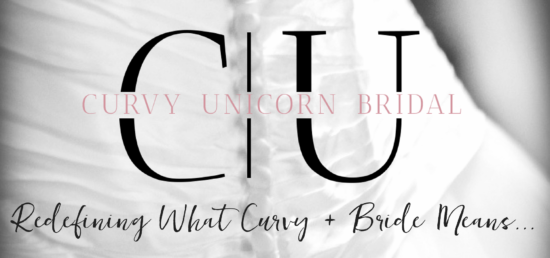 The Curvy Unicorn Bridal website and online community launches on August 3, 2017 with a gusto. Brides and supporters will be able to purchase unicorn themed lifestyle products with a body positive focus on the website. Each purchase supports the launch of the dress line scheduled to feature in October with online sales opening in November.
"It's important that our brides feel great in their dresses and their bodies. The brand will have a multi-purpose focus." says Raymond. Acting as an education website, a one-stop shopping experience for all things plus size bridal, and a social movement, Curvy Unicorn Bridal is sure to redefine what curvy plus bride means.
I can't say it enough of how excited and pleased to be a supporter of this new plus size bridal movement. So join me in welcoming them to the plus bridal family and make sure and visit their website, shop, social media outlets (which are below) and look for more from us on them.  We will be sharing some of their fab products in their shop soon, so be on the look out.
Curvy Unicorn Bridal Social Channels