We just can't get over how cute this wedding engagement session is! Stephanie and Tunde took their session to a rose garden at USC Exposition Park in California. Stephanie and Tunde came from two very different backgrounds—Tunde is Nigerian and Stephanie is from Oklahoma. Together, they are like puzzle pieces, a perfect fit!
Stephanie and Tunde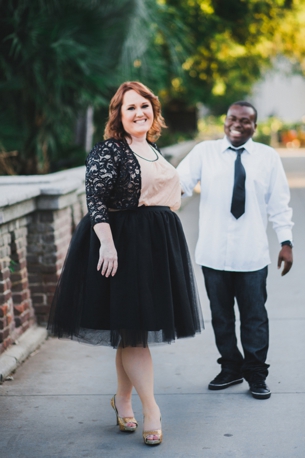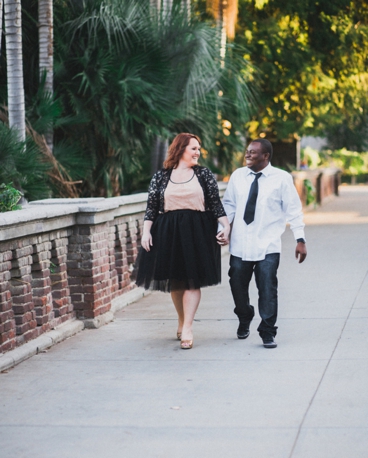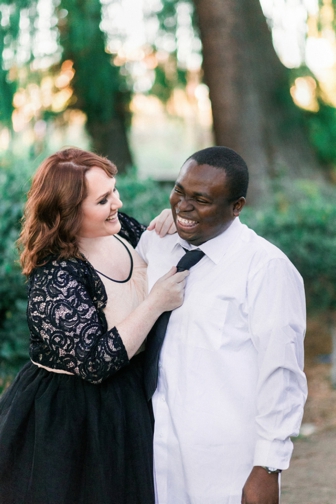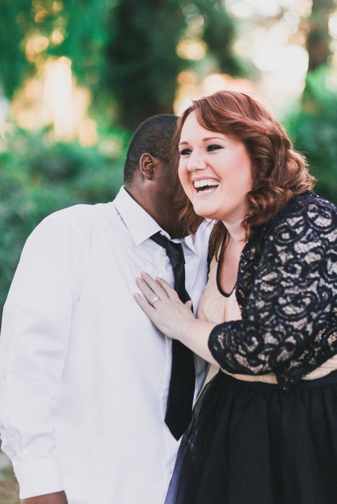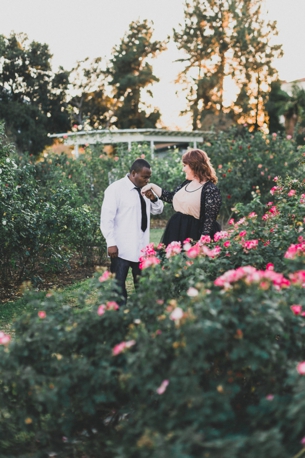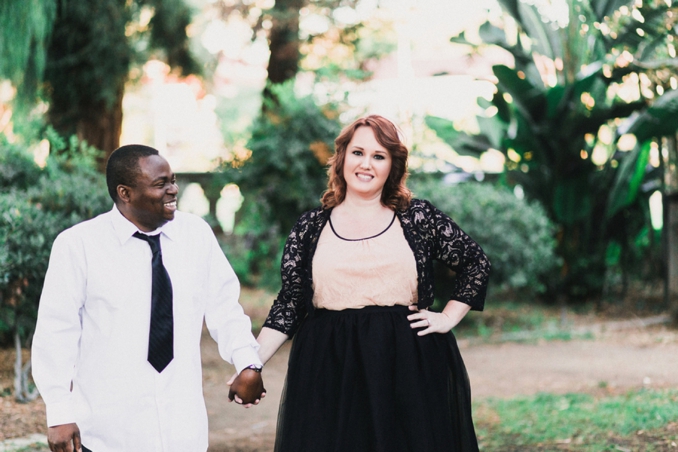 Tell us about your first meeting..Bride: Tunde and I met through online dating.He had cute pictures and He messaged me and I was a little skeptical. We started messaging and I thought he must not be very interested in me bc he took so long to reply to messages. i've come to know that he is a laid back, slow paced guy. Groom: we met on online dating site. I liked her pictures and she was very easy to talk to. we exchanged messages for about a week and talked on the phone once on Valentine's day. We decided to go ahead and meet that night. 

Tell us about your First Date…Bride: We had been talking online for a little while and decided to go ahead and meet up. It just so happened to be Valentine's day. He met me in front of my building and brought me chocolates. We took a walk in a park across the street before having dinner. I knew right away I wanted to have him in my life in some way.I honestly was not expecting anything to even come of the date.
Groom: The first date was fun as we met in a park and she was fun girl and we had good conversation. We later went to eat dinner where I got to talk to her more and later watched a movie. It was a good date in all. 
Tell us about your First Kiss…Bride: it was actually on our first date. We had so much fun on our date. laughs, good conversation, a good amount of flirting 😉 We were watching a movie and I was not surprised that he kissed me at the end of it. Groom: The first kiss was natural and it was when we were watching American Sniper. i don't think either of us were nervous or timid. We felt so comfortable with one another from the very beginning that it felt very natural.

Tell us about the proposal…Bride: we knew we wanted to get married and even looked at a venue or two. I told him I didn't feel comfortable moving forward with plans for a wedding until I got an actual proposal and ring. a few days later i came over to his place on a football sunday afternoon. we were in the living room with his brother. i had no makeup on and was in t shirt and jeans. I went into the kitchen to get something and when i turned around, he had a ring. i was shocked. i said, "what are u doing?!" i was so surprised and felt not ready and also wanted to be alone. i was so caught off guard, i walked into the bedroom. he followed and dropped to one knee. Groom: The proposal was fun also as I had told her that I bought her earrings, which i did and she appreciated them.However, I had a ring with me as well and she started crying when I proposed and she kept saying "she had no make up on". She was unaware I was going to propose to her that day.
Write a short letter to each other
Bride: My Dear Tunde, I'm so glad God has brought you into my life. Your laugh and easy going attitude are perfect for me. I'm excited to be your wife and share a life with you!
Groom: My Dear Stephanie, I'm glad you are joining me in this leap of faith by becoming my wife. You are my best friend and I enjoy spending time with you. I am excited for the future of our marriage and family.
VENDOR LOVE ~ Photographer:  With Love ~ Photos by Georgie/
SHOP THE POST
The following two tabs change content below.
Shafonne Myers is a certified wedding and event planner who longed for bridal inspiration that looked like her. She has created a website and magazine that brings bridal inspiration to plus size brides. She does speaking engagements educating the world about plus size brides and self confidence.
Latest posts by Shafonne Myers {Editor-in-Chief} (see all)