There's a lot of work that goes into planning your special day. You want it to be something that your guests will love, and that you will remember for a lifetime. Putting the ultimate wedding together takes a keen eye for the finer details, knowledge on how to entertain the masses, and a little bit of trending fashion.
If you want your guests to really notice the effort you've put into to your wedding, then check out these trending inspirations for 2018. From in-this-year colors to foods and interactive experiences, they're sure to make your special day unforgettable.
Navy, Silver, and Chrome
Formal black has been a staple of many a wedding since, well, forever! Things are starting to change, however, with navy taking the lead. This dark blue is slowly becoming the top choice for formal weddings from engraved invitations to bridesmaid dresses. If you're wondering how that looks, then check these out.
As for the gold, brass, and rose gold metals used for the past few years, forget it. Modern weddings are taking a hint from the 70's with chrome and silver. This trend is influenced by home décor stylings on the rise that also incorporate that 1970's vibe.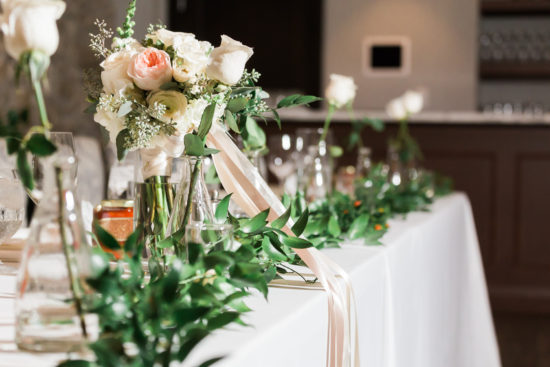 Formality and Flowers
The elegance of a formal wedding is making a comeback this year, but with a major twist. No one wants to return to the days of stuffy, gala type ceremonies. Instead, couples are mixing the classics with a touch of their own whimsical flare.
Hanging flowers are an excellent example of how these formal affairs are being spruced up to deviate from the norm. Suspended arrangements keep guest tables simple while adding the splashes of color only flowers can provide.
Entertainment
The good news is that photo booths are still in, the better news is that you no longer have to settle for props and quirky backdrops. Instead, 2018 will see interactive photo shoots for your guests where they can choose their own props and make lasting memories in front of a simple backdrop.
Keeping with that interactive theme, you can implement a variety of appealing textures throughout your main event. Wax seals on menus and assorted linens on each table are excellent ideas of objects your guests can touch and experience.
Food and Desserts
Much like entertainment, interactive food ideas are quickly rising to popularity. Think roll your own sushi bars, interactive appetizer stations, and build your own desserts. At the same time, organic foods are also becoming status quo.
Whether you implement family recipes or traditional catering items, stick with farm to table as much as possible. The idea is to create an edible experience your guests won't soon forget.
As for desserts, stay creative. Custards, ice cream sandwiches, and popsicles have been heavily featured in the beginning of 2018. Pick something out of the norm that everyone can enjoy, then run wild with it.
Making Gift Giving Easy
The days of hoping your guests pick out useful gifts are over. Take the guesswork out by starting an online wedding gift registry. Whether you choose to use yours for household items or to fund portions of your honeymoon is entirely up to you.
2018 Trends
Hopefully these trends have provided you with the inspiration you need to put together the ultimate wedding. Remember, think outside the box and keep things interactive.