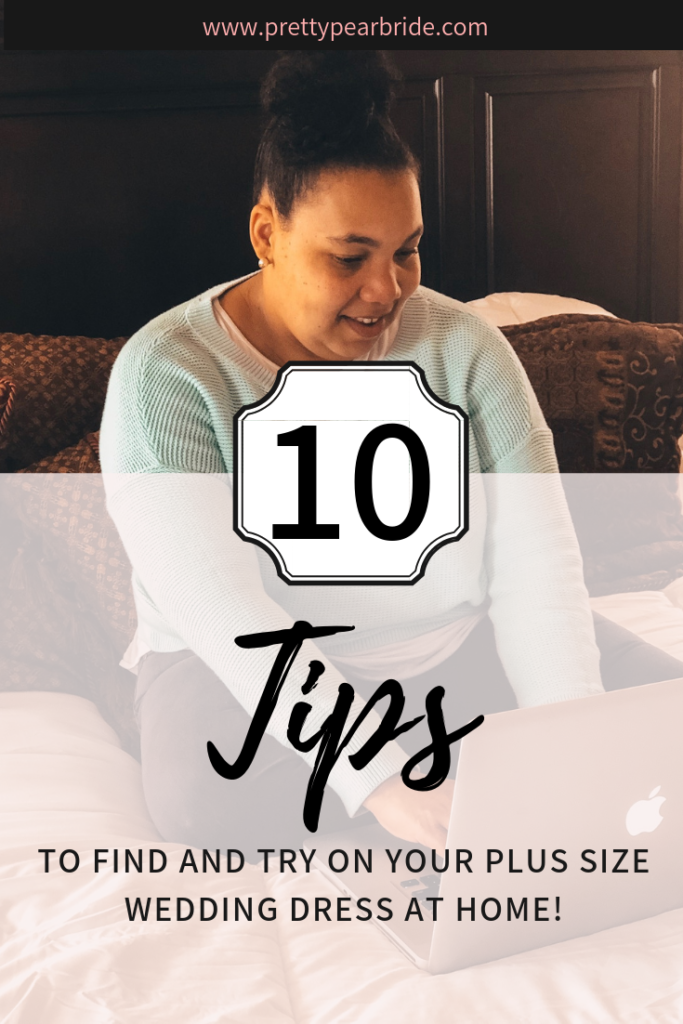 I can remember being a plus size bride so vividly! It was over 15 years ago but sis let me tell you, I still remember every minute of it…good and bad. And there was one aspect of the wedding planning process that still to this day brings me back to a deep dark hole.

SHOPPING FOR THE WEDDING DRESS

For some curvy brides this one event brings true and utter anxiety. Just the thought of walking into a bridal salon can evolve shame, nervousness and frustration. Well, as someone who has experienced all of those emotions. I'm here to tell you that there is light at the end of the tunnel, that will finally allow you to have your "Say Yes to the Dress" moment, and it's an amazing new company called Ella & Oak.

Ella & Oak is an online bridal boutique for today's Plus Size bride. They provide a selection of the very best quality designs and a fun and easy home Try-On shopping experience. We have teamed up with them to offer you the top ten tips to find your wedding dress at home. Yes, you heard me right….AT HOME! I had the pleasure of experiencing the whole process, so I'll be sharing some tips and tricks about their product too.

#WINNING

1. Set a Budget
Now this is big one, hence why I put it first. I know, you want to get ALL the dresses but we must be realistic. There is no reason to look at dresses outside of your budget because you won't do anything but make yourself upset and derail the whole shopping experience before it even begins. Girl, trust me ain't nobody got time for that. And also don't forget to factor in extra money for alterations and of course that bling if you like that!
2. Don't Lollygag
Sorry, I love that word! Start shopping at least 6 months ahead, you don't want to be rushed or even worst have to settle because you have waited till the last minute. I know it may be hard to take that first step but trust me once you do it, it will all fall into place. And as an added bonus, Ella & Oak does have buy out of the box options.
3. Get Social
Use Social Media to Search for and Save dresses. Yes, once again you have to do it!! I know, I know….but you have to start looking so you can see what you like and don't like. Hey, you've got one place to look, (cough, cough), but also Ella & Oak has some amazing inspiration on their IG and Facebook page too.
Check out some of the styles I tried on!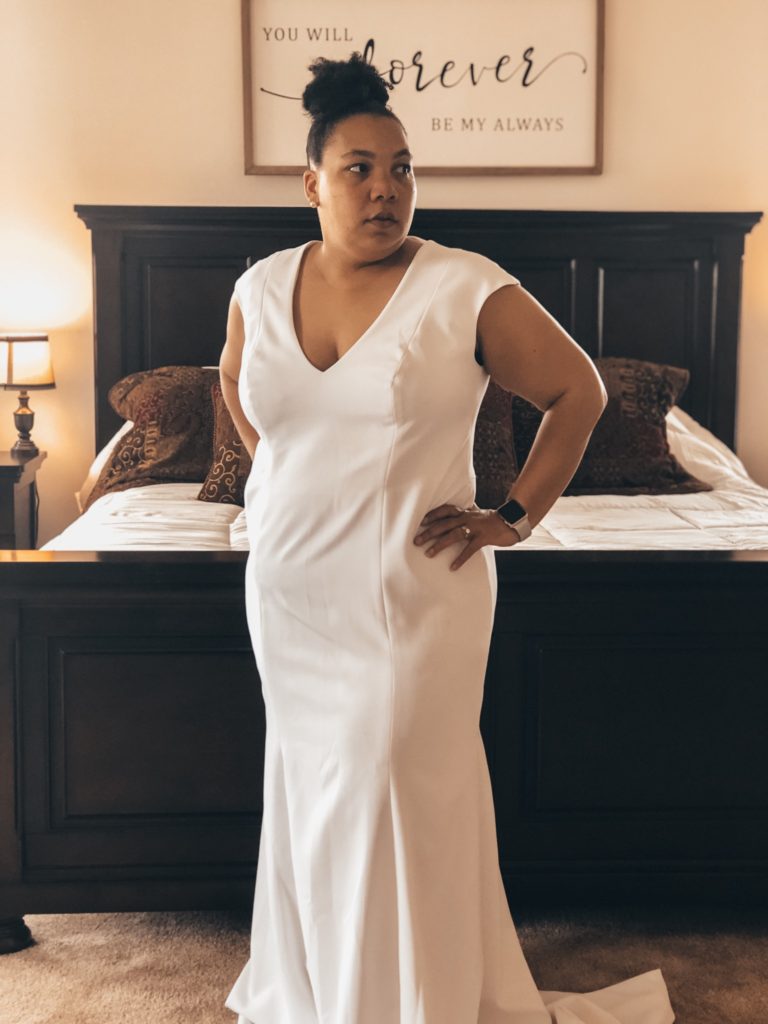 4. Research Try On at home options
The whole process is based around the idea that you browse, try and enjoy. Ella and Oak have created a process that is so simple and easy, why wouldn't you do it. You browse through their plus size wedding dress selection, you pick which ones you want to try on and place them in your cart. You then pay for each one, $25 a piece. But of course since I'm sharing this with you I've got you hooked up with a discount. If you follow this link and fill in the short survey, you will get $25 off and a special free gift in your box.
Ella and Oak recommends to only try on a few dresses, 3 is ideal, more gets overwhelming fast. They give you 3 days (but if you need more just let them know,) so you can have a try-on party and then send the boxes back. Check out my video below that shows exactly what comes in the box and they even send along a few little goodies for you.
5. Choose Your Tribe Wisely
You need to make sure that you have your best tribe with you for your at home try on party. You don't need anyone who will be bring the mood of the party down or that will be overly negative. You need as much positivity and good vibes as you can get to make sure that you have fun and pick the right dress.
6. Undergarments And Shoes Are A Must
Undergarments are key to making sure that you look polished and refined on your special day. They make sure that everything is held in the right spot and that you look amazing. You want to have the same undergarments and shoes that you will be wearing on your big day when you are trying on. This allows you to see exactly how the dress, with your undergarments and shoes, will look on your big day.
"The Dani Gown" by Love Lives Here

"The Dani Gown" by Love Lives Here

"The Dani Gown" by Love Lives Here

"The Dani Gown" by Love Lives Here
7. Look for Inspiration and Customization
I tell brides all the time, don't worry about size, worry about fit. This is so important because when you get hung up on numbers and sizes, then you don't even realize that something might have the perfect fit. Ella & Oak can customize any dress with straps, length, etc. So if you see something that you like but it isn't exactly how you want it, don't be afraid to reach out and let them know how you would like to customize it.
8. Take Pictures
Girl, yes you want to remember every detail of that dress on you. So snap away! And don't be afraid to smile in your pictures. Yeah I'm talking to you!
"The Lillian Gown" by Anne Barge

"The Lillian Gown" by Anne Barge

"The Lillian Gown" by Anne Barge

"The Lillian Gown" by Anne Barge
9. It's Ok to Fall in Love with a Dress
This may seem like an odd one but surprisingly brides find a dress that they love but don't want to accept that they love it. I know it sounds crazy but so many do it. It's ok for you to fall in love with a dress, and it might be the 1st, or the 3rd or the 10th but just remember once you find one you fall in love with, shout it out and let people know.
10. Have Fun!
If you don't take anything away from this list, this needs to be it! If you aren't having fun doing this, then you are doing it right. So go ahead, live a little, make it a party, add in some snacks, your favorite bottle of wine or champagne and live it up. Oh and you can't forget some good music either. I'm a little partial to 90's rap and pop but hey you do you! Check out Ella & Oak's spotify playlist if you want to include E&O Runway Radio.
"The Anne Gown" by Elizabeth Dye

"The Anne Gown" by Elizabeth Dye

"The Anne Gown" by Elizabeth Dye

"The Anne Gown" by Elizabeth Dye
I hope you have found these tips helpful! I know it's hard to believe but you do deserve a happy ending and an amazing process getting there. So don't be afraid to face some of your fears and think outside of the box, with the possibility of finding your wedding dress at home.
Check out my full unboxing video below!