It makes me so happy that we as plus size brides are starting to get the recognition that we deserve with the emergence of so many all plus size bridal salons opening up. Now, I have to say the opening of Ivory Bridal, the only salon exclusive to curvy brides in Atlanta is a bit bitter sweet because I know Mesita the owner and know that her true love for bridal is with us curvy brides.
I remember visiting her salon on a trip to Atlanta and thinking that the space was made for a plus size salon.  Yes, she did carry a large amount of plus size bridal gowns at the time but I had a feeling that she would truly embrace her calling……to be a mecca for curvy brides through out Atlanta and the states around her.  It just makes me so excited to share that she will be catering only to plus size brides starting December 1, 2015 in area's first full service plus size luxury bridal boutique.
Her gowns will range from $1400-$4000 and be in sizes from 12-28, so she will definitely carry dresses in everyone's budget and size.  The boutique also offers custom gowns, veils, head pieces, wedding jewelry, belts, and unique seasonal wedding items. I'm can't stop smiling because I'm just so thrilled to introduce you all to Mesita and Ivory Bridal.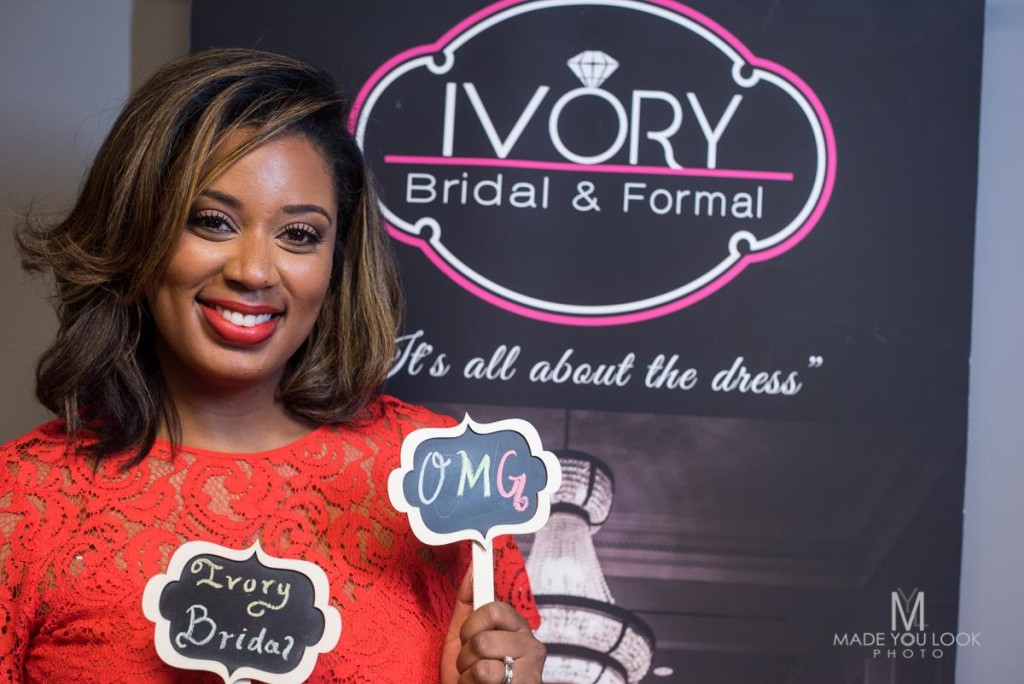 PPB: What made you decide to start the salon?
Ivory Bridal: Owning a bridal boutique has been a dream since college. That dream was ignited even more after I got married. There were so many beautiful gowns that I wanted to try on, but I couldn't pull them over my hips! At that point I took a few years to study the industry and decided that I would take a leap of faith and open my store in 2013! I have always carried larger sample sizes than most boutiques but I only went up to a size 20. About a year ago a good friend convinced me to go completely plus size. I listened and we are so excited for what is to come in 2016!
PPB: What makes your salon different from other salons in ATL?
Ivory Bridal: At Ivory Bridal we celebrate curves and realize that real women are not a size 2 or 4 or 6! Our opulent collection of gowns will make our future curvy brides feel absolutely phenomenal. We take time to get to know each of our brides and present a boutique showroom with one on one attention.
PPB: What designers will you carry?
Ivory Bridal: We carry Kitty Chen, Wtoo by Watters, Our Signature Ivory Bridal Collection, Sydney's Closet, & custom designs by Lu Raquel.
PPB: What are some of the services offered through the salon?
Ivory Bridal: We offer personal style consultations to find the perfect wedding dress, bridesmaids dresses, & tuxedo rentals. We also offer wedding planning services through our sister company www.eventsbymesita.com.
PPB:  What advice to you give to plus brides looking for a dress and planning their wedding?
Ivory Bridal: The advice we would give to plus brides while looking for a dress and planning their wedding is to relax and enjoy every minute of your engagement. Planning your wedding should be fun and by no means stressful. Know when to ask for help and trust the experts. We are experts for a reason.
Dresses that Ivory Bridal Carries

Our new gowns ranging in size from 12-28 will begin to arrive on December 1st and we encourage brides to book an appointment now at www.shopivorybridal.com
Stay Social with Ivory Bridal
                   **********************
Don't forget to visit Ivory Bridal to schedule your appointment