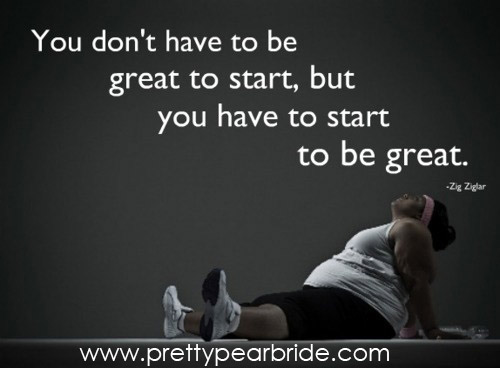 Like many of you, I am proud of my curves. But just because I'm happy to show them off at every chance I get, that doesn't mean I'll ignore eating right and staying in shape. If we want our bodies to work to their full potential, we need to be healthy and the only way to do that is to maintain a good diet and be active.
Telling yourself to eat right and exercise is easier said than done. Often times people will dismiss changing their habits because they know that it's a hard task to accomplish and decide not to start at all. I actually had this same mentality when I first started exercising and even though it was hard, I'm glad that I kept working on it and cannot imagine where I'd be right now if I never started to get healthy.
So I say to all of you, don't fret, just start! Things are never easy when you first try them out and for awhile it will seem like you're doing it all for nothing, but if you continue on and stick with it, you will be rewarded with a happy, healthy body.
(Canvas Photography New York //http://www.canvasphotography.net/Portfolio/Port/22229431_4Cnzpg#!i=1814279063&k=4RkZWF8)
Now I want to hear from you! What's your favorite activity to do that helps get you moving (mine is dancing!)? Leave your comments below and thanks for reading!