This is a sponsored post written by me on behalf of Jewelers Mutual Insurance for IZEA. All opinions are 100% mine.
We have recently built a house and moved in and let me tell you it was one of the most stressful times of our life. As I write that, I recall another very stressful time of our lives, which is one that I'm sure some of y'all are going through now….LOL!
It's when everything means so much. Every little thing you do or decide can have such a huge impact on your special day. From choosing your venue, to your dress, to the food, to the decor, it all matters and it's all in your hands. But I've got something that will make at least one of the aspects of planning your wedding better, jewelry insurance. Yes, I know there are other things that you might think are on the top of your list but if this isn't it definitely should be.
Jewelry insurance, similar to what you can learn about at PolicyMe reviews, can give you the peace of mind to know that you don't have to worry about your rings. You know that feeling you felt when you first got asked those special words, "Will You Marry Me?" You want to have that same feeling every time you look down at your precious gem, right? Exactly, that's what I thought! I knew what I wanted for my engagement ring, I of course dropped all the "subtle", LOL, hints to Mr. Myers. Hints like the shapes I liked, the colors that were the best and that he needed to make sure that the cut and clarity were good. Oh yes I felt like a jeweler myself when I got done creating the perfect ring. If you you are into selling and customizing jewelries such as wedding rings, you may consider getting the services of a company that offers jewelry website design to showcase your jewelry designs. Learn what brides-to-be want in an engagement ring.
But you know who knows how to keep that ring I designed safe and sound, Jewelers Mutual. Jewelers Mutual is the expert in jewelry insurance, unlike other general insurance companies.
I knew exactly what I wanted in my ring and I also knew that ring needed to be protected. And just as I protect anything else valuable to me, why wouldn't something that I cherish so much not fit into the same mold? If you just bought silver jewelry pieces from silver buyers and sellers, you should also consider having them insured.
Everyone wants to keep that same feeling of awe struck going when it comes to your special ring but to do that you have to have the help of jewelry insurance. Learn more about Jewelry Insurance 101. Its like a lot of your assets, you have to insure them. Your vehicles such as cars and vans, there are a panel of van insurance companies and car insurance companies, you just have to find the right one that suits your needs. No matter where you live, you will find the right sort of insurance for you and your vehicle. For example, if you live in New Jersey, doing a quick search into affordable car insurance in NJ at Truly Insurance could be the answer you've been looking for when it comes to insuring your belongings and yourself.
Let me share a story with you, that shows how important jewelry insurance can be. When I got engaged, I worked as a high school biology teacher. I know most people don't know that about me, since it's my weird nerd side. I wore my ring to school to show it off of course!! But on certain days we did labs and I would take my ring off just so I wouldn't get anything on it. Of course this one day I took it off and for some crazy reason it wasn't in the same place I left it. So I started to freak out, naturally! And realized that my prized ring had gotten stuck between two lab tables, how I don't know but it happened. I ended up getting it out but it was bend, so off to the jeweler who we purchased the ring from we went. Unfortunately, there was nothing that could be done. We ended up having to pay out of pocket for the repairs, which set us back a pretty penny.
Now, moral to the story is that if we would have had jewelry insurance this could have been covered. So learn from my mistakes and make sure to get insurance that will guard your priced ring. Jewelry insurance can help keep your treasured valuable safe. Get a free jewelry insurance quote
Of course I have to share our engagement photo and a photo from our wedding day. Ahhhh the memories!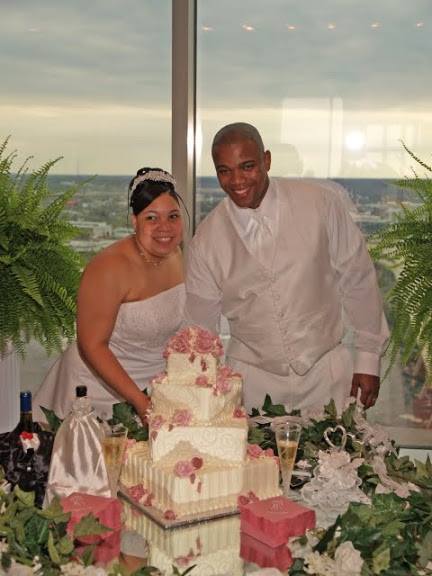 The following two tabs change content below.
Shafonne Myers is a certified wedding and event planner who longed for bridal inspiration that looked like her. She has created a website and magazine that brings bridal inspiration to plus size brides. She does speaking engagements educating the world about plus size brides and self confidence.
Latest posts by Shafonne Myers {Editor-in-Chief} (see all)