If you're already tired of grilling the same old hot dogs and hamburgers on the grill this summer, have I got the recipe for you! On this sunny Home Sunday, why not try grilling something healthy for you while at the same time being mouth-wateringly delectable? This recipe for Moroccan Grilled Salmon is super easy to pull together in less than an hour and takes minimal prep time! I found this recipe and more summer dinner recipes at foodnetwork.com!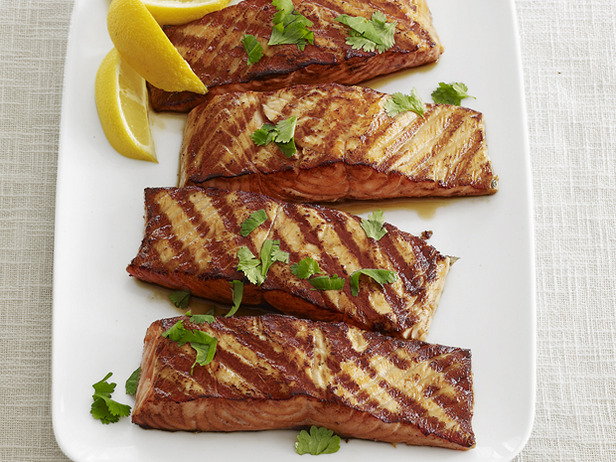 Total Time: 52 min                  Inactive: 30 min
Prep: 10 min                               Cook: 12 min
Yields: 4 servings
Ingredients
1/2 cup plain yogurt
Juice of 1 lemon, plus lemon wedges for garnish
1 tablespoon extra-virgin olive oil, plus more for the grill
2 to 3 cloves garlic, smashed
1 1/2 teaspoons ground coriander
1 1/2 teaspoons ground cumin
Kosher salt and freshly ground pepper
4 6-ounce skinless center-cut salmon fillets
1/4 cup chopped fresh cilantro or parsley, for garnish
Directions
Stir together the yogurt, lemon juice, olive oil, garlic, coriander, cumin, 1/4 teaspoon salt, and pepper to taste in a small bowl. Pour half of the sauce into a large resealable plastic bag; cover and refrigerate the remaining sauce.
Add the salmon to the bag and turn to coat with the marinade. Refrigerate for 20 to 30 minutes, turning the bag over once.
Preheat a grill to medium-high. Remove the salmon from the marinade and blot off excess yogurt with paper towels.
Lightly oil the grill and add the salmon; cook, turning once, until browned on the outside and opaque in the center, 4 to 6 minutes per side, depending on the thickness.
Serve with the reserved yogurt sauce and garnish with the herbs and lemon wedges.
What would you pair with this recipe as a side dish? Let us know!