Here  is our first Guest Post from plus size bride, Tiane, planning a July 2012 wedding. It's all about deciding on a photographer and videographer.
So far in our wedding planning, we have been lucky- I have an aunt that does catering, a venue that allows her to cater there, another aunt who bakes the most delicious cakes, a dj who we have used for years, a mother who is so creative that she can do just about anything. (Say hello to my new florist!) lol. Even with all of this, there is one thing that has me a little on edge- 
the photographer and videographer.

I feel that years from now, no one is going to remember what you ate, or what you said, or that it rained, or even that you had cold feet. As time goes on, some of the special memories and details that you swore you would never forget, will fade and all that remains are the pictures and videos. So why am I so nervous? I have heard far to many horror stories of pictures getting lost, or couples having to sue their photographer because they failed to deliver what they promised. The more and more I kept asking for refferals, the more horror stories I got. I have to admit, I was a little worried that we might just have to settle. And then it happened….
My parents were working a special event where they happened to meet a photographer. They liked him so much that they took his card and instantly told me to check him out. Before you knew it, we set up an appointment and it was there that I instantly fell in love with his work. As soon as we walked in, you could tell that this person does photography for a living, not just a hobby, and has a true passion for it.

He showed us all the different options, and what I like most is that you can pick a basic package and then add a la carte items. I hadn't even thought about getting blown up photos in addition to albums. He really educated us on the whole process and made us feel at ease. This was it. I knew that he is the photographer for us. I asked the future husband what he thought and he got the same vibe.
It feels great to check one more thing off the list. With our upcoming engagement session, it is starting to feel real. I guess the next battle for us is, what to wear?!
Tiane is a 25 year old bride-to-be living in Maryland who is engaged to Lyndon, a police officer.  She is the first of her siblings to get married and has quickly realized the complexities that come with planning a wedding, and having a large family.  Journey with her as she balances life, wedding planning, her family's input, and the 270 days that stand between her and the altar!
Tune in for more from Tiane in two weeks.
Happy Planning,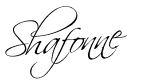 The following two tabs change content below.
Shafonne Myers is a certified wedding and event planner who longed for bridal inspiration that looked like her. She has created a website and magazine that brings bridal inspiration to plus size brides. She does speaking engagements educating the world about plus size brides and self confidence.
Latest posts by Shafonne Myers {Editor-in-Chief} (see all)