Designer Monday

This week I'm showcasing the delightful fashions of IGIGI by Yuliya Raquel.  I am amazed by the way her dresses look, a little bit of vintage with a modern twist.
For Yuliya Raquel, the artistic environment in which she was raised served as the perfect backdrop for her creative talents. The Ukrainian-born designer recalls being fascinated by her mother's fashion magazines when she was three years old.

Transfixed by the notion of creating fashions, the young Yuliya learned how to sew at age five. By age seven she had mastered the sewing machine, crafting her first masterpiece—an apron. The local educational system supported her passion for design as it was commonplace for young students to learn skills such as drafting simple patterns. As a teenager, Yuliya used her accomplished skills to create original designs for family and friends.
Things changed dramatically when Yuliya's family moved to San Francisco. Notions of becoming a professional fashion designer seemed unrealistic, so she put her passion on the backburner. She decided to go into the more stable profession of medicine majoring in pre-med in college and interning with a podiatrist. However, even then, Yuliya continued to design and make clothing. She sketched constantly never quite letting go of her life-long zeal for fashion design.
An "ah ha" moment occurred when she was hospitalized with an acute asthma attack. Looking around her, she realized that she really didn't want a career in medicine. She quickly changed directions and started designing couture clothing for private clients. This proved to be a great training ground for the self-taught designer.
"When designing, I always imagine how a woman will feel in the garment," comments Yuliya, "I try to determine if the clothes will make her more excited about where she is going. Will she feel more feminine, sensual and seductive?" she continues. "Many customers write to say my clothes make them feel virtually invincible, like a goddess. That's what makes it all worthwhile to me."
All information and images are courtesy of IGIGI.com
Happy Planning,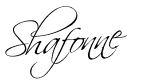 The following two tabs change content below.
Shafonne Myers is a certified wedding and event planner who longed for bridal inspiration that looked like her. She has created a website and magazine that brings bridal inspiration to plus size brides. She does speaking engagements educating the world about plus size brides and self confidence.
Latest posts by Shafonne Myers {Editor-in-Chief} (see all)