This post is done in collaboration with Globalringsjewelry.com, Bridalrings.com, Goldempirejewelry.com and . All opinions are our own. Thanks for supporting the sponsors that make Pretty Pear Bride possible!
LA is home to one of the biggest and best jewelry markets in the world. It hosts the famous downtown LA jewelry district, a bustling district of local and national jewelers that carry a huge array of fine jewelry pieces. We've decided to highlight four of the best Los Angeles jewelers located in the jewelry district, and also take a look at some of the best pieces you can find at each one.
Global Rings
Barkev's Designer Diamond Engagement Ring in 14KT White 

Global Rings has been one of the leading jewelers in the LA jewelry district for more than three decades. Located in the International Jewelry Center, they specialize in a wide array of beautifully designed engagement rings, wedding bands, fine loose diamonds, and other jewelry pieces.Take for example this stunning Barkev's Rose Gold and White Gold Engagement Ring. Now at a discounted price, Global Rings carries great designers at great prices. Another highlight piece of theirs is this journey diamond pendant, featuring a 'journey' of seven round cut brilliant diamonds descending delicately from a white gold chain.
Three Stone Diamond Journey Pendant In 14k White Gold

Another desirable service offered by Global Rings is their ability to fulfill custom orders, due to the fact that they make much of their jewelry in house. They also have a special Heroes Discount for those who have served or are currently service in the police force, fire department, and military!
Bridal Rings
18K Emerald Cut Diamond Engagement Ring
Bridal Rings is an LA jewelry district staple that has stood the test of time because they offer both incredible pieces and incredible service. They've said that their goal is to give every customer that steps into their store or shops on their website a VIP personalized service experience.
Custom Made 18k Two-Tone Diamond Engagement Ring
A great feature of Bridal Rings' commitment to service is the lifetime benefits they offer. Everyone who purchases from Bridal Rings receives free lifetime cleaning and maintenance of their products! So when you buy one of their incredible pieces, like this stunning custom-made emerald cut diamond engagement ring or this custom made two-tone diamond engagement ring featuring a diamond-encrusted rose gold halo, you know they'll last a lifetime.
Gold Empire Jewelry
Round Brilliant Cut Diamond Engagement Ring with Semi Split Shank
Gold Empire Jewelry is a Jewelry District store that has been offering their clients incredible pieces at amazing wholesale prices for more than 40 years. They specialize in making their custom pieces in-house, with designs style ranging from vintage-inspired to modern. Spotlighted above is one of their custom diamond engagement rings, a semi-split shank with a round brilliant cut diamond set in solid 18k gold. Another featured custom diamond engagement ring is vintage-inspired with a beautiful halo design around the center stone set in solid 14k white gold.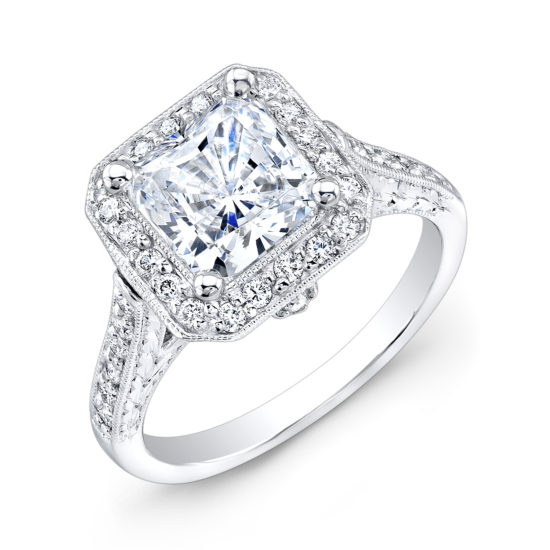 Halo Design Round Brilliant Cut Diamond Engagement Ring
Gold Empire Jewelry will work with you to create the custom piece of your dreams. From a diamond engagement ring to a bracelet, or a necklace, they will work with you to meet whatever jewelry needs you have!
1 800 Loose Diamonds

Modern Style Diamond Halo Engagement Ring
1800 Loose Diamonds offers one of the largest selections of diamonds in the industry at wholesale prices. Their diamonds include a large array of different cuts, colors, and weight. Their online diamond search makes it easy to pick your choice of diamond and view the price, measurement, and more at just a click.
Art Deco Style Diamond Engagement Ring
Unlike many other online companies, they offer a showroom that is accessible at any time (during store hours) for customers who would like to view the merchandise in person. They are located in the heart of the Los Angeles Jewelry District and have been a renown company since 1987. They offer a large selection of diamond jewelry and purchases come with free domestic shipping, 100% money back guarantee, and a lifetime warranty.
The following two tabs change content below.
Shafonne Myers is a certified wedding and event planner who longed for bridal inspiration that looked like her. She has created a website and magazine that brings bridal inspiration to plus size brides. She does speaking engagements educating the world about plus size brides and self confidence.
Latest posts by Shafonne Myers {Editor-in-Chief} (see all)