This post is done in collaboration with Diamond Studs.com. All opinions are our own. Thanks for supporting the sponsors that make Pretty Pear Bride possible!
The shape of a diamond is perhaps its most style-defining element. Most other elements (like the famous 4Cs) are more indicators of quality than style. Diamonds can be cut into many different shapes and each has its own distinctive look. Some diamond shapes are more classic, some have a vintage feel, and some have a unique look. You should think about which shape best pairs with your personal style. Here's a look at the seven most common diamond shapes to help you find the one that you'll love the most.

The Classics: Round, Princess
Round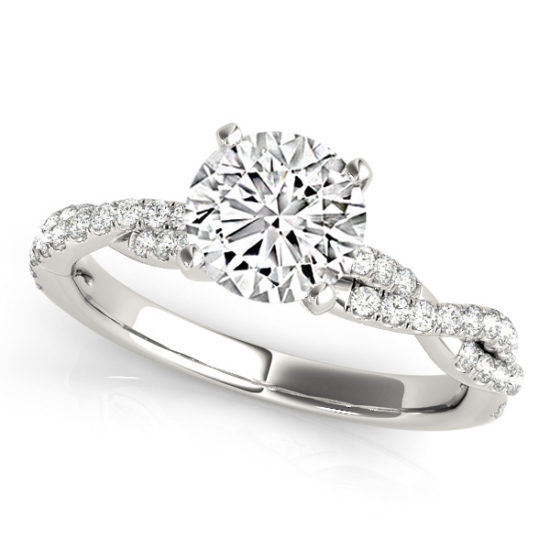 Round diamonds are the most popular shape today. They are what most people think of when they think of diamonds. Round diamonds have become the most popular shape largely because they refract and reflect the most light of any diamond. Round diamonds are both simple and elegant. They're the perfect choice for someone who wants a true classic engagement ring or classic diamond stud earrings.
Princess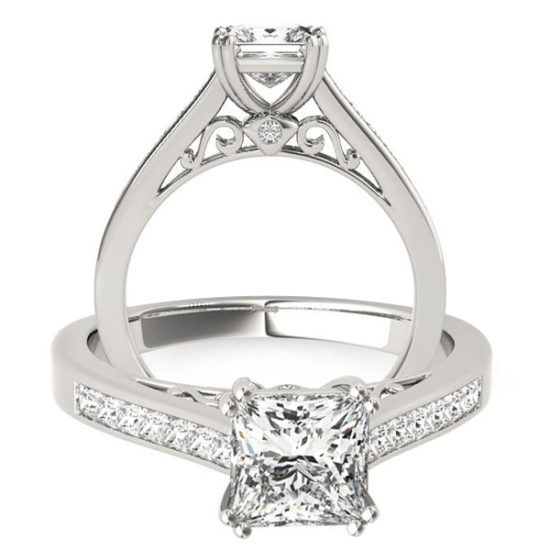 Princess Cut Diamond Engagement Ring
Princess shaped diamonds are another classic shape but have a more ladylike, princess-y feel to them. Princess diamonds have a square top and project a fun, girly style. They are currently the second most popular shape and are perfect for those who want to feel like a princess.
The Vintage Looks: Cushion, Asscher, Emerald
Cushion
Cushion Cut Diamond Studs
Cushion shaped diamonds look like a square or rectangle with rounded corners and were once the most popular diamond shape. They have large facets, giving them more of a bold shimmer than a subtle sparkle. Because they were the most popular shape of much of the past, they have a certain romantic, vintage feel that is appealing to many of today's couples who love their old world style.
Asscher
Asscher Cut Diamond Studs
The Asscher diamond is actually both a shape and a specific cut. This diamond cut was invented in 1902 by the Asscher brothers of Holland and became a phenomenon in the early 20th century. Because it was so popular during this time period, the step-cut, glamorous asscher diamond has become synonymous with a vintage look. If you love art deco and the swinging look of the 1920s, the asscher is for you.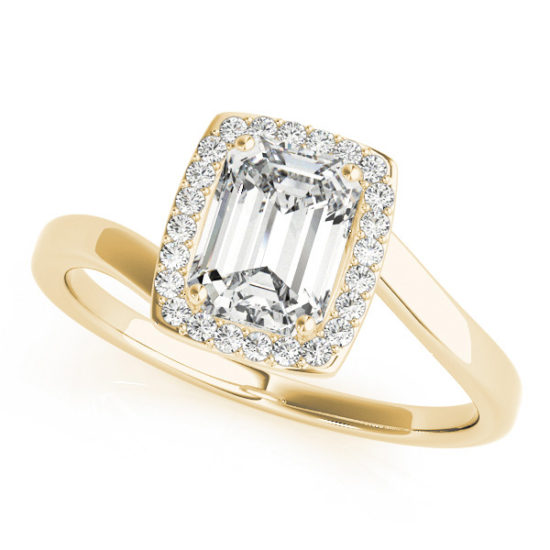 Emerald
Engagement Ring With Emerald Cut Diamond
Emerald shaped diamonds are exquisitely glamorous. They are rectangular in shape and step cut, meaning they give off bigger flashes of reflected light. This cut has always been popular with glamour lovers. Take Elizabeth Taylor, who famously wore a massive 30-carat emerald shaped diamond on one of her engagement rings that she lovingly called her "ice skating rink." The emerald shaped diamond is perfect for those who love all out glamour.
The Unique Shapes: Oval, Pear
Oval
Oval Diamond Studs
The oval shaped diamond is a beautiful, elegant shape that is a little bit more unique. It is similarly brilliant to a round diamond but has the added benefit of making the fingers look more slender due to its elongated shape. The oval is the perfect diamond shape for someone who wants something a little more unique and distinctive.
Pear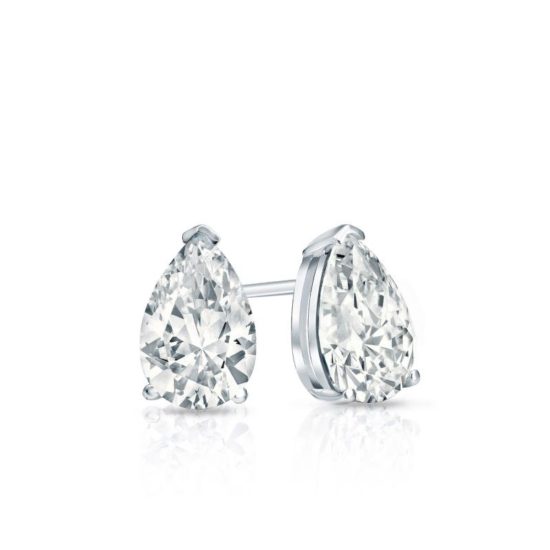 Engagement Ring With Pear Shaped Diamond | Pear Shaped Diamond Studs
The pear shaped diamond is for someone who loves to stand out from the crowd. Pears can be slimmer or wider depending on the exact diamond so no two pear shaped diamonds are ever really alike. This unique, tear drop shaped diamond is perfect for someone who wants to create a distinct look of their own.
The following two tabs change content below.
Shafonne Myers is a certified wedding and event planner who longed for bridal inspiration that looked like her. She has created a website and magazine that brings bridal inspiration to plus size brides. She does speaking engagements educating the world about plus size brides and self confidence.
Latest posts by Shafonne Myers {Editor-in-Chief} (see all)