So the time has come and your finally a "MRS"….so many emotions can be tied up in this, from elation because it's finally over to, "OMG, what am I going to do now. " But one thing I have heard brought up numerous times is
WHAT DO I DO WITH MY WEDDING DRESS?
I know it's crazy to even think that something so many people put so many effort into could end up being such a loaded question. But it really is a problem that so many people have.  Today I'm sharing 5 things that you can do with your wedding dress.
Trash The Dress
I know hear me out! This is something that I'm seeing more and more, a bride decides that she wants some epic wedding pictures after she gets married….with her dress in the water.  These are definitely growing in popularity and really becoming a way for the bride and groom to impart their personality and vision on the end of the wedding. These types of photoshoots are are so memorable and unique.
Sell It
We all know that wedding dresses aren't cheap so some brides like the idea of being able to get some of the investment back.  That's where resell sites come in. There are so many different ones but I have come across one that I just love, Nearly Newlywed is a fabulous site that specializes in providing a place for brides to buy and sell their wedding dresses.  And the thing I love about this site is that they have a specific section just for plus size bridal gowns, SCORE! No looking through ends posts to find dresses that will fit you…nope. You go straight to the dropdown for 14+ and it's all there for you.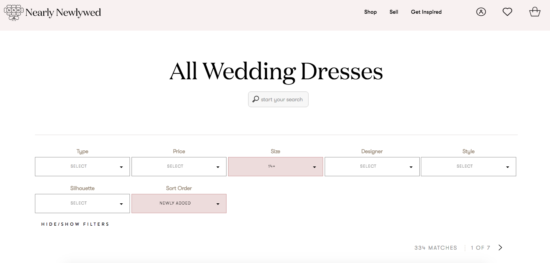 Donate It
I know most people don't think about this one but there are so many needy women out there that can't afford a wedding gown. So there are some amazing groups out there that aim to help everyone look and feel fabulous on their wedding day. Here are a few that we love.
Save It
I think this might be one of the most popular ones.  This is what I did! I have it saved for either my daughter to use someday…fingers crossed! LOL! Or for me to pull it out and use for a vow renewal but either way I have it preserved and ready to go at the drop of a dime.  Wedding dress preservation is truly so easy and it will allow you to cherish your gorgeous wedding dress for years to come.
Accessorize It
Yep, you heard it, you can turn your wedding dress into an accessory.  This Etsy shop will turn your bridal gown into a necklace or bracelet. WHO KNEW! I sure didn't. I actually really love this idea because it's something that you can keep close to your heart always and also pass along too.