We often think of the bride as being the sentimental one who looks for bits of the wedding that can be saved forever – but your groom probably wouldn't mind a bit of nostalgia to keep as well. These handmade boutonnieres from Etsy.com are neat ways to personalize your wedding and give your groom something to treasure from that special day. These slimmer male counterparts to the corsage are easier to use in a wedding scrapbook as well! The styles are limitless and can really reflect you as a couple, and can be customized to any theme or color imaginable.
Retro Summer Yellow Boutonniere from FayeMarie
Sparkly Mirrored Bead Boutonniere from BridalBouquetsbyKy
Bright, African Inspired fabric flower from NoahsCrew
Outdoorsmen/Sportsman Boutonniere from Beautiful Again Bridal
Red Button Boutonniere from YanaDesigns
Guitar Pick Boutonniere from SurroundingsOnline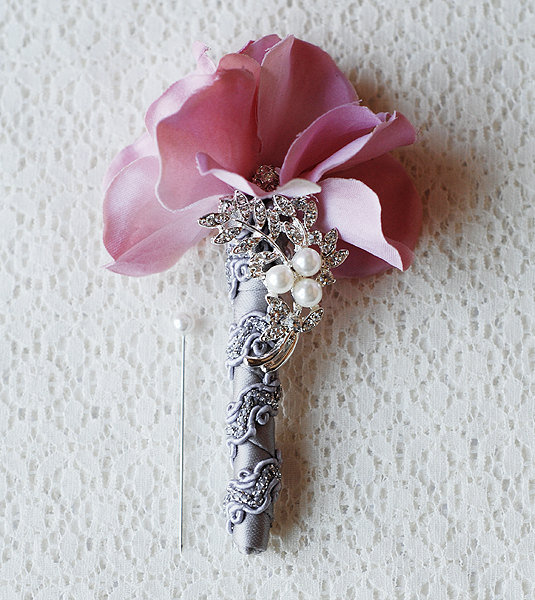 Romantic Pearl, Crystal, & Hydrangea Boutonniere
Star Wars Theme Boutonniere from ABrideLessOrdinary
Fuchsia Berry Harvest Boutonniere from TellableDesign
Like what you see? Don't forget to share it!