I was initially scrolling through the fashion page on Lucky Magazine's website yesterday when a DIY story grabbed my attention. It was titled DIY: Make Your Own Backdrop Chain Earrings in Five Minutes Flat, which was extremely attractive to my short attention span. Most of the time, you can't do DIY projects at the drop of a hat, you need to go and buy supplies. But this project literally, and I do mean literally, takes 5 minutes and you most likely have everything you need for it in your bathroom and jewelry collection already. And I was extremely happy with the end result. So let's get going on this DIY project.
Step 1: Get Your Supplies
Scissors
One pair of small stud earrings (look for a pair you don't wear often)
Two short, identical lengths of chain (find a necklace you don't wear often)
Dental floss
Step 2: Threading
Pinch and hold one of the pieces of chain by the exact center. Lower it through the two loops on the earring backing.
Step 3: Floss Time
Cut a piece of dental floss at an angle, so the end is pointy, and thread the floss through one of the links on each side just under the backing, thus anchoring the chain.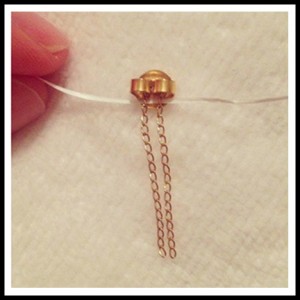 Step 4: Tie the Knot
Double-knot the floss to secure the chain.
Step 5: Cut and Repeat
Cut off the loose ends and repeat steps 2 through 4 for the other earring.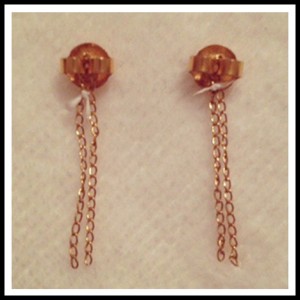 And you're done! It's that simple!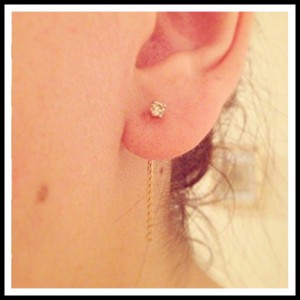 Send us your end result from the DIY Backdrop Chain Earrings project! How did you change it up?