I'm always getting asked questions about plus size bridal fashion.  What are the best styles for plus size brides?  What looks best for each body type?

So I decided to feature a different designer each Monday to give us a glimpse into the plus size bridal fashion world.   One of the most popular avenues for plus size brides to get exactly what they are looking for in a wedding gown is to have it custom made. I am extremely excited to showcase my favorite custom designer, an amazing woman with an extraordinary keen eye for bridal fashion, who has just launched her curvy bride collection, Femme Lux, from right here in Indianapolis,  C.C. Elaine.
PPB: What are the current plus size wedding dress trends?

C.C. Elaine: The biggest trend that I see a lot of for the curvy bride is rouching, rouching and more rouching. BUT, my experience has shown me that just because you have curves doesn't mean you have to hide them. I have found that a lot of bridal salons are promoting the rouched look for this bride as if it were the only option for flattering her curves. "So not true!" A lot of designers are creating collections full of this idea. Most women do not wear rouching in their everday clothing and they still look amazing. Ive been dressing this bride for over 15 years and not once have I designed a gown with this feature, not to mention, no one has even requested it. My point is to educate the curvy bride with the notion that you don't have to hide behind layers of fabric in order to shine on your wedding day.
PPB: What is one of your favorite plus size dresses from your collection?
C.C. Elaine: I would have to say my silk dupioni, pick-up dress. Aside from that, the silhouette that I like the most for the curvy bride is a fitted bodice with a trumpet style skirt.
PPB: In general, what styles do you recommend for plus size brides?
C. C. Elaine: A look that is flattering on most curvy brides is a princess cut, fit & flare style dress. It offers clean lines from top to bottom and fitted at the waist down to just above the widest part of the hips and then flares into a fuller skirt. This is a look that is very feminine and sophisticated and shows off the best elements of her curves.
PPB: What changes have you seen in the plus size bridal market?
C. C. Elaine: It seems that designers as well as bridal salons have started to take notice of the fact that this bride is getting married just as often as every other bride and they have begun to create and carry larger sample sizes to try on. The other BIG deal is that Plus-size bridal salons are popping up everywhere. Finally, people are realizing what a viable market this is, not to mention that the curvy bride deserves the same amenities and options as her skinnier counterpart.
PPB: What goals do you have for your business in the plus size bridal industry?
C. C. Elaine: My hope is to create a niche within this niche. I want to offer an alternative to the strapless, A-line dress with rouching. My dresses are sleek, modern and sexy. They may not be a fit for every curvy bride but they are definitely a highly sought after alternative. I know this bride well and my goal is to create dresses that she can fall in love with.
PPB: Do you only serve Indianapolis brides or do you work with brides all over?
C.C. Elaine: I do a lot of custom gowns here in the city. The Femme Luxe preview collection is available for brides all over. I am currently preparing the NEW Curvy Chic Collection for a US trunk show tour that will lead up to the official launch of the collection at NY Bridal Market next fall.
Thanks so much to C.C. Elaine for stopping by.  Visit C.C. Elaine for all of her custom wedding gowns.  We will definitely let everyone know when her upcoming trunk shows are scheduled.  Hopefully in the near future will have our own private viewing of her new line!!!
Happy Planning,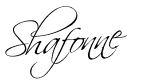 The following two tabs change content below.
Shafonne Myers is a certified wedding and event planner who longed for bridal inspiration that looked like her. She has created a website and magazine that brings bridal inspiration to plus size brides. She does speaking engagements educating the world about plus size brides and self confidence.
Latest posts by Shafonne Myers {Editor-in-Chief} (see all)