I was so excited about watching this amazing show! The plus size bridal community has been waiting so long for something like this.  TLC has done shows in the past for plus size brides but they haven't been shot in salons that were fully dedicated to plus size wedding gowns. This show takes place in Curvaceous Couture, a plus size bridal salon that stocks high-fashion designer dresses in sizes that fit the bodies of real women.  I think this is the huge difference between Curvy Brides and SYTTD: Big Bliss both are great shows but Curvy Brides feel a bit more truly dedicated to plus size brides.
From the beginning I was in love with the shop, the owners, sisters Yukia and Yuneisia who started the business in the basement of their father's home.  They have come a long ways and we are so happy that they did!  And I absolutely loved their personalities.  They were so fun and bubbly and honest.  When shopping for a wedding dress and especially as a plus size bride, you want and appreciate when a bridal salon's staff is honest and sometimes it can be hard to take but you would want honesty instead of someone saying something looks good on you and it doesn't. 
The show starts out with introducing the three ladies on the show this week, Christen, Zoe and Gabby and as in most bridal gowns shows they are all looking for a plus size wedding dress and it goes through each of their experiences.  I loved how all of them had totally different shapes so it allowed people watching to see three different body types and options for all.  I also loved how they did all types of dresses, not just ones that would look good on each of the ladies.  This is nice because sometimes it's good to see what doesn't look good as well as what does. 
First up is Christen who came shopping with her family.  She lost her father when she was 6 so it was a bit emotional for her and her family.  There was also a scene where there was a conversation about who was going to walk her down the aisle and she was leaning toward her brother but ended up go with her mother.  She tried on a fit and flare wedding gown a couple A line gowns.  I loved all the choices but especially the fit and flare.  Check out Curvy Brides to see what dress she picks.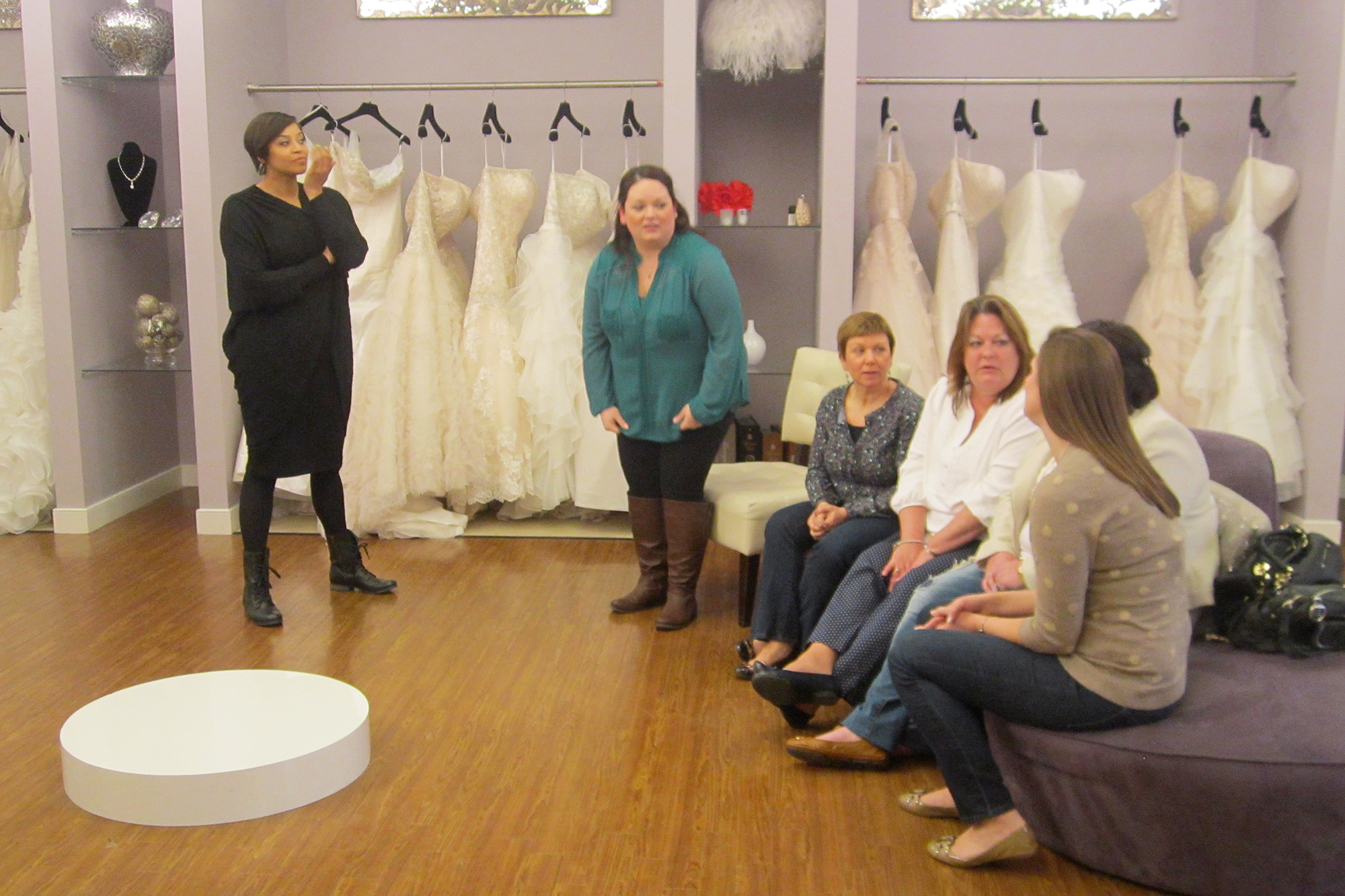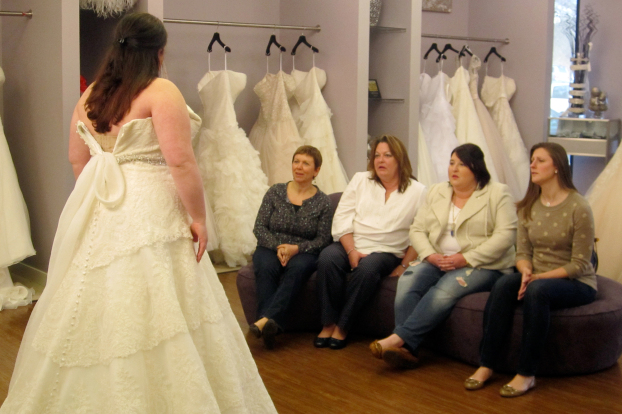 Next up was Zoe who is a plus size store owner, she came in looking for a something a bit different for her plus size wedding.  I enjoyed watching her try on plus size wedding gowns because  she had just a range of plus size wedding gowns with all different fabrics, cuts and styles.  She also had the privilege of getting a custom dress created for her in the store by Yunesia and Yukia and it was so amazing to see them whip together a custom dress like that in such a short time.  Check out Curvy Brides to see what dress she picks.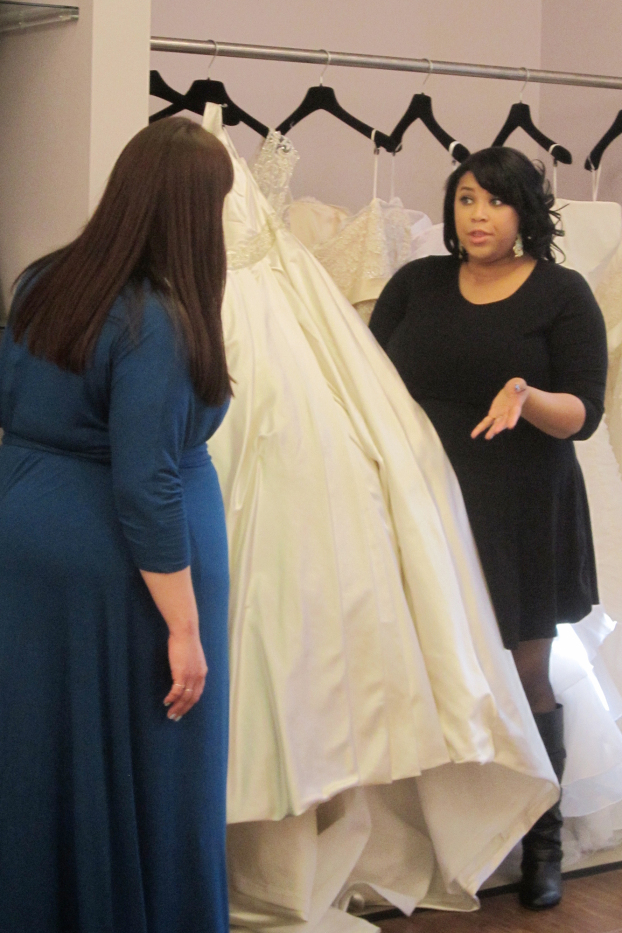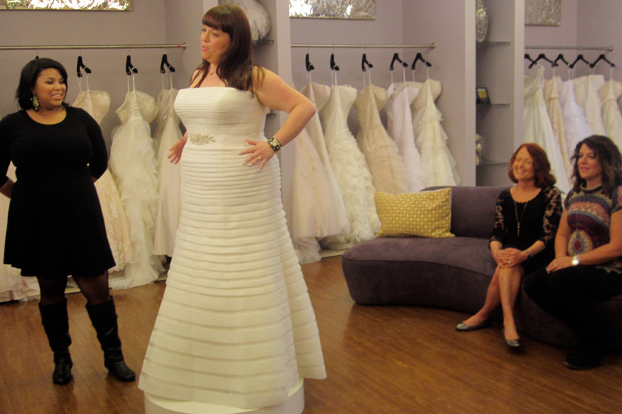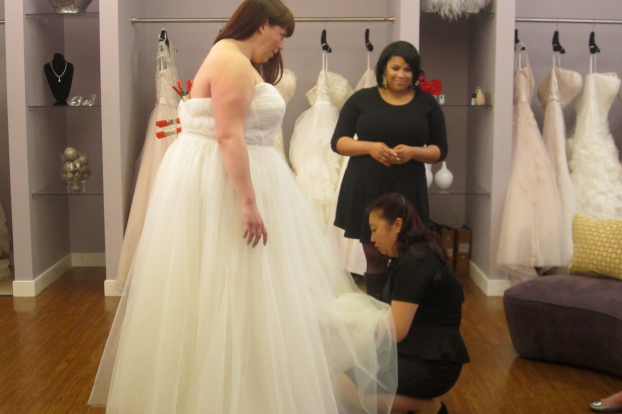 Check out a clip from the show last night featuring Zoe's custom made dress with pink fabric underneath to give that pop of color.
Finally we had Gabby who came in into Curvaceous Couture Bridal Salon for her final fitting.  This segment of the show was the most informative.  Gabby ordered her dress a size to small with the intention of losing a few pounds before her big day.  I know we all do it and I know why but for a day that is so important and what you wear and how it looks is so crucial, this is definitely NOT the way to go.  But I understand because heck I have tons of clothes hanging in my closet that I won't get rid of because" I will wear it when I lose some of this weight".  Yep we all say it but please ladies for your big day let's not put the added stress of having to lose weight on top of plan one of the biggest days in your life on your plate.  It was a mad dash by the Curvy Bride crew but they pulled it off and her plus size wedding dress looked amazing as well as her wedding. Check out Curvy Brides to see clips from her wedding.
Catch the next episode of Curvy Brides on August 8th on TLC and chat with us live during the show.  Use hashtag #curvybrides and #ppbcurvybrides
All Images in this post are courtesy of DCL and TLC  
What did you think of the show?  Tell us below!