When you get a real wedding from your home town you know it's going to be epic and take you down memory lane. If you're looking for elegant chic black and white wedding ideas with a touch of deep purple, look no further!

I loved this wedding so much, from the colors, to the decor to the wedding dress. It was so amazing. I'm all about the scenery and decor so of course I was blown away from the wall of windows and customized uplighting. It gave such a stunning feel to the decor. And to think that they had such creative favors for their guests. The personalized masks were perfect along with that the individual hand wipe packs. So creative and useful during a time where so many were worried about the pandemic.
Imani & Mike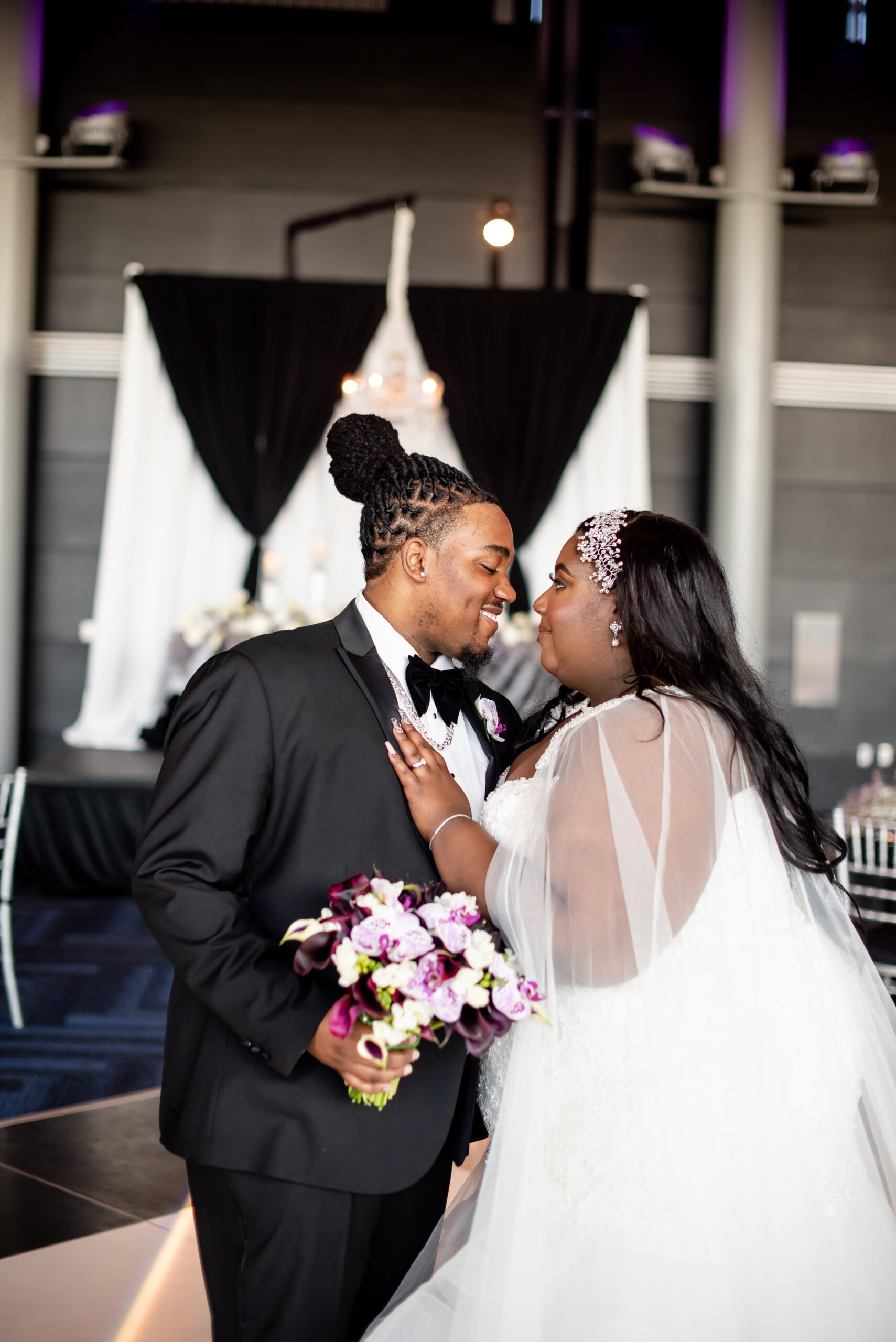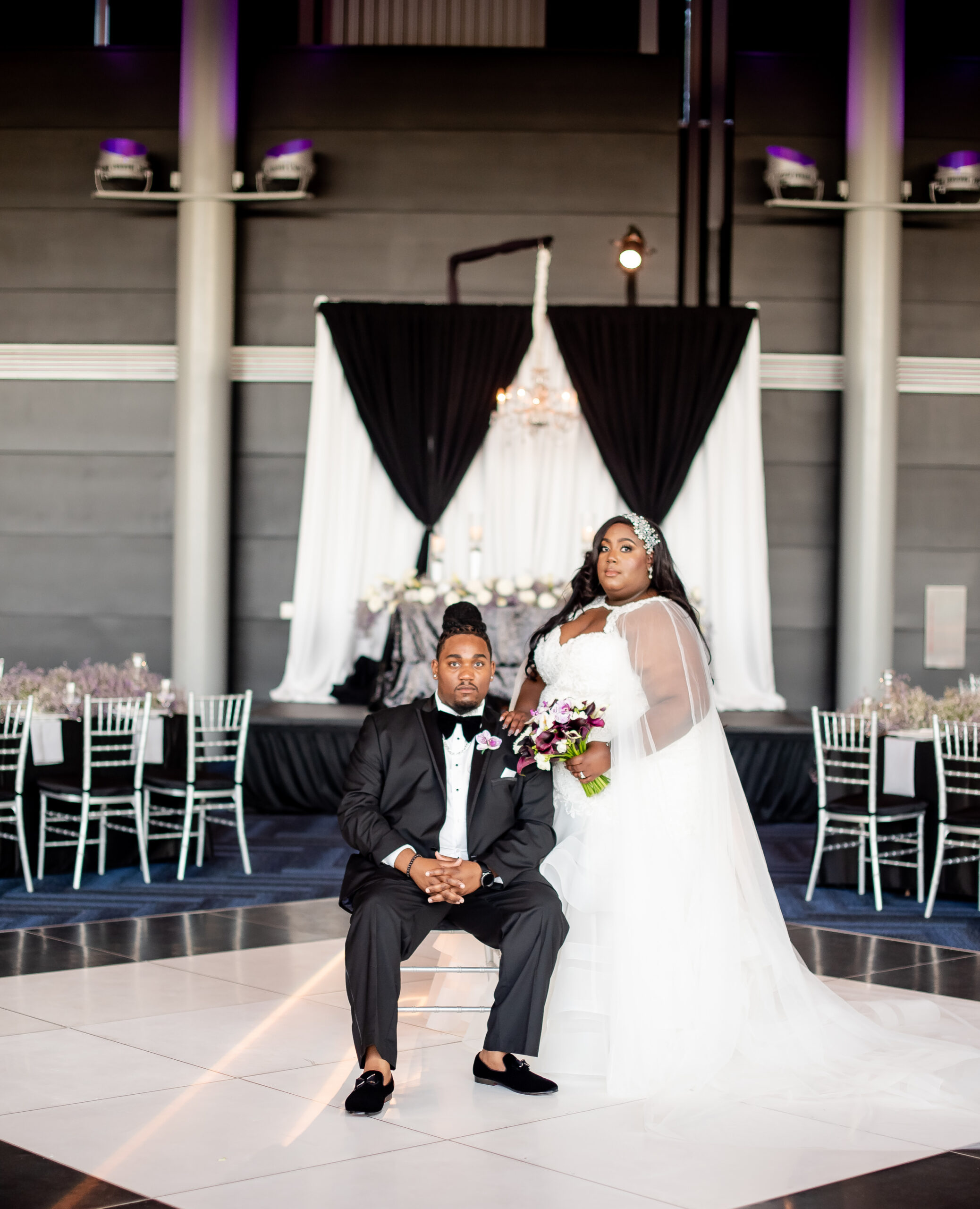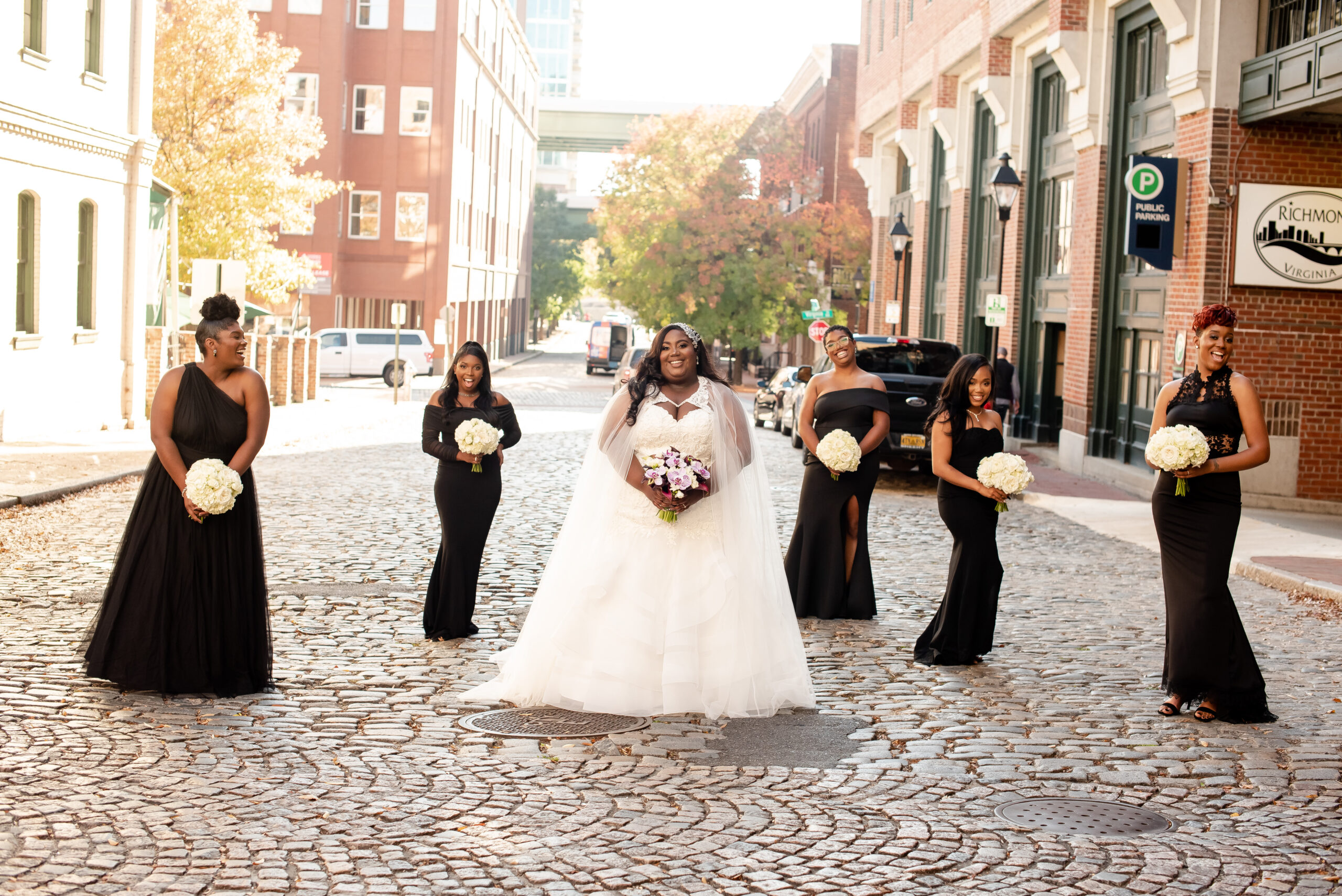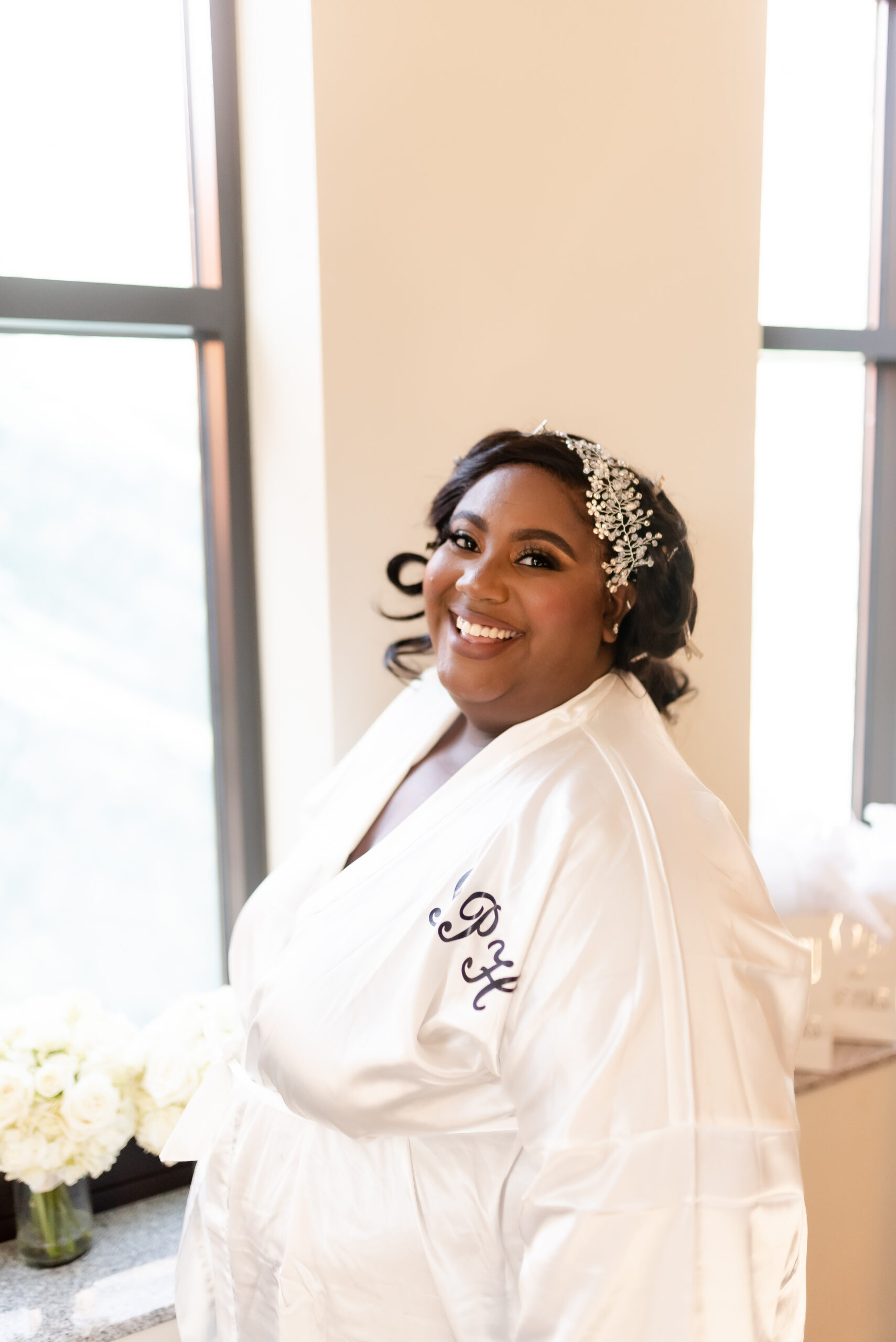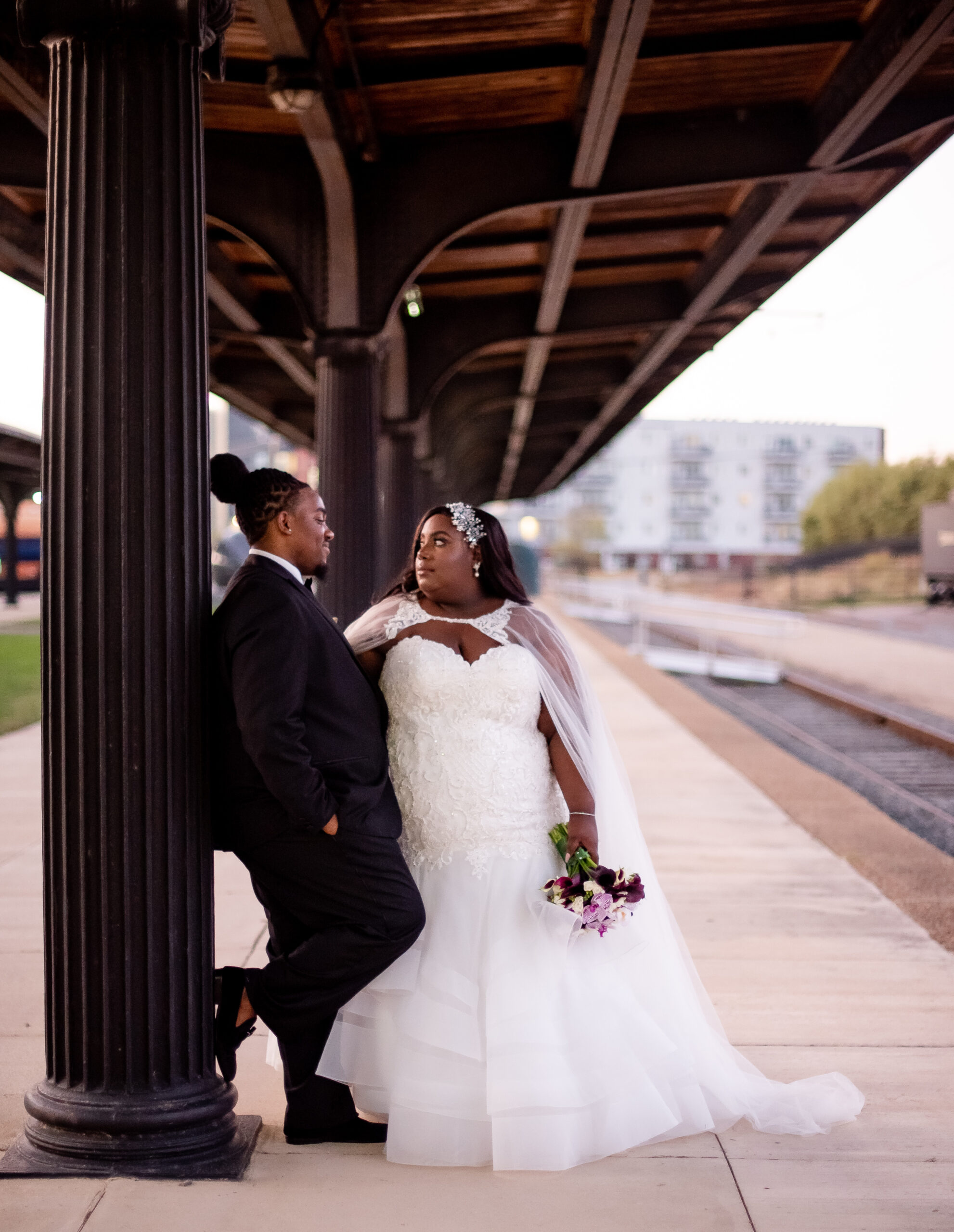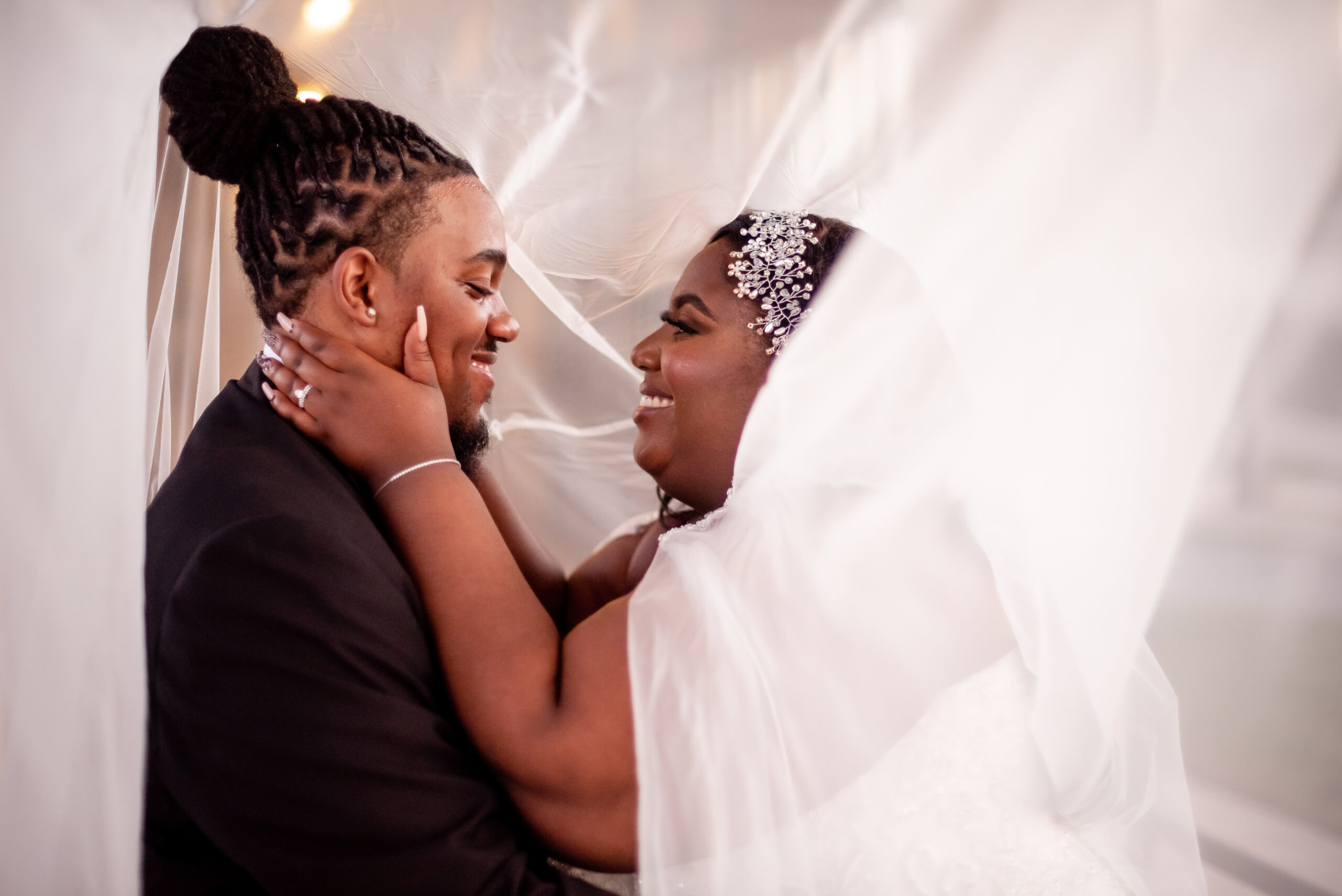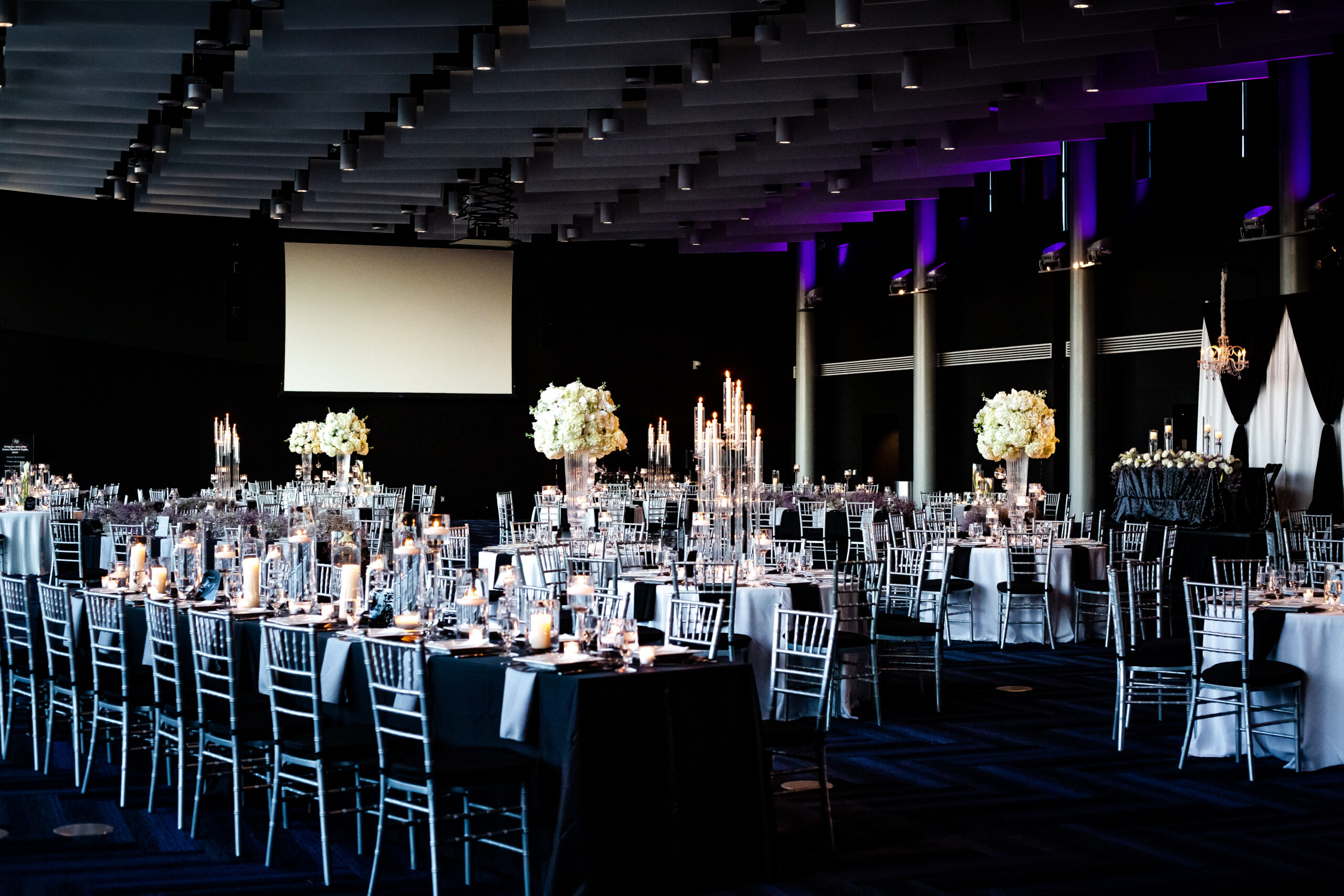 Tell Us About Your Wedding: Our wedding was held in Richmond, Virginia. The style was timeless and "chic" black and white, with hints of eggplant (deep purple). The single hanging chandelier and criss-cross drapes in the ceremony space was beautiful. The crystal clear floral/candle glassware, silver and black table wear, and mix of linens worked perfectly together. Our venues "wall of windows" and customized uplighting (indoor and outdoor) was a perfect touch.

Wedding Colors: Black, White, and hints of Eggplant (Deep purple)
How did the two of you meet? Church! I actually ignored him (lol) on many occasions. But boy was he persistent! It wasn't until I started hanging out with him that I realized he was pretty cool. We started as friends, and our love grew from there. He is absolutely one of the most genuine people you will ever meet and my best friend!
Describe your engagement: A complete shock! We talked about marriage off and on for a few years prior. We even went to look at rings, but I never thought it was going to happen anytime soon. He proposed on the day that I graduated with my Masters of Education. After graduation, we went to eat with family and friends. Once we were done eating, everyone moved outside to take pictures. While I was distracted, he and one of my friends (that i thought went home) finished setting up. I walked around the corner and there were rose petals everywhere! I was still looking around, trying to figure out what was going on. I can't remember everything he said because I was crying, he was crying, and all of our friends and family were crying. It was a proposal filled with love, and I will cherish it forever.
Personal or handmade details: Our personal touches came by way of personalization of our favors. Our masks said "Love is Contagious," with our initials and wedding date. Our individual hand-wipe packs stated, "Spread Love, Not Germs," with our initials and wedding date. It was a nice and funny personal touch to a common item.
Describe your flowers: Our flowers were absolutely breathtaking! We wanted the florals to be a reflection our classic and timeless theme. Our florist captured everything we wanted and more! The guest tables were a mix of high and low arrangements. The highlight of many of those tables were the overflowing candle arrangements. The tables with the tall vases were complimented with hanging clear bulbs that had candles inside. Our hint of eggplant was added by incorporating lush Baby's Breath garland. Calla lilly's set off the romantic look created for our sweetheart table.
Memories and Stories about the Day: Our fondest memory would have to be getting married in a pandemic. 2020 in itself was just different! We contemplated for months on whether or not we should or would be able to get married in the middle of a world health-crisis. I would breakdown at least once a week just thinking that the day we had planned for for nearly 18 months was not going to happen. We prayed, and prayed, and prayed. And by the grace of God, we were able to get married on our original date, in our original venue, with our original guest count (250). And to top it off, no one contracted covid-19 from the wedding! We were so grateful and thankful that we had this experience, as many couples could not say the same for 2020. When we reflect on things, we know that the extensive covid-safe planning and funny masks we will see in pictures for years to come was all worth it!
Your advice for other plus size brides: Relax, dress shopping doesn't have to be terrible!
I had so much anxiety about being plus size and shopping for a dress. I read so many horror stories of plus sized women going to straight size shops and having bad experiences. My advice would be too research and find boutiques that carry a wide range of sizes. Don't be afraid to call! Knowing that you will be able to walk into the shop and get the potential dress of your dreams will ease your mind and calm your nerves. Also, don't wait until the last minute. That will limit the dresses available as most of them have to be shipped and then altered. Walk in there and kill it with confidence!
Three adjectives that describe the day: Blessed. Beautiful. Magical.
What has surprised you most during the first few months of marriage? We are pleasantly surprised at how much our communication has improved. We were already adjusted to living together before the wedding, so that wasn't anything new. But our communication has made great strides in the first few months!
Photographer: Samia Minnicks | Venue: Science Museum of Virginia – Dewey Gottwald Center | Wedding and Event Planner: Ciera Pope | Bridal Attire: Curvaceous Couture Bridal | Groom's Attire: Good Luck Menswear | Groomsmen Attire: Men's Wearhouse | Floral: Bron Hansboro | Invitation Suite: Minted | Custom Masks: Etsy | Custom Hand Wipes: Etsy | Hair Stylist: K CHanel | Makeup: Regan Wolfrey | Rentals: Rent-E-Quip | Caterer: Lunch or Supper | Bakery: Frostings Bake Shop | Videography: VizInk Weddings | Photobooth: Focus and Fabulous Events | Signage: Letterful Calligraphy | Lightning: Lightning Professionals |
The following two tabs change content below.
Pretty Pear Bride is The World's Only Site for Plus Size Brides. Bringing Bridal Inspiration to brides that look like "YOU", created by Shafonne Myers. Shafonne Myers is a certified wedding and event planner who longed for bridal inspiration that looked like her. She has created a website and magazine that brings bridal inspiration to plus size brides. She does speaking engagements educating the world about plus size brides and self confidence.
Latest posts by Pretty Pear Bride (see all)
Vendor Section Header
Vendor Section Text