If you thought tying the knot at a courthouse meant having to sacrifice your princess moment, think again! We present an inspiring twist on how to make sure your special day shines—courthouse elopement style. At this candid Cincinnati courthouse elopement, Skya and Brenton took some of the classic formulas for a wedding ceremony and flipped them upside down with fun and surprise. After all, who says weddings have to be long and overwhelming? Skya + Brenton had the most magical elopement in Cincinnati, OH with just the two of them (well and their amazing photographer). They eloped at the Hamilton County Courthouse with tears included, ate a mini cheesecake while sharing cocktails and then ended the afternoon at Rhinegeist Brewery. The love these two share is unlike any other, these newlyweds shared an intimate occasion that they'll surely cherish forever—and so can you!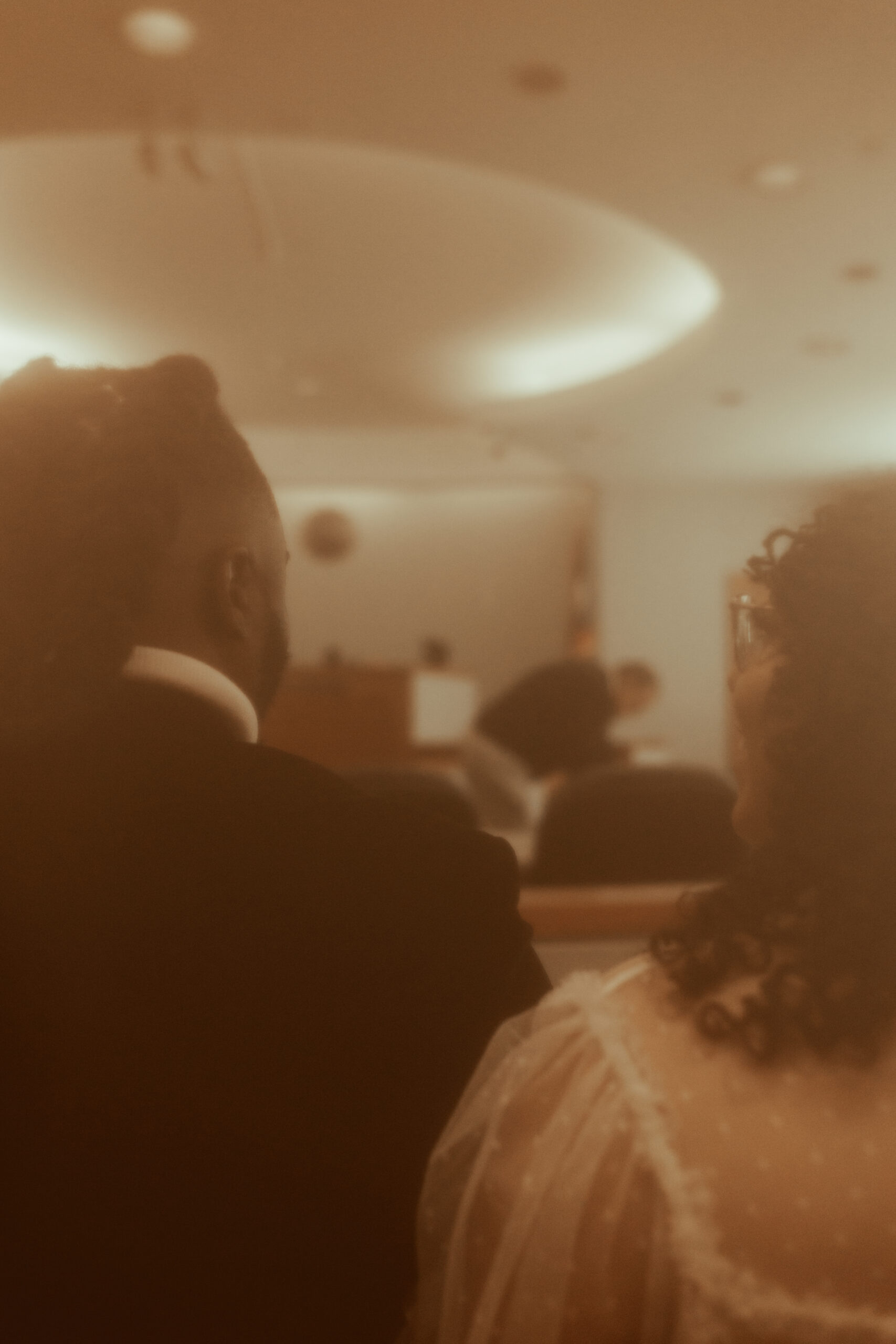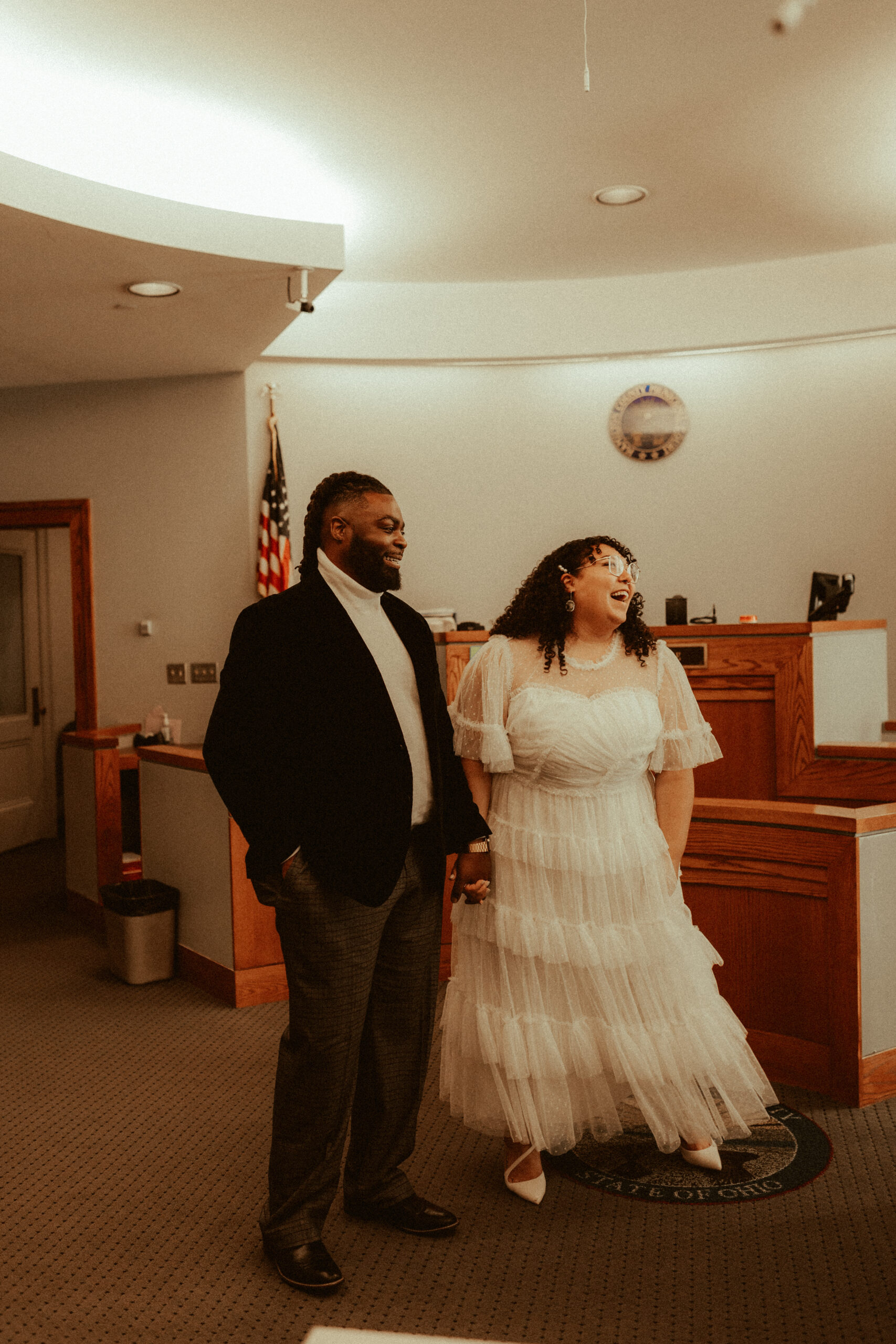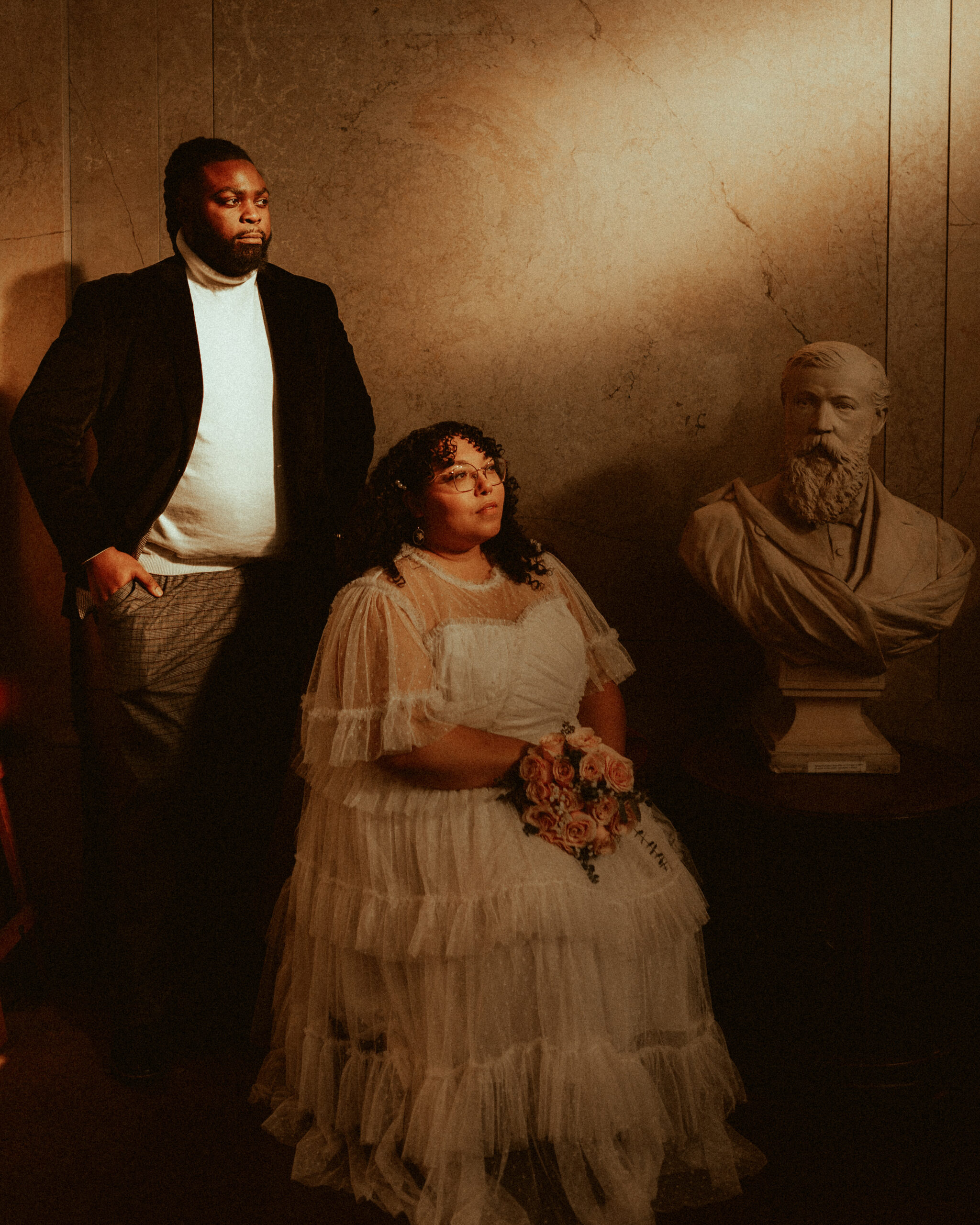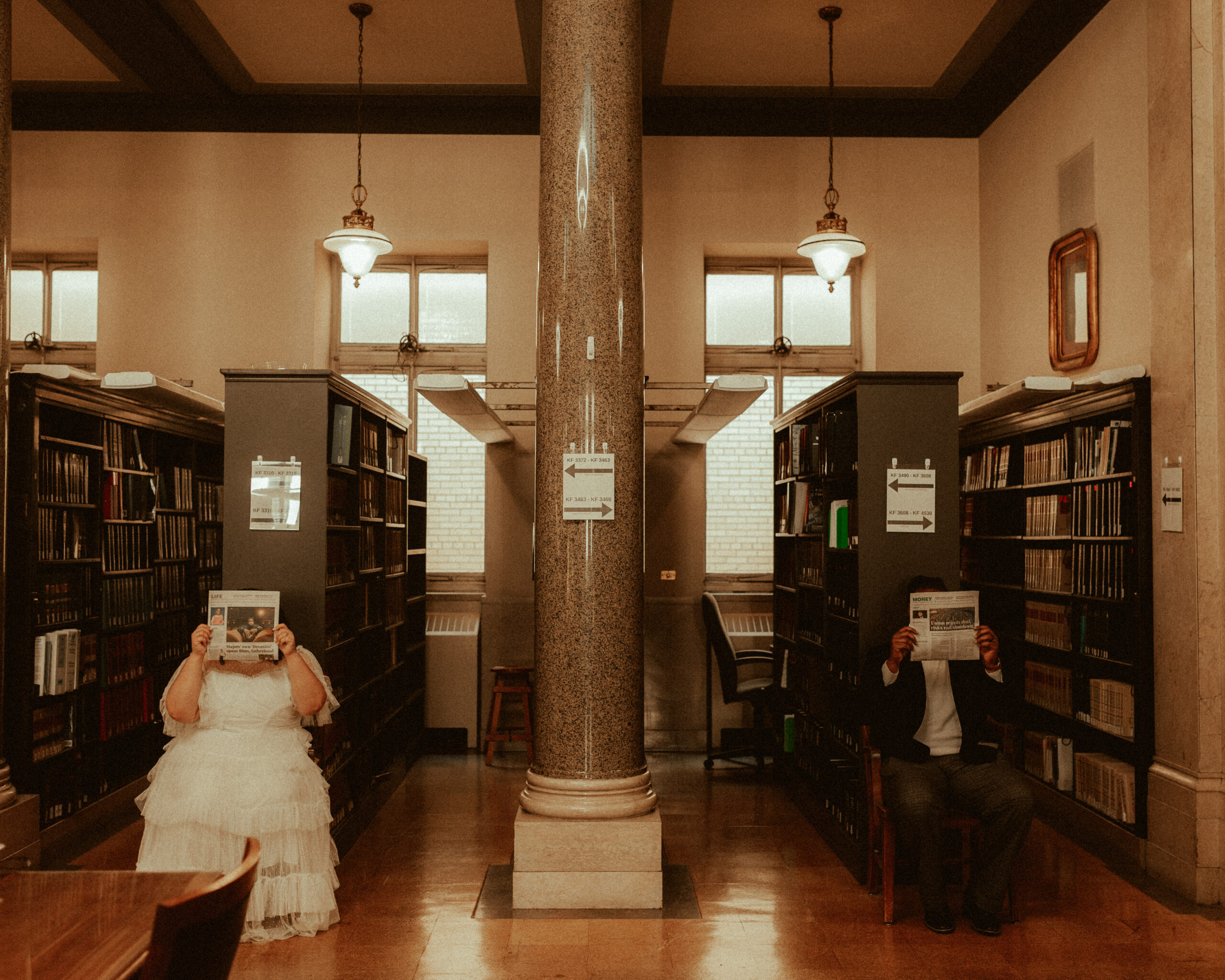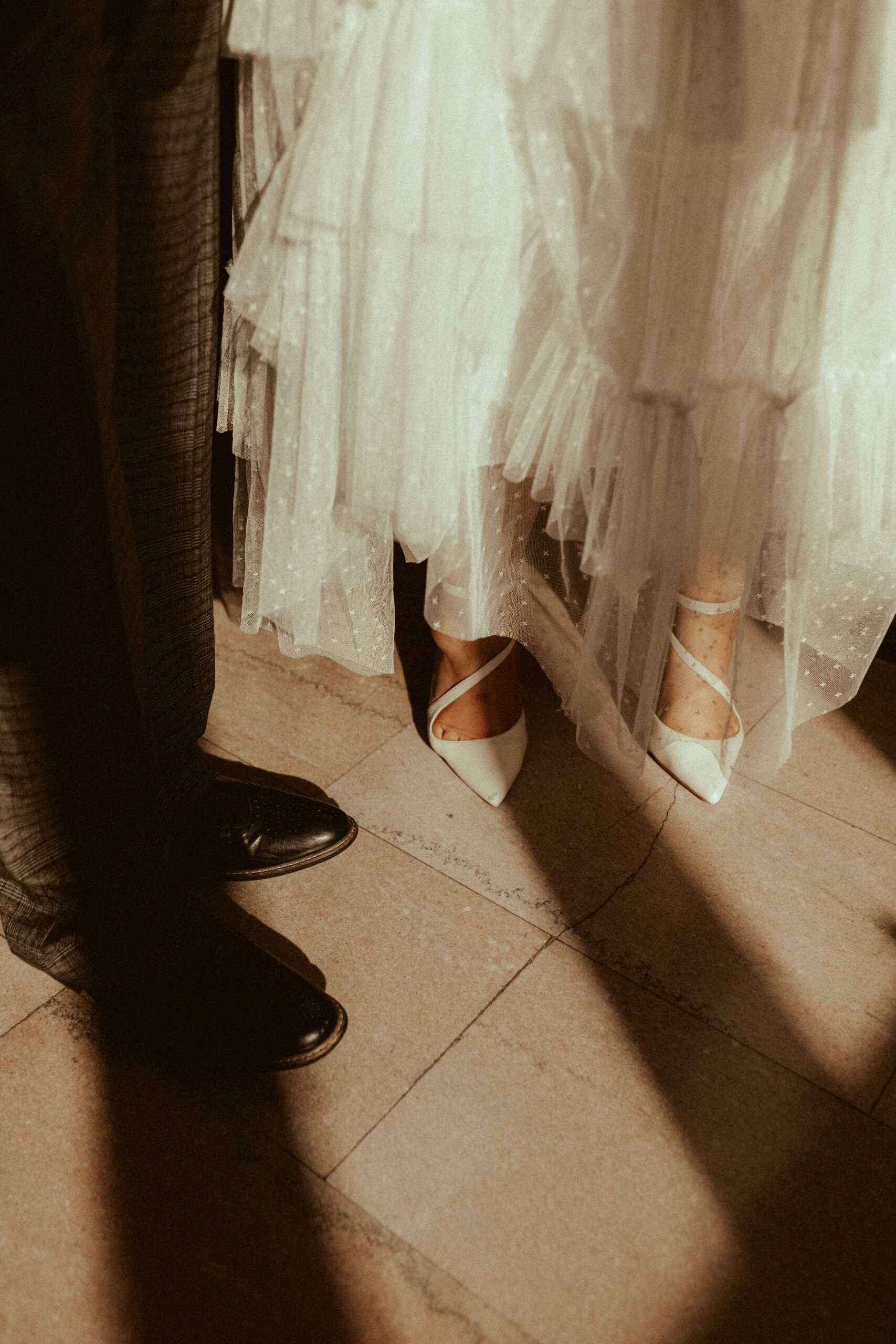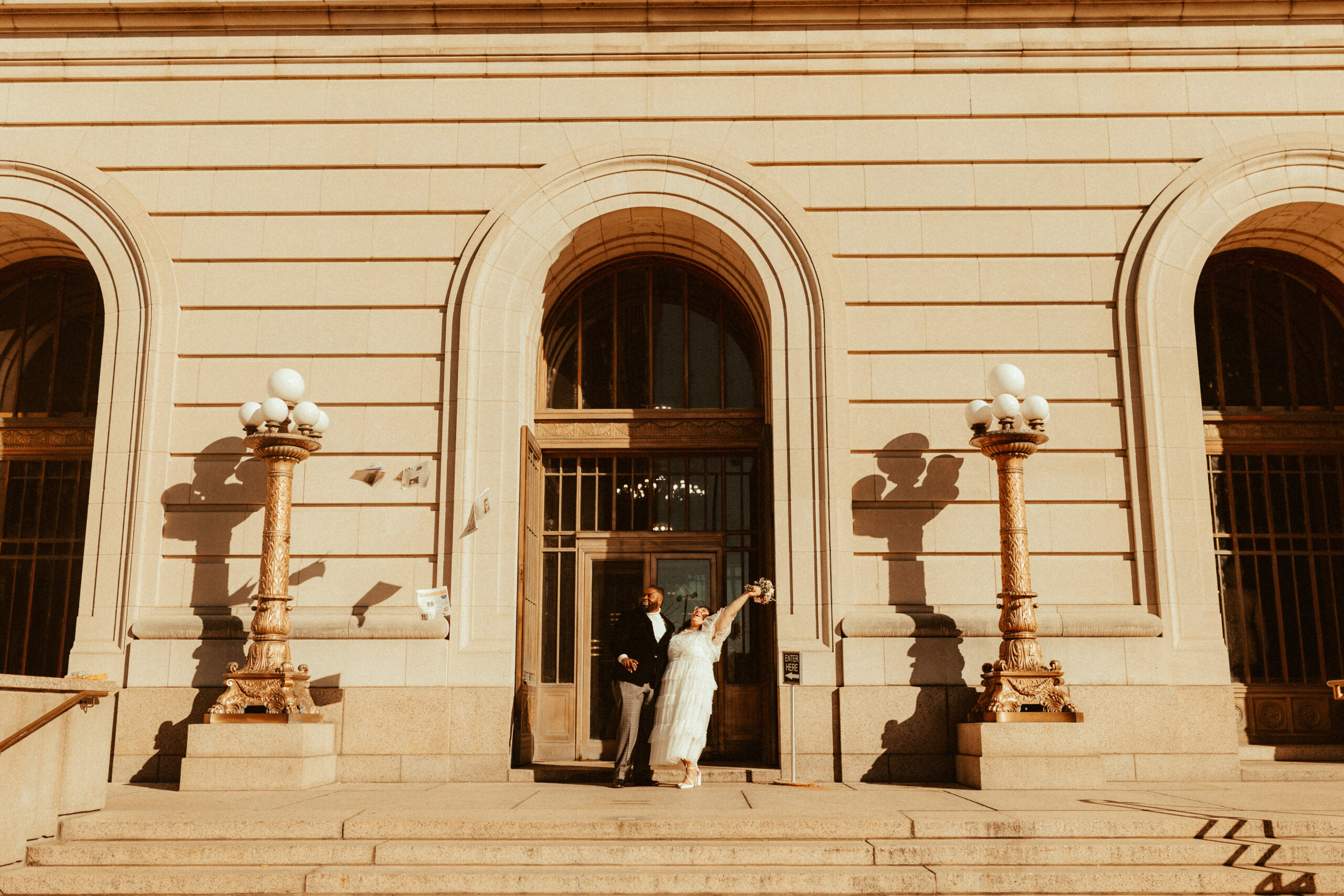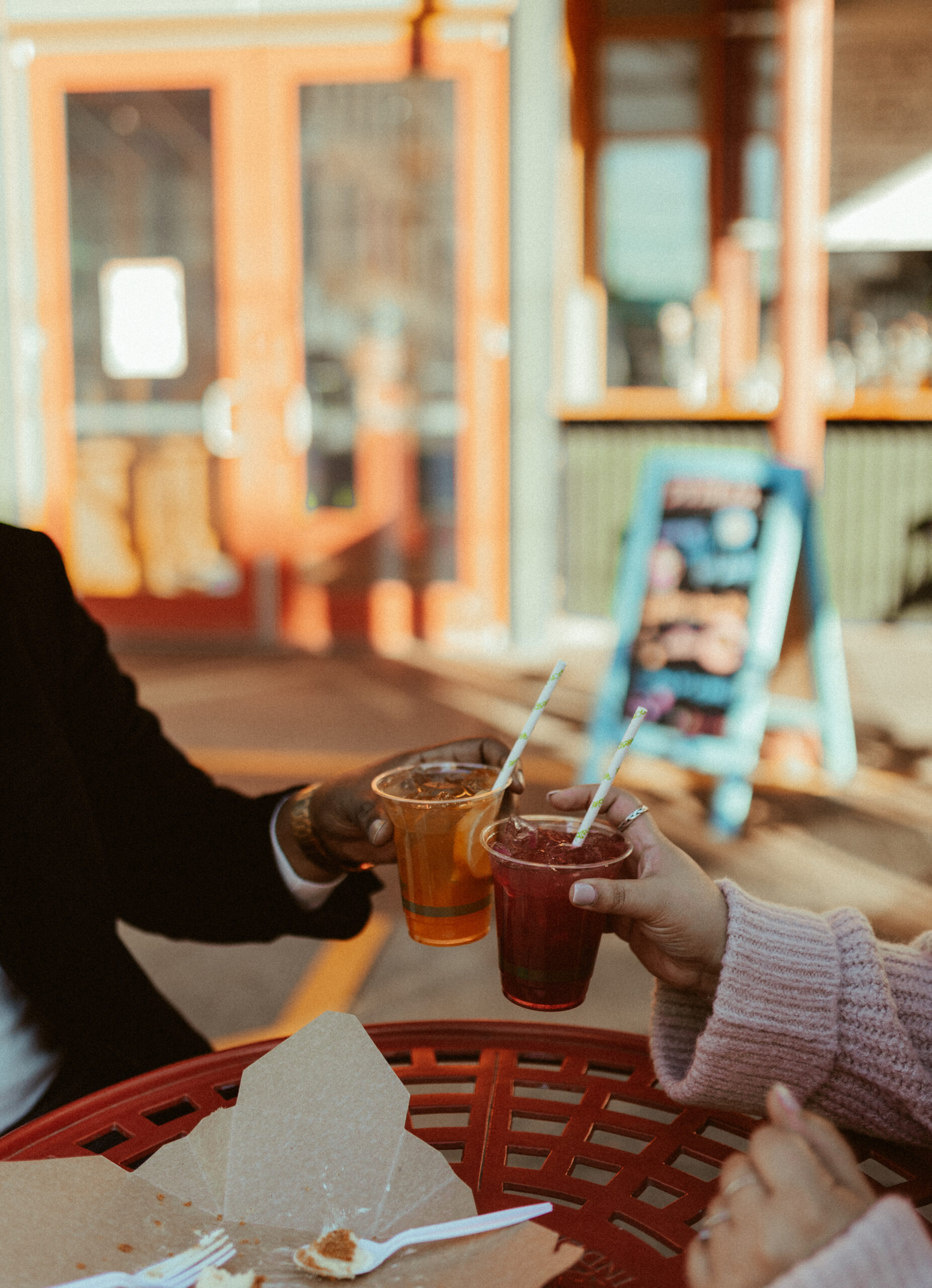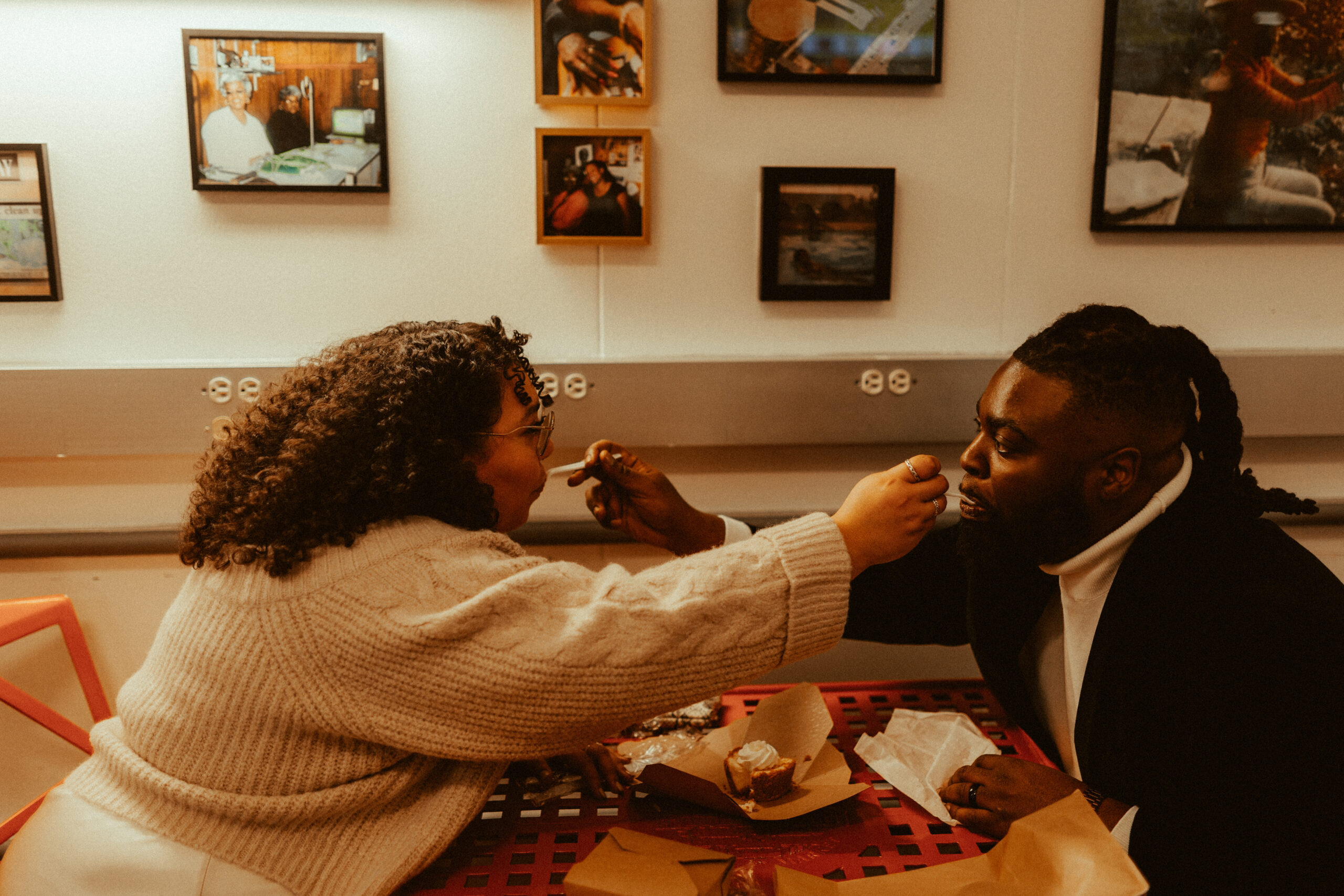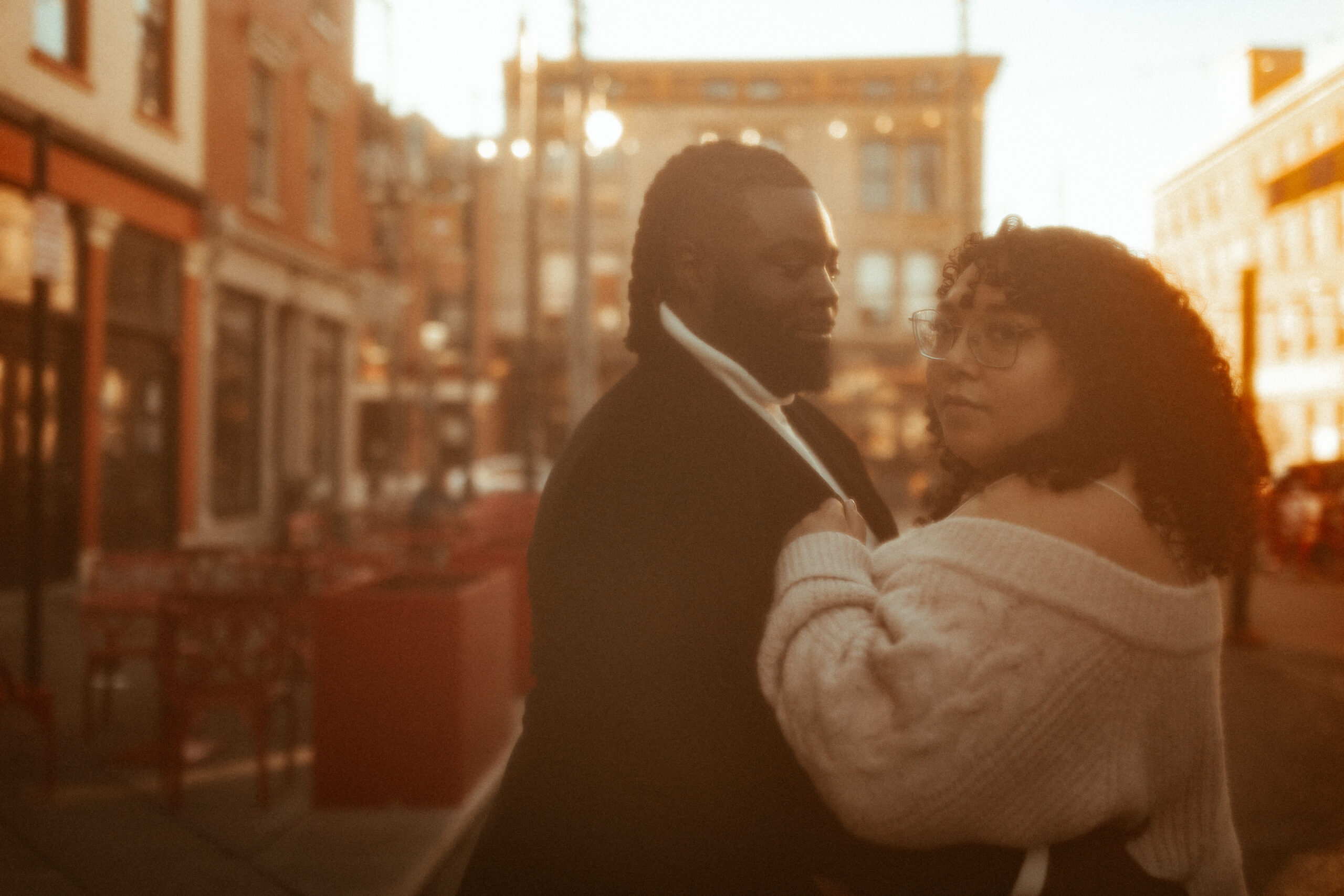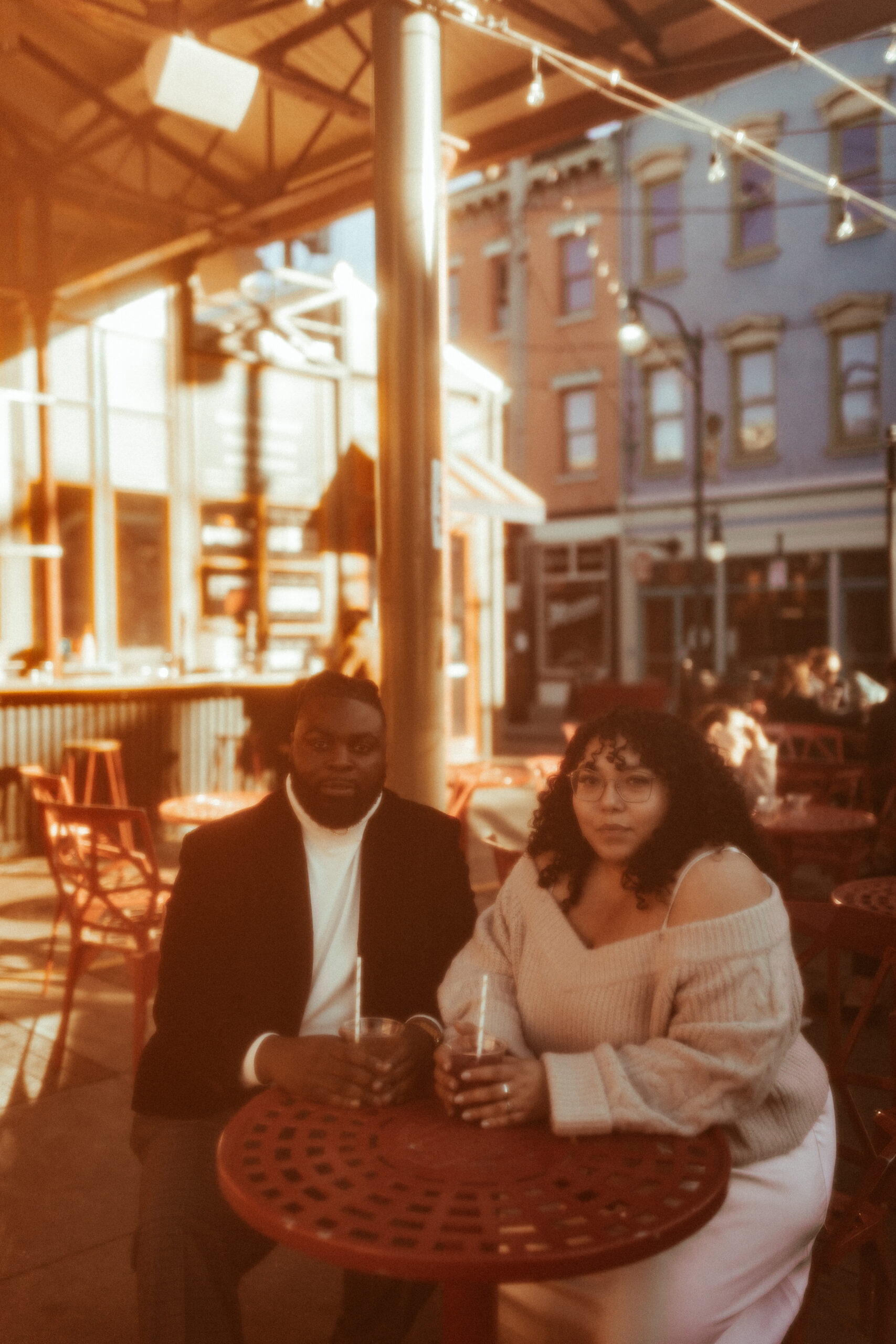 How did you meet?
Oh the joys of a successful Tinder romance. We do have to admit there was a time we would make up spur of the moment meet cute stories when asked, it was like a game in the beginning. But in the dominating era of dating apps, we learned to embrace our humble beginnings!
The swipe that changed our lives, if you will!

What is your proposal story?
On a blazing summer Saturday Brenton and I took to downtown Lexington. Whenever we find ourselves around triangle park we are always intentional in visiting *our spot*. So we did just that. Brenton led us up the stairs of the parking garage to the pedestrian overpass looking down to the busiest of street. Our first kiss spot.
As we walked through the tunnel I see a sign. Handwritten it reads "Skya Will You Marry Me?"I turn around to look at Brenton in awe. Beaming he gets down on one knee and the rest is history.
Tell us a little a bit about your wedding.
Toying with the idea of a destination elopement, nothing seemed quite right until we mentioned Cincinnati; the stunning city we have both fallen in love with.. We knew it was the perfect balance of getting away while still being wrapped in its cherished familiarity. The vibes of the city would fit with exactly what we were looking for.
Our vision was to have a cozy and intimate afternoon encapsulated in this big city. We wanted an authentic candid feel, truly going with the flow of the day. And because of the time of day, it felt like we had the city all to ourselves.
We had our ceremony appointment at the courthouse and after roamed the halls of the old building, exploring the eclectic nooks around each corner. We soon found our way toward Findlay Market in Over the Rhine in search of a sweet treat. Then we were off to a local brewery for a proper toast.
After our photo session we wandered around the city stumbling on art and pad Thai and gazebos. We followed where the city lead us and it was the most magical day we could have asked for.
Tell us about your attire choices.
I wanted to feel pretty with a dash of vintage intrigue, I love adding small unique elements that make you want to look again. And being comfortable was very important as well.
I scoured the internet for alternative and affordable wedding dresses. I found many, I returned a lot. In the end I fell in love with two, so that's what I decided on.
My ceremony dress was the gorgeous Whimsical dress in white from Ivy City Co, a women owned, size inclusive dress brand I found on instagram. The layered tulle skirt is such a dream and the flutter sleeves fulfilled all my vintage pixie fantasies. The style did come fully lined but I admit I took scissors to the chest lining to add some spice. I regret nothing! My heels were from Asos, they carry so many wide fit styles that never fail me. Classy with a funky twist to give the look character.
And my second look, a stain sweater dress combo was from Anthropologie. White boots were an Amazon find.
Who says you can't have a dress change for an elopement? Seriously, if you can't decided, do both!
Brenton sported a pair of plaid dress pants from Men's Warehouse and a cream turtleneck from ASOS. The rest of the pieces were recycled from his wardrobe.
What was the most important to the two of you while planning? Was there anything that you chose to splurge on or skip?
One of the most important things for us, other than creating this intimate time to enjoy each other and our love, was to make sure we documented it. We knew we would be the most comfortable doing our own thing without the pressures of big wedding expectations and formalities. But with that we wanted to make sure we could come back together with friends and family and be able to share our day with them through the storytelling of photos.
Investing in the right photographer who's work mirrored our personalities and vibe was priority. And since it would be just Brenton, me, and our photographer running around the city, finding the right person to match our energy meant everything. We found that and so much more with Savannah! She felt like a friend the entire day and made us so relaxed in front of the camera. And you can see the breathtaking results!
Having these photo treasures to look back on means the world. We are so pleased with how it all turned out
What were your favorite parts of the day?
There were so many sweet little moments throughout our day. Here are a few.
-All the congratulatory honks and waves from passerby's as we made our way up to the courthouse.
-Brenton tearing up during our vows
-Feeding each other cheesecake in the middle of the market
– Rhinegist pints in full wedding attire on a Tuesday afternoon
But my favorite funny moment of the day looked like this-
After we said "I do" we started running around the courthouse, goofing off, exploring and looking for good photo lighting. One of my favorites was getting our elevator pictures. We snapped a few, when our photographer suggested for us to go down a floor and come back up, striking a pose as the elevator doors reopened. Any pose we wanted. Brenton and I took this seriously, preparing our Charlie's Angels finger guns when all of a sudden the elevator malfunctioned- lights flickering, carriage shaking, loud jack hammering all around us-
We were petrified! Clinging to each other thinking this was the end, when the doors slide back open
*Click*
Our photographer snapped the pic. We ran out, dying in laughter, relieved this wasn't your first and last day of marriage. Excited to see the photos and the looks on our faces was an understatement. We did not disappoint haha!
Tell us about your wedding flowers.
I originally had no plans to incorporate florals but I am so happy I did. Two days before our ceremony on a whim I went to Trader Joe's, picked some of the prettiest pink roses and eucalyptus, and arranged them in my kitchen, all held together with junk drawer jute.
My bouquet is what made me realize "Oh crap we are legit getting married!" They definitely tied our look together!
Don't be afraid to DIY and get creative. It can save you money and be a sweet touch to your look.
Tell us about your wedding cake.
After our ceremony we wandered down to Findley Market in Over the Rhine and found mini cheesecakes from one of the bakery counters. The perfect sweet treat find!
Any advice for your fellow plus size brides?
Be 100% you on your wedding day. Wear what makes you feel gorgeous- whether that be a clean face and a goodwill dress, or going in full head-to-toe glam. Plan that 200 person event or do a Vegas chapel elopement. Don't second guess what you and your partner want to make others happy. Don't let the pressures of the internet or family compromise your vision.
You are allowed to do you unapologetically. And I promise you will be so much happier for it.
Photography:
Savannah Linn Photography
| Ceremony Venue:
Hamilton County Courthouse
| Floral:
Trader Joe's
| Wedding Dress:
Ivy City Co
| Wedding Dress:
Anthropologie
| Bride's Shoes:
ASOS
| Engagement Ring:
Point No Point Studio
| Groom's Attire:
Men's Wearhouse
| Wedding Ring:
Manly Bands
| Clutch:
Target
| Bride's Shoes:
Amazon
| Submitted via:
Matchology
The following two tabs change content below.
Pretty Pear Bride is The World's Only Site for Plus Size Brides. Bringing Bridal Inspiration to brides that look like "YOU", created by Shafonne Myers. Shafonne Myers is a certified wedding and event planner who longed for bridal inspiration that looked like her. She has created a website and magazine that brings bridal inspiration to plus size brides. She does speaking engagements educating the world about plus size brides and self confidence.
Latest posts by Pretty Pear Bride (see all)