These bridal portraits we have on tap for you lucky readers today are simply breathtaking. Ashlie Evans was married in May of 2014 in Richmond, VA. Before she tied the knot though, she employed the help of Ashley Vanley Photography to create a shoot to submit a photo to the Richmond newspaper to announce her upcoming nuptials. Ashlie, now a mother of twins, shows off her sexy curves in a beautiful gown. Congrats to Ashlie and her husband Aaron on their nuptials and subsequent double bundles of joy!

Ashlie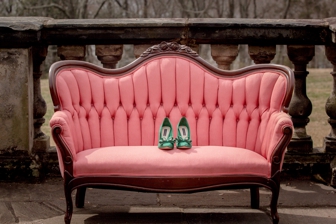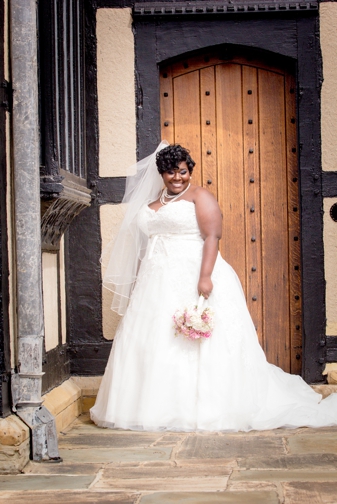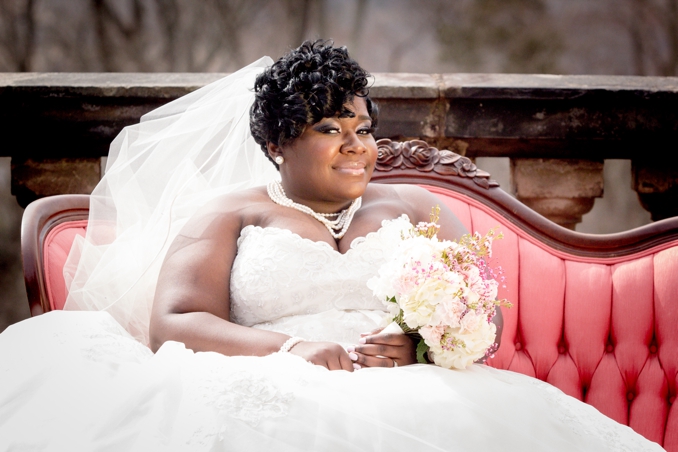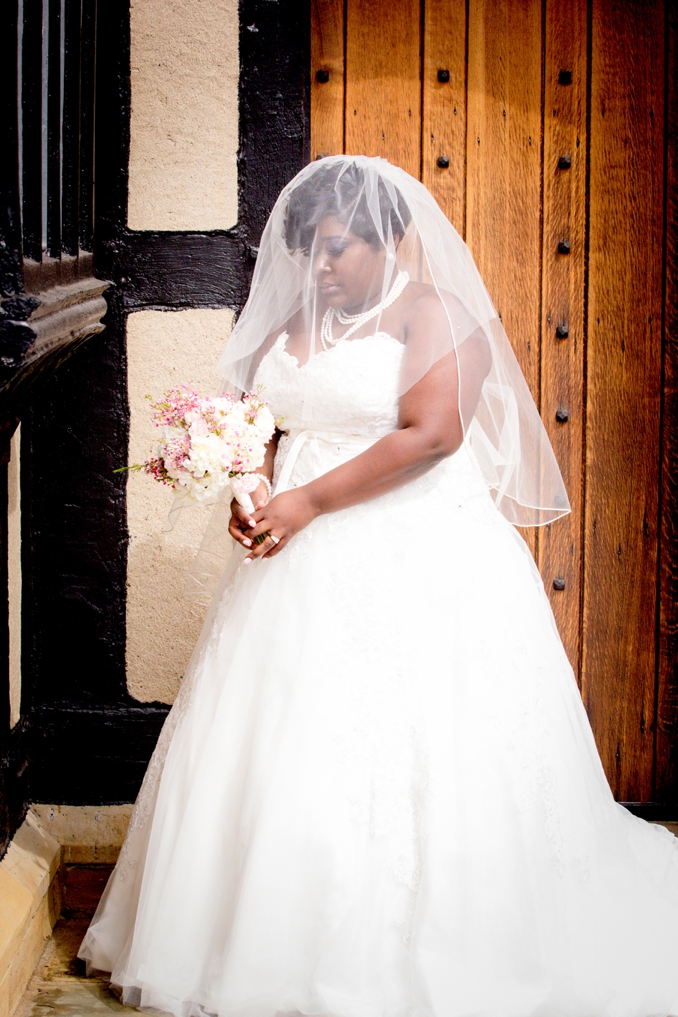 Wedding Information
How did the two of you meet? We met in the mall December 22, 2007. I remembered him from an elementary school graduation party we attended for a mutual friend a long time ago, I think it was 1998. I noticed him in the mall, asked a friend was that him and he heard me. How embarrassing!!! We then talked for a while in the mall and exchanged numbers and the rest is history. Describe your engagement: Christmas 2011, I requested quite a few nice gifts from Aaron. He said "yes" to everything. I was pretty shocked because the year prior Christmas was a total disaster. Christmas morning he shows up with all of these wrapped boxes. I picked them all up at once to move them off the counter and realized the boxes were empty. Just when I was about to mention the empty boxes he dropped to his knee and asked me to marry him. I was completely shocked! Personal or handmade details: Summer 2013 my mom and I made 200 mini jars of peach jam. My wedding favors were all different edibles. Two days prior to the wedding we also made 100 white chocolate dipped apples. They were really tasty and easy to make. Describe your Flowers: My wedding bouquet the day of the ceremony was made up of English roses, peonies, and my grandmother's brooches. Memories and Stories about the Day: There was a lot going on the day of my wedding and I spent a lot of time making sure everyone would have a good time and things started on time. I hate waiting and being late, so that was very important. I remember just about all of my plans going off without a hitch and I remember dancing on the dance floor with my sister on my right and looking over and my mom was to my left. My mom is no dancer, but I
know if I could get her on to the dance floor this was definitely a success at making sure
everyone had a grand time! Your first dance song: John Legend All of Me Loves All of you.
The thing that we would have done differently is? I don't have many regrets about my wedding day, but I wouldn't have waited so long to actually get married. I waited 2.5 years and began planning at the 2 year mark. I think I would have been just as successful getting married in 1.5 years instead of waiting 2.5 years. Wedding planning can be stressful, and I think dragging it out added it that stress.  If we could have spend our wedding dollars differently, we would have: I probably would have had a little less people. There were so many people there that when I watch my wedding DVD, I'm not sure who some of the people are and if I even got a chance to speak to them. LOL Your advice for other plus size brides: When shopping for dresses take people that will give an honest opinion on what will look good on you. While shopping for my dress, I took 4 people that were completely different, close to me, and completely honest. I knew if I could get all 4 to agree on 1 dress that was the dress. Surely enough they picked the perfect dress, it wasn't my first pick, but it definitely was the best choice and I ended up LOVING my dress. What has surprised you most during the first few months of marriage? Well we've been married almost two year, but we didn't live together prior to getting married so adapting to someone else's way of living is still one big shocker and to add on to it 7 months into being married we got pregnant with TWINS! So we're still learning on top of trying to be great parents.
Vendor Love ~ Photographer: Ashley Vanley Photography | Videographer: Black Wunda Films | Wedding Planner: Events by Shannon Bonner & Mickens Event Planning | Invitations & Calligraphy: Panache Paper | Jewelry: My mom's pearls | Bride's Attire: Kathy Ireland 231205 from Bella Rosa Bridal | Bridesmaids Attire: Alfred Sung | Groom and Groomsmen's Attire: Custom Tuxedo by 707 Men's Shop in Richmond, Va | Floral Design: Martina's Florist | Ceremony Location: Richmond CenterStage, Gottwald Playhouse | Reception Location: Richmond CenterStage, Rhythm Hall | Transportation: 1950 Bentley Mark VI provided by Frist Class Limo in Richmond, Va | Music/Entertainment: Jake Holmes, Precise Marketing (Pianist) The Harp Sisters (Harpists) Farnetta Baker, Shadz of Soul (Soloist) Jason Carey (Reception Host) | Rentals and Décor: Paisley & Jade Vintage Rentals and The Master's Touch Florist | Officiate/ Minister: Reverend Micah Jackson

Venue- AgeCroft Hall
http://www.agecrofthall.com
The following two tabs change content below.
Shafonne Myers is a certified wedding and event planner who longed for bridal inspiration that looked like her. She has created a website and magazine that brings bridal inspiration to plus size brides. She does speaking engagements educating the world about plus size brides and self confidence.
Latest posts by Shafonne Myers {Editor-in-Chief} (see all)