A black and red engagement session in Pennsylvania? That's what we call a truly unique experience! From the moment they arrived, they could tell that this was going to be something special. Her red dress contrasted sharply with his black suit, creating a stunning visual effect. And as they walked through the woods, the sunlight filtered through the leaves, providing a beautiful natural lighting for our photos. They had an amazing time during this black and red engagement session in Pennsylvania, and we're so glad that we have the opportunity to share these engagement memories for the happy couple.

Ashley & Marcus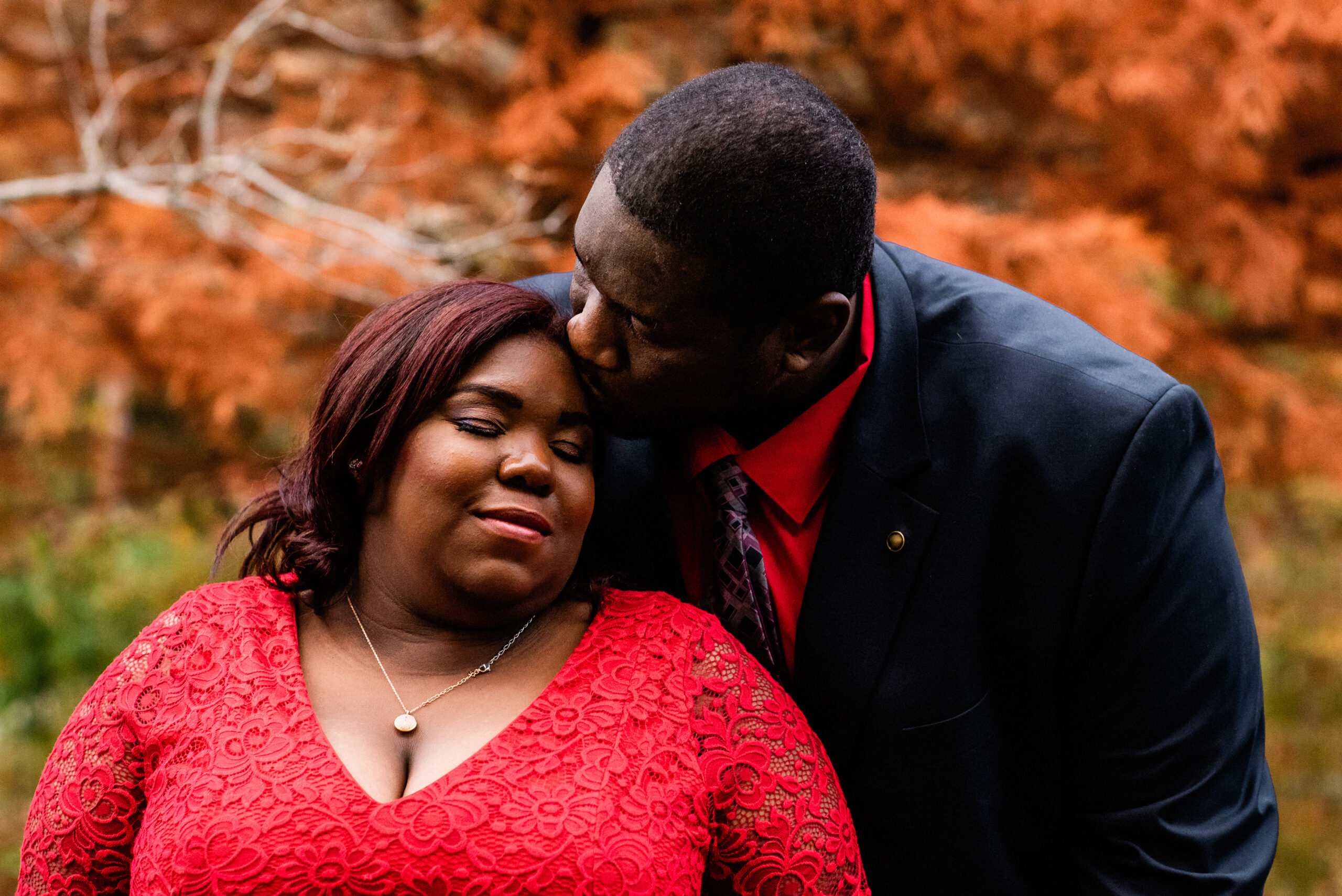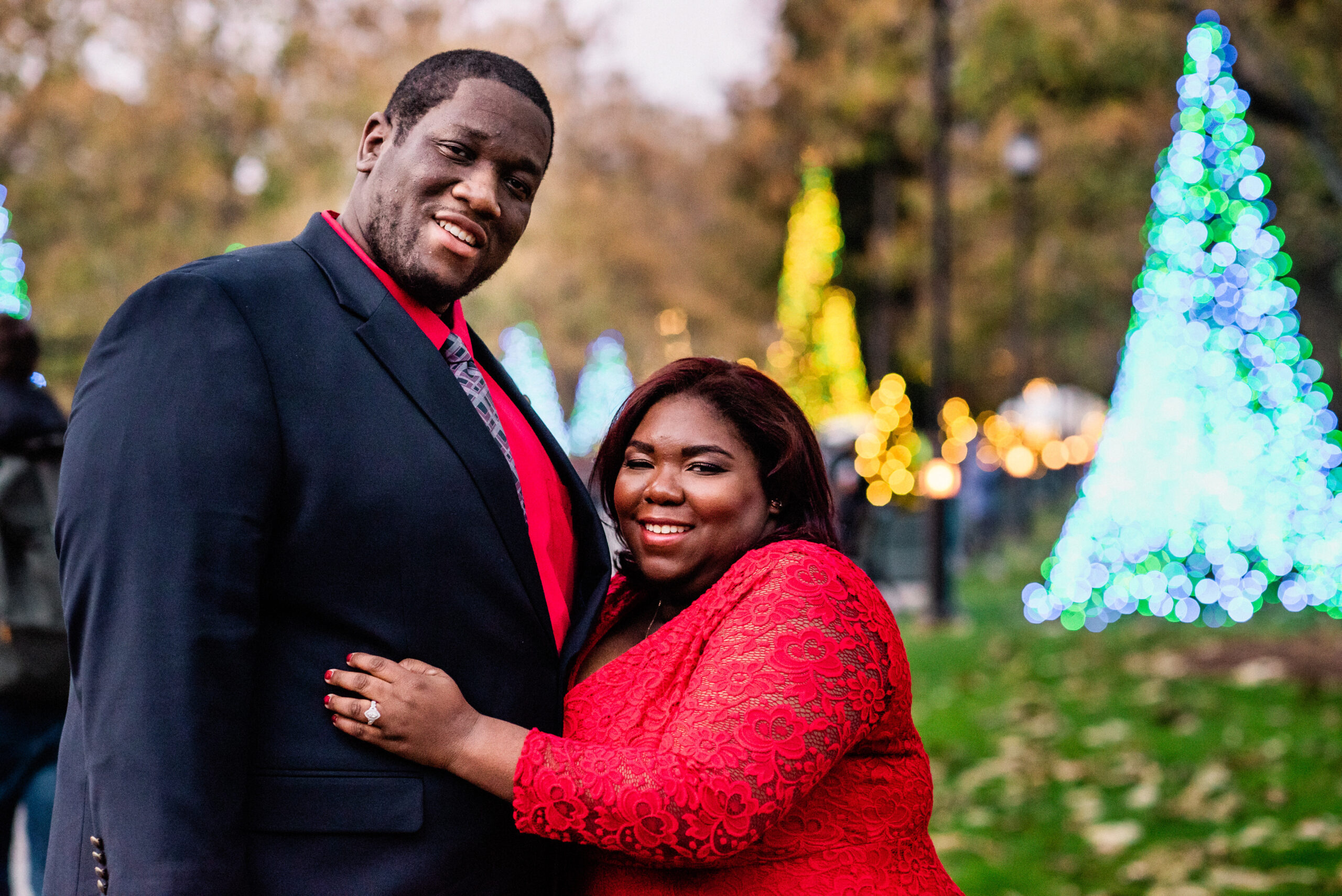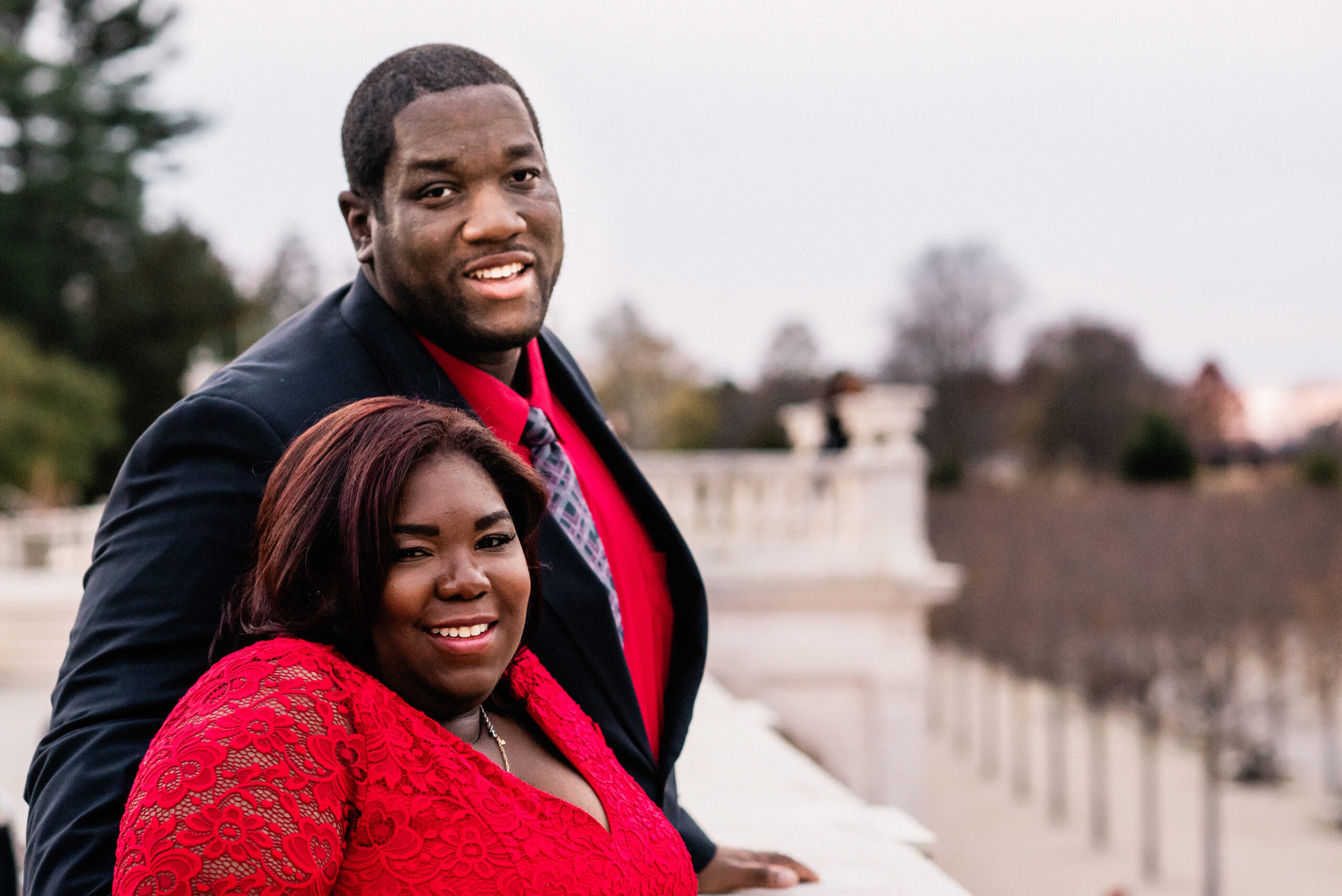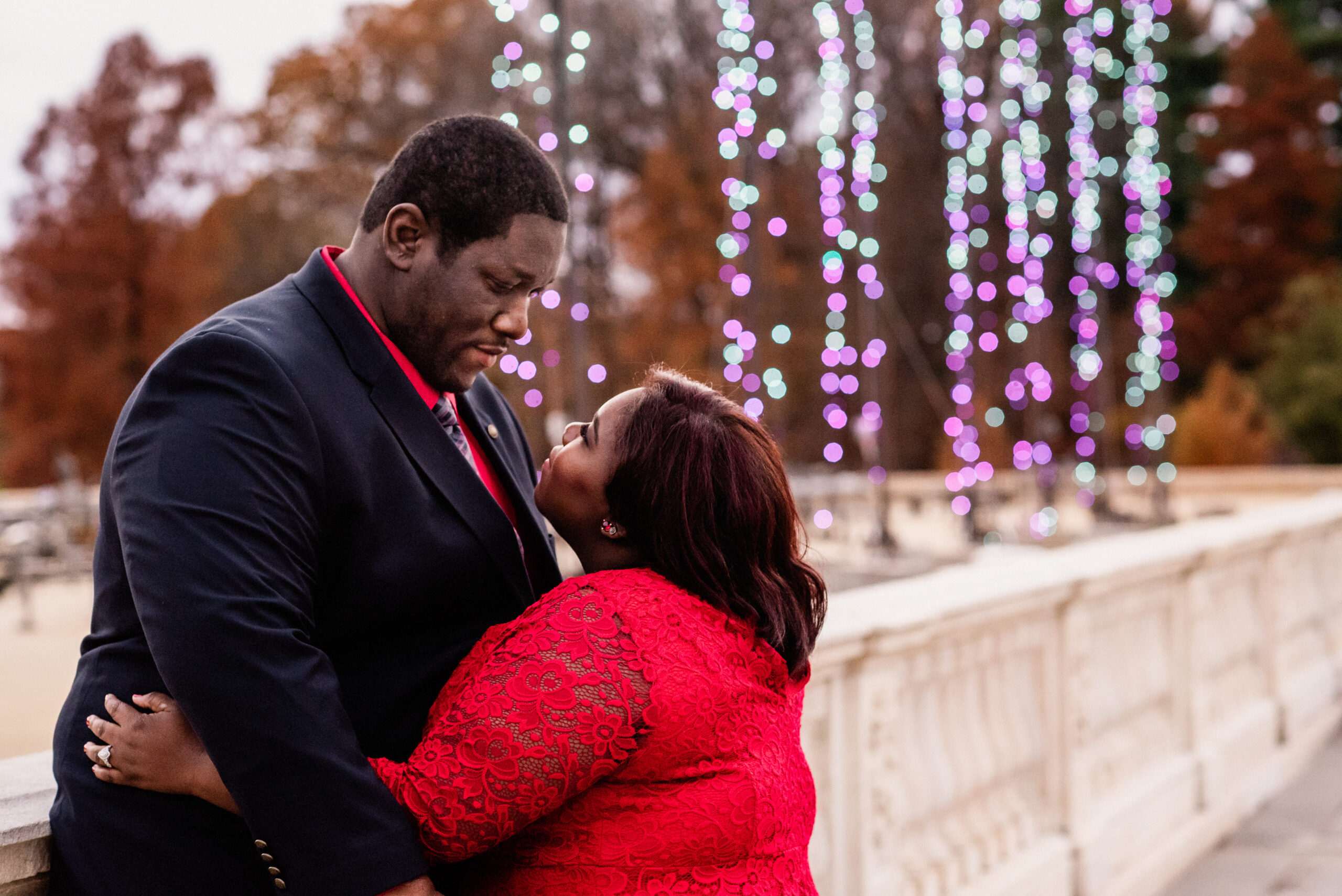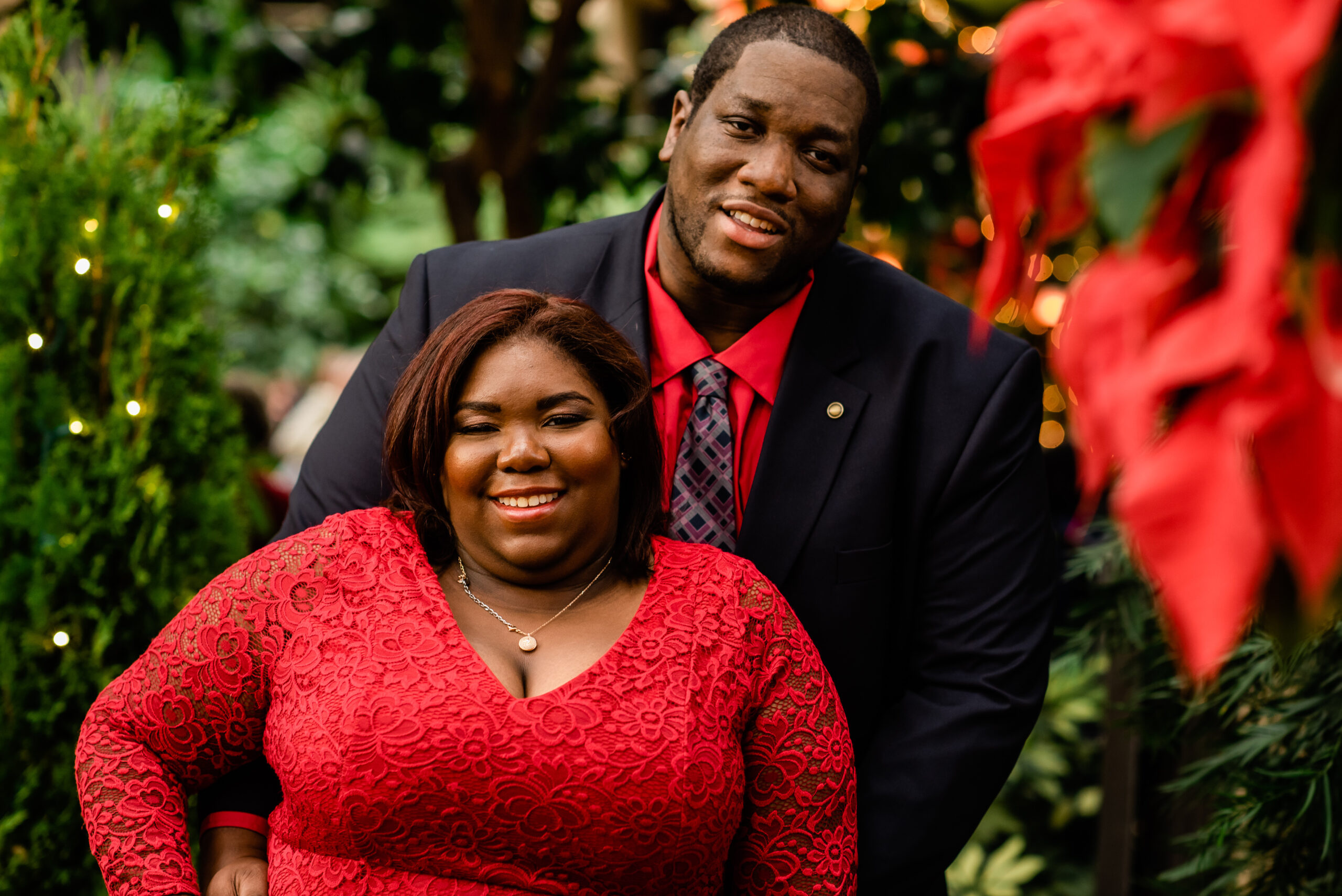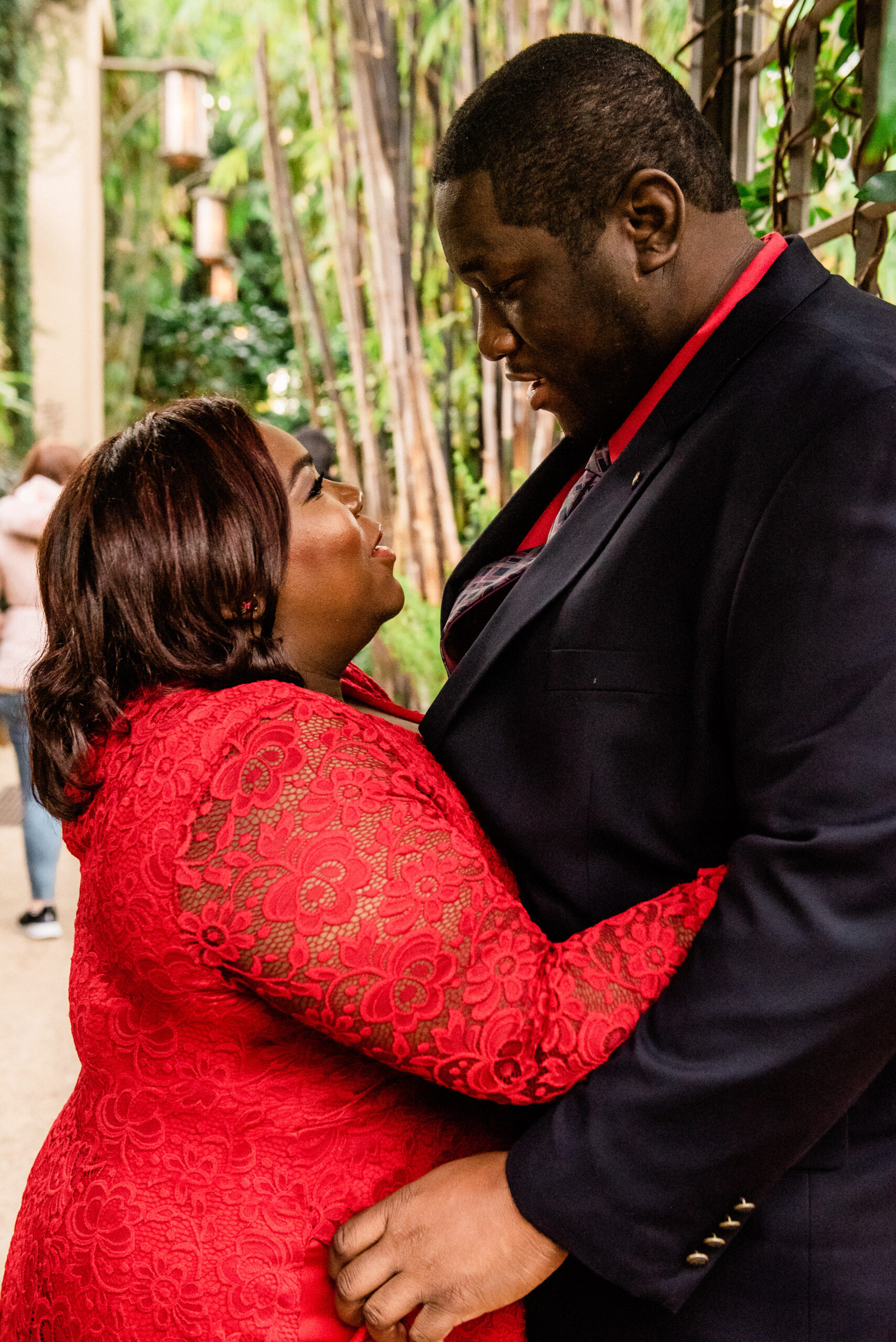 Tell us about your engagement session:
For our engagement session we went to Longwood gardens which is located in Kennett Square, PA. I didn't realize that our engagement photo shoot day started on their Christmas showcase . I didn't really want Christmas theme pictures but me and my fiancee had a blast taking them.
Tell us about your first meeting:
Me and my fiancee met at local comic book store in Willow Grove, pa. at first I was trying to flirt with the owner of the store but once I realized the owner wasn't really into me i was about to leave the store. Then my fiancee stopped me and told me the most cheesy pick up line ( cant really remember what the line was but it made me laugh) from there we started a friendship. After asking me out five times I decided to give him a chance.

Tell us about your First Date:
Our first date was actually to the movies to see The Best of Both Worlds
Star Trek: The Next Generation episode at King Prussia mall on April 24 ,2013. At first I was really nervous so I started to sing the songs that would come on the radio and I was really embarrassed but he actually thought it was very cute and started to sing with me. That's when I knew this guy was every different and he isn't afraid of my silliness but actually likes it. The rest of date went pretty great expect we drove around looking for cheese cake factory and he felt so bad that he couldn't give me the proper movie and dinner date.
Tell us about your First Kiss:
So our first kiss actually happened during our first date when he drove around the King Prussia Mall looking for cheese cake factory so he could buy me dinner and continuing our awesome date . However unfortunately we never found the cheese cake factory and he was becoming every upset because he really wanted to spend more time with me and plus it was getting really late so we decided lets look one time for the restaurant we landed back at mall at this retro dinner place. We found the restaurant closed he was so upset and he felt like he ruined the date, however I felt like I met the man of the dreams. But he kept on talking so I felt at the moment to kiss him to shut him up and let him know you didn't ruined the date and it was very romantic. And told him "You can buy me Wendy's for dinner." The second date we found the restaurant we have been together ever since.
Tell us about the proposal:
My fiancee proposed to me at the New Jersey Aquarium on 9-18-2021 . He told me we were hanging out with his brother and his wife that day however we were running a little late because on the drive to new jersey we encountered a lot of traffic and protests that day. When we finally arrived at aquarium we had to run because he didn't want to be late for a surprised meeting with penguins and so we ran through the aquarium to get to the penguin exhibit and they led us to the back where we got a chance to see a African penguin. Then they surprised me with a picture of the penguin foot prints in favorite color pink and I was told to look at the back of the picture that's where I read the proposal at first I thought it was a joke and I looked at my fiancee and he said babe this is not a joke will you marry me? I was so shocked and surprised that I didn't realize I had my mask on when I said yes to him. The ladies who were with us told me to take my mask off and to repeat my answer. I started to cry and i said F*** YES and both of our moms came busting in the room to congratulate us. However they were upset that they missed the actual proposal so we had to do it again for them. Best Day Ever!
Photography: Black White and Raw Photography
The following two tabs change content below.
Shafonne Myers is a certified wedding and event planner who longed for bridal inspiration that looked like her. She has created a website and magazine that brings bridal inspiration to plus size brides. She does speaking engagements educating the world about plus size brides and self confidence.
Latest posts by Shafonne Myers {Editor-in-Chief} (see all)