Welcome

I'm Shafonne Myers, owner and Editor of Pretty Pear Bride.
I'm a certified wedding and event planner with a Biology degree (I know crazy) and a love for everything weddings. I was always the cool and social science person, as they called me in college. Everyone was always like "you are a biology person but you're so social and fun. So I've always had that planning, social vibe to me. While in college I was in charge of the whole social/events organization on my campus so I definitely got my fix of social and planning even when I had my science side.And when I graduated, I did the science/medical thing but I always had my hand in the event planning realm. So eventually my husband told to go out and start my own company.

My love for weddings started after my wedding when I was asked to plan a friends wedding and I knew that this was where I was meant to be. I started out in the business to create amazing and memorable weddings and soon began my love for blogging. I loved being able to share with the world my creative visions and take on weddings while interacting with brides from all over the country.
My wedding was great but being a plus size bride was extremely hard, there were absolutely NO, plus size brides portrayed on any of the wedding sites, blogs or magazines. And from the family side I was constantly told to lose weight or I wasn't going to be able to fit in my gown, so that just added to the fuel. For me, I had to just deal with it because I had no outlet but the longer I spent in the wedding industry; blogging and being a wedding planner the more I thought "This is not right, something needs to be done".
So Pretty Pear Bride was started as a site where plus size brides can find bridal inspiration that THEY long for. So many people planning their weddings struggle with finding inspiration that includes images that look like them.  Everyone wants to see people that look like them, doing what they are trying to do because it allows them to envision that they can be just as glamorous and gorgeous as they imagined. So the mission was clear: merge a love for blogging and wedding planning with creating a place for plus size brides to see themselves in wedding inspiration.
Pretty Pear Bride is adding new things everyday including Real Weddings every Wednesday and soon to be added Engagement Sessions and bridal showers on Tuesday.  We also will be adding a vendor guide of salons, shops and establishments that carry and stock sample plus size wedding dresses, accessories, lingerie and undergarments.  Also not far in the future is the creation of a forum for plus size brides to mingle and chat.
There are three things that I love more than anything in the world; my wonderful husband and two darling children, teaching and imparting knowledge to all that are willing to listen and making EVERYONE feel that they are the most beautiful person in the world.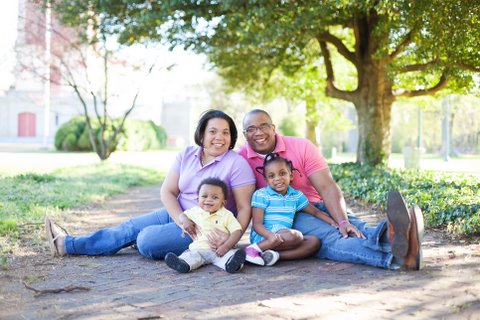 I'm pleased that you stopped by to visit and hope you will stay awhile and come back often.
We are always open to suggestions, comments and questions about anything on the site. Feel free to reach out to us on through our Contact Page.