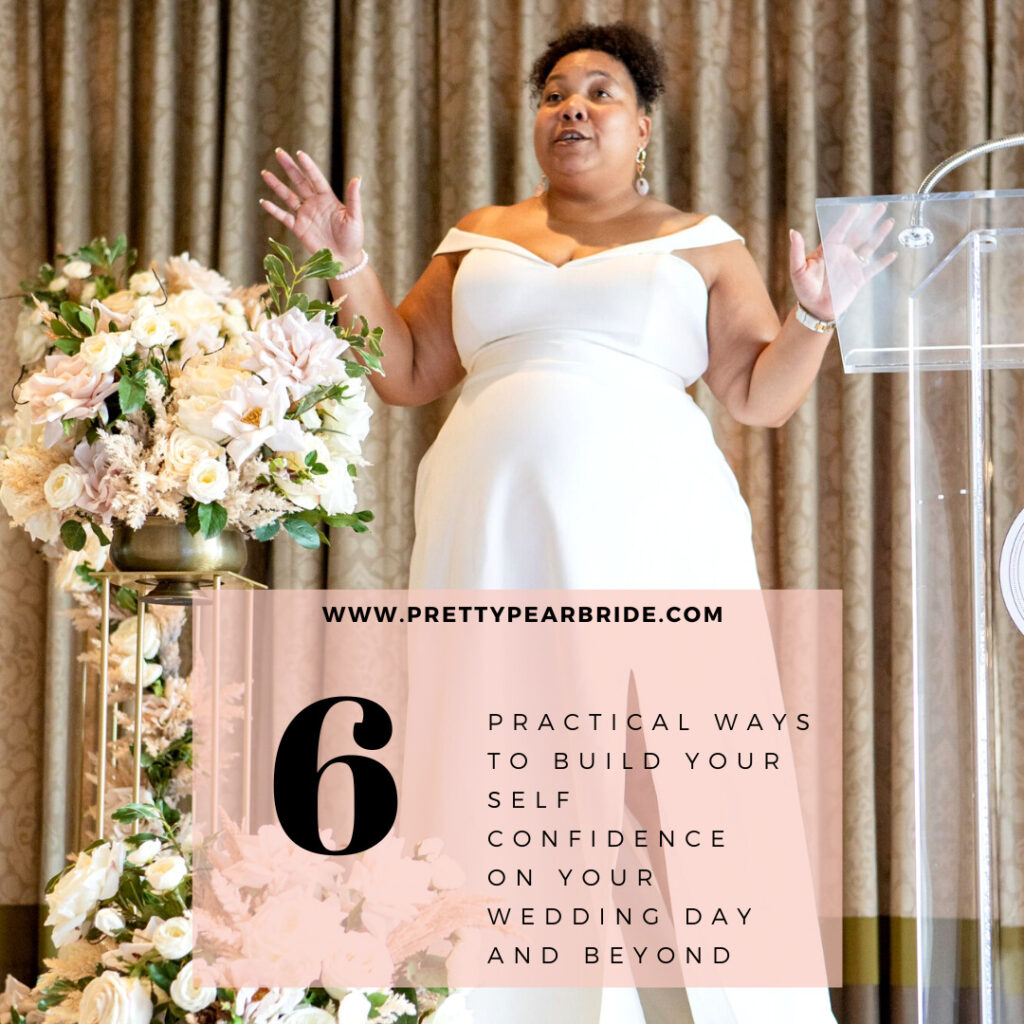 Being a plus size bride can be tough. Not only are you constantly bombarded with images of impossibly thin models in the media, that brings on a lot of self-doubt and insecurities. But you also have to contend with the well-meaning but oftentimes misguided advice of friends and family members. You start to question if you're pretty enough, if the dress will fit, if you'll be able to find a veil that compliments your curves, and a million other things.
But here's the thing: you are absolutely beautiful, no matter what your dress size is. And it's important to remember that your wedding day is about you and your fiance, not about fitting into some arbitrary standard of beauty. Here are six practical ways to build your self-confidence for your wedding day.
Embrace Your Body
As a plus size bride, you are beautiful, strong and powerful. Own your curves and flaunt them with pride. Your wedding day is your day to shine, so don't let anyone tell you that you need to lose weight or change the way you look. You are perfect just the way you are. So embrace your body and enjoy your big day. It is important to love and accept yourself exactly as you are. Remember that your fiance fell in love with you just the way you are, so there is no need to try to change yourself for your wedding day. That being said, if you're still considering cosmetic procedures like lipo suction or tummy tuck to improve yourself and feel more confident, then go for it!
Focus On What Makes You Feel Good
As a plus size bride, it's easy to get caught up in all the "shoulds." You should lose weight. You should fit into a certain size dress. You should look a certain way on your wedding day. But the truth is, there's only one thing you really need to focus on: feeling good.
Feeling good doesn't mean conforming to some arbitrary standard of beauty. It means being comfortable in your own skin and embracing your own unique style. It means surrounds yourself with people who make you feel supported and loved. And it means taking care of yourself, both physically and emotionally. When you focus on what makes you feel good, everything else will fall into place. So take a deep breath, relax, and let yourself shine on your wedding day.
This is your day to shine, and you should feel beautiful and confident no matter what size you are. Instead of spending hours in front of the mirror stressing about your appearance, take some time to pamper yourself. Get a manicure and pedicure, have your hair and makeup done professionally, and pick out the perfect dress. When you look and feel your best, you'll be able to enjoy your wedding day to the fullest.
Surround Yourself With People Who Support You
Plus size brides often face a lot of pressure to conform to society's standards of beauty. However, it's important to surround yourself with people who support you, no matter what your size. Look for friends and family members who make you feel good about yourself, and don't allow anyone to make you feel uncomfortable about your body. Additionally, seek out plus size-friendly vendors when planning your wedding. There are many talented designers and vendors who specialize in plus size wedding attire, so you're sure to find the perfect dress for your big day. By surrounding yourself with positivity, you'll be able to focus on enjoying your wedding, rather than worrying about your weight.
Shop For A Dress That Makes You Feel Beautiful
As a plus size bride, shopping for a wedding dress can be a bit of a challenge. There are so many pretty dresses out there, but it can be hard to find one that actually fits well. And even when you do find a dress that fits, it can be difficult to feel confident and beautiful in it. But here's the thing: you deserve to look and feel your best on your wedding day. So don't settle for a dress that just sort of fits. Whether that means a form-fitting mermaid gown or a flowing A-line dress, the key is to find a style that makes you feel confident and comfortable on your big day. Shop around until you find a dress that makes you feel like the most beautiful bride in the world. Because trust me, you are.
Think and Act Positively
As a plus size bride, I often find myself having to think and act positively. After all, it's not easy being the biggest girl in the room. There are always people who stare, or make comments about my weight. But I've learned that the best way to deal with negativity is to simply ignore it. And let me be honest some of that negativity comes from ourselves with the negative thoughts in our own head. If I let myself get upset about every hurtful comment, I would never be happy. Instead, I focus on the positive aspects of my life. I remind myself that I am beautiful, loved, and unique. And most importantly, I refuse to let other people's opinions determine my worth. By thinking and acting positively, I have learned to love myself unconditionally – and that is the best feeling in the world.
These six tips will help you boost your self-confidence. With some patience and perseverance, you are just steps away from becoming a more confident you.
Updated 7/11/2022