This is a sponsored post written by me on behalf of My M&M'S. All opinions are 100% mine.

I remember eating M&M's as a child and it instantly brought a smile to my face.  And as an adult whenever I need a little pick me up I would eat some and once again a smile came and I was happy.  Now that you are a plus size bride planning your wedding, don't you want to bring back that feeling of happiness.  I had the pleasure of working with M&M's and was blown away by the many ways that you can incorporate that treat that we love so much into your wedding.  They have so many options to sweeten up any wedding day with personalized wedding favors featuring the colors of your wedding – a treat your guests aren't soon to forget.
Check out a few of my favorite ways.
Wedding Favors
Everyone loves to give a wedding favor to their guests that is personal to them.  Wedding favors are a way to thank your guests for joining you and your special someone on your big day. And what better way to do that than by creating a favor that is personalized by you two for them.  M&M allows you to create very personal and fun gifts with photos, messages and images printed on your favorite colored M&M'S. The combination of faces and words helps personalize any wedding celebration or event. 
My MMs.com Weddings
offers personalized packaging options to help show off your M&M'S in a special way. You have the option to choose from elegant favors, like silver tins or lace bags, glass bowls, apothecary jars, bulk options and more.
For my order, I picked a DIY package that included a bulk order of M&M's in the customary white color with the wedding blend wording and 8 heart shaped containers to put them in.  This was perfect because I didn't have to go through the designs and try to decide but instead they already had an established wedding blend that included a few wedding graphics and wedding words. It is perfect for the couple that is looking to quickly place an order and get it in hand for a quick turnaround.  The website was super easy to navigate through and the order came in less than a week. Check out pictures from my order below.
I also did the same DIY package but included my own color combination and images and words. I went through their clipart images, colors and came up with a cute combination of orange, pink and green.  It is perfect for a summer wedding. There is also an option to upload your own images and pictures as well. Visit MyMMs.com to upload a photo portrait, type a printed message, select from clip art image options and choose from 25 MY M&M'S colors. Check out pictures below of what I ordered.
Escort Cards
Individual bags of M&M's are a great option for escort cards.  They can be placed on a table for guests to pick up on their way into the reception to let them know where to sit.  They can also be placed at seats for guests to once they sit down.  There are tons of options available for the individual packaging. There are clear bags, lace pouches, clear bags with pictures and writing on them as well as silver tins.  Whatever style fits your wedding you can find it on
MyMMs.com
.  Check out some of the styles that I ordered.
Decor
Any of the options listed above can be used for decor. But you could also add a little color to a reception table with a container of M&M's in your wedding color. There are some great apothecary jars and glass containers on
MyMMs.com
that would do perfectly.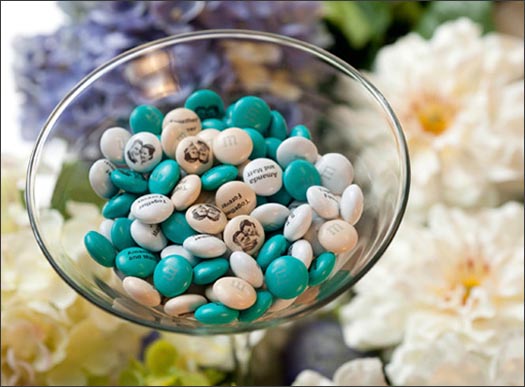 Bet you didn't' know there were so many options for you wedding that included M&M's.  And you can find tons more over on
MyMMs.com
.  Thinking about using M&M's for your wedding or special event. 
You can view more wedding ideas at the MyMMs.com Wedding Idea Gallery.
Let us know your color combination and details of what you are putting on your M&M's and don't forget to use the hashtag #MYMMS.
The following two tabs change content below.
Shafonne Myers is a certified wedding and event planner who longed for bridal inspiration that looked like her. She has created a website and magazine that brings bridal inspiration to plus size brides. She does speaking engagements educating the world about plus size brides and self confidence.
Latest posts by Shafonne Myers {Editor-in-Chief} (see all)